When most people think of Vermont products, they think of Burton Snowboards, Ben & Jerry's ice cream and maple syrup. But the Green Mountain State is also home to a number of tech and bioscience companies with national or international reputations within their niche markets.
Dealer.com and MyWebGrocer are two prominent examples — these two Vermont software firms serve the automotive and grocery industries, respectively. But there are many others.
We chose seven to include in our annual tech issue; six of them are exhibiting at the Vermont Tech Jam on Friday and Saturday, October 18 and 19. These companies operate in different spheres, ranging from cyber war games to geospatial data, from photography to penetration testing. Besides industry cred, they have one thing in common: an 802 area code.
Drill Team
Norwich University Applied Research Institutes, Northfield
For the first time in history, computer-toting terrorists halfway around the globe could conceivably cripple entire industries in the U.S. for days, weeks or even months.
Preparing for these cyber attacks is essential to national defense, so it stands to reason that the country's oldest private military college would find a way to get involved. In 2002, Northfield's Norwich University created its Applied Research Institutes to address the brave new world of cyber security.
Earlier this year, NUARI unveiled DECIDE-FS, a Vermont-made software platform designed specifically for the financial services sector. As NUARI president Phil Susmann explains, DECIDE — short for Distributed Environment for Critical Infrastructure Decision-making Exercises — is a war-games environment that allows multiple "players" to simulate real-life cyber disruptions, from natural disasters to terrorist attacks.
On July 18, Susmann's team put DECIDE-FS through the paces in an exercise called "Quantum Dawn." The one-day exercise, which involved nearly 50 financial institutions and organizations, including banks, brokerage houses, exchanges and clearing corporations, simulated a real-time cyber attack aimed at shutting down the pricing and trading activities of several stocks simultaneously.
Owing to confidentiality rules, Susmann can't reveal which businesses and organizations participated, "but you can probably guess who they are," he says.
The participants ran their response plans from out of state, Susmann explains, as did stock market executives, who had to "wrestle with when to turn the market down and when to bring it back up." Officials from the U.S. Securities and Exchange Commission, Department of the Treasury, Federal Reserve, FBI and Department of Homeland Security observed the exercise.
It wasn't NUARI's first simulation for that particular industry. In January 2011, Norwich used an earlier iteration of DECIDE to run three cyber-interruption scenarios at the New York Stock Exchange. One envisioned a major hurricane hitting New York City — with six hours to prepare.
The drill proved prescient: Less than two years later, Hurricane Sandy's storm surge flooded lower Manhattan. Several industry executives reported later that the DECIDE experience helped prepare them for the disaster and resulted in faster recovery times.
The software developers themselves also benefit from such exercises. Says Susmann, "Every time we do an event like this, we walk away with a number of improvements that allow us to make the games even better."
There appears to be plenty of demand for them. In August, NUARI landed a $9.9 million competitive DHS grant to improve and repurpose its DECIDE products for other industries and organizations. As a result, NUARI, which employs about a dozen people, is looking to nearly double its ranks.
"That's one of the reasons we're going to Tech Jam," Susmann says. "We're going to be looking for the talent to stand up a new software development team in the greater Burlington-Northfield-White River Junction area."
— Ken Picard
Norwich University is an exhibitor at the Vermont Tech Jam — booth X08. NUARI's Andy Cutts will explain DECIDE-FS during a panel discussion at the Tech Jam on Friday, October 18, at 4 p.m.
Reaction Time
BioTek Instruments, Winooski
We rely on doctors and drug makers to treat diseases such as cancer and AIDS. Meanwhile, many of those medical professionals rely on lab equipment designed and manufactured by BioTek Instruments in Winooski.
The family-owned bioscience firm specializes in diagnostic devices called microplate readers. These sophisticated scanners run tests on biological samples contained in dozens of tiny test tubes called pipettes. The machines measure the resulting reactions and deliver diagnostic data.
BioTek's instruments are used in labs across the U.S. and around the world; the company's 250 Vermont workers make all of its products here, but BioTek maintains sales and service offices in 13 countries. In 2013, it opened subsidiaries in Japan and South Korea.
BioTek is fairly large by Vermont standards, but it's tiny compared with some of its global bioscience competitors. Founded in 1968 by University of Vermont College of Medicine physiologist Dr. Norman Alpert, BioTek has survived by changing its medical-device supply business to meet the needs of an evolving marketplace. In recent years, the company, now run by Alpert's sons Briar and Adam Alpert, has staked out the microplate niche and innovated within it.
Its 2013 release, the Cytation3, is a great example. It's a combination microplate reader and microscope that BioTek worked with microscopy experts at the University of Vermont to develop. Product manager Caleb Foster explains that many of BioTek's clients who use microplate readers to analyze cell samples also use microscopes to generate images of those reactions. The Cytation3 allows them to get those images using the same samples, rather than running a separate experiment.
Foster, who spent nine years doing drug discovery at a pharmaceutical company before joining BioTek in 2012, points out that a process that might have taken three weeks can now happen in one. Researchers save time, money and lab space by doing the job with a single machine instead of two. "It was just a natural fit," he says.
The marketplace seems to agree. Last month, the Cytation3 won the Scientists' Choice Award for Best Drug Discovery Product from SelectScience, an independent, worldwide scientific review website. It also snagged the New Product Innovation Award at the MipTec conference and exhibition in Basel, Switzerland.
According to Foster, the Cytation3, released in April, is already in use at Ivy League research facilities and in some of the top five pharmaceutical companies. Typically, he says, scientists are slow to embrace new devices until they've been around for a while, but "that's not been the case in this instance."
— Cathy Resmer
BioTek Instruments is a sponsor of and exhibitor at the Vermont Tech Jam — booth A50. The company is also a finalist for the 2013 Vermont Tech Jam Innovation Award.
It's in the Mail
Global-Z International, Bennington
Dealing with customers who've moved or changed their contact information — or passed away — is a constant challenge for U.S. companies, especially when those customers live outside the U.S.
"If you have a list of 100,000 or 200,000 names, and five to 15 percent are incorrect, that adds up in costs," says Paul Harris, sales and marketing assistant at Global-Z International in Bennington.
Global-Z is an international database technology and address verification company with a client list that includes Orvis, Victoria's Secret and J. Crew. It takes address data and "cleans it up" via software developed in Vermont.
The firm was the brainchild of Leonid and Sasha Garder and their son, Dimitri. Russian-born Leonid Garder fled the Soviet Union during Stalin's reign and later escaped Hitler's Germany, eventually ending up in New York City. There, he studied engineering and worked in both physics and climatology.
The family founded Global-Z in their Manchester garage in 1989, focusing on "international contact data hygiene," as Harris puts it. By keeping a cloud-based, up-to-date database of addresses around the world, Global-Z's system can quickly figure out the accuracy of an address, correct errors, then reformat it to fit a particular country's postal requirements.
"Every single country in the world has a different way [of delivering mail], and in certain countries, you can imagine the system is really complex," Harris notes. "We have to understand how an address is supposed to look for all of the countries of the world, then write that into our algorithm and make sure it's up to date."
One of the biggest changes in Global-Z's business over the past two decades has been the speed at which this process is performed. Clients expect "real-time cleansing" of their data, Harris says, "so that it builds a perfect view of who a customer is, instantaneously, 24/7."
Though not all of Global-Z's 17 employees are multilingual, Harris suggests they have serious "coding and language skills" between them — and they're drawn heavily from Vermont. "We pride ourselves on giving people good jobs," he says. "Though we're overshadowed by the northern half of the state, there's a growing tech sector in southern Vermont. And we're always looking for smart people."
— Corin Hirsch
Global-Z is an exhibitor at the Vermont Tech Jam — booth A19.
Reading Into It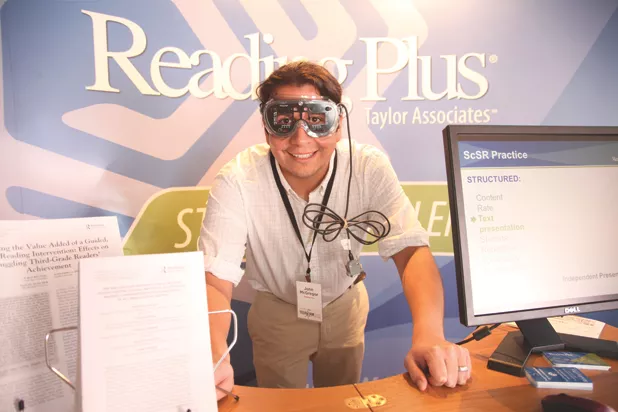 Reading Plus, Winooski
The Reading Plus offices in a converted mill building in Winooski feature typical tech-company décor: polished wood floors, high-ceiling spaces lit by big windows, sofas as well as workstations. Yes, there are yoga sessions, too.
But a display in the reception area sets Reading Plus apart from the digital start-ups launched by upstart millennials. Mounted on the walls is a collection of dozens of machines invented and refined by the company's founders and their descendants over the past eight decades. Reading Plus may give off an out-of-the-garage vibe, but it's actually a third-generation family business founded in 1931.
The company traces its roots to laboratories in Brownwood, Texas, where three brothers — Earl, James and Carl Taylor — devised a pair of gadgets intended to help elementary school students gain proficiency in silent reading. The metronoscope featured three small doors that opened and closed sequentially, guiding a reader's eyes across a line of text from left to right. The opthalmograph, which recorded corneal reflections on 35-mm film, was the first portable device for measuring a reader's eye movements.
Reading Plus has been building on those innovations ever since. It still makes use of machinery — especially a diagnostic tool dubbed the Visagraph. But, having navigated what chief operating officer Kelly Scannell describes as "a rough transition from hardware to software," the company now sells web-based programs to some 7000 schools all over the English-speaking world. Winooski's JFK Elementary School recently joined that roster.
"Getting into the local school was huge for us," Scannell says. "We do want to be a good neighbor."
Reading Plus moved to Vermont from Long Island four years ago. CEO Mark Taylor had gotten to know the state while earning a master's degree in philosophy at McGill University in Montréal.
Business has boomed since the firm's arrival in the Onion City. With 48 employees and $6 million in annual revenues, Reading Plus has tripled in size, Scannell reports. The growth is mainly attributable to the company's deep understanding of how to facilitate reader fluency, which has enabled it to outpace younger competitors in meeting new state standards for proficiency.
In addition to honing young readers' efficiency and comprehension, Reading Plus programs measure their motivation to read. And here, the data are alarming. Pointing to a series of graphs on her laptop, company researcher Alexandra Spichtig notes that tests show a steady decline in motivation between third and ninth grades at schools throughout the United States.
"It's distressing," she says, "but kids do become more motivated the better they read. And that's what we're about."
— Kevin J. Kelley
Reading Plus is an exhibitor at the Vermont Tech Jam — booth X10.
Hot Shots
LPA Design, South Burlington
If you're a photographer shooting a quickly moving subject — a whale breaching, for example, or a skier hopping off a cliff — timing is everything. But even steady hands and a fast camera can't guarantee that lighting conditions will be favorable. Sometimes, even a flash can't compensate for low light.
Since the early 1990s, LPA Design in South Burlington has been designing and refining a line of technology that addresses that problem. Its PocketWizard is a remote control that allows photogs to trigger flashes or digital cameras wirelessly from hundreds of feet away.
"We basically make radios that allow you to get your flash off your camera, so you can put them anywhere you want: in a church, up in the rafters in a stadium to shoot overhead, behind the net in hockey games," explains Heather Ambrose, marketing manager at LPA, which employs a staff of nearly 40. "We allow photographers to be more creative with where they put light and where they put remote cameras."
The forefather of the PocketWizard is a chunky black device with Day-Glo buttons called the FlashWizard. It came to be when a photographer's assistant asked a group of University of Vermont engineering students, who had recently founded a small consulting company called Lab Partners Associates, to fashion a wireless trigger. Stephen Padnos, Scott Hamilton and James Clark used a garage-door opener as the basis for the resulting product.
Padnos is still involved with PocketWizards, which now come in two varieties. Manual triggers, like the PlusX and Plus III, are conceptually closer to the original garage-door opener, consisting of simple radios and receivers that plug into devices and can run on different channels. The more advanced triggers rely on a technology called TTL to sync Canon or Nikon digital cameras automatically to the devices. Rather than separately controlling the flash, any photographer can snap away knowing that the auxiliary devices will fire and respond to any changes on the original camera.
The PocketWizard technology is designed in South Burlington, where the company's sales and support staff is also located; most of the products are manufactured in New Hampshire, though some components are made in China. What sets them apart from triggers made by overseas companies such as Phottix, Ambrose says, is reliability. In 2012, the PocketWizard trigger technology was the only kind photographers were allowed to use at the London Summer Olympics.
That premium has also led to higher price tags; a TTL setup starts at $600. But Ambrose adds that photographers — especially the pros — get their money's worth. "That 100-meter dash? You can't miss that shot," she says. "That's why people turn to us, because they will get the shot. If you miss the shot, you miss money."
— Charles Eichacker
LPA Design/PocketWizard is an exhibitor at the Vermont Tech Jam — booth X09.
Passing the "Pentest"
Pwnie Express, Berlin
In October 2011, Seven Days introduced Vermonters to Pwnie Express. The tiny tech start-up, launched a year earlier by three hackers messing around in their Barre basement, had just exploded onto the international cyber scene with its new product, the Pwn Plug.
The little white box, which looks as innocuous as a plug-in air freshener, is armed with an arsenal of hacking tools that enables security-penetration testers to slip through the defenses of computer networks and look for vulnerabilities. After seeing one demonstrated at a national hackers' convention, Wired magazine's Robert McMillan called it "pretty much the last thing you ever want to find on your network — unless you've hired somebody to put it there."
Two years later, company founders Dave Porcello, Robert Awk and Gabe Koss have followed up on the success of the Pwn Plug and its mobile equivalent, the Pwn Phone, with their latest mobile vulnerability-assessment tool: the Pwn Pad.
The Pwn Pad — "pwn," which rhymes with "own," is a hacker term meaning to control or defeat — is built on a Google Nexus 7 Android tablet. Similar to the Pwn Phone, which has since been discontinued, it allows information-security experts to conduct mobile penetration testing, or "pentesting," on computer networks and wireless devices.
Previously, an IT professional needed a specially configured laptop and lots of extra gear to do this level of pentesting, Awk explains. Now, someone can just turn on the Pwn Pad, press a button and launch a "wireless sniffer" that "shows you everything."
By "everything," Awk means every wireless device in the building, including smartphones, laptops, tablets, Bluetooths and printers, as well as every network and channel they're on, the security systems they're running, and the clients who've connected, both past and present. In effect, the Pwn Pad makes the invisible wireless world visible — and traceable.
Awk doesn't know how many Pwn Pads the company has sold, "but we're doing really well. I know we've sold a lot of them." In case you're wondering, Pwnie Express vets all its clients, who work almost exclusively in corporate, military or intelligence security.
Pwnie Express is also growing — and looking to add talent, including a senior-level quality assurance expert. The company, which in two years has grown from three employees to 15, just secured $5.1 million in venture capital, "so we're looking to expand quite a bit.
"We always try to find a local person first," Awk adds. "You'd be amazed at how much tech talent there is in Vermont."
— Ken Picard
Pwnie Express is an exhibitor at the Vermont Tech Jam — booth A42. The company is also a finalist for the 2013 Vermont Tech Jam Innovation Award.
Good Boundaries
Maponics, White River Junction
Who are the people in your neighborhood? White River Junction-based Maponics might be able to tell you.
The geographic information system (GIS) data provider specializes in defining geographic boundaries — neighborhoods, ZIP codes, school attendance zones, shopping areas, college campuses — and then laying lifestyle and demographic data on top of those areas.
That's more difficult than it might seem, explains founder and CEO Darrin Clement. Neighborhoods and shopping areas aren't official entities — it's not always clear where they begin and end. And when the government segments consumer data, it does so by census tract, not neighborhood, school zone or ZIP code.
"What tract do you live in?" Clement asks rhetorically. "Do you even have a clue?"
Maponics' 43 employees source, compile and process these data, then license them to customers. Those include real-estate websites such as Realtor.com and Trulia — according to the company, more than 70 percent of the top real-estate websites use its products — and search companies such as Google, Citysearch and Yellowbook USA.
Clients can also include direct marketers, who might, for example, want to reach 17,000 of the country's highest-income neighborhoods.
Maponics' expertise has also proved valuable to location-based mobile messaging companies. Twitter, Foursquare and MyLife use Maponics' "geofences," virtual boundaries around businesses or shopping areas, which allow users or advertisers to connect with friends or clients. Maponics claims that 95 percent of social media users interact in some way with its data.
Clement decided to focus on this niche in 2001, long before geofences or the services that use them even existed. He left a job at Geographic Data Technology in Lebanon, N.H., and founded the company from his Thetford home. Today Maponics operates from an office building in White River Junction that it shares with modeling and analysis firm Resource Systems Group.
RSG collaborated with the company on Context Walkability, Maponics' newest offering. It delivers pedestrian-friendliness ratings that take into account the size and speed limit of nearby roads and the number of destinations worth walking to. RSG helped model various routes that inform the ratings. "It was a big investment," quips Clement.
Walkability is not available for public consumption — since customers license it — but product manager Mike Villarreal shared some local results. Burlington's Old North End and South End, for example, score high on the walkability index; Colchester and St. George, not so much.
Villarreal points out that the tool is less useful in rural Vermont than it is in urban centers, where walkability is a highly prized asset. He notes that Maponics created the system in response to increasing consumer demand for the information. "They're the ones actually driving this," he says.
— Cathy Resmer