COURTESY OF CHANDLER BURGESS/KILLINGTON RESORT
Hiking is one way to see Vermont on a glorious summer day. But for some, it's a bit ho-hum. Why meander through the Green Mountains when you can gun it — jacking your heart rate and getting bugs stuck in your teeth and mud in your eyes as you hammer down Killington's trails, soar above Sugarbush or dive the friendly skies over West Addison? If slo-mo pleasure is not your thing, here are seven suggestions for going fast, flying high or just having a blast.
Fat-Tire Flyer at Killington
Cross-country mountain biking is a tiptoe through the tulips compared with downhill mountain biking, which sends cyclists careering down trails at what feels like Mach 7 while wearing Mad Max-inspired gear. Killington is expanding its trail network this summer to accommodate a 1.3-mile downhill race trail and 2.15-mile expert jump trail, as well as 2.29 miles of single track from the top of the Ramshead area. These trails are scheduled to open in late July. Until then, riders can sit back, relax and enjoy the view — kidding! — as they take the K-1 Express Gondola down the aptly named Scarecrow trail from the 4,241-foot summit of Killington Peak. Or, say, try their balancing act on the four-story Skye Ropes Course.
Full-day lift and trail access, $52 for adults, $39 for kids ages 7 to 13 (or separate prices for single activities), 800-621-6867. killington.com
Jet Setting at Smugglers' Notch
Remember Marty McFly's hoverboard in Back to the Future? Imagine powering that with water, and you've got flyboarding. Described by Flyboard of VT co-owner Phillip Snyder as a "jetpack for your feet," the new sport provides a terrifyingly fun time, bringing daredevils as high as 45 feet in the air over the Bootleggers' Basin reservoir at Smugglers' Notch. Flyboard of VT is about to begin its second summer of launching courageous kids and adults upward using a specialized board, boots, water propulsion and a Jet Ski. Instructors teach participants how to fly through the air and even to perform flips and other tricks once they're lifted off the surface.
New flyer special, $129, 644-1173. flyboardofvt.com
Waterski Glee at Basin Harbor Club
Whoever thought of attaching a rope to the back of a boat and pulling friends and family members at top speeds across the water is, well, brilliant. Less intelligent is sinking money into floating your own boat. That's why waterskiing at Basin Harbor Club makes so much sense. The Vergennes resort rents out its Ski Nautique, which fits five passengers, and the Boston Whaler, which accommodates eight, for waterskiing, wakeboarding and tubing trips. Top it off with a cooling tumble off the floating trampoline at the inn's harbor, and call it a day.
Ski Nautique and Boston Whaler rentals, $130 per hour, 475-2311. basinharbor.com
Flying High at Sugarbush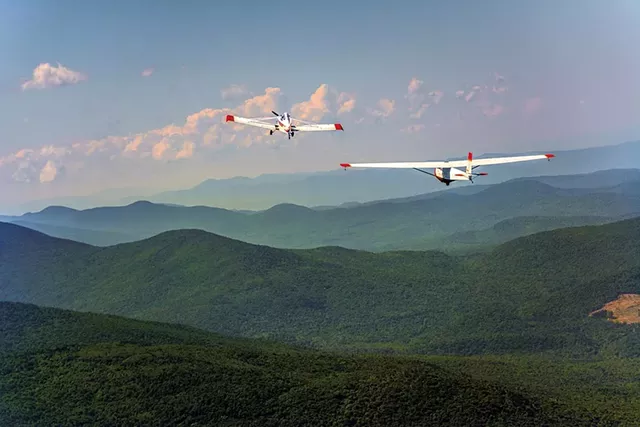 For those who like to combine stomach-dropping G-force with eye-popping views of the Mad River Valley and Green Mountains, Sugarbush Soaring takes members of the public on glider rides from May through October. Experienced commercial pilots hop in the cockpit and get a tow into the skies until it's time to release the towrope. Then there's the sound of silence as the glider soars in thermal, ridge and mountain-wave lifts. It's simultaneously peaceful and petrifying, and pretty much the closest humans can get to feeling like birds.
Glider rides range from the 15-minute Ridge Runner ($109) to the 45-minute Mile High ($209), 496-2290. sugarbushsoaring.com
Diving and Surviving in West Addison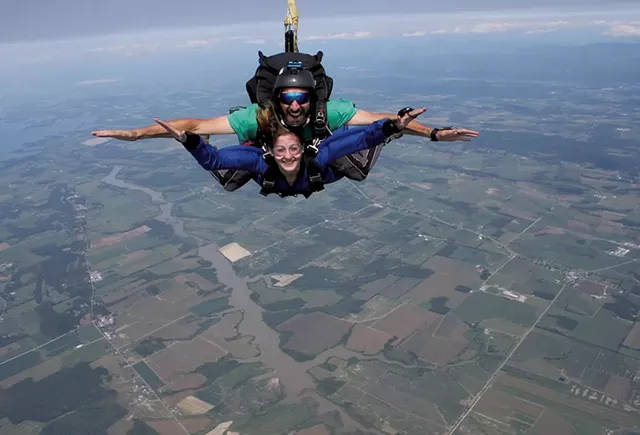 Ask anyone who's done it: Freefalling through the sky, whirling and twirling toward the Earth knowing a parachute has your back, is freaking fun. There's just the matter of getting up the gumption to jump out of the plane and the challenge of figuring out which cord goes where. But in tandem sky diving, an instructor attached to the rookie jumper pulls the ripcord, in more ways than one. Vermont Skydiving Adventures in West Addison gives first-timers 20 minutes of training before taking them up, up and away, and down to the ground, with dizzying views of quilted fields and sparkling Lake Champlain.
Tandem skydives, $250, 759-3483. vtskydiving.com
A Zip Trip in Stowe
One of the state's newest places to try zip-lining is Stowe Mountain Resort, where the ZipTour Adventure treats riders to a two-mile tour of Mount Mansfield through a series of four cables spanning 2,000 vertical feet. A trolley attaches helmeted and chest-harnessed participants ages 10 and up, who can control their own speeds on the zip lines. These range in length from the Demo Trainer's 150 feet to the formidable 4,462-foot-long Nosedive Zip — the third longest in the lower 48 states. The ZipTour rises 130 feet off the ground, giving riders a bird's-eye view of the Green Mountain bounty below.
ZipTour, $119 per person. stowe.com
Pedal to the Metal in West Haven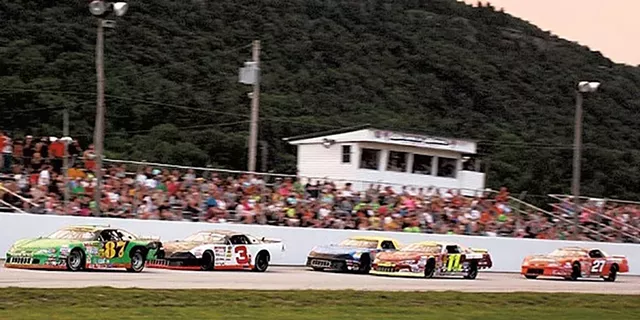 COURTESY OF CHANDLER BURGESS/KILLINGTON RESORT
If you've ever tried to hit 100 miles per hour while passing a Prius on South Burlington's Spear Street, you know it's a thrill — one that will land you a hefty speeding bill (or jail time). But to experience breakneck speeds in a perfectly legal — if vicarious — manner, just park your rear in the grandstand and watch stock car racing at Devil's Bowl Speedway. Since 1967, this racetrack — on Route 22A in West Haven — has been sending brave drivers round the bend again and again. The Speedway is celebrating its 50th season this summer with Saturdays on the half-mile asphalt oval, while the Sunday action happens on a smaller, dirt oval. If you're NASCAR-licensed, you can participate in the races or rent the whole darn place to really let it rip.
General admission, $12 for adults, $10 for 62 and older, free for kids under 12, 265-3112. devilsbowlspeedwayvt.com