Suzanne Podhaizer
Catalyst Coffee Bar
Does St. Albans have a global claim to fame? In 1994, Vermont's Committee on Agriculture submitted a joint resolution suggesting as much: "The general assembly salutes the bounty of Vermont pure maple products ... and resolved that all Vermonters be alert to and encouraged to attend the ... Vermont Maple Festival ... in St. Albans, the maple capital of the world."
Last weekend, I obeyed the mandate of that long-ago legislature and made my way to the county seat's 51st annual Vermont Maple Festival. For the occasion, Main Street had been turned into a pedestrian thoroughfare. Vendors sold standard fair food and anything that could be made with simmered-down sap. Carnival rides and bands entertained the throngs, and shop doors had been thrown open to invite them inside.
By taking that invitation, I discovered plenty of reasons to visit St. Albans the 51 other weeks of the year, too. In recent years, the small city (pop. 6,918 as of the 2010 U.S. Census) has ridden the craft-beer wave, with the successful veteran-owned 14th Star Brewing recently joined by Mill River Brewing. Both breweries run barbecue joints, but they're just the start of St. A.'s quirky culinary offerings.
Here I've chronicled seven places to check out in the "maple capital," from a hip coffee shop that brews with a siphon to a game store that doubles as a fro-yo vendor to a casual restaurant that grows some of its own food. Some spots have been around for more than a decade; one opened just last week. If you haven't been to St. Albans in a while, all of them will surprise you.
Catalyst Coffee Bar
22 N. Main St., St. Albans, 393-9808
With exposed brick walls, beans from small-batch roasters and a typewriter available to aspiring writers, Catalyst Coffee Bar wouldn't be out of place on a swanky block of Saint Laurent Boulevard in Montréal. In St. Albans, it's an anomaly.
In the run-up to opening, owner Karen Scheffler was often spotted in Winooski chatting with Tom Allen Green of Scout & Co., the hot hangout for lovers of fine brews. She buys from Burlington's Brio Coffeeworks and a handful of out-of-state roasters.
The small drink menu includes siphon-brewed coffee, cold-brew and a few classic espresso drinks, plus tea, hot chocolate and steamed maple milk. No pumpkin spice or caramel-apple drinks here: Everything is simple and well made.
What's the deal with the siphon, which is Scheffler's preferred method? Simply put, it's brewing using vacuum pressure and water that is just under a boil. The time-consuming technique was popular in the mid-20th century before falling out of favor. These days, many coffee aficionados believe it's the way to make a perfect cup.
In keeping with Catalyst's modern vibe and the science-lab look of the siphons, milk and cream come in beakers with cork stoppers, and a rack of test tubes holds the nutmeg, cocoa and, of course, maple sugar.
While the space as a whole is airy and expansive, a wooden partition with an overhang divides the seating area into individual nooks that are cozy and intimate. The furnishings include barstools, couches and upholstered chairs with squishy cushions.
My maple cappuccino was as preferred: rich and not too sweet. I drank it while nibbling on baked goods from Red House Sweets (see next entry) and taking advantage of the free Wi-Fi.
Before I left, I tried out the typewriter. Striking the keys reminded me of my childhood in Brooklyn, but everything else was thoroughly contemporary.
Red House Sweets
22 N. Main St., St. Albans, 782-7124
Suzanne Podhaizer
Caroline Demers cutting maple buns at Red House Sweets
Tucked in the back of a space shared with Catalyst, Red House Sweets is a bright and sunny nook of a bakery. Visitors enter by way of the coffee shop and are funneled into a hallway that holds the cash register and pastry case. On my visit, I found it filled with éclairs, cream puffs, lemon tarts garnished with plump blueberries, and gooey, frosted maple-cinnamon buns.
Owner Caroline Demers, wearing a chef's coat and flowered cap, did double duty, zesting oranges into the bowl of a KitchenAid mixer, then walking over to greet a customer who was peering eagerly at the goods.
Demers, who supplies pastries to Burlington's Uncommon Grounds Coffee and Tea as well as Catalyst, worked out of her Fairfax home kitchen until the weekend of this Maple Festival, when she debuted her brand-new space.
Red House offered a slightly different selection of Demers' baked goods than Catalyst; next time, I'll scope out both display cases before choosing my treats. But the purchases I made on this trip were good ones, including the last sliver of a savory Tuscan bread.
Buttery, flaky dough enfolded sun-dried tomato, artichoke, spinach and cheese. Savory pastries consisting of white flour with dots of meat or cheese tend to leave me on a quick road to hunger, but this filling-forward snack was rich and satisfying.
The famed maple bun was pleasing, too. The dough was nicely yeasty and not overly sweetened, with plenty of cinnamon in the creases and a subtly maple-flavored icing.
Over time, Demers plans to ramp up her offerings, she said. With the bakery bringing new customers into the coffee shop, and the coffee shop introducing its patrons to the bakery, the combo seems like a match made in heaven.
The Frozen Ogre
46 N. Main St., St. Albans, 527-1200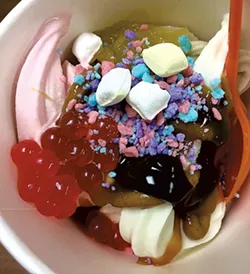 Suzanne Podhaizer
Mishmash sundae at the Frozen Ogre
With an image of the Star Wars Death Star on the wall and model rockets, dice, Magic: The Gathering cards and hundreds of board games for sale, the Frozen Ogre is far from your average frozen yogurt shop.
Meander all the way to the back, past racks of coloring books, kids' science kits and boxes of the Settlers of Catan, and you'll see the brain candy give way to actual candy. The store stocks classics such as jawbreakers and maple caramels; 20th-century specialties including Pop Rocks, Warheads and Fun Dip; and even theme-appropriate Harry Potter candies — Bertie Bott's Every Flavour Beans and Chocolate Frogs. A cutout of Harry himself, straddling his Nimbus 2000 broomstick, surveys the room from a perch on the wall.
Behind the candy is the DIY yogurt shop with four dispensers built into the fluorescent-green wall. Each machine holds two flavors, which can be combined into a twist. On one visit, I found vanilla and orange, peanut butter and chocolate, cotton candy and maple, and a dieter's combo of sugar-free strawberry and oxymoronic fat-free cheesecake.
I grabbed a cup and tried my hand at dispensing a few flavors, using care because it's billed by the ounce. Instead of elegant swirls, I ended up with a mangled trio of plops of maple, peanut butter and strawberry.
Undeterred, I hit up the extensive toppings bar, where I pumped on warm peanut butter, fudge and caramel. Then I added gooey pineapple mush and strawberry-bursting boba bubbles (other flavors include mango), a sprinkling of those melt-in-your-mouth pastel mints that come in bags at gas stations, and some crumbly blue, purple and pink bits evocative of the "unicorn food" trend that's sweeping the web.
Since I was 11 and believed that cooking meant stirring various random cupboard items into my packaged ramen noodles, I have not made a weirder, grosser concoction. I loved every bite.
Rail City Market
8 S. Main St., Suite 1, St. Albans
Suzanne Podhaizer
Rail City Market
Rail City Market boasts one of the most beautiful storefronts in St. Albans. The whole is painted sage and cream, and slender columns flank the tall door, which is topped by a sign featuring a charmingly old-timey font with gold accents.
Inside, it feels almost like two stores: Groceries and bulk goods are on the left, while the right half is divided between arts and crafts and body-care items.
The food selection is geared toward health-conscious consumers and those seeking products grown or made in St. Albans and its environs. There's yogurt from Butterworks Farm, Vermont Popcorn kernels, super-tart juice from Vermont Cranberry and a selection of Benito's Hot Sauces.
In the back room, which is so homey-looking that I initially thought it was for staff only, patrons can scoop crystallized ginger, yogurt pretzels and sesame crunch from five-gallon plastic buckets. Cardboard boxes with handwritten labels hold foil bags of bulk teas and spices: oolong, peppermint, whole rosehips, red clover.
Popular grains are back in the main area of the store in a long, waist-high aluminum box where dividers separate 50-pound bags. Patrons prop open the lid, grab metal scoops and get to work. It's a lower-tech bulk-section setup than you'll find in Chittenden County, but pleasingly hands-on — and, for a small store, cost-effective.
You just have to know how to navigate. Greens eluded me at first, but I found them tucked in the bottom of one of the coolers, beneath some natural sodas. A few other produce items were on offer — yams, pears, onions and garlic — but overall, the store is geared more toward the shelf-stable.
That won't be an issue after May 20, when the Northwest Vermont Farmers Market starts up across the street in Taylor Park. The combo of farm-fresh produce and meat with Rail City's rices, beans, tomato sauces and spices could be everything a home cook needs.
As the Crow Flies
58 N. Main St., St. Albans, 524-2800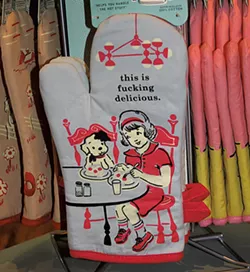 Suzanne Podhaizer
Sassy oven mitt at As the Crow Flies
In the market for a sassy set of oven gloves that proclaim, "This is fucking delicious"? How about a hand-carved cutting board made from Vermont maple? As the Crow Flies has both. The cookware store and wine shop also has a small selection of local snacks that could be combined into a kick-ass cheese plate. And, of course, there's a lot of maple syrup, made by the store's owner, Jessica Kittell Gaudette, and her family.
Patrons of the Burlington Farmers Market may recognize Gaudette as the woman who used to sell those delicious rhubarb cakes, as well as homemade jams and pickles. In 2013, she bought the St. Albans shop from its previous owner and made it her own.
Gaudette makes sure to carry items such as food mills and canning supplies, which are useful to folks who grow their own or buy in bulk from local farms. The store has all of the usual kitchen goods, too — Fiestaware plates, Wüsthof and J.A. Henckels knives, April Cornell linens, and glassware.
Evelyne's on Center
15 Center St., St. Albans, 782-1852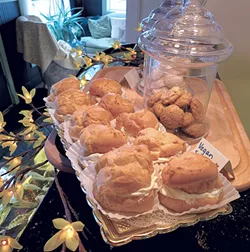 Suzanne Podhaizer
Evelyne's on Center
Of all the sitting rooms in St. Albans, the little seating nook at Evelyn Martin's petite bakery may be the most charming. It holds a pale-green love seat piled with pillows, a robust aloe plant in a window, and an iron-and-crystal chandelier that's elegant without being gaudy.
That phrase aptly sums up the whole operation, which consists of one counter laden with baked goods and a freezer containing a limited, quirky selection of groceries: Myer's bagels, a few flavors of Island Homemade Ice Cream and Ben & Jerry's, and meats such as a tiny quail and a four-pound butterflied leg of lamb.
Martin, who opened her bakery in 2015, specializes in cakes — salted-caramel cheesecake, chocolate-peanut-butter-crunch cake — and treats that one can eat out of hand, such as salted-caramel nut bars, cappuccino brownies and lemon-rosemary bars.
In addition, she sells a soup du jour, a couple of takeout salads and sandwiches. The Hungarian mushroom soup is a town favorite, Martin said, as is the curried-egg-salad sandwich with almonds.
One Federal Restaurant & Lounge
1 Federal St., St. Albans, 524-0330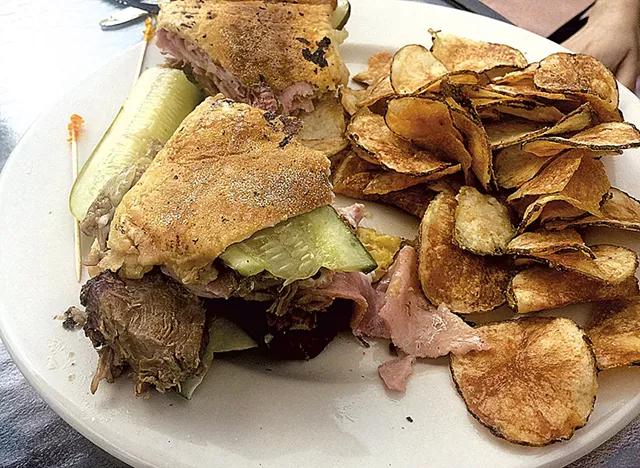 Matthew Thorsen
Cuban sandwich at One Federal Restaurant & Lounge
Since they opened One Federal in 2009, Marcus and Erika Hamblett have been making an art out of quietly growing much of their own produce on their family farm, while keeping the dishes unpretentious and reasonably priced.
For instance, they often make the famed frickles — pickles that are sliced lengthwise, battered and deep-fried — with their own cucumbers. In season, when all goes well, the Hambletts supply their own potatoes, lettuce, and nearly all the other vegetables and roots they need.
The place is unabashedly fun. The Buffalo sauce on the chicken wings is laced with maple syrup. Another app consists of prime rib, bacon and cream cheese all gathered up in a wonton wrapper and deep-fried.
The entrées come in hearty portions and are generally full of flavor. The Cuban sandwich is piled with hunks of house-smoked pork and slices of ham. The meatballs are studded with bits of jalapeño and flavored with Parmesan.
Sit on the patio, order a maple cocktail, joke with the server and enjoy.