Courtesty Photo
Alison Bechdel painting
As always, the artistry on view across the state in 2018 was fabulously overwhelming. And not just in galleries and museums. From coffee shops to town halls, you can hardly walk into a building in Vermont that doesn't display artwork of some kind.
It's easy to take that for granted and to overlook the fact that someone has taken the time and effort to adorn all these premises. Our hats are off to the often-unheralded curators — not to mention to the artists who created the work in the first place.
We witness a lot more of this visual bounty than we have the space to write about. And, for our annual look back at the year in art, we must hew to an even more stringent limit: choosing our seven favorite exhibits. They were shows that compelled us not just to look but to learn, think and perhaps expand our view of what it means to be human in this world.
These selections have been culled from our full reviews of shows over the past 12 months. All of our reviews and other arts coverage can be revisited at sevendaysvt.com.
'Self-Confessed! The Inappropriately Intimate Comics of Alison Bechdel'
Fleming Museum of Art, Burlington, January 20 to May 30, flemingmuseum.org
Vermont cartoonist laureate Alison Bechdel is a veritable queer icon, a reputation first cemented with her long-running strip "Dykes to Watch Out For." She followed that up with her wildly successful graphic memoir Fun Home: A Family Tragicomic, which was later adapted into a Tony Award-winning Broadway musical. Bechdel, also a MacArthur Fellow, has done her adopted home state very proud. This retrospective at the University of Vermont functioned as a sort of Bechdel exegesis. It supplied newbs and die-hard fans alike with ample context for a range of archival materials, including early drawings and ephemera. The original 1985 comic that spawned the Bechdel Test? Check. A Bechdel-designed 1993 Pride parade pin? Check. A larger-than-life self-portrait of present-day Bechdel cleaning her cat's litter box? Of course.
— R.E.J.
The Fabric of Emancipation'
Rokeby Museum, Ferrisburgh, July 15 to October 28, rokeby.org
Courtesty Photo
"Conversations in Cotton: The Fabric of Our Lives" by Laura R. Gadson
2018 has been a long and difficult year. A question posed by "The Fabric of Emancipation" curator Michelle Bishop remains hauntingly resonant: "Are we really emancipated?"
The New York-based founder and director of Harlem Needle Arts debuted this exhibition at Manhattan's historic Morris-Jumel Mansion in 2016. A patchwork of fiber-based arts, the show spanned quilts to appliqué to fashion design. Aptly for the Rokeby's mission, it underscored textiles as an essential language of the African diasporic experience in the U.S., both pre- and post-Emancipation Proclamation.
Among the eight artists participating was Dindga McCannon, a self-proclaimed "silver panther" who also appeared in the recent nationally touring exhibition "We Wanted a Revolution: Black Radical Women, 1965-85." At a time of newly energized reevaluation of history, the show offered an important marriage of historically marginalized voices with a traditionally marginalized medium, while celebrating both.
— R.E.J.
'Made in Vermont'
Hall Art Foundation, Reading, May 12 to November 25, hallartfoundation.org
Courtesty Photo
"Knot" by Patrick Dunfey
Until 2018, the Hall Art Foundation in Reading hosted exclusively guest-curated shows of its own extensive collection of works by internationally known contemporary artists. This year, however, director Maryse Brand added a new kind of show: an exhibit of works by Vermont artists that were also for sale.
"Made in Vermont" featured 15 works by seven local artists, including some compelling surprises for northerners less acquainted with the art scene in southern Vermont. Patrick Dunfey's "Knot," in tempera and gesso on paper, hinted at the White River Junction-based artist's edgy visual imagination. Putney artist Richard Jacobs' oil-on-clayboard "Tortoise and Hare" was the layered abstract work of a painter deeply interested in materiality.
Works by two artists accounted for most of the sales: anthropomorphic sculptures made from cast-bronze sticks by Joseph Wheelwright, who worked in East Corinth until his death in 2016; and three of North Ferrisburgh artist Sara Katz's abstract industrial-landscape paintings. The Halls themselves purchased North Bennington artist Mark Barry's painting "Night Owl," a purple-hued, flat-perspective scene of a couple in bed illuminated by a laptop.
— A.L.
'In the Garden'
Pizzagalli Center for Art and Education, Shelburne Museum, March 17 to August 26, shelburnemuseum.org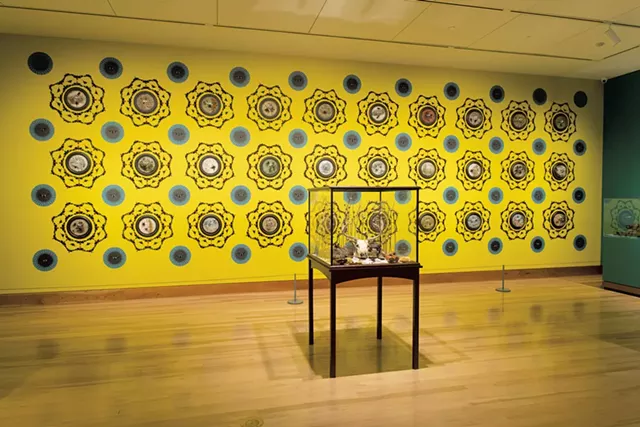 Courtesty Photo
"Memento Vitae" by Jennifer Angus
This exhibition provided a welcome blast of botanical beauty, particularly as it launched during Vermont's inglorious mud season. But the nondescript title did little to prepare viewers for the thought-provoking complexities in this selection of works that spanned five centuries.
To be expected were 19th-century folk-art paintings and floral-embroidered gowns. Less so was the enchanting addition of Richard Saja's weirdly subverted contemporary textile work "Four Seasons in the Garden of Toilerance," in which humans and fantastical creatures peacefully coexist. The generous sampling of metalwork by prodigious American craftsperson Marie Zimmermann (1879-1972) was a revelation. An installation claiming the entire back wall, "Memento Vitae," set kaleidoscopic patterns of dead insects against vivid yellow paint. A metal sculpture gracefully honored a young trans woman murdered in California.
If it promised prettiness, "In the Garden" planted ideas about tolerance, acceptance and purpose in the natural world.
— P.P.
'Hyper Flora,' JoAnne Carson
BigTown Gallery, Rochester, July 4 to August 25, bigtowngallery.com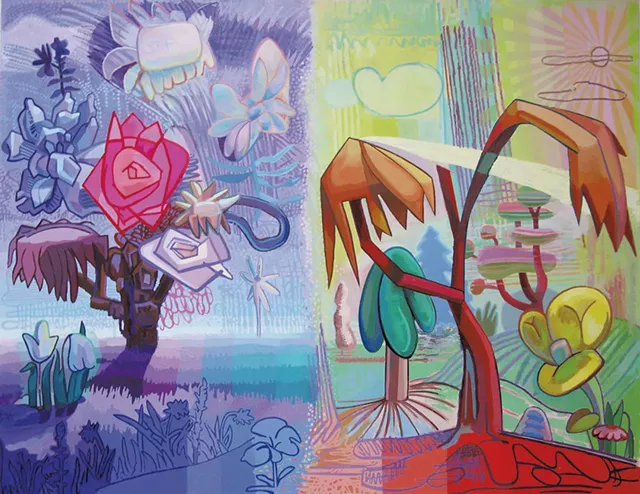 Courtesty Photo
"Field Days" by JoAnne Carson
If Hallmark greeting cards are any indication, humans enjoy thinking of flowers as perfect and pure offerings from nature, signifying love, beauty and sometimes ephemerality. This vibrant exhibition at Anni Mackay's consistently excellent gallery space, however, took another tack. Carson, a painter and sculptor based in Shoreham and Brooklyn, presents the plant world as anthropomorphized, in your face and teeming with aggressive energy.
Hybridity and interstitiality are of key interest to Carson, who often gives her botanical subjects legs and renders them in a style grounded in the traditions of both bucolic landscape and kaleidoscopic digital collage. Mutants in form and function, her flowers and floral scenes are right at home amid the present-day realities of genetic engineering and climate change. The show was a perfectly anxious reflection of modern environmental transitions.
— R.E.J.
'Optimist Prime'
New City Galerie, Burlington, May 4 to July 24, newcitygalerie.org
File : Oliver Parini
"Optimist Prime" gallery view
At the bleakest junctures, both personal and political, the question of optimism becomes especially important — not to mention pesky. Curated by artist Michael Shoudt, a head brewer at Fiddlehead Brewing, this spring show eschewed the familiar and straightforward rah-rah-resistance model. Instead, Shoudt opted to bring together colorful (dare we say cheerful?) works by eight artists whose playful approach to materials lit up the room.
It wasn't just sweetness and light: Several works had distinctly pagan tones, such as Los Angeles-based Liv Aanrud's fraying, folk-inspired hooked textiles and New Jersey-born Steven Mayer's small resin reflecting pools. Indeed, Shoudt used the word "magical" in his curator's statement. The overall effect was a breath of fresh air in cramped darkness, a gentle and smart reminder that there must always be room for pleasure — even in a business as serious as art.
— R.E.J.
'Gerald Auten: Graphite Insomnia'
White River Gallery, South Royalton, September 17 to December 16, balevt.org
Courtesty Photo
"Jim" by Gerald Auten
Gerald Auten's abstract graphite drawings are no mere expression of the objects and shapes that appear as still-life subjects in his work. Mesmerizing black contours lure viewers to drawings where, close up, the blackness reveals itself as multiple, built-up layers of powdered graphite and graphite pencil (and perhaps markers).—
The Iowa native studied architecture and teaches it, as well as studio art, at Dartmouth College. It's not surprising that his drawings suggest architectural blueprints; though two-dimensional, they seem to emerge sculpturally from the flat surface. White space is a crucial element, playing foil to the "black holes" of darkness. Bright white lines puncture dark shapes, and hard-edged angles constrain velvety blurs. By adding bonding elements to the powdered graphite and buffing the paper repeatedly, Auten creates a highly polished effect.
Perhaps insomnia is a personal concern for Auten, but his work is as beautiful and elusive as dreaming.
— M.B.