Courtesy Of Sally Montana
Zoë Keating
Regardless of the season, Vermonters tend to keep busy. Given all of the activities and performances the state has to offer, it's easy to see why. Even during a worldwide pandemic, event organizers have found creative ways to stimulate hearts, minds and bodies.
We've compiled a list of seven events or event series that Vermonters can look forward to in the coming months. This small sampling covers a range of geographic regions and genres — think music, theater, talks, movies and even an outdoor wellness exercise. For more Green Mountain State happenings, browse Seven Days' online calendar and the Magnificent 7, a weekly list of noteworthy events.
Zoë Keating
Friday, December 4, 7:30 p.m., online. $20. uvm.edu/laneseries
Back in June, cellist Zoë Keating released a clip on YouTube in which she performs a piece called "Quito Song." The black-and-white video captures Keating's unique performance style in a nutshell: Through her mastery of her instrument and technology, the Vermont-based musician creates a dynamic soundscape by looping and layering samples of her own live playing.
Keating takes the stage at the University of Vermont Recital Hall in Burlington — known for its outstanding acoustics — for a livestreamed concert as part of the UVM Lane Series. Fans can expect new improvised material alongside renditions of Keating's original compositions. Tickets go on sale on November 20.
Christmas at the Farm
Courtesy Of Billings Farm
Christmas at the Farm
Select dates from December 5 through January 3, 10 a.m. to 4 p.m., at Billings Farm & Museum in Woodstock. $4-16; free for members and kids under 3. billingsfarm.org
If modern-day stressors have you and your loved ones feeling less than festive this holiday season, travel back in time to experience a 19th-century rural Christmas. Billings Farm & Museum's Christmas at the Farm program offers a glimpse of Victorian-era Vermont and its holiday traditions.
At the working farm in Woodstock, families will find candle-dipping and cooking demos, warm cider doughnuts, and vintage decorations adorning the 1890 farmhouse parlor. Bring or rent snowshoes for a ramble in the fields.
Winter Forest Bathing
Saturday, December 12, 10 a.m. to noon, at the Green Mountain Audubon Center in Huntington. $25-30. vt.audubon.org
For some Vermonters, winter is about cozy slippers, hot tea and avoiding the outdoors at all costs. For others, it's an invitation to see the natural world in a new light.
The Japanese practice of forest bathing is one way folks can experience the great outdoors while reaping the restorative benefits of nature immersion. Certified nature and forest therapy guide Duncan Murdoch leads a winter forest bathing session in Huntington, encouraging participants to engage all five senses through a slow, mindful woodland walk.
First Wednesdays Lecture Series
First Wednesday of the month through May 2021, 7 p.m., online and at various locations statewide. Free. vermonthumanities.org
Lifelong learners need look no further than Vermont Humanities' annual First Wednesdays Lecture Series for educational, entertaining and sometimes hard-hitting talks. Each month, listeners get schooled on topics including the arts and culture, history, social justice, nature, and science. What's more, all presentations are free, so they won't add to those crushing student loans.
Visit vermonthumanities.org to explore virtual and in-person offerings at nine host locations around the state.
Split/Screen
Courtesy Of Ivan Cury
A still from Mr. Soul!, a selection for the Split/Screen film series
November 2020 through June 2021, online. $12.50 per film; $40 for a monthly pass. middfilmfest.org and vtiff.org
After eight months of quarantine, many of us have blown through the interesting content on Netflix. And Hulu. And Disney+. Just in time for the winter months, two major Vermont presenters of film festivals and series — the Middlebury New Filmmakers Festival and the Vermont International Film Foundation — swoop in with Split/Screen, a collaborative online film series. In alternating months, MNFF and VTIFF will present curated collections of four to five films available for streaming on digital devices and smart TVs.
Stock up on popcorn, fire up FaceTime, and log in for remote movie nights with your film-loving friends.
The American Dream Project
Second Sunday of the month, December 2020 through May 2021, 4 p.m., online. $20 for the series. townhalltheater.org
In the words of Middlebury Acting Company artistic director Melissa Lourie, "As a professional theater company, MACo has a unique platform to tell stories that respond to current realities." To that end, the company has teamed up with Middlebury's Town Hall Theater and Burlington's Vermont Stage to present the American Dream Project.
Plays centered on issues of racial and economic inequities will propel monthly virtual discussions augmented by readings from MACo actors and guest artists. Featured works include the Pulitzer Prize-winning Sweat by Lynn Nottage and Ma Rainey's Black Bottom by August Wilson, soon to be a feature film starring Viola Davis.
Saturday Storefront Trilogy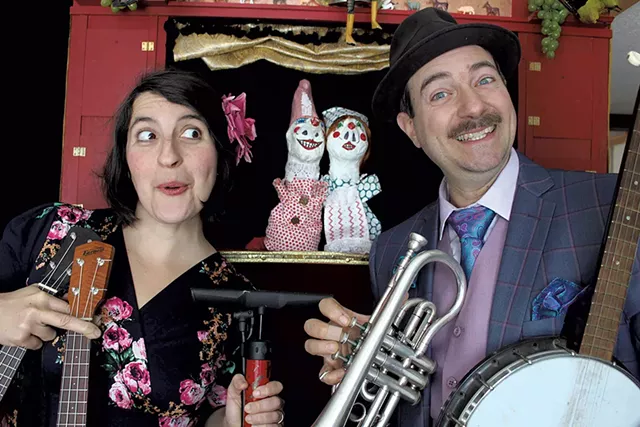 Courtesy
Modern Times Theater
Saturdays, March 6, 13 and 20, 11 a.m. and 2 p.m., at 452 Railroad St. in St. Johnsbury. $8-10. catamountarts.org
Even the most die-hard winter lovers might be weary of gray skies and dirty snow by the time March rolls around. The Northeast Kingdom's Modern Times Theater blasts through that late-season ennui with Saturday Storefront Trilogy, a three-part comedic puppet show starring updated versions of the iconic characters Punch and Judy. Husband-and-wife entertainment duo Justin Lander and Rose Friedman will bring their signature humor and eclecticism to these family-friendly performances complete with raffle prizes, refreshments and preshow music played from a hand-cranked gramophone.