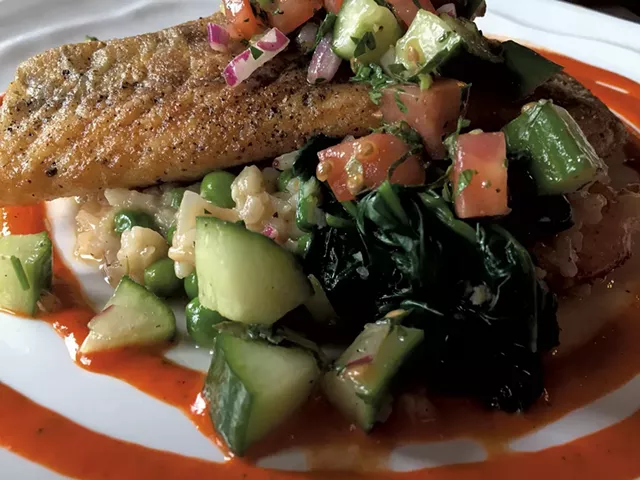 Sasha Goldstein
Pan-seared sea bass at Sage Restaurant
On the first night of Vermont Restaurant Week, the annual dining extravaganza organized by Seven Days, we ran into a couple who treat the event with admirable gusto.
Lindsey Gray and Jordan Black-Deegan of Huntington were eating at Revolution Kitchen in Burlington. The meal was a reprise of sorts for the couple, who had dined at the Center Street spot during last year's restaurant week, as well as at three other restaurants in three other towns.
"We're big foodies," Gray said. "We said, 'We're gonna go all out,' and we did."
As they enjoyed their meal last Friday night, the couple plotted out the rest of their 2019 VRW itinerary. The options are plentiful: more than 100 participating restaurants across the state. They're offering prix-fixe deals on meals and showcasing a range of dishes, from fish and chips with fries to Spicy Three-River Soup, from Cam Ba-Lamb! to Theon's Catch. (Yes, some menus have creative themes.) You name it, someone's probably serving it.
VRW kicked off last Thursday, April 25, with a return of the Sweet Start Smackdown at Higher Ground in South Burlington. The competition among 10 local dessert professionals resulted in a happy sugar high for attendees and a first-place win for the Essex Culinary Resort & Spa. Pastry chef Laura Johnson wowed with a triple-citrus mascarpone mousse.
VRW isn't only about eating. On Sunday, Seven Days marketing and events director (and yoga teacher) Corey Grenier led a vinyasa-style "foodie flow" at Burlington Beer Company in Williston. On Monday, a Culinary Trivia Night at Nectar's challenged teams of word nerds vying for prizes. Tuesday brought a cider-and-cheese Sensory Social with Shacksbury Cider and Vermont Creamery. Throughout the week, some lucky participants are learning how to prepare a three-course meal using WhistlePig Rye Whiskey. And, on Wednesday, May 1, a panel of experts discusses "The Wild World of Fermentation" at Burlington's ArtsRiot.
VRW is a fundraiser for people who might not have the means to dine out — or even to eat at home. Throughout the week, certain restaurants and event venues donate $1 per meal to the Vermont Foodbank. Over 10 years, VRW has generated more than $122,000 for the Barre-based nonprofit.
Eat up, for yourselves and your fellow Vermonters. Here are seven writers' accounts of their VRW meals to whet your appetite. And be sure to make your reservations!
— S.P.
Sage Restaurant
Sasha Goldstein
Grilled asparagus salad at Sage Restaurant
I've been out for Vermont Restaurant Week in years past but never with a toddler in tow. That was our charge when my wife and I visited Sage Restaurant in Waitsfield on Saturday.
We chose an early reservation, 5:30 p.m., to beat the crowds. The host, Jean, greeted us warmly, as did our server, Mel. They settled us into a booth beside a window with a high chair at the head of the table.
As Mel occupied the toddler with crayons, paper and some oyster crackers, we ordered first courses of beef tenderloin carpaccio and grilled asparagus salad. The carpaccio was a highlight of the evening: thin slices of beef dappled with fried capers and truffle oil, then topped with mounds of a delightful olive tapenade to spread on grilled ciabatta. We used the bread to sop up the basil purée drawn across the plate.
8 Route 17
Mad River Valley/Waterbury
Waitsfield, VT
802-496-7243
Mediterranean
The salad, with housemade tabbouleh, olives, tomatoes, a poached egg and crispy prosciutto, was disappointingly cold and flavorless. But the mains more than made up for it. We shared the Moroccan-spice-rubbed roast chicken leg, served on a bed of sautéed chickpeas, tomatoes, cilantro and romesco sauce; and the pan-seared sea bass with lobster-and-spring-pea risotto, baby spinach, roasted garlic and fresh tomatoes and cucumbers. Yum.
The dessert course capped a fabulous meal that the cranky 17-month-old only occasionally interrupted. We shared baklava, the traditional phyllo pastry and honey treat that can be soggy and overpowering. This version was light, sweet and perfectly composed. The flourless chocolate torte was rich and smooth, topped with a divine amaretto caramel and a scoop of vanilla gelato.
The $40 prix-fixe meal left us sated and satisfied — and we were out before baby bedtime.
— S.G.
Kismet
Chelsea Edgar
Mussels and grilled bread with kimchi butter at Kismet
It took me all of three seconds to decide I wanted to eat at Kismet alone. After a long week, I had only enough conversational stamina to order food.
I slipped in last Friday night and staked out the last open barstool in the corner. In fact, Kismet is an excellent spot for the unaccompanied: The bartender was solicitous but not invasive, and the 39-seat dining room, hung with crystal light fixtures, is dark and elegant but feels welcoming.
After settling in with an Old Checkered House — a bourbon cocktail with honey and orange bitters, like a bustier, frothier old-fashioned — I started with the most foraged-sounding thing on the $41 prix-fixe menu. That was the fried oyster mushrooms with fiddlehead remoulade. The fungi were as juicily umami as their seafaring namesakes, brightened by the remoulade's hint of lemon.
Location Details
Kismet
207 Barre St.
Barre/Montpelier
Montpelier, VT
802-223-8646
American (New) and Eclectic/Fusion
Speaking of oysters, I'm a sucker for multistep foods — things that require shucking, peeling, cracking or any maneuvering that makes eating feel like an accomplishment. So for my main course, I ordered the mussels, which arrived, plump as macaroons, in a fragrant stock of ginger, lemongrass, lime leaf and coconut milk.
The bivalves were perfectly briny and sweet, but I fell for the two slices of grilled Red Hen Baking bread slathered in kimchi-infused butter. They had the perfect ratio of crustiness to sponginess for soaking up all the broth.
Having recently lived in San Francisco, I'd grown accustomed to paying far too much for tiny desserts that taste like a semiotics lecture. So I sighed with relief when the potted chocolate truffle with salted caramel, topped with fresh whipped cream, arrived in a ramekin that could have served as a Jacuzzi for Barbie. Remember when desserts were big, America? That dream is still alive at Kismet.
— C.E.
Revolution Kitchen
Sally Pollak
Ravioli and cauliflower tacos at Revolution Kitchen
My bad for showing up at Revolution Kitchen last Friday evening, the first night of Vermont Restaurant Week, without a reservation. I thought at 5:15 we'd breeze right in.
Wrong. The restaurant was booked.
Things were looking bleak until Debra Maisel, who owns the vegetarian restaurant with her husband, Peter, worked some magic and seated my friend and me at the table of a no-show.
Lucky us.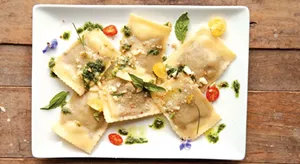 9 Center St.
Burlington, VT
802-448-3657
Vegetarian and Eclectic/Fusion
As the dining room filled up around us, Finn and I shared six dishes on the restaurant week menu, splitting two three-course meals ($30 apiece). We started with a celebration of green: kale and romaine Caesar with shiitake slivers (aka gluten-free croutons) tossed with a zesty, mustardy dressing. Our other starter, a plate of asparagus spears that held their crunch, highlighted Debra's miso-based, cholesterol-free hollandaise sauce.
These small plates set a high bar, but our mains easily met it: vegetable ravioli in a sweet and creamy vindaloo sauce, and Buffalo cauliflower tacos. We nibbled on the pasta and devoured the tacos. The spiced florets came wrapped in a tortilla with sauerkraut and blue ranch crema — a meal both simple and special.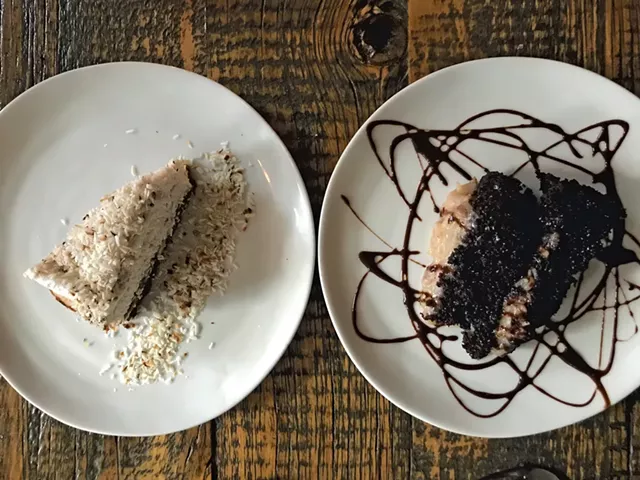 Sally Pollak
Coconut cream pie and German chocolate cake at Revolution Kitchen
Our dessert highlight was vegan German chocolate cake, luscious and moist.
The Maisels share cooking duties at Revolution, which they opened six years ago. They also share laughs behind the line. When I stopped on the way out to take a picture of the restaurant's sauces, the couple shied away from the camera. Peter turned to his sauté pan and quipped that he and Debra look better in bathing suits. She consented to a photo in her apron.
We left sated but not weighed down by the food, and cheered by the environs. Finn had enough bounce in his step to perform on stilts at Higher Ground later that night. I had one rhetorical question: Why haven't I been a regular at Revolution Kitchen these past few years?
— S.P.
Hired Hand Brewing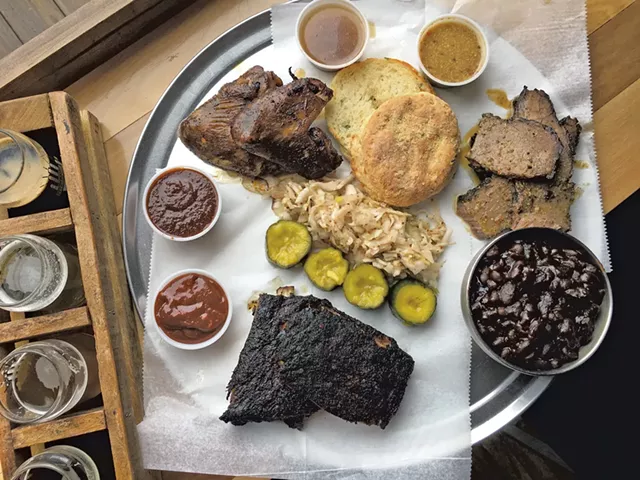 Melissa Pasanen
Barbecue platter and beer flight at Hired Hand Brewing
My friend put it succinctly when our barbecue platter arrived in its dark, sticky, saucy glory: "I should not have worn white," she said.
During Vermont Restaurant Week, Hired Hand Brewing in Vergennes is taking the opportunity to offer a sneak peek of chef and co-owner Ian Huizenga's new barbecue menu. His brewpub's deep dive into barbecue was prompted by a good deal on a large smoker, he explained, after we had licked our fingers clean. (Don't worry, the popular pizza isn't leaving the regular menu.)
Choices range from candied pork belly over maple baked beans ($12) to a brisket-and-cheddar biscuit sandwich with slaw and pickles ($14). In the name of research, we opted to share the $35 platter for a broad taste of what Huizenga is smoking up.
A pair of maple-brined wings, two meaty spareribs and four slices of brisket came with a bowl of mahogany baked beans, an amply shareable golden cheddar biscuit, a tangle of mustardy slaw, and chunks of housemade bread-and-butter pickles. We got greedy and asked if we might sample all four barbecue sauces: two from the vinegar tradition and two tomato-based.
Amid the riot of smoke and acid, the tender biscuit and almost candied beans offered welcome balance. The wings were good, but my favorite bites probably were chunks of fatty pork pulled from the rib and dipped into Huizenga's Korean barbecue sauce, which is spiked with gochujang chile paste.
To drink, we followed the apparent theme of our Saturday lunch: breadth. From Hired Hand's own beer list, we shared a flight of four draft brews, plus a sample of the fifth on offer. From a crisp, honeyed pilsner to a cacao-nib-dark porter, each was deliciously distinctive.
— M.P.
The Old Foundry at One Federal Restaurant and Lounge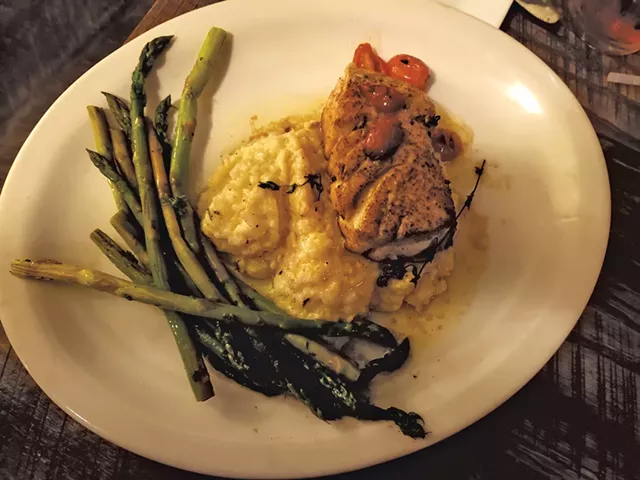 Carolyn Shapiro
Theon's Catch (halibut, risotto and asparagus) at the Old Foundry at One Federal Restaurant and Lounge
The menu sounded enticing enough: wild boar Wellington, Cornish hens, rabbit stew and English toffee pudding. But what really drew me to the Old Foundry at One Federal Restaurant and Lounge in St. Albans was the "Game of Thrones" theme.
"Are you a fan?" asked Katie Foy as she greeted me at the door. She and her husband, Jamie, co-own the restaurant and are "huge" devotees of the HBO series, which I merely enjoy watching.
Not only did they name each dish on their restaurant week menu after one of the show's characters, but chef Jamie conceived of the kind of hearty, stick-to-your-ribs fare that those characters might eat to sustain themselves through war, winter, witchcraft and White Walkers. Each dish my husband and I tried on the $40 prix-fixe menu was expertly cooked, succulent and satisfying.
The simple seasoning on my halibut, Theon's Catch, was a savory garlic blend with roasted tomatoes that allowed the meaty fish to dominate a zesty risotto and grilled asparagus. My husband raved about the wild boar, chunks of tenderloin wrapped in ham and puff pastry, which was called King Robert's Last Hunt in a tongue-in-cheek reference to the gory fate of the fictional monarch.
My final act was the toffee pudding, Daenerys' Warm Spot, named for the GOT heroine. The dense date-and-spice cake assertively confronted the sweetness of a housemade butterscotch sauce and light whipped cream.
Katie said it took three trials to make the cake moist enough and get the butterscotch consistency right. The result, a balanced blend of formidable texture and lush flavor, proved worthy of Khaleesi herself.
— C.S.
Zenbarn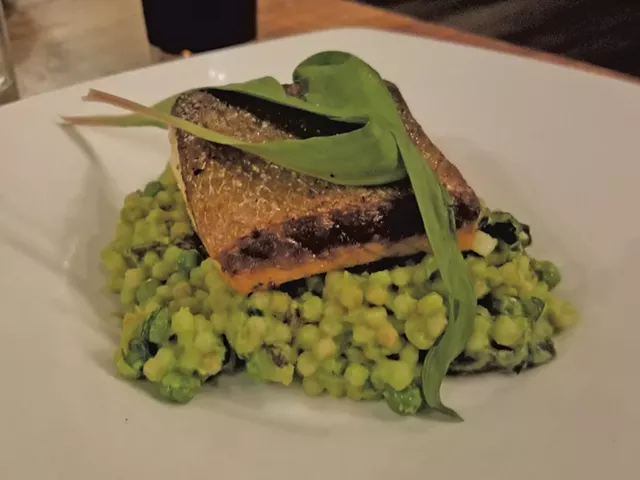 Andrea Suozzo
Grilled salmon at Zenbarn
As we walked into Zenbarn, the dimly lit tables near the bar were mostly vacant and the barstools empty — surprising for seven on a Friday night.
When we neared a wooden divider, though, the restaurant half of the space came into view, and so did the people. The dining area was warmly illuminated, its weathered walls adorned with colorful art. Metal stencil plates attached to our table read "Peace" and "Love" — though we wished we'd gotten the "Haha" and "LOL" table next to us.
Location Details
Zenbarn
179 Guptil Rd.
Mad River Valley/Waterbury
Waterbury, VT
802-244-8134
Eclectic/Fusion, American (New), Bar and CBD Maker
We were a week late for Zenbarn's 420 Party, but you wouldn't have known it by looking at the regular menu, which features CBD butter and aioli, as well as cocktails with hemp syrup. I was tempted by the selection of burgers, barbecue and ramen but opted for the $30 prix-fixe restaurant week deal instead.
The cauliflower empanada appetizer was a blank slate for the accompanying cilantro crema dip, which stole the show. I could have eaten all of it with a spoon.
My entrée of grilled salmon was perfectly crisped on top and tender within, and its bed of couscous was swathed in a pea purée and dotted with fresh peas. I could smell the pungent earthiness of ramps in the purée even before I took a bite. More luxurious still were the surprise fiddleheads, which weren't mentioned on the menu. They gave extra pop to a dish already packed with the welcome flavors of spring.
The final course, a Mexican hot chocolate pot de crème, was nearly too rich to finish, though I most certainly did. As we strolled back through the now-busy bar and out into the chilly night, I could still feel the pleasant tingle of the spices on my tongue.
— A.S.
Misery Loves Co.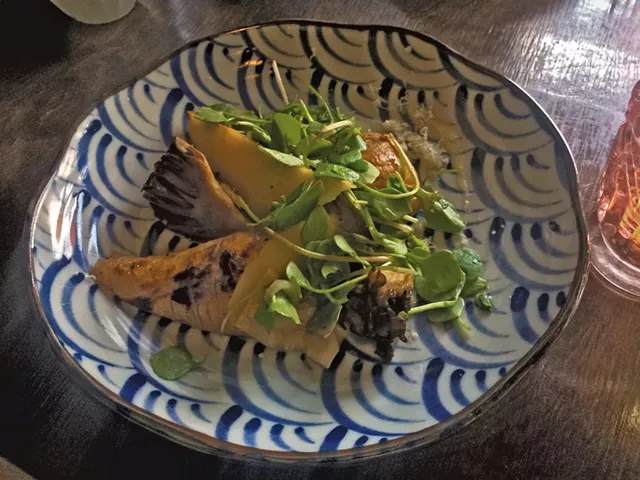 Molly Zapp
Spring-dug parsnips at Misery Loves Co.
The most memorable restaurant week offerings at Misery Loves Co. evoked the last gifts of winter dancing with the first promises of spring. The roasted spring-dug parsnip, our second course, had a skin-on, winter-worn exterior that yielded to an interior sweetened by the freeze-thaw cycle of the soil. Smoked maitake mushrooms, a beautiful exploration of textures, accompanied it.
46 Main St.
Chittenden County
Winooski, VT
802-497-3989
American (New)
Microgreens and a pinch of fresh horseradish added a delicate bitterness. Pickled leeks acted as the liminal figure among the grounded roots, combining the top-of-the-soil earthiness of the mushrooms with the sun-has-appeared freshness of the greens. I counted: This dish hit all five of the basic tastes.
The sablefish, my main course, played with other textures and seasonal offerings. The filet, poached in an only faintly sweet maple sap dashi, had delicate, flaky layers; its skin had been fried separately and crumbled on top. Wide butternut squash ribbons and surprise pieces of marinated dates added sour and sweet.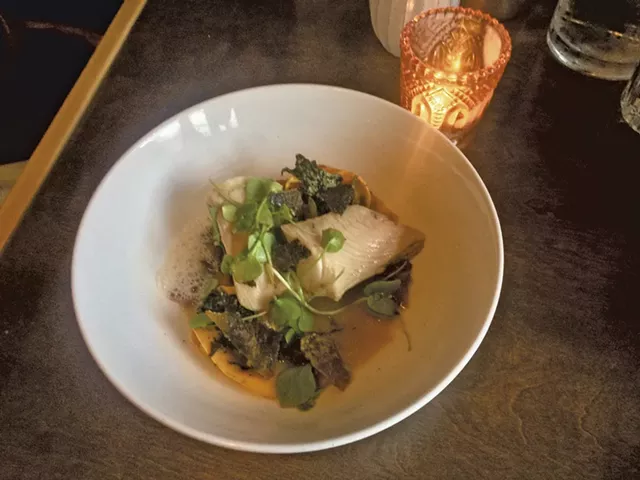 Molly Zapp
Sablefish at Misery Loves Co.
My friend's main was a tender tagliatelle made with ramps, another mud-season harbinger. The top parts of the wild allium had become a creamy, salty green sauce, while its bulbs had been pickled and sprinkled on top.
"But I want more," my friend said as she finished her pasta. We were more than satisfied with our meal, and neither of us was still hungry, but I knew what she meant. It was a gray, rainy day, and we both grasped for continued signs of what MLC's food showcased brilliantly: that something alive is emerging from all this mud.
— M.Z.