Jordan Barry ©️ Seven Days
The Obarski burger, fries and a Big Ole Fat Salad from the Bobcat Café & Brewery
We've been running a series called "Dining on a Dime" on our Bite Club blog since 2016. Over the years, we've enjoyed well-made, filling bites — substantial enough to qualify as a small meal or better — for $12 or less at 96 different establishments.
We often discuss raising the price limit for the weekly-ish series — even a sandwich can be $14 these days! But it's always been a fun challenge to stop in somewhere and see what we can get on a budget. And now, during the pandemic, highlighting places to eat affordably seems more important than ever.
"Cheap eats" don't fall into any one category; they can be global, farm-to-table, comfort food or even on the menu at places we classify as "fine dining." It just takes a little creative ordering.
Here are seven places we've eaten well on the cheap over the past few months.
— J.B.
Goosebumps
My husband and I headed to Bristol on a recent Saturday afternoon with one mission: to turn 200-plus pounds of apples into hard cider.
Our friends had converted their garage in the village into a fledgling fermentory. We passed Wicksons, Dabinetts, Dolgo crab apples and foraged apples down the assembly line, from the washing station in the driveway into a hand-cranked apple grinder, then into the small wooden press (also hand-cranked). Fifty pounds and several hours in, we were getting hungry. It was going to be a long night.
The Bristol residents knew the drill: Time to call the Bobcat Café & Brewery. I had worked up quite the appetite pulverizing apples in the grinder, so a hearty burger sounded exactly right.
After a glance at the menu, I decided on not just a burger but the Obarski burger ($10): homemade goose sausage, blue cheese, bacon and chipotle-raspberry jam on a pretzel bun. The description also said "No pickles!!" If that was an inside joke, I was too hungry to ask about it.
The Bobcat is open only for pickup, with orders and payment taken over the phone. The restaurant has been serving a frequently changing, low-cost takeout menu since the beginning of the pandemic.
As we wrote down our list of burgers and po'boys, all $10, I realized the restaurant would be a great fit for Dining on a Dime. We did the quick math to figure out whether we could split an order of garlic-herb French fries ($5) and a Big Ole Fat Salad ($10) among the four of us and decided it was close enough. (We'd used all of our arithmetic abilities to estimate how many gallons of cider we'd end up with.)
It took a few tries to get through to a human and place our order, but this was Saturday at 6 p.m., and the locals told us the food was totally worth the unsurprising wait.
Half an hour later, we pulled up to the Bobcat and joined a small, well-spaced queue. When my name was called, I ran into the vestibule and grabbed our paper bags from the pickup table, following the rules of the restaurant's slick system.
Back in the garage, sitting on an apple crate, I dove into the rich, flavor-packed burger. It was everything I needed to keep up the grind for the next 150 pounds.
The unctuousness of the goose sausage — a phrase I never thought I'd write, given how rarely goose sausage shows up on a menu — was cut by the spicy, fruity jam. Each bite of the Obarski burger blended notes of tart, sweet and savory in a way I could only hope our finished cider would. I immediately put in a vote to name our first batch after it.
— J.B.
The Inn Crowd
Shelburne Farms, 1611 Harbor Rd., Shelburne, 985-8686
File: Sally Pollak ©️ Seven Days
Shelburne Farms lasagna with salad
It's two miles from the visitor center at Shelburne Farms to the inn and gardens on Lake Champlain, or a little more, depending on your route. But who's marking the distance when a walk across the property — past grazing Brown Swiss cows and the milking barn — is a double win: one of the most beautiful strolls in Vermont combined with an effortless shopping trip?
Yes, a shopping trip. You can take a walk at Shelburne Farms while a staffer packs your online food order for curbside pickup. If you're an impulse shopper, you can even phone in your order from the parking lot, go for a walk and return to get your food.
The farm's seven-acre market garden produces organic vegetables and herbs that, in a normal season, are prepared and plated for diners at the Inn at Shelburne Farms. The inn, as well as all farm buildings, is closed due to the COVID-19 pandemic.
This fall, the produce is available for purchase outside the visitor center-cum-farm store. Open daily from 10 a.m. to 6 p.m., the store also sells Shelburne Farms cheese, maple syrup, eggs and prepared foods.
We were super psyched to discover that those prepared dishes come from the inn's kitchen, which typically turns out expensive dinners for in-house diners. This year it offers excellent meals at very reasonable prices.
Our favorite is the rich, classic beef lasagna made with beef raised on the farm, tomatoes, cheese and béchamel sauce. A $12 lasagna feeds two. (I spend more money on ingredients when I make my own lasagna, though it fills a big pan.) Vegetarian lasagna costs $11. Both come frozen and need to be defrosted and warmed in the oven. We eat ours with salad and bread; the dinner is both a treat and a bargain.
We've also had the macaroni and cheese ($8) and the squash blossom fettuccine ($5), and we've become fall fans of the beef or veggie chili ($12 a quart).
With the farms' garden and hoop houses producing a beautiful autumn harvest — Brussels sprouts, beets, onions, Swiss chard, celery root, squash, turnips — that will extend well into December, it's easy to look past the prepared meals. But a late afternoon walk turns into a one-night vacation when it ends with dinner-in-a-bag.
— S.P.
Making New Friends
Friend's Nepali Restaurant, 212 Main St., Winooski, 654-8000, (closed on Tuesdays)
James Buck
House special thali (clockwise from top left): gundruk soup, lentil soup, ema datshi, mango chutney, two breads, gulab jamun and rice from Friend's Nepali Restaurant
I visited Friend's Nepali Restaurant, which reopened under new ownership the first week of August, on the recommendation of a friend who spoke glowingly of the vegetable curry and the gundruk — fermented and dried greens that are a Nepali staple. I was particularly intrigued by the latter, which I'd never tasted.
When I unearthed a current menu on Facebook and called to order lunch, co-owner Rup Mizar encouraged me to try the lamb curry. I thought it was $12, but the delicious curry actually rang up at $12.50.
Under normal circumstances, 50 cents would not be a big deal, but if you want to follow the rules of Dining on a Dime, order the curry with chicken ($11.50) or kidney beans ($10.50). Both come bathed in the same deep and balanced red-brown sauce, made with garlic, ginger, housemade masala spice mix and paprika. Each bite warms like a hug, at a time when hugs are too few and far between.
Gundruk is available only as part of the multicourse house special thali. Although technically a rule-breaking $15, a single thali met our criteria because it delivered an ample meal for two, especially when preceded by a pair of vegetable samosas ($4.50) stuffed with a well-spiced potato mixture that zinged with mild heat.
Thali would normally be presented on a round tray, with dishes like planets orbiting a sun of rice. My takeout version was a stack of containers holding cracker-like papadum; soft paratha bread; basmati rice; mango pickle; lentil daal; gundruk soup; and ema datshi, also new to me. Gulab jamun, or sweet condensed milk balls in syrup, rounded out the meal.
When I picked up my order, Sabitra Poudyel, the restaurant's co-owner and Mizar's cousin, greeted me warmly and said she'd included an extra gulab jamun. Even if she hadn't, our total budget of $24 had room for another order of two of the sweet treats ($3) or a mango lassi to share ($3), plus an extra papadum ($1.20), my son's favorite for its toasty chickpea and cumin flavor.
Poudyel later gave me a primer on the two unfamiliar dishes, both of which I enjoyed very much. They represent the dual background of her family and more than 2,500 Bhutanese of Nepali heritage in Vermont. Most spent years in eastern Nepal refugee camps after leaving Bhutan due to ethnic and religious persecution.
Friend's Nepali makes its gundruk from mustard leaves. The slight funk and chewy texture are complemented by potato chunks and a broth of tomatoes, garlic and ginger.
Ema datshi, a national dish of Bhutan, consists of cauliflower, potato and daikon radish cooked until tender with bell peppers in a rich, tangy sauce of yogurt and butter.
Poudyel recounted how she and Mizar came to buy a restaurant during a pandemic. Her younger brother, Ganga Dahal, was just 25 when he passed away in April from cancer. "It was his dream to own the restaurant," she said. "We could not save him, but we have his dream."
— M.P.
Dolma Delight
Honey Road, 156 Church St., Burlington, 497-2145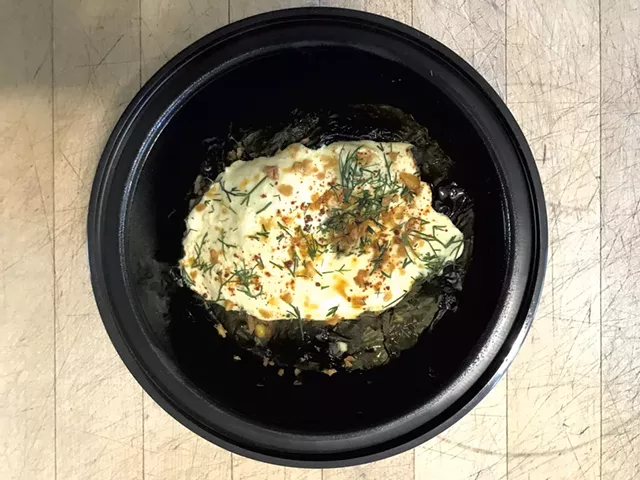 File: Sally Pollak ©️ Seven Days
Eggplant-and-corn grape-leaf pie from Honey Road
Some food is made to be eaten, not photographed. I'd throw Honey Road's eggplant-and-corn grape-leaf pie into that category.
It's not that the dish doesn't look good, just that the purpose would be better served by an audio clip of me OMGing when I took my first bite. (Plus, skipping the photos means we can start eating sooner.)
Still, if I remember correctly, it was a photograph on Instagram that alerted me to Honey's Road inventive dolma. The price ($12) for this seasonal special was a draw. The ingredients — eggplant, corn, dill, grape leaf and labne (lots of it!) — clinched it. Plus: jasmine rice.
A mound of vegetables is always going to excite me. When eggplant is part of the mix, sweet local corn is featured, and the meal is set on a bed of grape leaves, it's enough to make me leave home for the takeout window.
For us uninventive types who think a dolma is supposed to look like a cigar, what a revelation to come across one in the shape of a hockey puck. Slap shot. Score.
— S.P.
Firmly Planted
Conscious Eatz food truck, often parked at 6 Clarke St., Burlington
File: Jordan Barry ©️ Seven Days
Conscious Eatz's chickpea tuna sandwich
Burlington's vegan scene got a bit bigger — and more mobile — on September 3 when Conscious Eatz rolled into town. The food truck eventually parked near the top of the Church Street Marketplace.
Partners Jane Morgan and Tyler Weith have followed a plant-based diet for the past few years. When they moved back to Burlington in summer 2020, they noticed a "major gap in vegan and vegetarian foods," Morgan said.
"For such a progressive city, it really surprised us that there weren't more options," she continued.
Approachability is key to the food truck's menu. Items such as Buffalo cauliflower tacos ($12) and the maple-glazed tempeh burrito ($11) have been popular from the get-go.
"We really tried to make all of our ingredients and menu items things that would appeal to anybody," Morgan said. "If one person who typically eats meat decides for one of their meals, one day a week, to not eat meat, that in itself has a positive impact."
With that in mind, my dining companion and I skipped our usual omnivorous lunch plans and ordered Conscious Eatz's chickpea tuna sandwich ($9) and Lucerne club ($9), both of which came with an ample side of potato chips.
The "tuna" successfully mimics the classic sandwich. The combination of chickpeas and smooth hummus — spiked with celery — has everything but the fishiness. It would be a perfectly polite solution to a tuna craving at the office, if sitting near coworkers for lunch al desko were something we could actually do.
The Lucerne club strays further from the original (no frilly toothpicks), but it's a twist worth trying. The sandwich is piled high with shredded carrots, sprouts and crispy "carrot bacon" and slathered with a Thai-inspired peanut sauce.
In a world of increasingly expensive sandwiches, these felt like a good deal at $9. Tempted by the desserts — particularly the blueberry cheezecake ($5) — we skipped them to stay under our $12-per-person limit. We were so stuffed we didn't even miss the sweets.
— J.B.
Tried-and-True Triad
File: Sally Pollak ©️ Seven Days
Dinner from Zabby & Elf's Stone Soup
Normalcy — sort of — returned to Burlington's College Street in September in the form of sweet potatoes, kale and brown rice.
The mainstays of the hot bar at Zabby & Elf's Stone Soup were back in action after a six-month moratorium. The trio of basics made their comeback along with sandwiches, soups, muffins, apple crisp, bread and the changing array of items in the café's hot and cold bars.
The not-so-normal part is that those hot and cold bars are no longer self-serve, which was Stone Soup's pre-pandemic way. Now a staffer fills your plate for you. A Plexiglas shield — probably the best looking in town — separates the food and the people, guarding one from the other. (Ever been tempted to snitch a crouton or an olive at Stone Soup? Sorry, that game is over.)
The new service system at Stone Soup offers two pathways. You can tell a staffer what you'd like — three chicken wings, please, some curried cauliflower and chickpeas, and those seared Brussels sprouts! Or, how about some salad and cottage cheese, a spoonful of pickled beets, a hit of roasted mushrooms, and dried apricots?
Or you can opt for a chef's tasting plate: $10 for small, $15 for large. Specify vegan, vegetarian or omnivore and let a Stone Souper pick your food for you.
I'm always pleased to relinquish responsibility, so I allowed the server to create my plate when my daughter and I stopped for dinner one evening in mid-September. Though the dining room is open at reduced capacity, with off-limits tables marked by arrangements of stones and flowers, we took our meals home.
"We're working hard to create products that work in this setting — but still serving the food everybody has been used to," co-owner Tim Elliott told me. "You need to have trust in your server."
As it happened, co-owner Avery Rifkin was on duty the evening we visited, and I certainly trust him (and everyone else at Stone Soup) to feed me. I chose the small plate ($10) to qualify for Dining on a Dime, which left me $2 for a chocolate cookie. Rifkin loaded me up with food I've been missing for six months: chicken wings, kale salad, cucumber salad, mac and cheese with vegetables, beet hummus, and a thick slice of whole wheat bread.
Stone Soup opened the week before Rosh Hashanah, a holiday that calls for in-house noshing. On that occasion, several days after my takeout dinner, a friend and I met at the café for coffee and rugelach at a table by the big open window.
If I could pick a word to describe the marking of the Jewish New Year at Stone Soup, "normal" is not it. The café's candlelit celebration is one of a kind — or, at least, like nothing I've ever seen in a restaurant.
A baking marathon yields loaves of round challah, rugelach, mini babkas, apple cake and honey cake. The baked goods are set on a counter that also holds candles, flowers, pumpkins and gourds. The tiered stack of rugelach, an annual engineering marvel, is high and holy — as in, holy smoke! Check it out next year.
Meanwhile, you'll find braided and seeded challah behind Plexiglas every Friday. For $7 a loaf, you can dine on a carbo dime — and have $5 left for sweet potatoes and kale.
— S.P.
Turned On to Tofu Bánh mì
M-Saigon Restaurant, 370 Shelburne Rd., Burlington, 865-8383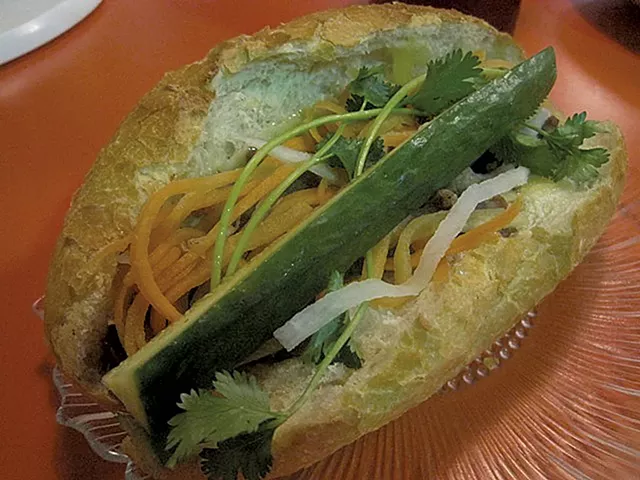 File Photo
Bánh mì
My daughter and I are typically winter customers at M-Saigon Restaurant on Shelburne Road, where we're fond of the pho with tofu and vegetables and the drunken noodles with chicken.
So I hadn't been thinking about the Vietnamese restaurant in Burlington's South End over the summer, until I went to the post office one late August day and noticed that M-Saigon, just next door, was open. Here was the right spot for Dining on a Dime, I thought.
But the noodle dish costs $12.95, just over this feature's $12 limit. And it was summer — I wasn't in the mood for soup.
How lucky for us that considerations of price and season pushed us to look anew at the menu. My daughter chose grilled lemongrass honey chicken with vermicelli ($11.95). I got chicken dumplings ($5.95) and the lemongrass tofu bánh mì ($4.95). For $22.85, before tax and tip, we shared a very good and satisfying meal for two.
(Unsolicited tip advice: Tip at least 20 percent — 25 if you can swing it — when you're picking up food to-go or buying a beer at an outdoor bar. If a business is collecting money for a local nonprofit rather than accepting a gratuity, contribute a comparable amount.)
The generous portion of vermicelli at M-Saigon came with two pieces of grilled chicken, a medley of vegetables — cucumbers, bean sprouts, daikon, carrots and shallots — and crushed peanuts.
I probably hold sandwiches to the highest standard of any food group, and the bánh mì was terrific. Served on a housemade baguette, the sliced tofu was garnished with cilantro, a crunchy wedge of cucumber, pickled daikon and carrots. The staff held the house mayo at my request and substituted sweet chile sauce (their idea). It was hard to believe this hoagie-size bánh mì, with ingredients we're not likely to pull from our home refrigerator, cost $4.95.
M-Saigon closed in mid-March, in compliance with Vermont's coronavirus shutdown order, and reopened on July 6, according to Chantalle Nguyen, daughter of chef-owner Khoi Nguyen. A psychology major at the University of Vermont, Chantalle is balancing restaurant work with university classes.
Chantalle Nguyen was in elementary school in 2008, when her parents opened the restaurant. Her favorite items on the menu are the crispy pork bánh mì and the grilled lemongrass pork on vermicelli, she said. As a new fan of the tofu bánh mì, I'm planning a return trip for the Nguyen-recommended one ($4.95).
"I grew up eating this food," Nguyen said. "A lot of the food that is on the menu we cook at home on a regular basis, for regular dinners."
— S.P.