Certain educators are more unforgettable than others. Gym teachers seem to hold a special spot in the memories — or nightmares — of Seven Days writers. Like with that time capsule your grade-school class buried behind the football field, we dug deep to recount formative moments from PE classes of the past. Even the cringiest recollections contain a life lesson of some sort. As old-school coaches were prone to saying: No pain, no gain!
Gym Rat
I won't write his name.
I won't say it, either. As in those Candyman movies, it would make him real, conjure him, summon him. No way do I want to relive that terror at Seaman Neck Elementary School in Seaford, N.Y.
The class schedule listed it as gym or phys ed, but I knew it as living hell. Why? Because in fifth grade there was The Rope, a vertical torture rack made of twisted hemp that we were supposed to climb. Our gym "teacher" could have taught the Marquis something about sadism. With a face like a clenched fist and a whistle on a lanyard around his bull neck, Mr. — nope, won't say it — drove us to climb the 20-foot-long vine and, when we failed, to try again, our hands red and blistered with splinters of fiber.
No excuse, no doctor's note freed you of the knotted nightmare. My attempts were futile until a classmate took pity and showed me that feet were the key to aiding an ascent. I yearned to wipe the smirk off my tormentor's face. One day I finally scaled the rope, tapping the ceiling, sweat pouring into my eyes — yet still I spied a wicked grin on Rasputin's face. He knew something I was soon to learn.
I had no idea how to get down.
— Steve Goldstein
On Target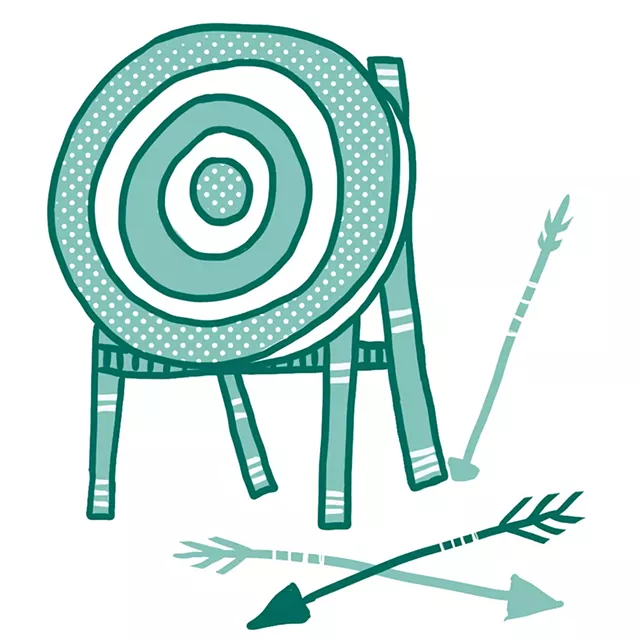 As a teachers' kid in a small town, I grew up knowing most of my eventual educators out of school first. My ninth-grade PE teacher, Julie Crosier, was a good friend of my mom's and had been my summertime swim instructor for years before I reached high school.
From her patient attempts to teach me the butterfly, Mrs. Crosier knew that I was far from coordinated. Unsurprisingly, PE was not my best subject. I could barely walk from the locker room to the gym without tripping or dropping something, let alone muster the hand-eye skills needed for badminton or basketball.
For the archery unit, the class headed to the back of the school parking lot — our target range for the week. Mrs. Crosier gave a lively demo and safety instructions, then casually stepped to the side of the targets while my classmates fired arrows across the lot one by one.
When it was my turn, she winked and quickly walked away from the targets to stand behind me, not so subtly shielded by a parked car.
I aimed for the bull's-eye, but the arrow only made it halfway. It bounced in the dirt and landed within a foot of where she'd been standing. Smart move.
— Jordan Barry
Arms and the Man
I think I had a small crush on Mr. Wall, my gym teacher throughout most of grade school in Bethesda, Md. It might have been because he was the only male in sight at Carderock Springs Elementary. Or because he taught me to love kickball, soccer and softball. Small but ripped, he didn't say much — a man of mystery. And sometimes, in dodgeball, I wondered if he was actually trying to hurt us.
My admiration increased considerably after he saved me from a potential traumatic brain injury. Or, rather, his arm did. One minute I was doing flips in the air on the trampoline; the next, I was coming down, wrong side up, toward the tangle of springs and metal that encircles it. The back of my head hit something hard, but it wasn't the frame from which the trampoline was suspended; it was Mr. Wall's muscled forearm protecting me from the unforgiving surface. He'd positioned it there, at the last minute, to soften the impact.
Once a year, he coached us through the much-anticipated Presidential Physical Fitness Test. Nobody made me want to run faster or jump higher.
— Paula Routly
American Hustle
A few months shy of my 13th birthday, my family moved 5,300 miles from London to Palo Alto, Calif. As if leaping home continents in my tween years was not disruptive enough, I was yanked out of a very proper private girls' school and thrown into public junior high.
It was 1977. Jimmy Carter was the newly inaugurated president, and Star Wars was about to take the world by storm. My classmates teased me mercilessly about my accent and never tired of provoking me into asking for an eraser (a "rubber" in British English). Theoretically, we spoke the same language, but some days it felt like I'd moved to Mars.
Every subject was taught differently — even physical education. In London, my classmates and I had donned short turquoise pleated skirts and white collared shirts to play lacrosse and netball (think basketball without dribbling). In California, we changed into shorts and T-shirts and danced the hustle.
I don't remember our gym teacher, specifically, but I clearly recall my surprise that American gym class involved learning the steps of a popular dance during which we were encouraged to shout-whisper, "Do the hustle!"
The gym was also the site of my first school dance, where we put our physical education lessons to good use doing the hustle and the bump. Or some of us did. My close friend from that era recently reminded me that I chose a different kind of workout during the event.
"I remember you continuously running circles around the gym," she wrote by email. "You said if you kept moving, then no boy would be able to ask you to dance."
— Melissa Pasanen
All Hail Mr. Lucas
Worthington Hooker School in New Haven, Conn. — an elementary school known as Hooker — had no basketball hoop, no jungle gym, no grass, no picnic table and no swings. But students who attended Hooker in the late 1960s and early '70s had Mr. Lucas. That's all we needed.
Mr. Lucas was our gym teacher. He was God to us kids, and to some of the teachers, too. I once saw a fourth-grade teacher genuflect when Mr. Lucas walked down the hall.
Everything about Mr. Lucas was cool, from his Afro to his high-top black Converse All Stars, which we called, simply, Cons. He wore a gray zip-up sweatshirt and black pants with a black ribbon stripe down each side. He had a whistle around his neck, but he didn't need to blow it.
Mr. Lucas turned the asphalt schoolyard into kickball heaven, with a maple tree looming over second base. Kickball was the only game we played outside, and he pitched for both teams. Before he rolled that dimpled red kickball to the kid at the plate, Mr. Lucas offered words of encouragement — the same ones every time. I remember them more than half a century later: "Batter up, turn it loose."
— Sally Pollak