Illustration by Rob Donnelly.
Unless they've gone into sport/adventure writing, journalists can be indoorsy types. That's why we set Seven Days reporters a challenge: to go out and do a physical activity they've never done before, and write about it.
Their choices were not typical summer pursuits — no softball or tennis or swimming. Instead, these seven writers chose experiences in the air (hot-air ballooning) or underground (caving); on water (kiteboarding, sailing) or under it (scuba diving); and on solid land (horseback riding, archery) that were entirely new, at least to them. But at the end of the day, all were back at the keyboard, so the rest of us can feel vicariously — and variously — claustrophobic, breathless, clumsy, strong, free and gloriously aloft.
PAMELA POLSTON
*******
Caving
On a gorgeous summer afternoon, I was 20 feet underground and couldn't move. I was trying to squeeze through a dark, dank burrow so narrow that I had to turn on my side, and my shoulders wouldn't fit till I worked my bottom arm above my head. The slick mud floor offered no traction, and a few inches of movement made my helmet clunk against the rock overhang. Live burial was no longer an abstract concept.
Ken Moore, president of the Vermont Cavers' Association, saw my distress. From the next chamber, he counseled me to breathe deep and fit myself through the opening "like a puzzle piece."
We'd come to this small cave complex in Chittenden County to "play," as Moore put it. He asked me not to disclose its location, because thrill seekers are a threat to the fragile ecosystem of caves — and to the delicate relationships between landowners and serious cavers. Moore said most of Vermont's 150-odd known caves are tough to access, but not this one, as evidenced by the faded graffiti at its entrance and exit.
From a blacktop road, we climbed a sandy bluff and followed a well-worn trail through the woods to a small gully full of mossy boulders. Tucked into the gully, the cave entrance is easy to miss: a keyhole between two moist rock faces, high enough to let us walk upright.
Before we did, Moore gave me a little speech: "In caves," he said, "there is no ego." If I started panicking and wanted to turn around, I should trust my gut.
Moore clearly loves to educate newbies about caves, and he doesn't accept money for his trouble. Initial reactions to caving vary dramatically, he said. Some people can't get past the first tight spot; others like the experience but never want to repeat it; still others get an adrenaline rush and are hooked. Moore, who's been caving for 20 years, is firmly in the last category.
When we were a few steps inside, the temperature plummeted. We wore bulky caving suits, helmets, headlamps, knee pads and clothes we didn't mind getting dirty.
Our headlamps revealed condensation glimmering on the walls. Moving deeper, I saw elevated encrustations of mud and dead leaves that attested to serious spring flooding.
I tried not to imagine the passage filling with water as we took the first "tight spot" headfirst. In a chamber about 20 feet high, Moore offered a geology lesson: The cave's reddish walls are dolomite marble, like so many Burlington houses. Vermont's marble caves are far smaller than the porous limestone caves to the south.
With Moore's coaching, I made it through the second, really tight spot. "It's like being born, coming out of the birth canal," he said jovially.
Maybe that explained the rush I felt as I reached a space just big enough for us both to sit up. We switched off our headlamps and stared into pitch darkness. "Can you see your hand in front of your face?" Moore asked. I almost saw a flash of white where my hand should be. "Your mind is telling you you do," he explained.
In this primal blackness, everybody is equal — which is why, Moore said, cavers develop an intense camaraderie regardless of their social status. "I've been down with millionaires; I've been down with NASA jet-propulsion scientists," he said, "and I'm just an electrician from Vermont."
We finally reached daylight through a hole that, from the outside, looked barely large enough to house a fox den. Was I ready to try another cave? Surprisingly, yes.
The second one was a "wet cave" where we had to crawl six or seven feet through a creek — disturbing pale crayfish — and clamber up a roaring waterfall to the exit.
The whole excursion took maybe an hour, but I felt like I'd been away for days. The next day I would have hideous hip-and-shoulder bruises from the tight squeeze but would know for certain that I'm not claustrophobic. And some strange part of me would be itching to return to the underworld.
MARGOT HARRISON
The Vermont Cavers' Association will meet on Sunday, August 18, at 9 a.m. at the Regional Ambulance Services Building in Rutland. For membership info and event details, see vermontcavers.org.
Photos courtesy of Michael Fisher.
*******
Kiteboarding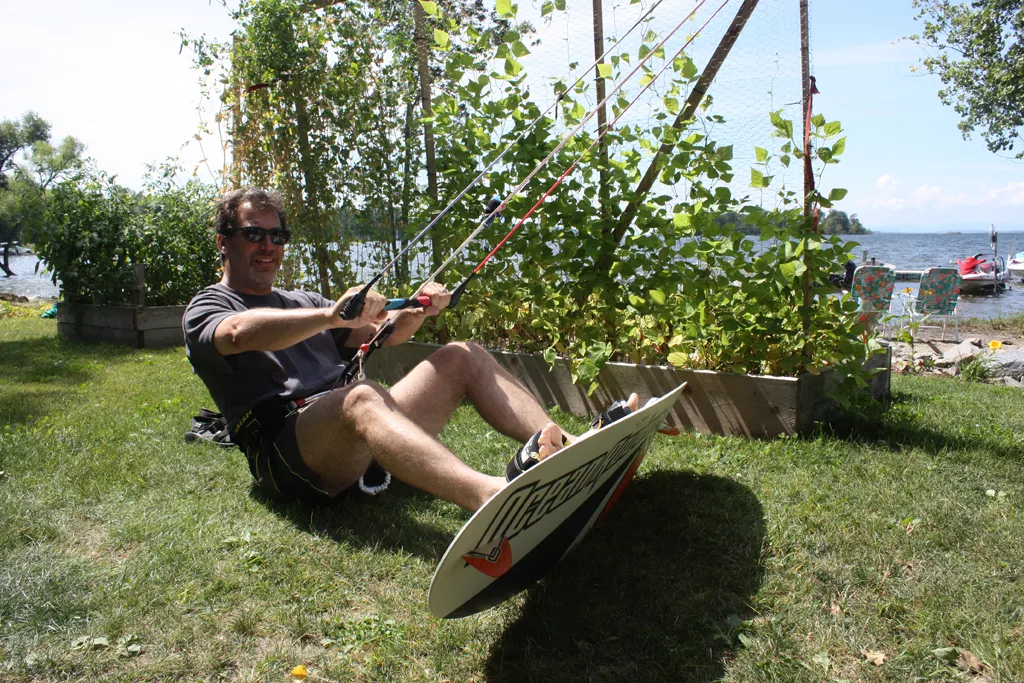 The Benjamins must be the most physically active grandparents on St. Albans Bay. Their antidote for aging: surfing Lake Champlain with kites.
Jerri Benjamin, 60, who's a personal trainer, and her husband, Curt, 63, a semiretired builder, now run Northshore Kite n' Sail on the bay. Their year-round beachfront camp sits at the end of a long dirt road, just across the water from Burton Island.
On a recent weekday morning, the bronzed and buff Benjamins offered me a four-hour kiteboarding lesson. I first discovered the sport several years ago while in Newport, R.I., where I watched stiff ocean winds launch kiteboarders 20 feet or more above the pounding surf. It looked utterly insane — and incredibly exhilarating.
Since then, kiteboarding, also known as kitesurfing, has completely eclipsed windsurfing in Vermont. Its advantages are obvious, explained Jerri, who spent decades windsurfing before switching sports five years ago. Windsurfing requires a roof rack, truck or trailer to haul the long, heavy board, mast and other equipment, and 20 minutes or more of assembly time.
In contrast, kiteboarding gear — including the inflatable kite, pump, board, harness, bar, life jacket and helmet — can be easily carried, even loaded in a backpack, and assembled in minutes. That's advantageous in Vermont, where ideal conditions — a steady 12- to 25-mile-per-hour wind heading neither straight into nor away from shore — don't happen every day. Plus, Curt added, kiteboarding is far less tiring than windsurfing, allowing people to stay on the water for hours.
After I signed the requisite waiver, Jerri walked me through the fundamentals of kiteboarding and some safety basics, including how to avoid crashing into trees, docks, boats or land.
Kiteboarding, which combines paragliding and wakeboarding, is more like two sports than one. Much of the lesson involves learning how to handle the kite itself, which rises and dips like a sine curve, by pulling the hand bar left or right. Pulling it with both hands drops the kite into its "power zone," allowing it to catch more wind and boost your speed. Releasing it lets the kite rise overhead to a neutral, 12 o'clock position, slowing you down.
After my indoor instruction, Jerri took me outside, where we practiced, on a dry-land simulator, how to attach to the kite and launch the board. Unlike wakeboarding, where you grip a tow rope, a kiteboarder is tethered to a 9- to 13-meter kite by a waist harness. The harness has such colorfully named parts as the "chicken loop" and "donkey dick."
Though I'd assumed the wind that morning was strong enough to try my skills on the water, Curt informed us that it was too weak and variable. Instead, we hopped on his wave runner and motored to nearby Woods Island, where he launched a small power kite so I could practice from the beach.
Curt made the kite look easier to handle than it was. Once I took the controls, it promptly went into a nose dive and plummeted into the lake. This happened several more times before I got the hang of it. I felt secretly grateful I wasn't simultaneously trying to stand up on a board, maintain my balance and avoid crashing into something. Still, after getting a taste of one half of the sport, I was eager to try the other.
KEN PICARD
Kiteboarding lessons from Northshore Kite n' Sail in Colchester start at $70/hour, or $55/hour for groups. Info, 922-4072. kitensail.com
Photos courtesy of Northshore Kite N' Sail
*******
Archery
You probably know about the book and movie The Hunger Games, in which many arrows are shot with deadly precision. I've never seen (nor read) it, but plenty of people who schedule archery lessons at Manchester's British School of Falconry have. When I arrived here last week for my first-ever encounter with a bow and arrow, I was simply hoping that I could hit the target and not harm any unsuspecting nearby wildlife or people.
"Leftie or rightie?" asked my guide, Dawn Decrease, as we strode over to four neon-colored targets lined up in a field. I secretly wondered if she was a devotee of all things Renaissance; why else would someone move up to Vermont to teach falconry and archery? The truth was less exotic: Growing up in Massachusetts, Decrease was the daughter of a bowhunter and shot her first arrow at age 7.
Decrease strapped an arm guard onto my right arm and a vaguely medieval leather finger guard onto my left, covering my index, middle and ring fingers. She then patiently outlined the anatomy of a swoopy, wooden recurve bow — the arrow rest, the tiny red sight, the bowstring.
"This is a 20-pound bow, which means every time you pull the string back, you're pulling the equivalent of 20 pounds," she explained.
That sounded like a lot. Decrease picked up a plastic arrow, popping one grooved end into the bowstring. There was no deadly spike on the business end of these arrows, but on its tail, three fletchings — two called hen feathers and an odd-colored one called a rooster feather — guide the loading process. Decrease then demonstrated how to pull the bowstring back until my left hand was in line with the corner of my mouth.
The bow itself was just heavy enough that it was tricky to hold with an outstretched arm. I turned it sidewise, loaded an arrow — pop — took my stance and tried in vain to align the tiny red sight with the bull's-eye, about 30 feet away.
Swish-thwack. The arrow hit about 10 inches away from center. Decrease offered another tip: Hold my stance well after the arrow has left the bow, otherwise it might quaver upon release. I did as I was told, and the second arrow hit closer in.
"Great! But don't think," she instructed. "You're thinking too much."
For the third attempt, I simply pulled back, set my target and released in one swift, unthinking motion. My arrow hit dead center, just like that.
"Excellent!" Decrease enthused.
Damn, that was easy, I thought. Feeling cocky, I released three more quickly, thwack-thwack-thwack, but all strayed further from the bull's-eye. Soon, I was pulling my arrows from the Styrofoam target and trying to outdo myself. In the absence of prey — or even mortal enemies — this seemed the point.
Sooner than I expected, my right shoulder began to throb and my shots grew wilder. "You'd be surprised at the muscles this uses, muscles you didn't even know you had," said Decrease as we put the quivers away.
CORIN HIRSCH
A one-hour archery lesson is $83 for Vermont residents at the British School of Falconry, 1550 River Rd., Manchester. Info, 362-4780. equinoxresort.com/thingstodo/falconry
Photo courtesy of Dawn Decrease
*******
Sailing
As my grandmother loved to tell it, my first experience with sailing ended with 4-year-old me screaming in the cabin of my grandfather's Bristol 27. "I hate boats!" I howled as the L'Allegra was tossed around in an angry Narragansett Bay. Though I've come to enjoy other forms of boating, I can count on one hand the number of times I've boarded a sailboat since that treacherous afternoon excursion in Rhode Island some 30 years ago.
Since my first sailing lesson at Burlington's Community Sailing Center, I'm thinking that number might increase in the years to come.
I arrived at the CSC on a recent Thursday morning. A steady wind pushed past the dock, where a group of about 12 young student sailors were excitedly readying boats to hit the lake. I watched as the boats glided, one by one, from the dock into the harbor and then beyond the breakwater, calmly guided by pairs of skippers less than half my age.
If they can do it…, I thought as I made my way into the CSC clubhouse to meet my instructor, Alec Donkin.
"You picked a great day to go sailing," said the lanky University of Vermont junior as he looked out at the rippling lake from behind his dark sunglasses.
After going over the basics of wind direction and sail positioning — and some mildly confusing nautical lingo — Donkin seemed satisfied that I wouldn't drown us. We hauled our vessel from the CSC boatyard: a two-person Club 420 dinghy.
"These boats are fast and super fun," Donkin explained. "But they're really unstable."
Once we had trimmed the two sails, we slipped the boat into the water alongside the dock. Climbing into its narrow cockpit, I felt the C420 wobble unsteadily beneath my feet.
"See what I mean?" said Donkin as he followed me into the boat. "Balancing our weight is really important in these."
We shoved off from the dock and raised sail, Donkin navigating the boat out of the harbor where several other CSC boats zipped around in the gusting wind. We practiced tacking a few times, with me shifting the jib and Donkin manning the main sail. Once I had the hang of that — and we were safely out of the way of other boats — it was my turn to captain.
I took control of the tiller and tightened the main sail as we caught wind. After some fidgeting with the squirrelly steering stick, we settled into a groove.
"You're sailing!" Donkin exclaimed, beaming, as we cruised into the open lake.
I smiled back, enjoying the cool rush of wind on my face — and momentarily forgetting my steering hand. Just then the boat lurched, tossing us from our perches on the side of the hull and into the middle of the cockpit. We scrambled back to the edge as the C420 listed perilously. Somehow, we managed to lean out over the side, righting the ship mere moments before capsizing — which we would later do intentionally to practice for just such occasions.
"I take it back," said Donkin, smiling again once we were back under control. "Now you're sailing."
DAN BOLLES
The Community Sailing Center in Burlington offers sailing lessons for all levels. Info, 864-2499. communitysailingcenter.org
Photos courtesy of the Community Sailing Center
*******
Hot-air ballooning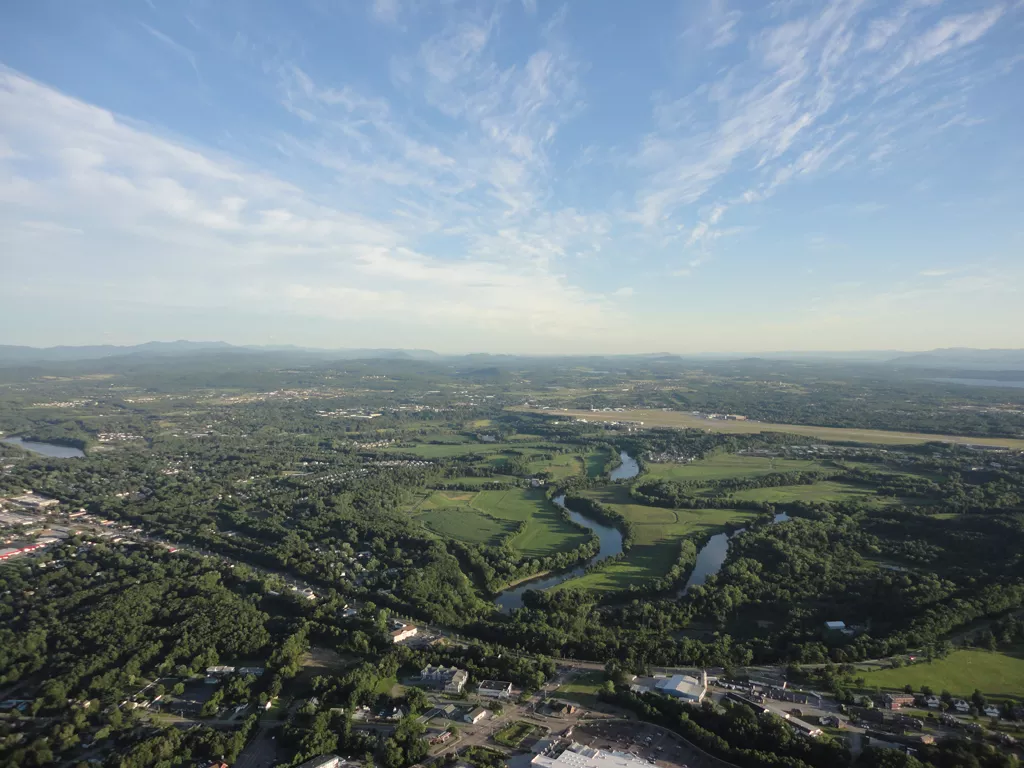 All of a sudden, we were flying. Beneath us, the shadow of our hot-air balloon flitted across the green and golden hayfields from which we'd launched. Our pilot's three-man ground crew, scurrying around the van and trailer that had brought us here, assumed the size of insects.
We were up and away — off on a 70-minute balloon ride that would take us 2600 feet high and 10 miles south from Colchester to South Burlington.
It was the perfect evening to be aloft: cool, cloudless and clear. Our pilot, Jeff Snyder, pointed north to the Laurentian chain and to Montréal, both just barely visible in the distance. Closer to our soaring wicker basket, Colchester Pond passed beneath us to the east; the shimmering waters of Malletts Bay, dotted with small sailboats, passed to the west.
With the pull of a lever, Snyder intermittently interrupted the stillness by firing up one of three propane burners, sending a flame into the balloon's interior. A showman, to be sure, Snyder punctuated his one-liners with the blast of a burner, controlling the path of conversation and balloon alike.
While enrolled at Penn State, Snyder told us, he had hatched a "hypothetical" ballooning business plan for a class project — only to return to his native Vermont in 2001 to start the business, calling it Above Reality.
"I was a guy with a pickup and two balloons that were old and tired but flyable," he says.
On this July evening, Snyder's payload included a couple from Florida and a family of five from Maryland. But a hot-air balloon ride through the heart of Chittenden County is wasted on the out-of-towner. For the local, it's a fascinating look at terrain that, from above, is both familiar and strangely foreign. Such as the bend of the black, snaking Winooski River in Essex, where it turns so sharply it nearly collides with itself.
As we approached Burlington International Airport, Snyder radioed ahead to the control tower, which appeared to find nothing unusual about a balloon invading its airspace. Two planes — one commercial and one private — took off beneath us, oblivious to the floating passengers above. Three Black Hawk helicopters spun their blades on the tarmac beside the Air National Guard's hangars.
"In balloon piloting, you're basically playing three-dimensional Battleship," Snyder said.
We began our descent near South Burlington High School, passing low over a swamp and spooking a heron before crossing I-89 and eliciting a chorus of honks. Snyder hoped to land in the fields around Dynapower, but the wind wasn't cooperating, so we carried on. Which was fine by me.
Higher up, our average speed of 15 miles per hour was barely discernible. But down here, just feet above treetops and chimneys, it felt like we were moving.
Off Hinesburg Road, we floated low above a housing development well stocked with swimming pools and smoking barbecues. A horde of children shrieked in approval and a bicyclist appeared to chase us. Snyder's ground crew, too, were in hot pursuit, radioing to the boss for intel about his likely landing target.
At last, our pilot found a field open enough to safely touch down upon and close enough to a driveway to allow Snyder's crew to meet us. We passengers bent our knees and held on tight as the balloon gently bounced and bounced and came to an uneasy stop.
We'd been set back down again, as the balloonist's prayer goes, "into the loving arms of Mother Earth."
PAUL HEINTZ
Above Reality Hot Air Balloon Rides, Jericho. Info, 899-4007. balloonvermont.com
Photos: Paul Heintz
*******
Horseback Riding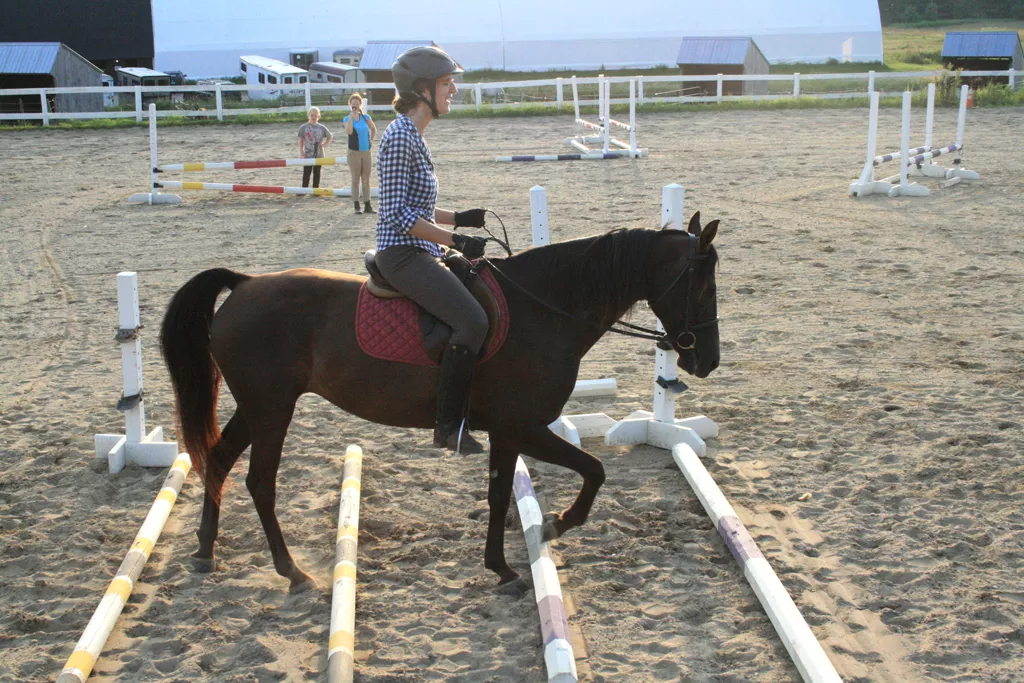 It's difficult to describe the sensation of sitting astride a live, breathing animal with a mind of its own. For a control freak like me, it's initially terrifying. What if the horse doesn't like me? What if I send the wrong signal and she ejects me from her broad back?
The day I visited Triple Combination Farm in North Ferrisburgh had been a long, stressful one. So I was relieved to discover that the creature I'd be riding, McKenna, was a relatively small, docile Morgan horse. As an unexpected bonus, my instructor that evening would be Andrea Monsarrat Waldo, a former psychotherapist with a great sense of humor and a calming presence. Waldo, who owns the farm with Chris Armstrong and Mary Brust, has, according to her bio on the farm's website, "a hopeless weakness for Italian food, fantasy novels and great shoes." My kind of lady.
My coworker Cheryl Brownell, who rides five days a week at Triple Combination — "This is why I run out of the office every night," she told me at the farm that evening — had outfitted me for my first-ever riding lesson. You want to avoid any pants with a seam, she advised, handing me a pair of stretchy pants called breeches with reinforced knees. For shoes, a boot with a slight heel works best, covered with a pair of half chaps, the leather zip-up calf protectors that save your legs from chafing against the saddle.
I looked the part when I climbed up on McKenna for the first time. (My one regret? I didn't wear a sports bra. Had I anticipated the incredible bouncing of riding a trotting horse — Waldo described it as sitting on a pogo stick — I would have packed my boobs in quite a bit tighter.)
Training a new horse, Waldo said, can feel a bit like "leading a drunk friend home." But once the animal is trained, the experience is more pilot/copilot. Right away, Waldo showed me how to tell McKenna what I wanted her to do — tugging on one side of the reins to steer her — and to my amazement, she followed through.
"Her default answer is 'yes,' and that's really what you look for in a horse," Waldo said. "Horses are incredibly generous animals."
It's not that they innately love carrying people around on their backs, she explained, but they seem to give freely of their strength.
As a newbie rider, I was hesitant to kick or tug too hard — I didn't want to hurt her. But when my signals were too timid, McKenna ignored me. You can't be afraid to assert what you want, Waldo pointed out, sounding suddenly like a psychotherapist. And she was right. McKenna responded when I made my intentions clear.
The coolest part, though, was how she reacted to the slightest movements of my body. As I walked McKenna around the course, Waldo reminded me to look in the direction I wanted to go. The horse could feel the subtle shift of my weight as I did this, and she moved along with it. It felt as simple and fluid as dancing.
MEGAN JAMES
Triple Combination Farm in Ferrisburgh offers riding lessons, eventing, training and horse boarding. Info, 877-2121. http:/triplecombinationfarm.com
Photos courtesy of Rebecca Shertzer
*******
Scuba diving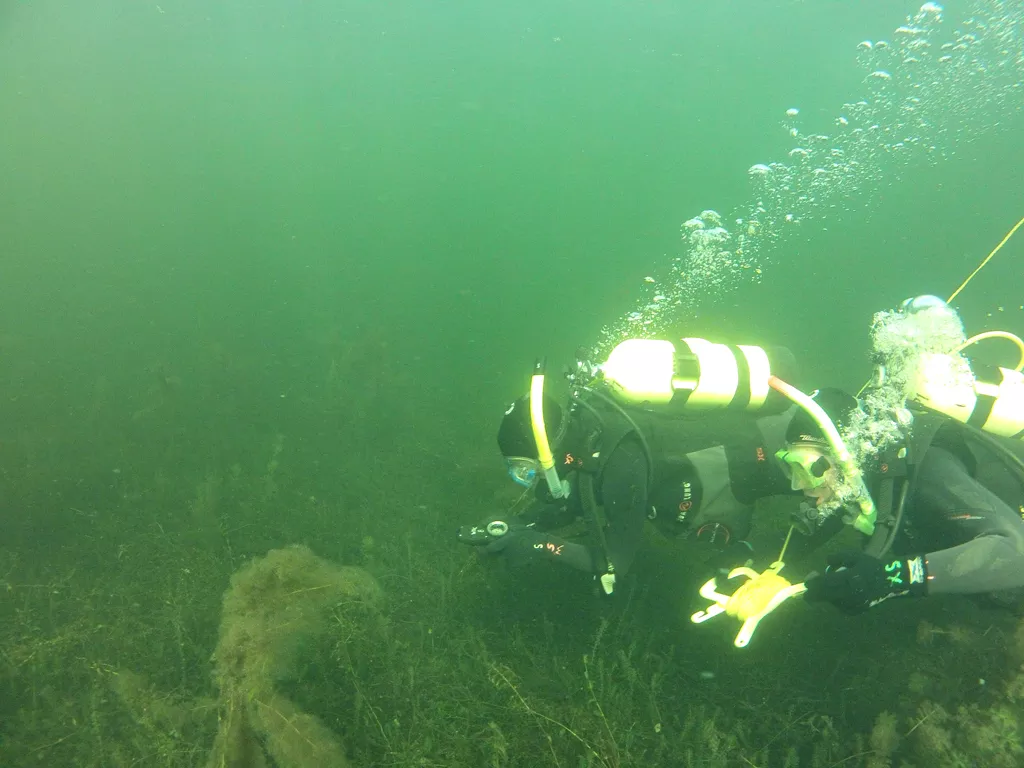 First try: I was startled by how close the water seemed; I couldn't see more than an arm's length in front of myself. I was completely surrounded. I panicked. I needed to breathe in. I willed myself to breathe but couldn't. I stood up. The shore was a mere 15 yards away.
All the rain this summer has filled the water with sediment off the shore of Oakledge Park in Burlington. That's where I was on a recent Sunday morning, in a "Try Scuba" session with Waterfront Diving Center instructor A.J. Daubenschmidt. We were in the shallows because in order to go out deeper — to even buy scuba equipment — a 40-hour certification course is required.
Under Daubenschmidt's supervision, I had snapped together three sets of straps in order to don a buoyancy compensator (BC). This is a vest that can be filled with air — either through a mouthpiece or from the tank — to buoy a diver upwards. Attached to the back of the BC is a tank filled with pressurized air, and on top of the tank is the primary stage, which decreases the pressure of the air released from the tank. Hanging from this are two hoses — a primary and a backup — each of which leads to a secondary stage. These stages bring air to ambient pressure and modulate, through the diver's mouthpiece, the release of air that the diver breathes. A third hose attaches to a gauge consul that includes a compass as well as an instrument that measures the air pressure in the tank and another that measures water depth. I had walked with all of this — plus a mask and flippers — from the parking lot to the lake, feeling like a kindergartener waddling under the weight of a too-big backpack.
Second try: I took a big breath, bit down on the regulator and went under. This time, I could breathe. I swam down towards a patch of pebbles. I picked up a ragged piece of what I think was white agate, and then a stone that in profile looked like a tube of lipstick ringed with delicate white lines. I turned each stone over in my hands and swam on. I skirted past a white plastic sole that had lost the rest of its shoe before coming upon a pair of aviator sunglasses and then a pearl — or fake pearl — earring. The finds of a novice, certainly, but with their hidden histories these were intriguing enough to make me think about diving more deeply.
Then I'd be able to see a number of centuries-old shipwrecks at the bottom of Lake Champlain. The fresh, cold and relatively still water of the lake has preserved these ships, built primarily of wood, especially well. Nine wrecks — including a horse-powered ferry — have been marked and buoyed as underwater historic sites by the Vermont Division for Historic Preservation and are open to anyone with a scuba-diving certification. Visiting these sites, at least in the excitable imagination of a beginner, allows an opportunity to wonder at the mysteries of a submerged past.
I was exhilarated, if exhausted, when I got out of the lake and took off my gear. That evening, when I watched the setting sun, its golden light refracted through the clouds and reflected off the water, I thought for the first time that Lake Champlain is more than a magnificent mirror. Beneath the glittering surface there's an entire world that's a little bit dangerous and holds so much.
CYPRESS MARRS
"Try Scuba" sessions through Waterfront Diving Center in Burlington are $25; preregistration is required. Info, 865-2771. waterfrontdiving.com
Photos courtesy of Waterfront Diving Center
The original print version of this article was headlined "Seizing Summer."