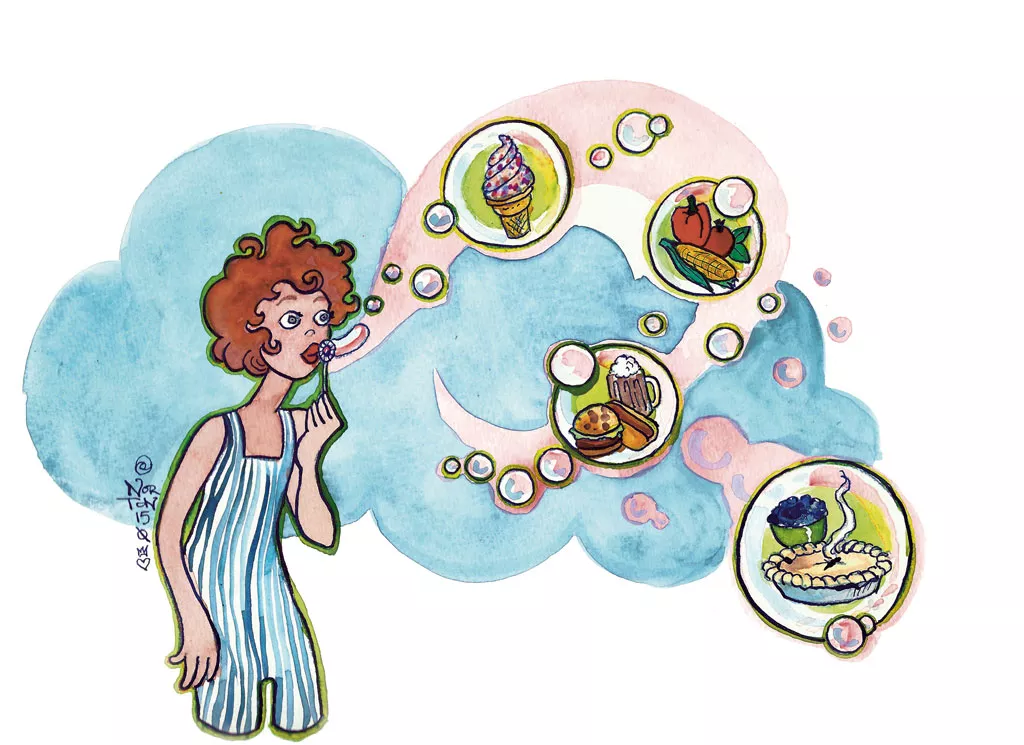 Summer in Vermont is synonymous with deliciousness. It's the season for farmers markets and fresh produce. And also creemees — everyone has their favorite soft-serve stand — and snack-bar clam rolls and BYO drinking at drive-in theaters. In summer, we dine out-of-doors, whether on our patios or out on the town. We sip cool wine or cocktails as the sun sinks over the lake.
Then there are the beer-soaked festivals, picnic-y concert series and fried-food fairs. Not to mention pick-your-own-berries excursions and plucking produce from our own gardens. Finding time to do it all can be a challenge — but we're up to it.
Here are some seasonal treats that Seven Days and Kids VT staffers aim to enjoy while the days are long and the weather is hot. What will you prioritize this summer?
---
Sit out a thunderstorm with friends, beer and tacos on the porch at Waterbury's Prohibition Pig Brewery.
— Hannah Palmer Egan, food & drink writer
---
Corn, corn and more corn!
— Diane Sullivan, art director
---
Hike Mt. Abe: Pack lunch for the peak, including a thermos of coffee, cool off in Bristol Falls swimming hole. Have a maple creemee at the Bristol stand, then beer and/or dinner at the Bobcat Café.
— Terri Hallenbeck, staff writer
---
Eat tomatoes off the vine from my backyard!
— Pamela Polston, coeditor/associate publisher
---
Snack on Vietnamese potstickers at the Burlington Farmers Market — as soon as they open in the morning.
— Nicole higgins DeSmet, arts writer
---
Sit down for a few friendly après-bike or après-hike beers at Mike's Tiki Bar in Burke.
— H.P.E.
---
Eat a chocolate creemee from Burlington Bay Market & Café on the swings at Waterfront Park.
— Molly Walsh, staff writer
---
Head to A&W in Middlebury for fried cheese curds and root beer floats.
— Don Eggert, creative director/associate publisher
---
Eat a burger at Shelburne Farms during its Wednesday night outdoor concert series in July/August.
— Alison Novak, Kids VT managing editor
---
When it's just too hot to eat anything else, eat a full watermelon for two for dinner.
— Kristen Hutter, sales & marketing coordinator
---
Summervale at Burlington's Intervale! I'll eat anything and everything they offer.
— Robin Birgisson, account executive
---
Spend an afternoon touring the Champlain Islands, then stop for pulled-pork tacos with mango and slaw at South Hero's roadside Broken Arrow Café.
— H.P.E.
---
Get Pizza Papillo and a bottle of wine at Snow Farm Vineyard's Thursday night concert series.
— Carolyn Fox, special publications manager/proofreader
---
Eat pesto and salad from my garden while watching the sunset at Kingsland Bay.
— Cheryl Brownell, office manager
---
Grilling out at Vermont state parks. We have several campfire meals we eat every summer. My favorite summer food!
— Cathy Resmer, associate publisher
---
Head to East Hardwick — in a sundress and wide-brimmed hat — for afternoon tea at Perennial Pleasures Nursery.
— H.P.E.
---
Last summer, we drove to Randolph and jumped into the White River on inflatable rafts and embarked on a six-mile voyage at about a mile per hour. We had a separate raft "barge" just for our beverages and snacks. At the end, we stopped at the Worthy Burger for the most satisfying meal. It was my favorite day last summer.
— Corey Grenier, marketing & events manager
---
Go to Stowe Farmers Market for weekly produce and for Black Diamond Barbecue/Woodbelly Pizza. With a bike ride after.
— Kaitlin Montgomery, Kids VT account executive
---
Grilling a beer/cider-can chicken is one of my summer go-to meals. I did it last summer with a Heady Topper — I was swiftly vilified by internet beer geeks for wasting a perfectly good Heady Topper. I also made one with a can of Citizen Cider that was excellent. And now that more craft brewers are canning the goods, the possibilities are endless: Second Fiddle, Sip of Sunshine, 14th Star, Magic Hat No. 9...
— John James, production manager
---
Fried clams at Joe's Snack Bar in Jericho.
— D.E.
---
Sip a cold glass of Fiddlehead (or Citizen Cider) — or grab a burger at ArtsRiot's new outdoor bar.
— H.P.E.
---
Dumplings from Hong's Chinese Dumplings on Church Street!
— K.H.
---
Groovin' on the Green at Williston's Maple Tree Place Thursdays: Mexicali take-out, BYO beers and Yogurt City for dessert.
— R.B.
---
Sunset drinks at the St. John's Club. (If you're not a member, you can go on Friday nights after 8 p.m. ... and there's karaoke!)
— D.E.
---
Did someone say fresh pesto?
— Paula Routly, coeditor/publisher