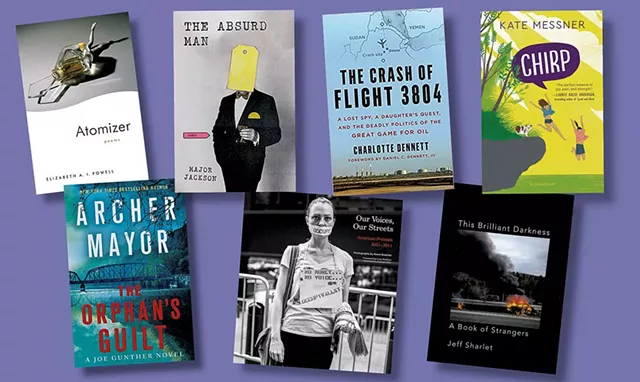 The dozens of books that arrive at the Seven Days offices over the course of a year span a wide range of genres, topics and moods. We get tiny poetry chapbooks bound with thread stitches, as well as critically acclaimed novels, meandering memoirs and folksy self-help guides. We acknowledge as many as space allows — as long as the author lives in or very near Vermont. And since you can scarcely throw a stick in this state without hitting a writer, this is a pretty great place to be a reader.
If 2020 was a detestable year in many ways, it was not one in which writers stopped writing. What follows are seven of our reviewers' picks of recent books. This is not a best-of list or a ranking — just a window into some of what we read, enjoyed and wholeheartedly recommend.
Our Voices, Our Streets: American Protests 2001-2011
Kevin Bubriski, powerHouse Books, 164 pages. $50.
This fall I nearly overdosed on Vermont's embarrassment of poetry riches, so I thought I'd call attention to a photography book that was released in the spring: Our Voices, Our Streets: American Protests 2001-2011, by Shaftsbury documentary photographer Kevin Bubriski. A Guggenheim Fellow whose work resides in museums around the world, Bubriski is both a consummate portraitist and a savvy street photographer, capturing the fury, humor and horror in American faces from Washington, D.C., to Bennington. As this cursed year of 2020 comes to a close, indelibly marked by mass uprisings and protests in cities across the nation, Bubriski's book is almost like a map of how we got here. Told through images of the contested 2000 election, 9/11, the start of the forever wars in Iraq and Afghanistan, and Occupy Wall Street in 2011, Bubriski's keen eye isn't limited to antiwar sentiment — he also records astonishing moments of tenderness as the Vermont National Guard deploys, saying their farewells.
— B.A.
The Crash of Flight 3804: A Lost Spy, a Daughter's Quest, and the Deadly Politics of the Great Game for Oil
Charlotte Dennett, Chelsea Green Publishing, 368 pages. $27.95.
I'm a sucker for a good spy story. The Crash of Flight 3804: A Lost Spy, a Daughter's Quest, and the Deadly Politics of the Great Game for Oil by Cambridge-based writer Charlotte Dennett isn't a good spy story — it's a great one. But it's also a moving personal memoir about a daughter's quest to understand her father and the mysterious circumstances around his death in 1947. Reconciling with who our parents really are (or were) is a universal theme. But not everyone's dad was basically a real-life Jack Ryan, as was Dennett's father, the famed diplomat and master spy Daniel Dennett. Likewise, not everyone's daughter is an acclaimed investigative journalist. The combination makes for a painstakingly researched nonfictional read that moves with the tension and intrigue of a John le Carré novel and offers profound insight on loss, family and geopolitics.
— D.B.
The Absurd Man
Major Jackson, W.W. Norton, 112 pages. $26.95.
When I heard that one of Vermont's most illustrious poets, Major Jackson, was leaving his post at the University of Vermont to join the faculty at Vanderbilt University, I had to return to his latest book, The Absurd Man, which was released just a few weeks before the pandemic hit the U.S. The book was my first introduction to Jackson's lyricism and gift for rhythm, and to the propulsive delight of wondering what he'll do next. I want to go swimming in his poems. I want to roll the words around in my mouth like cherry pits. In the book's final poem, "Double Major," he describes his writing moves as "a smooth shimmy and a hop." No matter how serious the topic, reading Major Jackson always feels like dancing.
— M.G.
The Orphan's Guilt: A Joe Gunther Novel
Archer Mayor, Minotaur Books, 288 pages. $27.99.
Vermont might seem all progressive politics and quaint villages, but we can count on Archer Mayor to find the state's dark side. The Newfane-based author has turned out an annual Joe Gunther novel for decades — The Orphan's Guilt is No. 31 — and I've eagerly devoured them all. Gunther, a former Brattleboro cop who now heads the fictional Vermont Bureau of Investigation, is the series' linchpin. But over the years Mayor has developed rich backstories for his loyal team members and, more recently, introduced two young women — a journalist and a private investigator. They play strong roles in a story that starts with a routine traffic stop and ends with solving a byzantine, 30-year-old cold case. In between, this crew uncovers old grievances, betrayals, child abuse and a cast of ne'er-do-wells. Once again, Mayor delivers page-turner detective fiction with psychological depth and locales you might recognize.
— P.P.
Chirp
Kate Messner, Bloomsbury Children's Books, 240 pages. $16.99.
Until recently, sexual abuse and harassment were topics considered too explosive for tween fiction. As a June 2020 New York Times article put it, "middle-grade writers have largely steered clear because of resistant parents and publishers wary of scaring them off." That changed this year with the publication of Plattsburgh, N.Y., author Kate Messner's Chirp, one of a handful of new books for ages 10 to 14 that broach the forbidden topic in thoughtful, supportive ways. Using an artful structure, Messner somehow manages to fold her unequivocal message about speaking up against abuse into a story that's upbeat and fun — a celebration of, among other things, Vermont's maker spaces and cricket farms and female entrepreneurs. Throughout, the author shows ample respect for her target readers' intelligence and resilience.
— M.H.
Atomizer
Elizabeth Powell, Louisiana State University Press, 112 pages. $19.95.
I spend time with poems every day, crisscrossing among poets newer and older and interspersing the concentrated intensities of poetry with whatever novel or collection of essays I'm in the midst of. Among the books that have held me most powerfully this year is Atomizer by Elizabeth Powell of Underhill. Formally resourceful and sensually ferocious, Powell's book is virtuosic in its verbal momentum. While mining metaphors from the arcane traditions and terminologies of perfumery (an industry, but also a form of alchemy), this poet plumbs the distances between immediate sensory or carnal experience and the weird new ways we now "relate" with others virtually and cybernetically. From the madcap ruefulness of "When the Insemination Man Comes to the Farm" to the epic ardor of "Guerlain: Imperiale (Bedroom), 1853," Powell's dramatic and emotional range is wide and varied. And of all the books I've read in 2020, Atomizer, with its acutely adult sense of love risked and time lost, was the most fun.
— J.S.
This Brilliant Darkness: A Book of Strangers
Jeff Sharlet, W.W. Norton, 336 pages. $25.
I've long admired the work of Jeff Sharlet, a journalist who lives in Norwich and teaches at Dartmouth College. But it was particularly powerful to read his latest work, This Brilliant Darkness: A Book of Strangers, in the wake of the police killing of George Floyd. Though the book ranges widely, following Sharlet's reporting and road-tripping all over the U.S. and beyond, its centerpiece is a portrait of Charly Keunang, a Cameroonian immigrant who was killed by police on Los Angeles' Skid Row in 2015. We talk a lot about the power of good journalism to get people to think beyond stereotypes. But Sharlet is walking the talk, whether he's writing an in-depth story or a piece short enough to be an Instagram caption — which is how much of this book began. Blending text and photography, reporting and memoir, lyricism and merciless fact, This Brilliant Darkness is easy to dip into and hard to shake.
— M.H.