Q: How do you decide what to write about?
A: In news, we look for JDLRs — anything that "Just Doesn't Look Right." Vermont has enough artists and other interesting characters to keep us in features forever.
Q: Are Seven Days' cofounders Pamela and Paula, like, partner partners?
A: Nope, it's all business with those two.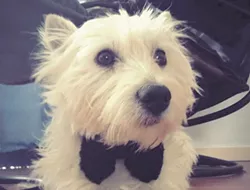 John James
Rufus
Q: Who is Rufus? He's listed in the masthead every week.
A: He's an enigma wrapped in a white fur coat — the canine companion of production manager John "Jingles" James. He "works" long hours being adorable and gets a new job title every week.
Q: Your corporate name is Da Capo Publishing. Is there a Mr. Da Capo?
A: Fuggedaboutit. "Da Capo" means "from the head" in Italian — appropriately, it's a musical term that instructs, "start over again." We did that 20 years ago, and still do every week.
Q: How has Seven Days managed to grow when it seems many other newspapers are declining?
A: See "Twenty Reasons We're Still Here"
Q: Why don't you write editorials? Is Seven Days endorsing Bernie?
A. When Seven Days first started, nobody had time to research and write editorials — Pamela and Paula each wrote multiple stories a week. Nor would they have necessarily agreed on everything. By not taking a stand, it turned out, the paper avoided getting pigeonholed politically. That's why we will not be endorsing Ol' Bernardo or anyone else.
Q: I recently moved to VT from the big city and I'd like to write a personal essay about my fish-out-of-water tale. Y'all are so darn quirky! Will you publish this?
A: No.