Vermont Restaurant Week celebrates its fifth year of prix-fixe partying this week. But don't gift us with wood. The Seven Days staff celebrated in good taste with a tour of participating restaurants all over the state.
Seven of us tied on the feedbag and trekked to one of 97 VTRW eateries to try special dishes served as part of the 10-day celebration. Our firsthand accounts are guaranteed to get you salivating, and you're in luck: VTRW continues through Sunday, May 4.
Over the Falls: Simon Pearce Restaurant, Quechee
At Simon Pearce in Quechee, the sensuous experience starts before you even enter the restaurant. The building hugs the Ottauquechee River — which is roaring this time of year — and overlooks a dramatic waterfall. And you just have to roam the stunning showroom of Pearce's elegant glassware before dinner. During our visit, glassmakers were shaping martini glasses, which whetted our thirst for drinks to come.
The advantage of an early-evening reservation was getting one of the best seats in the house — beside a tall window practically on top of that dizzying waterfall. In our party of four, two diners ordered last year's Vermont Restaurant Week cocktail, a Vermont Gimlet, and declared it "herbaceous and refreshing." I had an old-school dirty martini in one of those nicely weighted glasses.
My starter, creamy white-bean crostini, consisted of two thin slices of toasted baguette with a jam-like bean spread and sliced cherry tomatoes. Garlicky and aromatic, it was delicious. Equally so was the mound on the other end of my rectangular plate: a delicate mix of white beans, three types of slivered mushrooms, and something tiny and chewy I couldn't identify. Heavenly. In the middle, a small nest of beet microgreens tasted like spring.
My entrée, a porcini mushroom risotto, was unexpectedly sculptural and lovely: The risotto was gracefully spooned across a wedge of acorn squash. Alongside it, chard was draped like a languishing lady. The plate was further dotted with tiny chunks of turnip and carrot. The rice was a wee bit too al dente for my taste, but the flavor was rich and satisfying, as was the perfectly cooked, kissed-by-maple squash. My mouthful of turnip was bitter, but the delicately sweet carrot made up for it.
My chosen dessert, a classic vanilla bean crème brûlée, was nothing short of exquisite. Served in a shallow dish, the custard was silky and not overly sweet, while the crust was perfectly, well, crusty, and broke with the merest jab of my spoon.
I'm definitely returning this summer, to dine and listen to that waterfall roar.
—Pamela Polston
Bosnian Feast: Café Mediterano, Essex Junction
Courtesy Of Mark Davis
Roasted lamb dinner at Café Mediterano
Our sources in Sarajevo have confirmed that Vermont Restaurant Week is not (yet) a major holiday in Bosnia.
But that didn't stop Barney Crnalic, owner of Café Mediterano in Essex Junction, from using the occasion as an excuse to serve up his native country's traditional celebratory meal of roasted lamb.
"Bosnians gather around the spit," Crnalic told me. "If you do a lamb, it's special."
Judging from the $25 feast offered on Sunday night, Bosnians know how to party.
(Disclaimer time: It's entirely possible that I am the least qualified food writer at Seven Days. I have welcomed the foodie movement only as a new source for my curmudgeonly one-liners and, a few years ago, I considered petitioning the USDA to place the frozen chicken taquito atop its food guide pyramid.)
But back to the lamb feast: The recipe, Crnalic said, couldn't be simpler. He salts the lamb and roasts it on the spit for four hours. That's about it. Anything more, he said, would get in the way of the natural flavor.
In a time when going out to eat, for us nonzealots, increasingly requires a thesaurus, I found this an incredibly refreshing strategy. (Seriously, food people, how many synonyms for "sauce" do we really need? I consider myself fairly erudite, but it's been three or four years since I could fully comprehend a specials menu at most restaurants.)
Crnalic's approach seemed effective, too: Flavorful, chewy hunks of meat fell off the bone with a minimal push of the knife.
But the best part of the meal was probably the heaping pile of soft, sticky jasmine rice, to which Crnalic added a few mystery spices. The meal was further accompanied by a generous helping of pita bread and salad, and topped off, for a few extra bucks, with Crnalic's chocolate-filled Nutella baklava.
Café Mediterano is a cozy place, with a few high-top tables near the windows and one large central table. When I visited, that was occupied by a crew of local Bosnians who usually stop by twice a week for home-style cooking, Crnalic said.
Crnalic enjoyed making Bosnia's celebratory meal so much, he said, that he will offer it again this Saturday and Sunday evening (it's not available on weekdays). The man just loves working a spit. God love him.
—Mark Davis
Worth the Price: Juniper, Burlington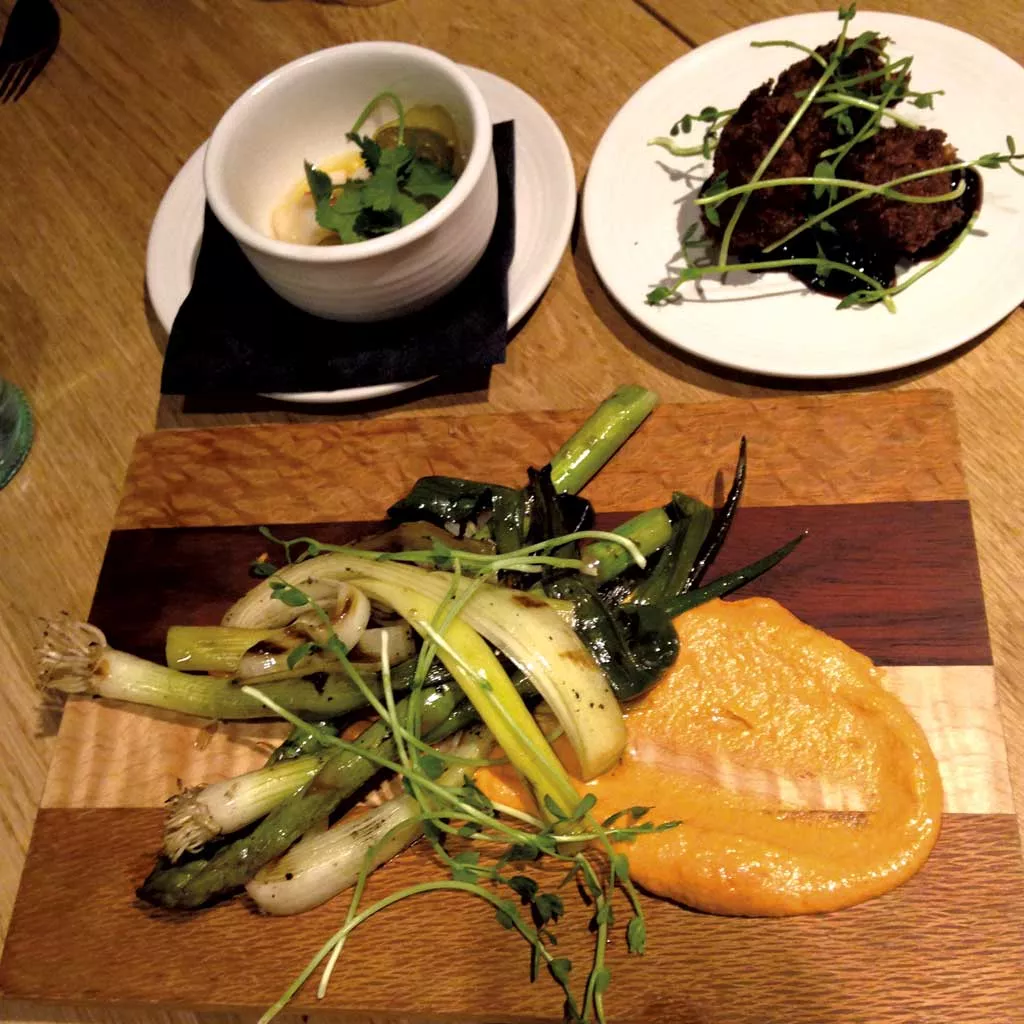 Courtesy Of Andrea Suozzo
Scallop ceviche, grilled vegetables and cheddar fritters at Juniper
My first thought as I walked into Juniper at Hotel Vermont was Nope. Too expensive. The décor was part sleek, part rustic-chic, with clean lines and elegant mood lighting. The service was immediate and cordial. In every way, this was a classy joint.
Every frugal bone in my body screamed at me to turn and run. I've been living on a grad-school budget for the past two years, so this sort of establishment has been a bit out of my price range. But that's what Vermont Restaurant Week is for.
The friendly service — and the waitstaff's bright green shirts reading "Keep Calm and Love Vermont" — did a lot to dispel my stress. It was lunchtime, and the atmosphere was casual. Three in my party opted for the VTRW deal, which gave us each an appetizer and a sandwich for $15. And, what the heck, I figured: Since I was living it up for the afternoon, I was going to spring for a drink, too. The Lindy Hop ran me $9, but it was generously sized, made with gin, sweet vermouth, Fernet Branca, citrus bitters and orange soda.
The scallop ceviche was melt-in-your-mouth tender, accompanied by pickled peppers and cilantro sprigs. Another small plate of grilled leeks, green onions and asparagus came on an individual-size cutting board with a generous dollop of red-pepper romesco. I like grilled asparagus with a bit of crunch, but this was slightly on the tough side — possibly because it's early in asparagus season.
The star of the app show, though, was the plate of golden-brown Cabot Clothbound cheddar fritters served atop berry compote. A satisfying crunch on the outside gave way to the tangy, melty cheese within, and the sauce added just enough tart sweetness to the savory cheddar.
I spent so much time thinking about the appetizers that I almost forgot we were expecting the next course, but soon enough it arrived. The sandwiches came on cutting boards, plated with salads in ice-wine vinaigrette or fries, plus a pickle. My friends chose the burger and the porchetta, of which I (of course) tried bites. I picked the black-sesame roasted turkey with kimchi, house Sriracha and chicken liver pâté, served pressed on crusty wheat bread.
Sesame seeds and cilantro added the occasional pops of flavor, and the pâté served as a creamy condiment for the turkey. To my disappointment, though, the kimchi added crunch but little flavor, and the Sriracha was hardly noticeable. The sandwich was very good, but it seemed afraid to offer more than a suggestion of the more exotic flavors.
I left feeling full and satisfied, not just from the food but from the service and ambiance. Though I've long since digested the meal, I'm still dreaming of those cheddar fritters.
—Andrea Suozzo
Fever Reliever: Prohibition Pig, Waterbury
Courtesy Of Alice Levitt
Oreo Pâté at Prohibition Pig
At last year's Vermont Restaurant Week kickoff, I was less than two weeks away from gallbladder surgery. This year, on the first day of the 10-day event, I went home from work with the flu.
Illness has put a major crimp in my style, if style means gorging on three-course prix-fixe dinners. While Mrs. Grass Hearty Soup mix has been a staple of my VTRW so far, I did make it to Prohibition Pig for a welcome dose of (solid) comfort food.
We arrived just before 7 p.m. to find a half-empty dining room, which quickly filled to the brim. Our server immediately warned us that the duck duo entrée (very honestly named "Duck Duck") was two plates from selling out, so we ordered it immediately.
We also ordered our starters and the other entrée, along with a Mexican Coke and soft pretzels from the regular menu for my dining partner. He reasoned that we could use the spicy Heady Topper mustard that came with the pretzels to clear our sore sinuses.
The haricots verts salad with garlicky vinaigrette was refreshing on its own. Crunchy beans and Bibb lettuce, mixed with bitter endive and sweet candied walnuts, roused even our compromised taste buds. Truffled crimini mushrooms were the meaty stars of our other starter, a simple, comforting take on mushroom toast showered in pungent grated Parmesan.
The Duck Duck turned out to be more of a salad than a showcase of mallard flesh. The beautifully prepared smoked breast was served in tiny strands that added meaty seasoning to a pile of bitter greens. Bayley Hazen Blue cheese, dried cranberries and pickled onions balanced the salad, which served as a base for house-cured duck confit. The duck leg was exceptionally flavorful, but could have benefited from more rendering and a crispier skin.
My pork ragout entrée came in a dauntingly large bowl with homemade al dente rigatoni. Fresh tomatoes and kale were stewed with chef Michael Werneke's signature pork products: guanciale, Italian sausage and bacon. They blended seamlessly while each exerted their own meaty personalities.
We ended our meal with Oreo Pâté, crafted from "locally harvested Oreo livers." It was essentially a large, rectangular presentation of mashed Oreo middles, balanced with salty pistachios and a tangy berry purée.
Did I leave feeling healthier than when I entered? Of course. Oreo livers are full of vitamins.
—Alice Levitt
What the Doctor Ordered: Antidote, Vergennes
courtesy of Kathryn flagg
Angry chicken tacos at Antidote
Since the birth of our little boy, Asa, nearly 10 months ago, my husband and I have changed countless diapers, commiserated over sleep deprivation and swooned together over the little person for whom those are small sacrifices.
What we haven't done much is go out on dates.
And so on Friday, I walked my generous sister-in-law through Asa's bedtime routine and hightailed it to downtown Vergennes, where Colin and I met for dinner at Antidote. Tucked in a subterranean space on Green Street, Antidote bills itself as a "speakeasy" — but feels a little like your mom's basement. That's OK. What Antidote lacks in polish, it makes up for in motley charm, and in an eclectic menu that suggests whoever is behind the scenes is having a great deal of fun.
I found Colin happily ensconced at the bar, sipping a Founders Brewing Company Breakfast Stout and chatting up the bartender. We were both a little giddy; date night felt like playing hooky from real life. Seated at our table for two, we ordered from the inventive cocktail menu and mapped out our dinner.
My first course — a blackened rare tuna loin, served with minted cucumbers — arrived artfully arranged in a martini glass. I unceremoniously dumped the entirety on the small plate where the glass had perched and dug in. Colin's Caesar salad was crisp and delicate, and we agreed that the fresh, silvery anchovies were among the best we'd ever sampled.
When it came to choosing an entrée, I felt a little guilty passing up the grilled-asparagus-and-pickled-ramps tacos — especially after our quirky waitress told us she'd gathered the ramps herself. But the Misty Knoll Farms "angry" chicken tacos didn't disappoint; pleasant spice followed up the initial sweetness of the pulled meat.
Colin and I made short work of one taco apiece, then turned our attention to the house-cured pastrami he'd ordered. It may have been the most sublime sandwich I've tasted in years. How, after all that, I managed to eat an entire banana pudding for dessert, I'll never know.
Midway through our meal, the restaurant was full, bustling and still cozy. Antidote may not have the refinement of big-city restaurants up the road, but it manages a rare feat: Just about everyone seems at ease there. Two tipsy women out for a night on the town, a father-and-son duo in matching ball caps, couples meeting up for double dates — I was charmed by our dinner companions, and by the inclusiveness the restaurant seemed to cultivate.
Full and happy, Colin and I agreed, as we ascended back to the street, that Antidote was a fitting choice for our rare night out together. Just what the doctor ordered.
—Kathryn Flagg
A Bite of Burlington: Bluebird Tavern, Burlington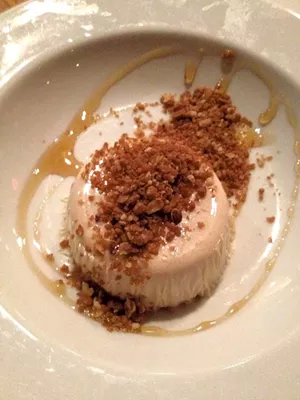 Courtesy Of Xian Chaing-waren
Chocolate panna cotta at Bluebird Tavern
Even in the relative wilderness of Addison County, where I lived for the past several years, I heard about certain Burlington-area restaurants: L'Amante; Juniper; Bluebird Tavern. So when my first Vermont Restaurant Week as a Burlington resident rolled around, it was the only excuse I needed to sample one. Joined by friends and colleagues Ethan de Seife and Andrea Suozzo, I kicked off VTRW at Bluebird Tavern on St. Paul Street.
The house was looking a little empty at 6:30 on a Friday evening, but the handsome, wood-accented interior was warmly lit, and the enthusiastic front-end staff showed us right to our table.
Andrea and I opted for the $35 fixed-price menu, while Ethan ordered the cod from the regular menu. Our Plaid Salad starters arrived with an appetizing snack platter of cheese, fermented onions, candied walnuts and mustard. (Pro tip: You can score the platter by checking in with Bluebird on social media.)
The salad amounted to a heaping dome of raw kale, attractively adorned with thin slices of apple and a healthy sprinkling of red onions, both crispy and fermented. I'll happily eat a full head of raw kale, but I had to admit that these salads were on the dry side. I got several bites that were all kale and none of the delicious honey-shallot dressing.
My dining companions fared better on their main courses. Ethan's à la carte cod entrée was deemed a well-balanced dish. Andrea's schnitzel was fried in a crisp, buttery batter and served with a succulent juniper jus over buckwheat spaetzle.
My lobster strozzapreti was the dud of the evening. The hand-rolled, al dente pasta was served with a thick cream sauce. Mint, fava beans, jalapeño peppers and cubes of pear should have added zip, but the flavors were lost amid that sauce and the starchy strozzapreti.
Dessert was more of a success. My chocolate panna cotta, topped with pretzels, satisfied my sweet tooth. Andrea's "Velveteen Rabbit" dessert of carrot and red velvet cake with rich cream cheese ice cream was a hit.
All told, though some of our dishes bore out Bluebird's glowing reputation, I think Ethan best summed up the experience the following day when he called the meal "good but not great."
—Xian Chiang-Waren
Moose on the Loose: The Elusive Moose, Waitsfield
courtesy of Ethan de Seife
Cider-braised pork shank at the Elusive Moose
Few films induce hunger quite as effectively as Tampopo, the 1985 Japanese comedy that was this year's Vermont Restaurant Week "Foodie Flick." Depicting the concoction of a perfect bowl of ramen, the film really concerns the sensory richness of gustation.
Post-screening, five of my coworkers and I were cinematically sated, but our bellies were a-rumblin'. We decamped for the Elusive Moose, a 3-month-old restaurant located near the Big Picture Theater in Waitsfield. There was no ramen on the menu, but this thoughtful moose offered tasty, well-prepared dishes that satisfied us all.
I was the rogue of the group, ordering not from the VTRW menu (which had too many mushroomy foods for my taste) but from the regular bill of fare. The New England fish chowder was terrific, larded (literally and figuratively) with salt pork and beautifully sweet haddock. I did not share.
For my main dish, I opted for the cider-braised pork shank, which, nestled in a bed of cheddar grits, stood upright on the plate, a presentation that drew oohs from my tablemates. Easily a two- if not a three-meal portion, the meat was sweet and tender and fell off the bone with the merest prod from my fork. The grits would have benefited from a little more salt, seasoning or fresh vegetables, but that didn't detract from the succulence of the meat. I brought the shank bone home for the doggie.
Every one of my coworkers sampled this year's VTRW featured cocktail, the Champlain Sunset, and they all loved it. I stuck with Citizen Cider's Unified Press in a can, which played very nicely with the cider-braised pork. Our kind waitress diagnosed Empty Glass Syndrome and administered soothing treatment with alacrity.
My dessert, a bananas Foster bread pudding, was perfect. Please don't change this, ever.
This was hearty, earthy, satisfying food. Do not elude this moose.
—Ethan de Seife
The original print version of this article was headlined "Restaurant Week Diaries 2014"