Here in Vermont, we like to know where our food is coming from. As locavore lingo found its way onto labels and restaurant menus alike, foodie entrepreneurs salivated for a slice of the hyperlocal pie, and small businesses sprang up throughout the state.
Gradually, the trend began to wag the dog, too.
According to Travis Germain, store manager at Pet Food Warehouse on Williston Road, Vermont-made products are now so plentiful that management recently reorganized displays to showcase Green Mountain kibbles and treats. "It's been much more of a draw; more and more clients have been asking for local treats and foods recently," he says. "It's much more about where the ingredients are sourced from than it used to be."
At Seven Days, staffers' canine companions' eating habits span the gamut, with diets ranging from raw to homemade to grain free. But it didn't take much convincing to get everyone on board for a tail-wagging taste test of the local fare, aka an office-dog party. Here are the tasting notes, straight from the owners — and the dogs themselves, if we may anthropomorphize.
The Judges
12 slides
The Treats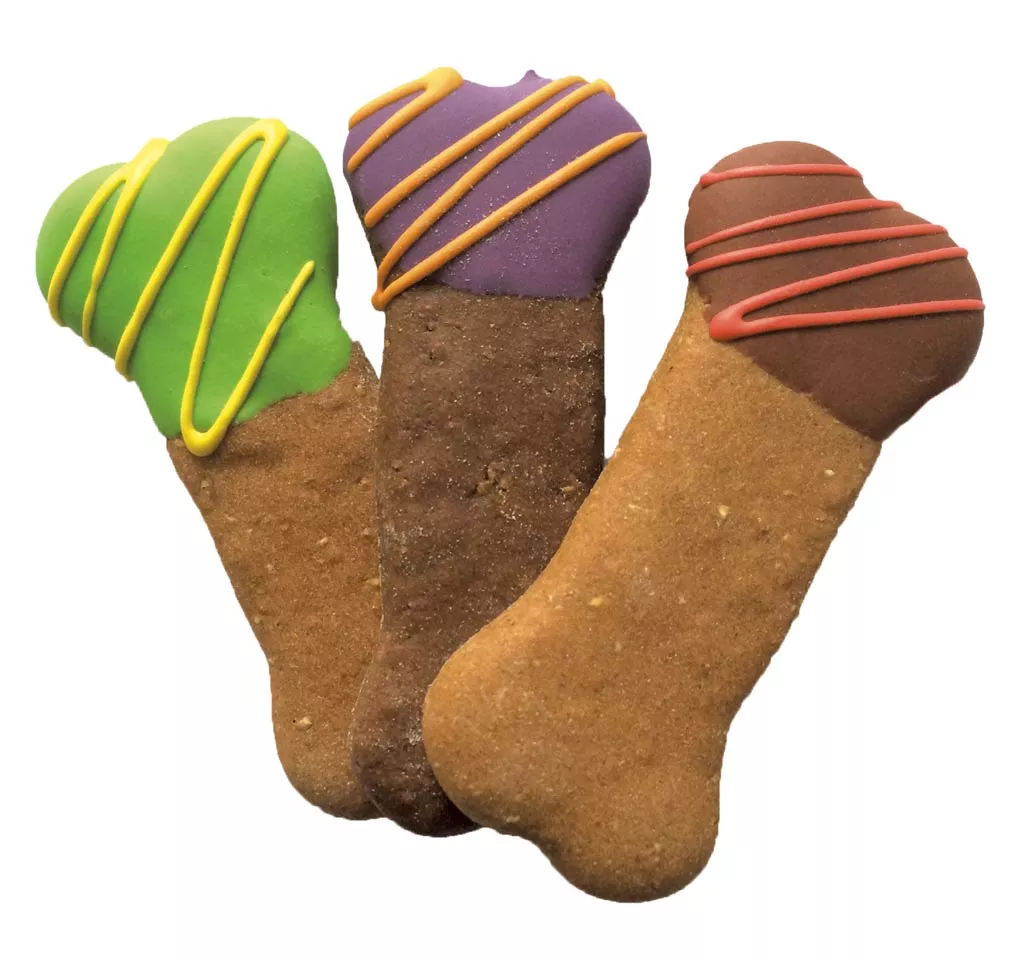 Sample: Cinnamon Peanut and Honey Oat Biscuits
Ingredients: (varied by flavor, but all contain) rye flour, oat flour, rolled oats, rice flour, fresh eggs, baking powder
Tasting notes:
YUM. More. Please. Crunchy! —Coava
Frosting! Looks and smells like gingerbread. —Lilly
I'm only eating this because other dogs are here. —Dea
Scout took it into the other room to enjoy it without threat from her sister (and then came back for more). —Kaitlin
Heaven. Heaven. Heaven. —Scout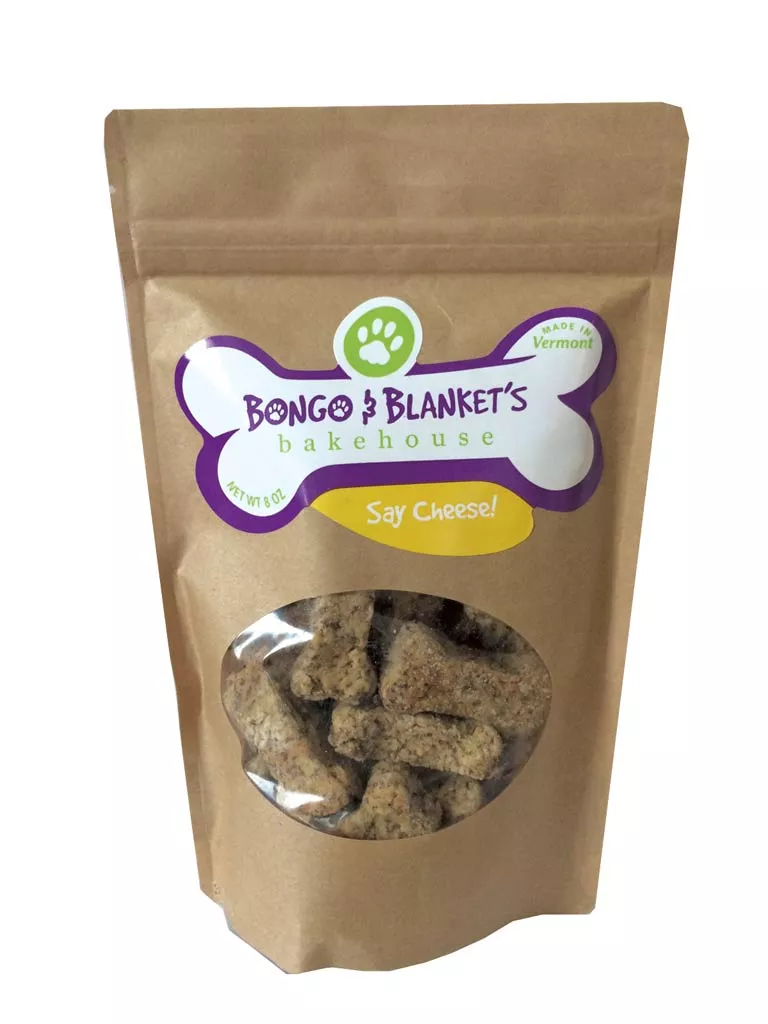 Sample: Wheat-free Say Cheese biscuit
Ingredients: rolled oats, flaxseed meal, organic brown rice flour, cheddar cheese, olive oil, nonfat milk, egg
Label notes: "These biscuits are the perfect, guilt-free treat for spoiling — we mean rewarding —your BFFs (best furry friends)!"
Tasting notes:
Rufus loved this. He woofed it right down. —John
Looks healthy. —Michelle
Hippie shit good ... [Paul] is too cheap to feed me this ... I'm thirsty. —Gus
That biscuit was delicious. Another biscuit, please? —Sasha
Ho hum. —Dea
Crunchy, crumbly, yummy. —Obi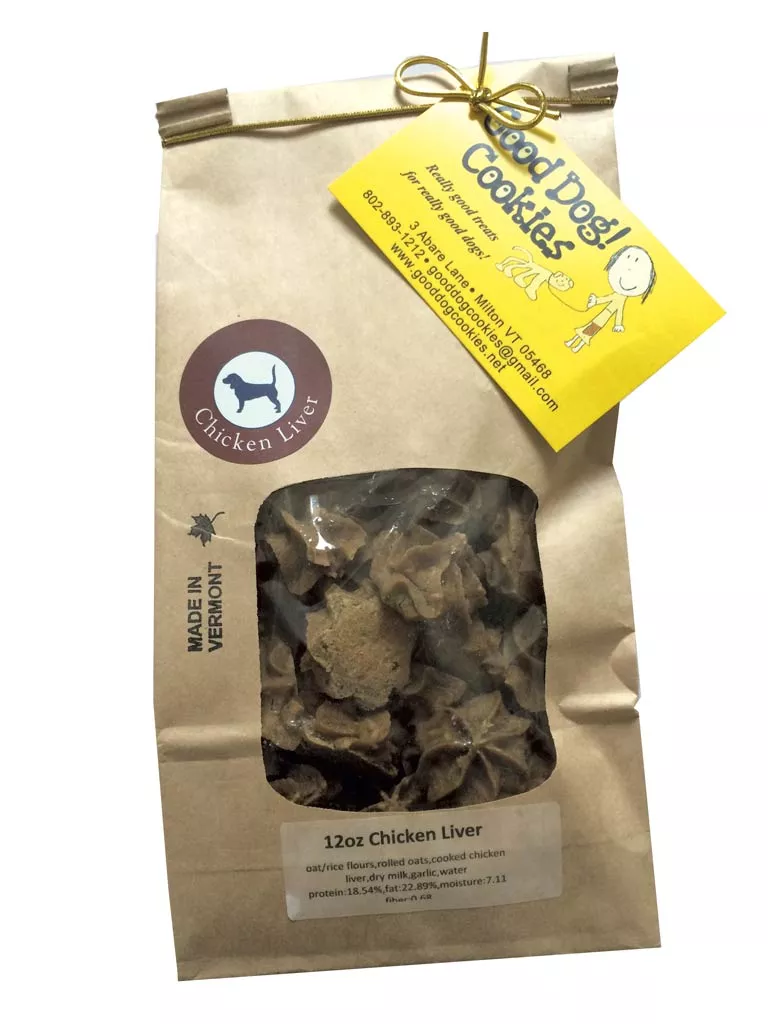 Sample: Chicken-liver cookies
Ingredients: oat/rice flours, rolled oats, cooked chicken liver, dry milk, garlic, water
Label notes: "Really good treats for really good dogs!" Cute drawing of mommy and doggie
Tasting notes:
Smells a little gross. She'll love it. —Robyn
Looks like a weed cookie. —Kaitlin
Looks pretty. Obi wanted more. —Michelle
I like the crunch! Waiting for more... —Scout
Like a gourmet hippie frosting treat. —Don and Shawn
Happy. —Trixie
Sample: K-9 skinny chicken
Ingredients: dehydrated chicken breast
Label notes: "Refrigerate after opening"; "40-ounce bag = 1-pound chicken"
Tasting notes:
Looks good, like bacon. Seems natural —Kaitlin
Rufus will eat this right up. He's killed two chickens. —John
I love meat! Crunchy. Leathery. Delicious. —Sasha
That's it? Please, can I have another? —Coava
Bacon?! Can't eat it all in one bite. Won't stop me from trying. —Gus
Dutch snarled at the cat for daring to encroach on the eating zone. —Ethan de Seife
Obi licked the floor for crumbs. —Michelle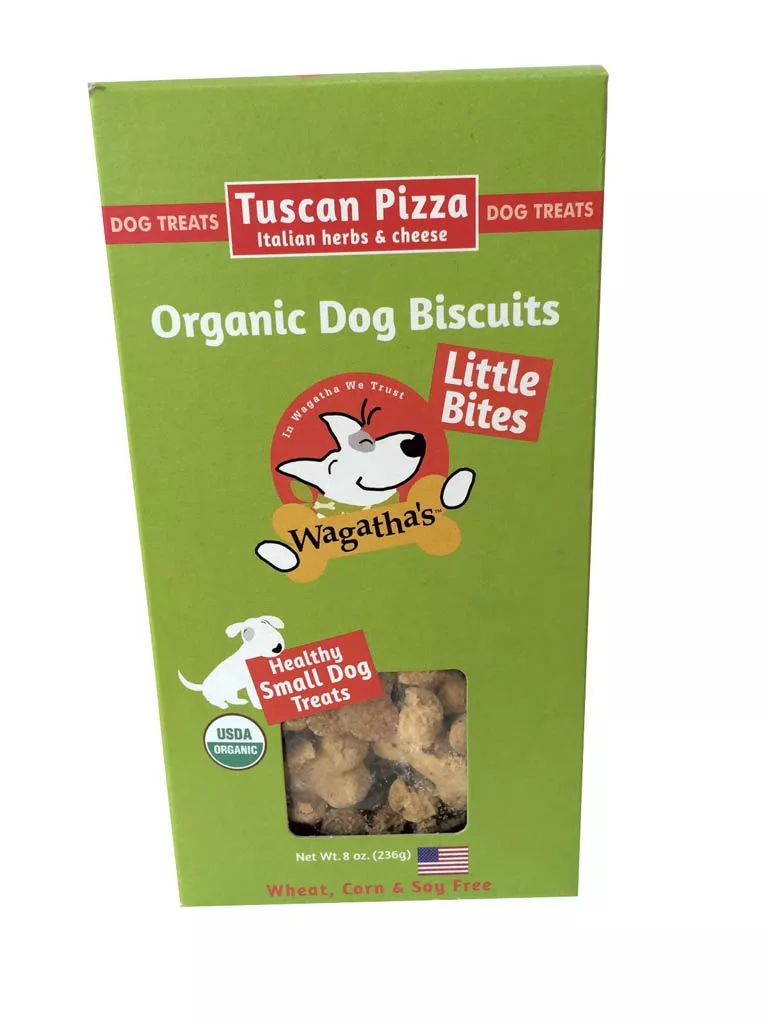 Sample: Tuscan pizza
Ingredients: whole oat flour, whole barley flour, canola oil, white cheddar cheese, extra virgin olive oil, cracked flax seed, dried tomatoes, tomato powder, oregano, garlic, thyme, basil, rosemary oil
Label notes: "Wagatha co-founder Norman Levits began baking dog biscuits for friends in the late '70s (while he waited for disco to die)."
Tasting notes:
These are small and perfect for Rufus' size. —John
Underwhelmed. —Coava
Why won't he let me play with Sasha? —Gus
I love that it's organic. —Julia
Tastes like Pizza Combos. I could eat a whole bag. —Lilly
Ate it. —Robyn
Sample: Puppermint Patties
Ingredients: whole wheat flour, corn meal, wheat germ, water, peanut butter, honey, eggs, canola oil, mint, brewer's yeast, vitamin E
Label notes: "Breath busters ... Natural dog treats! Cleans teeth."
Tasting notes:
Dutch ate it immediately. —Ethan
Bean loved it, pawing at me for another. —Kaitlin
Yummers! I love it! I want more! —Scout
Obi stood up, wagged tail. —Michelle
Edna wanted to like it, but it was a dud. —Don and Shawn
It's too hard. Yuck! —Edna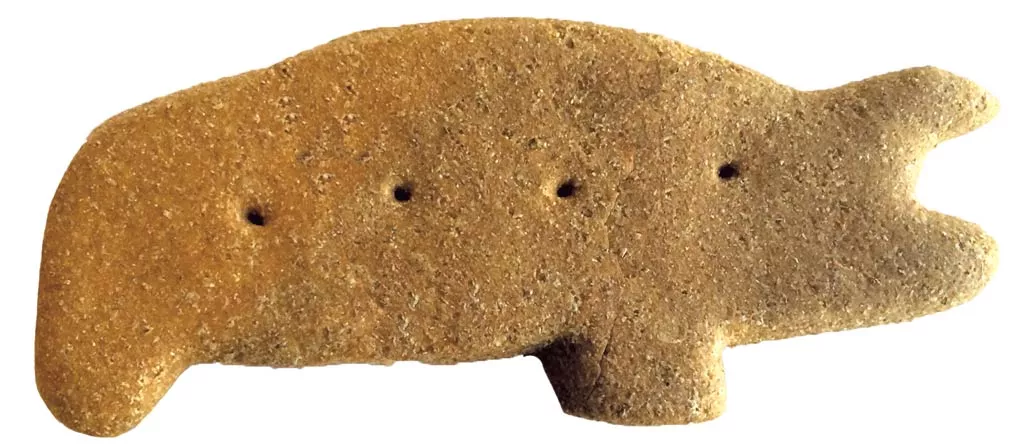 Sample: Biscuits (Peanut Butter Kitties, Beef Bones, Bacon Pigs and Cheesy Hydrants)
Ingredients: (varied by flavor, but all contain) whole wheat flour, cornmeal, wheat germ, eggs, canola oil
Tasting notes:
Peanut butter? I'd eat this. —Paul
Rufus is an asshole. I wanna play with Sasha. —Gus
It was a little hard to chew, and large. Needed to break it up. —Lilly
Tasty, crunchy, flavorful. —Dea
I'm worried about Scout's old teeth. —Kaitlin
Dry; Obi's smacking his mouth. —Michelle
These biscuits were a true challenge. —Don and Shawn
Sample: Grain Free kibble, "Duck à l'Orange"
Ingredients: duck, chicken meal, dried potato products, chicken fat naturally preserved with mixed tocopherols, dried orange pulp, herring meal, peas, dried egg product, natural chicken flavor, lecithin, ... and many more
Label Notes: "Simplement naturel!"
Tasting notes:
Give me more. —Rufus
This is the brand we feed Coava. —Cheryl
My farts are going to destroy you tonight. —Gus
Always looking for grain-free kibble. Pretty stoked. —Aaron
Smells mass produced and doggy. Dea will like it. —Robyn
I want more bacon. — Bean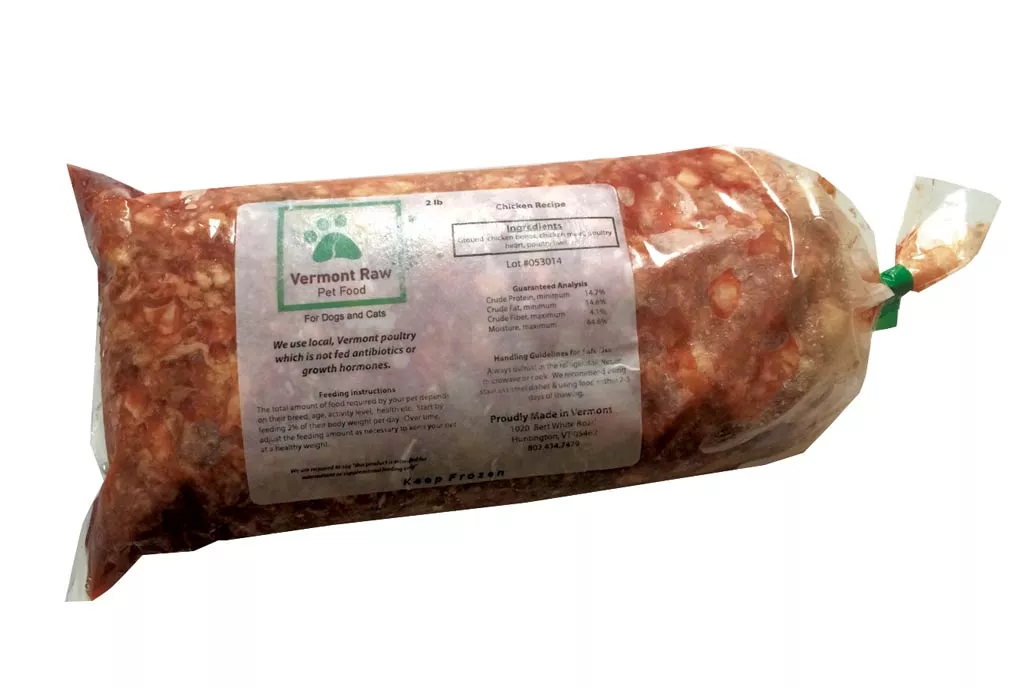 Sample: Chicken recipe
Ingredients: ground chicken bones, chicken meat, poultry heart, poultry liver
Label notes: "We use local Vermont poultry, which is not fed antibiotics or growth hormones."
Tasting notes:
It looks raw; I'm a bit nervous. —John
I feel like an animal. —Rufus
Absolutely not. No. Ick. —Coava
Looks like something Ira Glass would feed his dog. —Paul
I should like this ... Sorry, person. Not having it. —Sasha
I feel healthy and strong like a wolf! —Dutch
Obi licked it, then chewed it. —Michelle
Please. More. Now! —Bean
The original print version of this article was headlined "Fido Feast"