There is no official tally of standup comedians in Vermont. But there are a lot of them cracking up audiences around the Green Mountains. For proof, consider that roughly 100 comics — in addition to 20 or so improv comedians — will perform at the 2013 Green Mountain Comedy Festival, which runs from Wednesday, May 22, through Sunday, May 26, at venues in Burlington, Vergennes and Montpelier.
If those numbers come as a surprise, you haven't been paying attention lately. Particularly in the last few years, the local comedy scene has grown exponentially, both in size and quality. The comics who call Vermont home represent an array of styles and backgrounds. And they are very, very funny.
With so many comics to choose from, it can be hard to know where to start, especially if you're just now getting acquainted with the local scene. What follows is a primer on seven rising young Vermont comics, all of whom can be seen at upcoming GMCF showcases. It is not meant to be a comprehensive list but an appetizer, a sampling to lead you toward discovering an increasingly vital and vibrant community of comedic artists.
Will Betts
Will Betts, 20, is one of Vermont's youngest and hardest-working comics. A fixture at open mics and showcases around the region, he has a dry, offbeat style that elicits comparisons to the likes of Steven Wright and Doug Benson. Last year, the University of Vermont junior was a finalist in both the Funniest Comic in Vermont competition and the newcomer's division of the Funniest Comic in New England.
So, tell me a joke… "When I started going to UVM as a freshman, I noticed a sign in the dorm bathroom that read, 'Due to university health code, masturbation in the bathrooms is prohibited.' At the time it didn't seem like such a big deal — I was in-state, so I knew about other places to masturbate. However, a few weeks into the semester, I realized that sign is nowhere else on campus. Apparently, you can masturbate wherever you want, other than the dorm bathrooms."
Is there such a thing as a taboo topic in comedy? "No, but it's definitely harder to get away with offensive jokes if your name doesn't already have some level of comedy prestige to it. That's partially why Louis C.K. can say 'cunt' and 'nigger' on stage so loosely. The only time I saw a local comic use the N-word resulted in him being interrupted on stage by the host of the open mic. Keep in mind, the comic was white. It was awkward."
Worst. Show. Ever. "I did a show for a bunch of middle schoolers at a church a couple years ago, back when most of my material was clean. It was awful. Religious kids don't get jokes."
Another comic's take: "I call Will a 'likable oddball.' His material and his stage persona are uniquely hilarious. He's clever and creative and, just as important, he works extremely hard. I have so much respect for the comics who respect comedy. Will is modest and understands that improving means fine-tuning his material through thousands of stage hours. In the past few years he's evolved into one of the most consistently funny comics in Vermont." — Nathan Hartswick
RIYL: Steven Wright, Doug Benson, Brian Posehn
Betts performs at Laughs on Tap on Friday, May 24, 7 p.m. at Club Metronome, Burlington. $10. facebook.com/willbettscomedy, @WillBetts
Kevin Byer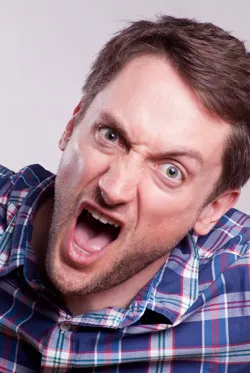 Kevin Byer has been in Vermont for only about nine months. But the Michigan native has made his time here count. Byer, 32, won the Funniest Comic in Vermont contest at Club Metronome last year and has quickly established himself as a fine addition to the local scene with a sharp, relatable, self-deprecating style.
So, tell me a joke… "I was getting off stage the other night, and this girl came up to me and was like, 'Why do I want you so bad right now?' And I was like, 'Probably because you had a horrible childhood.'"
What are the best and worst things about comedy in Vermont? "The best and worst thing about comedy in Vermont is the same thing: It has the most kind and supportive comedy community I've ever seen, and the rooms are always packed with people that want to see comedy. That's gonna make for a lot of good sets. Nothing feels better than killing, but it's really hard to grow as a comic unless you bomb on a regular basis. Last night, I had a pretty wonky set, but it was great because it drove me to wake up at six and write before work. Had I killed, I would have just lain around thinking about how cool I am."
Comedy pet peeve: "Wacky, zany improv troupes."
Another comic's take: "He has a voice you can't forget and cool confidence that floats him through sets." — Kyle Gagnon
Recommended if you like (RIYL): Bill Burr, Mitch Hedberg, Marc Maron
Byer performs at Winning! Vermont's Funniest Comics on Wednesday, May 22, 7 p.m. at Club Metronome, Burlington. $10. @KevinByer
Kyle Gagnon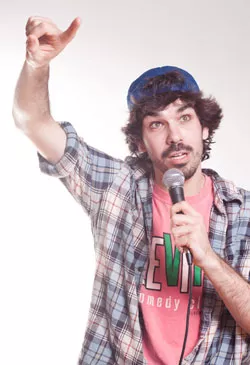 Kyle Gagnon, 23, was a classic underachiever as a teenager. Then, at the urging of a high school guidance counselor, he wrote some jokes for a regional talent show at the Bellows Free Academy-St. Albans auditorium. Gagnon's riffs on Aquaman, McDonald's gift cards and Jackie Chan won the contest. In the years since, the winner of the 2012 Higher Ground Comedy Battle has developed into one of Vermont's bright young comedic stars, combining a reserved slacker cool with a fearless, confrontational wit.
So, tell me a joke… "I won't put one of my own jokes in this paper, but here is my favorite bar joke that a good friend told me some time ago: What's better than seeing a girl wrestle? Seeing her box."
What's the hardest thing about standup comedy? "So many people are hung up taking comedy classes and paying for somebody else to tell them whether or not they have a good idea, when they should save that money for beer at open mics. It can be tough not to choose the easy punch line that 700,000 people have told before because it's proven to get a laugh. The hardest thing in comedy is to continue believing in your own originality even when people aren't laughing."
Worst. Show. Ever. "My worst show ever took place at Oscars, which was the bar/grill thing at the Majestic 10 in Williston. It was summer 2011, I was into playing my uke to a fault, to the point where I would force jokes into some weird uke thing just to use it because I thought it made me different and awesome. It didn't. I wrote this shitty song while I baked in the sun at my lifeguarding job, and, upon arriving at Oscars, I began to realize that I was about to bomb … hard. To compensate, I attempted to finish all the Switchback that bar had and go up there with an excuse for my shittiness. Long story short, my aunt and uncle walked out of the first show they ever came to see me do."
Another comic's take: "He's strong in most categories, but what stands out to me is he's very quick and clever in real life, so he's a natural onstage. On or off, you're getting pure, honest, real-life funny Kyle. Also, I don't know how else to put this, but he comes across as a lovable asshat." — Carmen Lagala
RIYL: Demetri Martin, John Mulaney, Greg Giraldo
Gagnon performs at Winning! Vermont's Funniest Comics on Wednesday, May 22, 7 p.m at Club Metronome, Burlington. $10.
Nathan Hartswick
If Vermont comedy were The Godfather trilogy, Nathan Hartswick would be Michael Corleone. Hartswick, 35, is the don of local comedy. He's the founder of the Vermont Comedy Club website and a cofounder of the Green Mountain Comedy Festival. He and his wife, Natalie Miller — a fine comic in her own right — founded Spark Arts, a local performing-arts group that produces standup and improv comedy shows all over Vermont.
But Hartswick is first and foremost a comic. And a terrific one at that, a self-described "likable wise-ass" with a résumé that includes winning the 2011 Higher Ground Comedy Battle and the 2012 Seven Daysies award for Best Vermont Standup Comedian.
So, tell me a joke … "Whenever I see a picture of food on Facebook, I think, That's probably poo by now."
Comedy pet peeve: "A comic who is telling super-unoriginal, hacky jokes … and killing."
Is there such a thing as a taboo topic in comedy? "I've seen rape jokes the whole audience loves and jokes about breakfast cereal that make the audience hate the comedian's guts. It's all about how you contextualize, craft and execute it."
Another comic's take: "He's committed to the craft, and he has a Muppet nose and a Muppet voice — physical humor always works. He sells punch lines really well, and not everyone does. Sometimes I'll fuck up my punch lines. But for him, even his polished jokes that he's rehearsed a hundred times feel natural. He's performing instead of reciting.
"He's so committed to the Vermont scene. He'd like to make a living out of comedy, but he's not in it for himself. He'd be happy if all he got was a thriving scene that'll succeed." — Chicky Winkleman
RIYL: Conan O'Brien, Jerry Seinfeld, Steve Martin
Hartswick performs with Todd Barry on Sunday, May 26, 7:30 p.m at Club Metronome, Burlington. $15. nathanstandup.com, sparkartsvt.com
Carmen Lagala
Carmen Lagala first turned heads by making the finals of the 2011 Higher Ground Comedy Battle. She won that contest this year, probably as a result of tirelessly honing her chops on stages throughout the state — including the now-defunct Burlington comedy club Levity, which she managed. Now a member of the long-running Vermont Comedy Divas, Lagala, 27, combines an easy stage presence with a willingness to experiment and push her own comfort level — and that of her audience.
So, tell me a joke… "OK, here we go … how about … no, not that one. That one won't translate well to print … OK, wait, wait, I have one. It's this, well, this girl, like, imagine me but not really me, you know? Uh … this isn't going well. What was the question again?"
Is there such a thing as a taboo topic in comedy? "No. Definitely not. But comics should try to know their audiences. Not everyone is going to like you, and you should stay true to who you are, but maybe don't do rape jokes at a rape crisis convention. That being said, it can't be helped that some people don't get the irony that some comedians go for and will be easily offended by anyone who's not Jim Gaffigan or Brian Regan — both of whom I love."
Worst. Show. Ever. "One that stands out is one of my first performances, on a big theater stage in Middlebury, where I did new, kind of raunchy material that bombed for a paying audience. Ten minutes felt like an hour. Then afterwards I found out my fifth-grade teacher was in the audience, the one who always said, 'You should become a scientist!' I don't think he went home and wept over a microscope, but I'm sure that show didn't change his mind."
Another comic's take: "She sells it; she is always doing new stuff and commits 100 percent. A lot of comics wait for the audience's approval when working something out, but she just goes for it. She is always doing bits about stuff that she probably hated about herself 10 years ago that she has turned into comedy gold now." — Kevin Byer
RIYL: Amy Schumer, John Mulaney, Maria Bamford
Lagala performs with Sara Schaefer on Thursday, May 23, 9 p.m. at Club Metronome, Burlington. $15. vermontcomedydivas.com, @CarmenLagala
Kit Rivers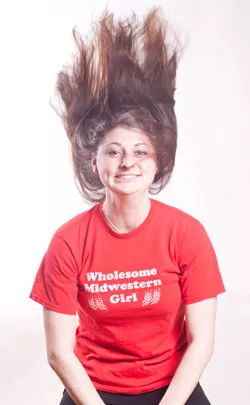 Following a breakout performance at the 2012 Higher Ground Comedy Battle, Kit Rivers, 21, has been regarded as one of the most consistently funny comics in Vermont. She is so good, in fact, that a roast was held in her honor at Winooski's Monkey House before she moved to London last year. That show has gone down in local lore as one of the most outrageous nights in Vermont comedy history, which is fitting, given Rivers' penchant for brash, deliriously profane humor.
So, tell me a joke: "I'm skinny fat. That is where objectively in clothing you look fine and average, but underneath it's all strapped in. Undressing me is like opening one of those Pillsbury dough cans. It's all sealed and tight, and then BOOM — dough and fat come exploding outward."
What's the hardest thing about standup comedy? "Letting go. When a joke works really well, it is because you fully committed to the material, to the act, to the attitude and to the audience. When you can learn to truly not give a flying fuck whether it bombs or not, it generally will kill. The hard part is learning not to care."
Comedy pet peeve: "Being introduced specifically as a lady; a host needing to draw attention to the fact that by owning a womb I am somehow doing something 'quirky' by being on stage. I'm a comedian, not a female one. Just a comedian."
Another comic's take: "Kit has memorable punch lines. My favorites are 'Undressing me is like opening a Pillsbury dough can' and 'I didn't tweet 10 million Jews to death.' In addition to being hilarious, Kit is ambitious. She talked Kathleen Kanz [of Levity] into giving her a 10-minute slot at a show before she had even done standup." — Will Betts
RIYL: Lily Tomlin, Patton Oswalt, Natasha Leggero
Rivers performs at Ladyparts! Women Show You Their [Comedy] Bits on Friday, May 24, 11 p.m. at the Monkey House, Winooski. $8. kitrivers.com
Chicky Winkleman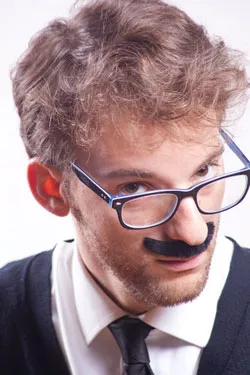 Few in Vermont push their audience's buttons — and boundaries — quite like Chicky Winkleman. Winkleman, 24, specializes in making crowds uncomfortable. That's a talent he perfected hosting "Sexy Chat with Chicky," an open-mic series at Levity during which he would berate performers after their sets from his perch in an armchair onstage. Winkleman is not a shock comic, exactly. But he is often shocking, which bodes well for his upcoming podcast with fellow comic Will Betts, "The 14th State."
So, tell me a joke… "It turns out that when you change all the ring-back tones on the phones at your job to 'Call Me Maybe,' you get fired from the suicide-prevention hotline."
A random fact about yourself: "I once had a twin but ate him in the womb to gain his power. There's a 'scientific' explanation, but that's what I've chosen to believe. I now have the strength of a tiny man and a fetus."
What is the hardest thing about standup comedy? "Walking the line between witty and offensive without losing the audience, which in a place like Burlington tends to be pretty politically correct. I think you can make a joke about gender without being a sexist, or make a joke involving racial commentary without being racist. It's about what you know and if you're coming at it from a real, honest place."
Another comic's take: "Chicky has that whole I-don't-give-a-fuck thing onstage. He will try whatever, no fear." — Kit Rivers
RIYL: Eugene Mirman, Michael Ian Black, David Cross
Winkleman performs at That's Just Wrong! Raunchy Show on Saturday, May 25, 11 p.m. at the Monkey House, Winooski. $8. hipsterjew.com, chickywinkleman.com. @chickywink