Oliver Parini
Grilled octopus at Honey Road
Honey Road
Chef Cara Chigazola-Tobin's masterful Mediterranean mezze garnered this restaurant two James Beard Award nominations in its very first year. Plates include baba ghanoush, braised lamb and grilled octopus. On warm evenings, thirsty diners hang with the pink flamingos that decorate the restaurant's busy Church Street patio, downing harissa-glazed chicken wings and bottles of Miller High Life.
Bento
This Japanese market and sushi shop specializes in the eponymous segmented lunch boxes. Fill one with tofu teriyaki to go, or grab a window seat for made-to-order sushi.
El Cortijo Taqueria y Cantina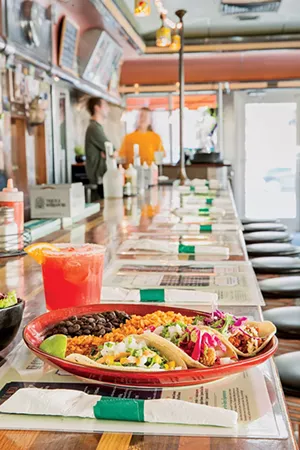 Oliver Parini
Tacos at El Cortijo
Tortillas made with heirloom corn cradle local meats, cheeses and produce in taco, burrito and enchilada form. Locals go loco for the "wicked-fly" margaritas.
Joyce's Noodle House
5 Carmichael St., Essex Junction, 288-9828
Owner Joyce Fong traces her culinary roots to the Shang Dynasty. Dig into dim sum, scallion pancakes or a stir-fry; all of the noodles and sauces are homemade.
Nepali Dumpling House
78 North St., Burlington, 497-1992
Tucked into a market with traditional Asian clothing and culinary goods, customers queue up for authentic momos — filled with veggies or meat and served on their own or in soup.
Pho Tao Vietnamese Restaurant
1355 North Ave., Burlington, 497-0475
Inside this casual New North End restaurant, co-owners Thanh Pham and Bishnu Gurung flip Vietnamese noodles and spicy Nepali chow mein in a fiery wok.
Tiny Thai Restaurant
Oliver Parini
Noodles at Tiny Thai
Tom kha, satay, stir-fries and curries take their cues from food carts and family tables across Thailand. Vermonters have voted this the best Thai restaurant in the state for six years straight.