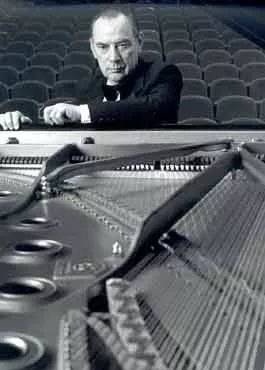 Composer Samuel Coleridge-Taylor went on three triumphant tours of the United States around the turn of the last century, but never traveled below the Mason-Dixon line. That's because white Southern concert-goers were more influenced by what they saw than what they heard: the internationally renowned Coleridge-Taylor was an Englishman but had black skin. It's a shame the politics of race kept him apart from the black Southerners whose music so enriched his own. Even so, Coleridge-Taylor's then-popular works helped shape an American Negro cultural renaissance, led by such figures as W.E.B. DuBois and Booker T. Washington.
His name and music faded over the 20th century, but found a champion in St. Michael's College professor William Tortolano, who wrote a biography, Samuel Coleridge-Taylor, Anglo-Black Composer, 1875-1912, in 1977. The book didn't exactly make Coleridge-Taylor a household name again in fact, most people understandably confuse him with the English Romantic poet Samuel Taylor Coleridge. But it did restore the composer's rightful status in the history of classical music, and in African-American history.
For both these reasons Tortolano was selected to make some history of his own this year: He was the first white Scholar-in-Residence at the Martin Luther King Jr. Center for Nonviolent Social Change in Atlanta. Invited by the Center and its residency partner, National Public Radio, Tortolano spent a week last month teaching nine courses on Coleridge-Taylor to students at Spelman and Morehouse colleges. He also introduced the composer's works on NPR, prior to the "King Celebration 2001," during which the Atlanta Symphony performed Coleridge-Taylor's Ballade in A Minor, Op. 33, and the Morehouse and Spelman glee clubs sang his "Lift Up Your Heads."
Tortolano did more introductions at two concert events with the Atlanta Symphony. In addition, he exhibited his personal collection the world's largest of Coleridge-Taylor's manuscripts, music, books and memorabilia, at Morehouse College. For a residency that lasted only one week, "that was plenty," Tortolano quips.
It was a hectic seven days for the 71-year-old professor emeritus, but Tortolano is accustomed to keeping busy, even in his so-called retirement. He still teaches part-time at St. Michael's and performs on the pipe organ "whenever I'm needed," he says modestly. This from a man who has played for the Pope, and just last year gave a concert while a visiting Fellow at Trinity College in England.
During his 38 full-time years at the college, Tortolano founded the Fine Arts Department and taught classes in conducting, music theory and history, as well as humanities. He also directed the chorale, designed the school's Cassavant pipe organ and performed frequently as an organist on and off campus. He's still the organist for the college and the Shelburne Museum, and continues to direct a St. Mike's summer concert series.
Tortolano's musical scholarship extends all the way back to the Middle Ages. His has written four books, including Beginning Studies in Gregorian Chant one of the first, and still one of few, guides to reading chant. Tortolano studied and researched the subject at the Abbey of St. Pierre de Solesmes in France.
Born and raised in Providence, Rhode Island, Tortolano is no slouch in Italian history, either including his own. He's the past president of the Vermont Italian Cultural Association.
So how did a fellow with medieval European interests discover a 20th-century composer of African descent? "When I was a young man I knew an English priest who had been a musician, and when he was a student he had attended college with Samuel Coleridge-Taylor and Ralph Vaughan Williams," Tortolano explains. "The priest showed me his music, and I was fascinated by it and the concept that he was black and English." The reason for his own research and book, he adds, was because of the music.
Tortolano describes Coleridge-Taylor's music as "conservative in many ways, very English. He sounds a lot like Vaughan Williams." But when he incorporated Negro spirituals, his music became "very colorful," according to Tortolano. "He doesn't play a folk tune, but rebuilds it and redevelops it to create a distinctive sound." Coleridge-Taylor's musical influences included Antonin Dvorak, whose music was also informed by folk traditions, as well as black music from Africa and the United States.
Being an Anglo-African classical composer in any era is distinction enough, but in his time Coleridge-Taylor was quite well-known. A musical prodigy with a white English mother and black father, a physician from Sierra Leone, his talents were recognized and nurtured at an early age. And that's fortunate, because his life ended at a still-young 37. In all, Coleridge-Taylor created eight anthems, three short works for organ, numerous works based on African or Black American themes and several large choral works. Among the latter, his cantata "Hiawatha's Wedding Feast" later arranged as an orchestral suite was once as beloved as Handel's Messiah, according to Tortolano. The work was based on the poem by Longfellow, who, along with Walt Whitman and black authors, was a favorite of Coleridge-Taylor's.
Tortolano has no illusions that a Coleridge-Taylor revival is imminent the style, he concedes, is "dated." But as music, like fashions, falls in and out of favor, there is still hope. He gave a talk and demonstration a few years ago at a local Martin Luther King Jr. ceremony. But he's "kind of disappointed," Tortolano admits, that he hasn't been asked to perform or conduct a Coleridge-Taylor concert in Vermont.
To generations of students, though, he's imparted the significance of this composer. "He was an international figure, and his African-American brothers here in the U.S. were inspired by him," Tortolano says. A mixed-race product of two very different cultural traditions, Coleridge-Taylor was motivated to investigate his musical roots. It's no wonder that the gifted young composer found resonance with American blacks and their indigenous, spiritual music. "He became inspired by this," says Tortolano. "It became part of his mission."