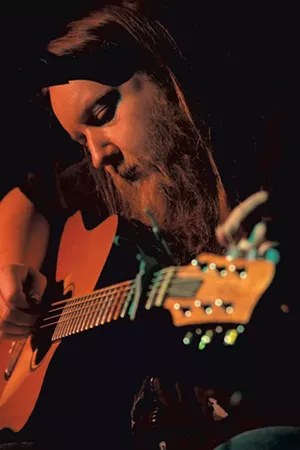 Matthew Thorsen
Seth Yacovone
Seth Yacovone is nearing the end of his weekly Friday happy hour set at Nectar's, blazing through Dylan's "Foot of Pride," when two strings on his acoustic rig snap, one right after the other. "Just give me a second," he says with a quiet smile, then patiently retunes and finishes the song with four strings.
This isn't the first time he's soldiered through such a mishap. Just 35, Yacovone has been performing across the country since his teen years. He's played at Nectar's for nearly 20 years and held down the Friday happy-hour slot for 10. But longevity is just one of the reasons Yacovone will be honored this Friday, May 8, with the first-ever Nectar's Lifetime Achievement Award as part of the Burlington nightclub's ongoing 40th anniversary celebrations.
To understand how the name of someone so young could be coupled with the words "lifetime achievement," you need to know a bit about Seth Yacovone's past. Born in Berlin, Vt., and raised in Wolcott, he got his start on the guitar at age 8. In ninth grade, he left public school to be homeschooled, which, he admits with a chuckle, "gave me time to play guitar all day."
For a kid from rural Vermont, Burlington was a lure. In 1995, at age 15, Yacovone entered a guitar contest at Club Metronome sponsored by Burlington's Advance Music Center. He won second place, which came with some free recording time at a local studio. Bill Schafer, who owned Advance, helped Yacovone put together the Broke and Hungry Blues Band and cut a demo. On January 2, 1996, the band played its first full-length gig. Fittingly, it happened at Nectar's.
"We were saying to each other, 'Do we even have enough songs to fill up the time?'" recalls Yacovone.
After changing a name and some personnel, the Seth Yacovone Blues Band was born. For three years the band traveled from Maine to Florida and west to Colorado, playing traditional electric blues and opening for national touring acts such as B.B. King, Dr. John and the Neville Brothers. On his own, Yacovone also flourished. One career highlight was sitting in with Phish before 14,000 people at the legendary Centrum in Worcester, Mass.
With jam bands such as Phish pushing the limits, Yacovone found himself wanting to add a little variety to his own band's all-blues set list. In 1999, the group made some additional changes and hit the road as the power trio Seth Yacovone Band, with Steve Hadeka on drums and Tommy Coggio on bass. SYB incorporated many of Yacovone's other influences, including Frank Zappa, P-Funk, Neil Young and the Grateful Dead. They toured more than Yacovone ever had, but the journey eventually beat them down.
"We were all burned out," the guitarist says regretfully. "We had tons of debt. We weren't enjoying it."
On New Year's Eve 2005, the band played its last gig — at least for a while. Yacovone continued to perform on his own and as a sideman. Before long, he took a shot at the Friday happy hour at Nectar's.
"I think it was supposed to be just for the summer, or maybe only a month," Yacovone says. "I started on May 6, 2005. It worked that summer, and it kept rolling along."
Ten years later, the listeners are still showing up — no small miracle in a town full of Friday night options. When asked to explain Yacovone's secret formula, Nectar's co-owner Chris Walsh, who bought the club in 2003, notes that the bluesman is all — and always — about the music.
"A lot of times musicians play a happy-hour gig, and they just want to pick up a hundred bucks and they are on their way," Walsh says. "You get a little of that autopilot vibe. But Seth's never like that. He's very present, and he delivers the same intensity every single night."
Intensity is a great word to describe Yacovone's Friday sessions. He puts it out there 100 percent, whether he's adding some bluesy licks to Johnny Cash's "Folsom Prison Blues" or delivering the lyrics to one of his own originals with his deep, growly baritone. It's not about the crowd. It's not about him. It's about the tune he's playing and how to bring it to life in the moment.
Then there's Yacovone's personality. Onstage and off, he earns praise for his laid-back, friendly demeanor. Brian Mital, who has booked Yacovone both at the House of Blues in Cambridge, Mass., and at Nectar's, says, "I have never heard a negative thing about Seth Yacovone, and I have been booking him for 20 years. He's just good people."
Alex Budney, who works as the talent buyer at Nectar's and plays bass in the newly reconstituted Seth Yacovone Band, credits his bandmate for something that, given his guitar skills, often flies under the radar: Yacovone's songwriting.
"I've never met anyone who writes like him," says Budney. "He'll go a couple days out of town and come back with 50 songs."
For his part, Yacovone credits Nectar's for rolling with the changes when he was starting out.
"There was a nice thing that Nectar's provided: a musical environment that was not overly uptight," Yacovone explains. "The atmosphere was encouraging to me as a musician, and kind of inspiring. [You could] fall on your face a few times and then figure out how not to fall on your face. You were playing music for people who enjoy it, and there was a friendly feeling in the air. It made a difference."
That's why, Walsh says, when the Nectar's crew came up with the idea of a lifetime-achievement award, the choice for the first recipient was easy.
"We have never given out an award, and we think it's very poignant that we are giving it to Seth," says Walsh. "He's the perfect person."
Seth Yacovone receives the first Nectar's Lifetime Achievement Award on Friday, May 8. He'll play happy hour from 7 to 9 p.m. and stay to rock the house with the Seth Yacovone Band.