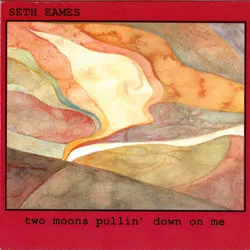 (Self-released, CD)
Seth Eames, half of Vermont's favorite "mountain blues" sons The Eames Brothers, returns with Two Moons Pullin' Down on Me, the followup to his 2006 solo debut, Train Goes By. Fans of his collaborations with brother Ralph will no doubt find plenty to like; the disc fairly roils with bluesy Delta grit. But Seth Eames' talents run deeper than the swamps from which he draws his primary inspiration. With help from sonic provocateur Michael Chorney, he disturbs those murky, slow-moving waters and emerges with an album churning with dark mystery.
A nimbly lilting acoustic guitar introduces album opener "I Been Down." The tune — and the disc — possesses a comfortingly familiar, melancholic quality doubly enhanced by Eames' hollow-bodied vocal delivery. Simultaneously ragged and rich in tone, he bends pronunciations in his lyrics as if each word is just another string on his guitar. The effect is chilling, particularly when he repeats the baleful refrain that gives the album its name: "Got them two moons, they're pullin' down on me." Muddy Waters, meet Nick Drake.
On the punchy "Bottle O Wine," Eames deftly invokes boozy backwoods ennui. "If the river was whiskey and I was a stone / I'd sink to the bottom, feel right at home. / But the river ain't whiskey and I'm just a man / tryin' to do the best I can," he laments. On the whole, Eames relies on fairly rudimentary wordsmithing. But coupled with his visceral delivery, that simplicity is effective and refreshing.
Chorney's influence on the album is subtle but potent. The Magic City honcho and frequent Anaïs Mitchell collaborator recorded, mixed and mastered the album. He also chips in guitar, baritone sax, bass and keyboard tracks. His contributions to the disc's fifth cut, "Everybody's Got a Story," are particularly notable, enhancing the tune's sly ethereal qualities with feather-light dexterity.
That the blues informs Seth Eames' approach is undeniable. But to call Two Moons Pullin' Down on Me an "acoustic blues" album is to tell but a small part of the story. Too often, "blues-inspired" artists gracelessly twist the genre's timeworn idioms into milquetoast approximations — looking at you, John Mayer. But Eames weaves a vibrant musical tapestry rich in style, all the while preserving the integrity of his favored roots with dexterity and reverence.