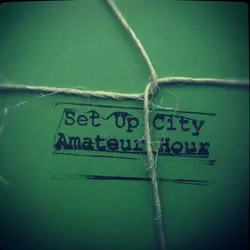 (Jenke Records, digital download)
Since the inception of Burlington's Jenke Records more than a year ago, the label has become a cornerstone for a segment of the local music community that might otherwise be overlooked. With a steady stream of releases, this motley crew of eccentric songwriters, producers and players has found strength in numbers; individual artists are thriving on the success of the collective. The majority of the label's releases have fallen under the parameters of rock and singer-songwriter styles. But Jenke's latest release, Amateur Hour by Set Up City, is a departure. Led by label founder Tommy Alexander, the record presents a broad spectrum of local hip-hop talent and may be Jenke's most complete, and impressive, release to date.
Producer/MC Face One deserves much of the credit for the album's tone and cohesion. From the celebratory opening cut "Welcome…" to the equally exultant closing track "Melody Is the Answer," Face One corrals an impressive array of beats and samples that frame, with polish and tact, the linguistic acrobatics of the group's numerous MCs. On "Stop the Stressin'," with an assist from coproducer Es-K, Face One sets a chill atmosphere with a laid-back, post-G-funk groove. MCs Alexander, J Kaine, Rajnii and Humble trade verses with effortless cool.
Local diva Kat Wright, of the Indomitable Soul Band, drops in on "Positive Stacks." Her soaring harmonies inject urgency and a welcome feminine charm to the largely male-dominated album.
"Easy as Pi" ups the record's intensity as Kaine, Alexander, Rajnii, Humble and Anthem spit lyrics over an insistent breakbeat. Despite the increased energy, the track maintains a hypnotic groove that meshes with the album's hazy overall vibe.
Thematically, most of Set Up City's material occupies the "higher consciousness" branch of underground hip-hop. There are moments — during "Mansion," for example — that the group's hyper-positive message treads perilously close to preachy earnestness and lightweight philosophy. If the record has one flaw, that's it. Heady ideals are occasionally presented with the nuance of a bumper sticker on a Prius.
Thankfully, such instances are the exception to the rule. While undoubtedly high-minded — philosophically and, yeah, narcotically — Amateur Hour succeeds on the combined skill, cognitive force and work ethic of its numerous creators. In that sense, the record is an allegory for Jenke itself, and a fine example of that label's collective spirit.
Amateur Hour by Set Up City is available for download at tommyalexander.bandcamp.com/album/amateur-hour. Set Up City play the Monkey House in Winooski on Thursday, January 10, and at Positive Pie 2 in Montpelier on Saturday, January 12.