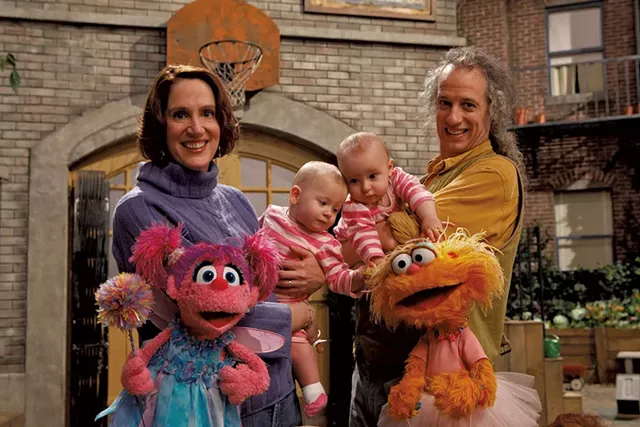 Courtesy Of "sesame Street"
Annie Evans and Martin P. Robinson with their twins and Muppets
It's a rare couple that can claim Oscar the Grouch as one of their wedding guests. "Sesame Street" writer Annie Evans and puppeteer/Muppet captain Martin P. Robinson are among the lucky few. Married on the show's set in 2008, the two have made a life straddling — and weaving together — the human and puppet worlds.
What's a Muppet captain? Inquiring minds can find out this Friday evening, May 4, at the Shelburne Museum, when Evans and Robinson speak about their creative careers and the beloved children's public television series that began in 1969. Their talk, "Sesame Street: The Longest Street in the World," is open to the public and presented in conjunction with current exhibition "Puppets: World on a String."
Friday afternoon, Sesame Workshop's Tara Wright will offer a free seminar for educators and service providers titled "Sesame Street in Communities: Building Literacy Skills and Beyond." The community-based initiative aims "to guide and support healthy habits in young children, while also engaging the important adults in their lives," according to the museum's website. The session can earn participants three credit hours of professional development. Both the workshop and the evening talk are supported in part by Vermont PBS.
Seven Days reached Robinson by phone at the couple's Connecticut home; Evans was busy soaking up theater in New York City.
"Look at any puppet and you know it's not alive," Robinson said, "and yet in the hands of a trained professional, it has all the appearance of life. It has character; it has empathy; it makes very strong emotional contact."
Robinson is likely best recognized for the characters he brings to life: the lumbering, thick-lashed Mr. Snuffleupagus, aka Aloysius Snuffleupagus or "Snuffy"; the risk-averse Telly Monster; Oscar's pet worm, Slimey; and Mrs. Grouch, among others. Robinson joined the television series in 1981, inheriting the massive role of Snuffy from mentor and original "Sesame Street" cast member Jerry Nelson.
Technically speaking, Robinson is half of Mr. Snuffleupagus. He described climbing into character through a zipper in the puppet's middle. A second performer operates the mammoth-like creature's back. Both use ergonomic backpacks that distribute most of the puppet's weight to the hips, Robinson explained. Once they're strapped inside the body of rattan and foam, the performers can view the set, and their own movements, through monitors. Robinson's left hand operates Snuffy's mouth, while his right hand animates the puppet's eyes — and his snuffle.
"[The puppet] is an empty vessel. Half of the life is provided by the puppeteer," said Robinson, "but the other half is provided by the audience." He continued, "As soon as you get an audience to buy into the idea of it, they're invested in it — they want it to succeed."
While Robinson brings many "Sesame Street" characters to life through his performances, a team of researchers and writers, including Evans, guides the stories. Evans joined the show as a writer in 1994, shortly after meeting Robinson at the National Playwrights Conference at the Eugene O'Neill Theater Center in Waterford, Conn. As their origin story goes, Evans helped Robinson strengthen the story behind one of his in-progress puppet productions. "[He] clearly needed my help, big time," Evans told the New York Times in 2008.
The pair began their romance in 2002. After their marriage, six years later, Evans gave birth to twins. In 2009, she and Robinson launched the parenting blog "Sesame Family Robinson," which stayed active until 2012.
Though Robinson alluded to changes at "Sesame Street" over his three-decade-plus career (such as the age of the show's target audience), he has found one particularly significant constant: its moral dedication.
"Some puppets and puppeteers will stop at the trick of puppetry," Robinson said, "but once you have somebody's attention, once you've reached that deep, there's a responsibility to interact in a way that counts.
"One of the things that's so great working for Sesame Workshop," he continued, "is that it's a very conscientious and very moral company. They have a lot of fun, but they take their responsibility very seriously."
Evans and Robinson have been active in bringing the model of "Sesame Street" all over the world through International Sesame Street. "It's been one of the most enjoyable aspects of my job," Robinson said of helping organize the coproductions. Made on-site, the collaborations blend American "Sesame Street" with the cultural traditions of each location.
"You have to stay very wide-eyed and open to the feedback you're getting," Robinson noted.
Attendees at Friday's talk can expect to hear more about the couple's international puppetry work, as well as the nuts and bolts of producing "Sesame Street." Questions, Robinson said, will be enthusiastically encouraged.