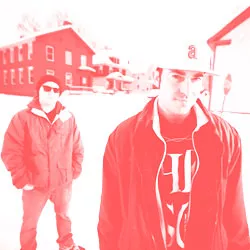 Within the last five years, Vermont hip-hop has experienced a renaissance as ever more turntablists, MCs and dance crews attempt to graffiti the 802 on the national map. Interest in locally grown, free-range hip-hop has never been stronger. Yet the movement has blossomed with one of its most respected acts on the sidelines.
In the first half of the last decade, Vermont hip-hop was defined by a small contingent of artists, many of whom are either no longer performing (Eye Oh You), are performing in different groups (Nastee) or have moved away (the Loyalists). At the head of the class stood the Aztext, widely regarded not only as the local hip-hop band mostly likely to succeed but among Burlington acts most likely to make a national splash regardless of genre. Their 2006 debut, Haven't You Heard?, was an instant local classic. Their 2007 follow-up, The Sacred Document, showcased even more potent wordplay and innovative production. The Aztext, it seemed, were poised for breakout success. And then … nothing.
After The Sacred Document, MCs Pro (Brian McVey) and Learic (Devon Ewalt) all but disappeared from view. As the scene they helped define matured, the Aztext were curiously absent.
Until now.
In January, the Aztext released Who Cares if We're Dope? Volume 1, the first of four EPs they plan to unveil throughout the year. Volume 2 was released on Tuesday, February 22. The Aztext collectively consider the releases as "Season 1," à la TV shows or serial novels, with each episode helmed by a different producer. DJs E-Train and Touchphonics, of Vermont expats the Loyalists, produced volumes one and two, respectively.
The unconventional episode concept is a calculated reaction to the shifting dynamics of a record industry in flux. But it is also the logical byproduct of a less business-oriented personal change: The Aztext grew up.
At the height of their popularity, McVey and Ewalt were roommates, bandmates and friends, which created ancillary stresses to just making music.
"That can be a challenge to juggle," says McVey.
After receiving promotions at their jobs — McVey, 28, is a regional sales manager for Dealer.com; Ewalt, 29, is a manager at Blockbuster Video in St. Albans — the duo moved in with their respective girlfriends. McVey got married last summer. In short, "real" life was moving at a faster clip than the life of the band.
"As you get older, life just gets tougher, right?" observes McVey. "Bottom line is that music started feeling like a job. It didn't feel fun." He expresses respect for the local hip-hop acts that have made a run at music careers. "People like BURNTmd, Nastee and A-Dog, those dudes found a way to make music that keeps them busy and survive," McVey says. "We didn't figure that out. We had to find a bit of a balance."
The two decided to slow down and relieve the pressure on themselves. Then, after a lengthy layoff, the Aztext returned to the studio last year with little in mind beyond simply making some music.
"The idea was just to not force any music," recalls McVey. "Let's not self-impose any deadlines. Let's make music because we really like hanging out as musicians and friends and creative minds."
McVey concedes that the new process took longer than in the past. The Aztext also dug into their back catalog for material, another first. The songs on all four volumes of Who Cares if We're Dope? were originally recorded within the last two years. The second "season" will feature music written within the past 10 months, as well as a new rotation of producers.
"The whole episode concept came from realizing that we had been so irrelevant for so long," says McVey. "We were starting over."
He reveals feeling a certain freedom in the new beginning, a sentiment reflected by the very title of the series, Who Cares if We're Dope?
"Who are we really making music for, us or anybody else?" asks McVey. He concedes the answer is to strike a balance. After all, if music is made solely for the artist, why should anyone else care if it's dope?
"You obviously want people to hear it," says McVey. "But when you're in the studio, you shouldn't be thinking, How will people react to it?"
The beauty of the Aztext's new concept is threefold. One, it allows them to record and release music at their own pace, without the constantly looming pressure to put out full-length albums. Two, by releasing EPs every few months, they remain relevant after the luster of a longer, single release would have faded.
The third prong of their approach is less obvious but is, artistically speaking, most important. By enlisting different talents to produce each volume, the Aztext highlight a facet of hip-hop that is largely overlooked by all but the most avid aficionados yet is crucial to every hip-hop recording: the role of the producer.
Volume 1 showcased the Loyalists' DJ E-Train, who fleshed out the duo's lightning-and-thunder vocal approach with classic boom-bap hip-hop beats. E-Train took a comparatively direct track, essentially redirecting the spotlight back onto the Aztext. In contrast, Touchphonics put production front and center, challenging the duo to match his arsenal of high-intensity beats.
"Producers are kind of the man behind the curtain," says Ewalt. "And they rarely get the credit they deserve."
"This gives them top billing," adds McVey. "And a voice."
The resulting EPs offer profoundly different sounds that highlight the Aztext's nimble versatility.
"We're telling producers not to send us 25 beats and have us pick four," says McVey. "Instead, why not choose four beats that you want to showcase, and we'll adapt."
Given the uncertainty of the music industry, the willingness and ability to adapt may well determine which artists succeed. Especially if they're dope.