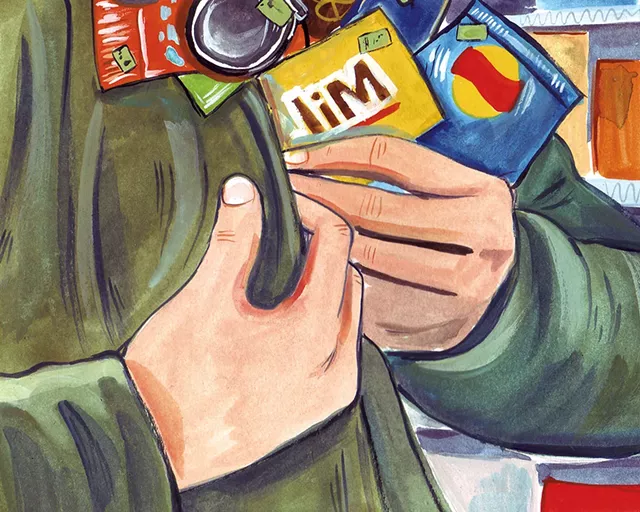 It was a busy day for Amanda Bean. First, she stole several hundred dollars' worth of merchandise from a store that shares her surname — L.L.Bean. Burlington police cited her for retail theft and released her. Two hours later, Bean allegedly stole goods valued at several hundred dollars from the Skirack on Main Street. Bean was again charged with retail theft and let go.
Since that day in April, Bean, 33, of St. Albans, pleaded guilty to the L.L.Bean theft, but her stealing apparently hasn't stopped. She has been arrested on similar charges twice — including on October 22, while she was serving a community-based furlough for the L.L.Bean theft. All told, Bean has been arrested more than 20 times and has at least nine retail theft convictions, along with convictions for other crimes.
Downtown merchants are frustrated with frequent fliers like Bean. While other crimes such as burglary are declining in Burlington, retail theft is escalating, police say. Between 2012 and 2015, annual retail theft calls to Burlington police increased from 341 to 423. This year, the trend continued. The number of calls between January and November 1, 2016, totaled 404, compared to 374 over the same time period last year.
Opiate addiction is fueling the problem, according to police, merchants and Chittenden County State's Attorney T.J. Donovan, whose office has the power to prosecute shoplifters. In some cases, they are pilfering a North Face puff coat or a Patagonia fleece to sell for cash to support a habit. In others, they're working off a dealer's "shopping" list.
The police come promptly when summoned, said Ryan Ford, loss prevention coordinator at the Outdoor Gear Exchange on Church Street. But after an arrest, "Not a lot happens." Even chronic shoplifters are "back out on the street, two, three hours later," Ford said.
Church Street Marketplace officials, business owners and police are forming a committee to study what happens to serial shoplifters once they go to court. The current system is not working, said Police Chief Brandon del Pozo.
"I think there comes a point, after innumerable arrests for retail theft, a person can be considered to be taking an unacceptable toll on his or her community, and meaningful jail time seems appropriate," del Pozo said.
It's rare for shoplifting to lead to that, the chief said. He thinks it's time for prosecutors and judges to take a new approach when it comes to chronic offenders. "Retail theft to jail, to treatment, to sobriety is a success story. An endless cycle of retail theft to fuel addiction with no consequences doesn't help anyone, including the person with the addiction," del Pozo said. "We need to break the cycle."
When it comes to arresting shoplifters, police take their cues from Donovan's office. If the value of the merchandise is less than $20, as when people steal items such hats, gloves or cigarettes, the only consequence is a no-trespass order designed to ban that petty thief from a store, said Burlington Police Deputy Chief Shawn Burke.
If it's more than $20 but less than $900, a shoplifter can be charged with a misdemeanor, which can technically get an offender six months in jail. But police often write tickets ordering first-time offenders to complete an alternative program at the Community Justice Center. It involves an apology to the merchant and volunteer work. Juvenile shoplifters also get referred to alternative justice.
For goods valued at more than $900, authorities can bring felony larceny charges. This comes with a potential penalty of up to 10 years in jail and a $1,000 fine.
But in a state that is working to reduce incarceration and to help nonviolent offenders get treatment for addiction, prosecutors and judges don't often favor jail time for shoplifting.
For their part, merchants get upset when thieves repeatedly come back for $100 jeans and $300 down coats. "We get criticized by the retail community," said Burke. "It's, 'Why isn't this person in jail? Where is the accountability?'"
The complaints are familiar to Donovan, who will be sworn in as Vermont Attorney General next month. "This is a perennial issue that we've been dealing with, and we certainly hear the merchants' concerns," Donovan said. He's tried to focus limited prosecution resources on thieves running organized fencing operations, Donovan said, and to communicate closely with merchants and police.
More serious crimes should take precedence when it comes to jail time, Donovan added.
"Who are you going to put in?" he asked rhetorically. "Someone who is charged with a misdemeanor retail theft or somebody who is charged with aggravated domestic violence or selling heroin or sexual assault?"
Some retailers feel that Vermont is soft on shoplifting compared with neighboring states, and criminals are starting to notice.
"If you are going to commit the crime of shoplifting, we are the best state to do that," Ford said.
Outdoor Gear's Ford supports a push by the Vermont Retail & Grocers Association to change Vermont law and create stiffer penalties for what is known as organized retail theft — in which stolen goods are fenced for money or drugs. At least 30 states have laws to discourage it, according to the National Retail Federation, including New Hampshire and Massachusetts. The laws in some cases bump misdemeanor retail theft charges up to a felony if the incidents happen in quick succession, or if there is evidence that the thefts are part of a coordinated plan to resell stolen merchandise.
"It's a significant issue that is becoming more and more difficult to wrangle," said Erin Sigrist, the president-elect of the Vermont Retail & Grocers Association, which is just starting to research changes the group will suggest to lawmakers in 2017. Pilfered goods are untaxed goods, she added: "That's tax revenue that we aren't collecting at the state level."
Some stores get hit more than others. Macy's downtown department store on Cherry Street has generated the most calls for the last three years running —more than 265 during that time period, according to police. Also in the top 10: L.L.Bean, Price Chopper, Hannaford, City Market/Onion River Co-op, Rite Aid and Outdoor Gear Exchange.
All of the stores have security. City Market, a bustling grocery store, has cameras. It also employs a small team of workers who don't wear badges or uniforms but are trained to prevent theft. Even when they're stocking shelves, they're on the lookout for shoplifters.
Despite their efforts, lots of merchandise disappears, from organic meat to French wine. "You name it, and it's probably walked out the door," said Allison Weinhagen, City Market's director of community engagement.
A few blocks away at Outdoor Gear Exchange, Ford, the loss prevention coordinator, has become a go-to guy for downtown retailers when it comes to curbing theft. Last Wednesday, he sat in the office at the rear of the store, which sells hiking boots, tents, skis and outdoor apparel.
Wearing jeans and a flannel shirt, long-haired Ford doesn't look the part of a security guy, but he knows the role well. He clicked on a computer mouse and a screen lit up with 16 video feeds from some of the small cameras in the store.
Like many retailers, OGE attaches plastic tags to its merchandise and clerks remove them during the checkout process. If one remains on a garment when a thief exits the store, it trips an alarm. Experienced thieves can find ways to get around that, such as stuffing goods into foil-lined bags or using clippers to cut off the tags.
Chittenden County retailers including OGE also share surveillance images of thieves who have hit local stores. Employees come to recognize the regulars, and sometimes ask them to leave as soon as they walk in. Store employees also work with police to issue no-trespass orders to shoplifters, but the repeat offenders often defy the bans and manage to sneak back in.
Good customer service — eye contact and friendly hellos from staff — is the best deterrent, said Ford. But it doesn't always work. Thieves make off with entire stacks of jeans, down coats and sporting goods that they resell online or out of state, he said. Some shoplifters have even taken items from the store's main floor and tried to sell them in the consignment shop on OGE's lower level.
National studies estimate that retailers lose about 6 percent of their stock to "shrinkage" — jargon for stolen or damaged merchandise. It adds up to billions in losses annually. Insurance covers the problem, but it's not cheap. "You make a claim, and your insurance goes up," Sigrist said.
Some of the hardest-hit retailers won't talk about shoplifting. Local managers at Macy's and L.L.Bean referred Seven Days to corporate spokespeople who didn't return calls.
Burlington's downtown L.L.Bean store generated roughly 50 calls to police last year. But one can't help but wonder how the chain's famous no-questions-asked return policy contributes to its losses. In big letters on the wall behind the cash registers, it promises to take back any merchandise that fails to satisfy. Salespeople explain to shoppers that if a pair of rubber boots springs a hole, even five or 10 years after the original purchase, L.L.Bean will replace them. Customers who still have a receipt get cash or credit card refunds; others receive a gift card.
Old Navy had a shoplifting problem when it was in the space where OGE is located. It was so bad, according to Ron Redmond, executive director of the Church Street Marketplace Department, that it factored into the chain's decision to close the store and move to suburban Williston.
"They left for several reasons," Redmond explained, "but that was top of the list."
Redmond is hoping the local study of the court outcomes for serial offenders will lead to effective solutions for chronic retail theft — yet another burden, like collecting taxes, that disadvantages brick-and-mortar stores that compete with online sellers.
"There's a lot of repeat business," as Redmond put it — and not the right kind. "What we're doing now doesn't seem to be working."