File Illustration: Luke Eastman
On July 1, 2018, Vermont legalized recreational cannabis and thus embarked on its Great Weed Legalization Experiment. So far, the reviews have been mixed.
Some folks, of course, think cannabis should have remained verboten. Others worry that the current law, which allows adults 21 and older to possess and grow their own weed but not sell or purchase it, is only feeding an illicit market for pot. Yet another contingent fears the state is missing an opportunity to cash in on regulation and taxation.
At the close of the legislative session in 2019, lawmakers were on the cusp of creating a retail cannabis system but failed to get it to a vote. That doesn't mean the bill is dead: Lawmakers will likely take up the issue again in 2020.
Until then, you've gotta abide by the laws currently in place. Here's the CliffsNotes version: You can carry up to one ounce while out and about, and grow two mature and four immature cannabis plants at home at a time. The plant limit is per household, so work that out with your roommates.
Confused yet? Read on for some examples of things you shouldn't do with that weed. And to stay on top of all things cannabis, check out Cannabeat.
The Gift That Keeps On Giving?
There's a quirk in Vermont's cannabis law: While you can't buy or sell pot, it's perfectly legal to give it away. Upon legalization, businesses started popping up that seemed, well, kinda sketchy. For example, for a "delivery" fee of, say, $50, someone would drive to your house and drop off a "free" bag of marijuana. Pretty sweet, right?
Not exactly.
Vermont Attorney General T.J. Donovan quickly nipped that practice in the bud, making clear such a transaction would be considered a sale — and therefore illegal — under state law. Sorry, canna-preneurs!
Don't Bogart the Bud, Bud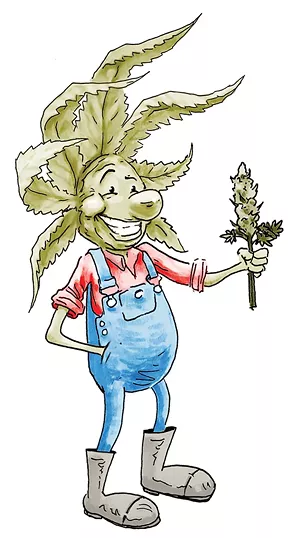 File Illustration: Luke Eastman
This one should be obvious, but alas, some things bear stating loud and clear: Don't take stuff that doesn't belong to you!
Mark Krawczyk woke up one day in September 2018, right around harvest time, to find that some canna-thieves had stripped two bud-heavy plants that he'd tended for months.
"We put a lot of care and energy into the plants," Krawczyk said at the time. "It's a bummer."
The grower and his wife reported the theft to Vermont State Police, which must have felt strange, given that weed had been illegal just months earlier. But, indeed, officials looked into the matter. According to spokesperson Adam Silverman, "Generally speaking, the Vermont State Police would investigate any reported theft of legal property."
A Tough Sell
No one is naïve enough to think Vermont's legalization law put an end to illicit trade in cannabis. But no one has been as blatant as the dude who allegedly dealt out of a head shop on Burlington's Church Street Marketplace ... directly across from city hall.
Federal, state and local law enforcement officers raided the business in January 2019 after receiving several complaints that Derek Spilman was selling weed and edibles — which he reportedly displayed in a pizza box — out of Good Times Gallery. Among the informants was the mom of a minor who reportedly got sick after eating a bag of weed-laced gummies bought at the shop.
Spilman pleaded guilty to federal charges related to the raid.
Advocates and other officials argued at the time that the bust only underlined the need for the state to legalize sales.
"They're going to close down Good Times, and then somebody else will pop up. It's whack-a-mole," said Tim Fair, an attorney who specializes in cannabis law. "So why not have regulation to be able to control this?"
Up in Smoke
The sun is shining, the birds are chirping and you've got a bowl of bud in hand. But think twice before you flick your Bic.
Vermont's legalization law specifically forbids the public consumption of cannabis. That means no toking in parks, on city streets or in bars — it's even more restrictive than most cigarette smoking bans.
Forty-two people found that out the hard way during the first 10 months the law was in effect, a Seven Days analysis found. Those public pot smokers each earned a ticket, which carries a $100 fine.
It's an issue that could arise often, especially if Vermont legalizes sales. Where would tourists smoke? What about a medical marijuana patient who was far from home but felt the need to medicate to stave off a panic attack? That was the case for Nadav Mille, who was ticketed in February 2019.
"Can you think of any other patient taking any other medication that would be subject to this type of potential criminal liability, civil liability — liability, period — just for trying to take his medication?" said Fair, the cannabis attorney. "It just makes absolutely no sense."