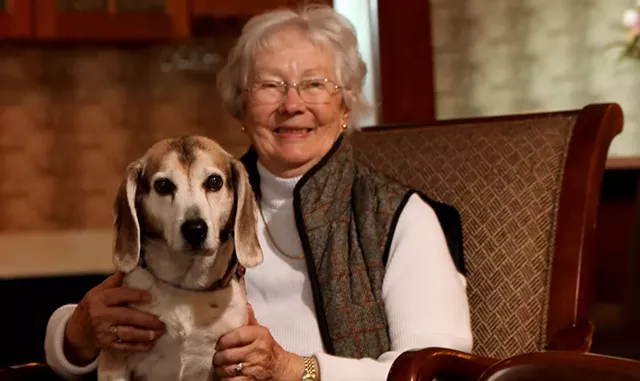 Matthew Thorsen
Florence "Flo" Klausner with Ziggy
After Florence Klausner's husband died four years ago, she started noticing how much effort it took her to stay in their Hinesburg home.
"I'd have to walk down a very steep driveway for the mail and the newspaper," says the amiable octogenarian. "When it was snowy or icy, I'd actually drive down."
She also started to feel lonesome. "You need someone to talk to," she says. "Studies show that you're better off when you've got people around you."
Eventually, Flo decided she was ready to sell her house and move into a senior living community. After researching numerous local options, she chose the
Residence at Shelburne Bay
. She and her sons did the math and realized that, with all the services the Residence provides, what she'd pay to rent an independent living apartment was comparable to the expenses she incurred living alone. She moved in during the summer of 2017.
"I love my apartment," Flo says. Her new, one-bedroom abode is smaller than her house but requires much less maintenance. She doesn't have to go outside to get the newspaper or the mail. She doesn't even have to do much cleaning — the housekeeping staff comes in once a week to tidy up. "It's so nice to come back and find fresh sheets on the bed!" Flo exclaims.
The Residence was the only option she could find that allows pets, so she was able to bring along her 10-year-old dog, Ziggy.
But Flo says she ultimately chose the Residence for the same reasons other active seniors say they did: It offers a wide variety of on-site and off-site activities, as well as
outstanding food service
, all provided by an engaged and highly skilled staff. As of October 2017, that includes a European Certified Master Chef.
See the Residence in person!

Nestled into a gentle slope off of Route 7 in Shelburne, the Residence affords easy access to greater Burlington by car or taxi; a shuttle brings residents to stores and events downtown. Yet the thoughtfully designed campus, near the shore of Lake Champlain, provides a refuge from the traffic and businesses nearby. The complex — one of 18 owned and operated by Massachusetts-based LCB Senior Living — includes independent and assisted living apartments and memory-care wings, as well as multiple kitchens, dining rooms, libraries and fitness facilities, and a heated pool with a ramp for wheelchair entry. Residents move freely between the two main buildings, even in winter, through an underground tunnel.
"When they first said 'tunnel,' I said, 'Oh, dear,'" Flo recalls. But she found that art on the walls and a skylight make it "really bright and lovely," she says.
Flo enjoys having
her own space
— she can close the door if she wants to be alone or open it and leave when she's feeling social, like at mealtimes.
Rather than eat by herself in front of the TV, she now sits with friends in the Residence's spacious main dining room. On a Tuesday morning in March, Flo breakfasts with Chester Bielawski, 81, and Winston Whitney, 88, at a table draped in a white linen tablecloth, topped with a vase of fresh flowers. A sign on the wall identifies the Residence as a member of the Vermont Fresh Network.
A young man in a white shirt and black bowtie approaches the group, greeting the residents warmly, before leaving to fetch coffee. The trio points out that many of the servers are high school or college students. "It's sort of like having your grandkids around," Flo explains. "Or some of our great-grandchildren," quips Chet.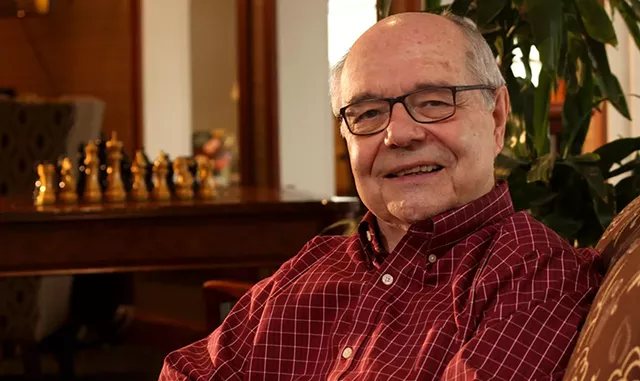 Matthew Thorsen
Chester "Chet" Bielawski
When the server returns to take orders, Flo requests an omelette, then adds a glass of prune juice and a strip of bacon — an extra treat.
"Shoot the moon!" Chet jokes, before ordering oatmeal, with raisins and brown sugar on the side.
Win asks for English muffins and orange juice. He's in a hurry. He's driving himself over to the University of Vermont Medical Center — not for an appointment, but for his shift as a volunteer.
The three keep up a lively banter, sharing small talk and stories. Chet, a former corporate inventory manager, is originally from New Jersey. He and his wife moved into the Residence two and a half years ago. They came to Burlington to be closer to their daughter and her family, and though they loved their apartment in a co-housing community, they needed to leave after his wife's Parkinson's disease made it difficult for her to navigate the stairs.
The youngest of the trio, Chet is also the only one with a smartphone. When he pulls his iPhone 8 from his shirt pocket to check his calendar, Win, who spent 30 years on the business side of the
Burlington Free Press
, teases him. "Every time you check your phone, you put a newspaper person out of work," he warns.
The three pause occasionally to welcome other residents who amble in and sit at nearby tables. The main dining room is open daily from 7 a.m. to 7:30 p.m., so there's no rush to get in before it closes.
Aside from the presence of a few more walkers and canes, the scene resembles a gathering of regulars at an upscale brunch spot.
An Appetizing Menu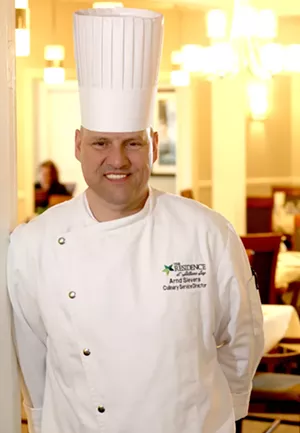 Matthew Thorsen
Chef Arnd Sievers
This convivial atmosphere is intentional. At the Residence, dining isn't only about nourishing the body.
"Food is a huge component of senior living," says Residence director Bill Davidson, "but it's something that people often don't think about."
A nurse by training, he's worked in a variety of health care settings. He explains that a well-balanced diet keeps seniors healthy and boosts the immune system, while comfort food can play a role in emotional well-being. Mealtimes also provide a chance to talk with friends and nurture relationships.
Overseeing this essential area at the Residence is culinary services director Arnd Sievers. The German-born chef has decades of experience in the hospitality industry, in fine-dining restaurants and resorts in the U.S., Europe and the Caribbean. He worked as the executive chef at the tony Mohonk Mountain House in New Paltz, N.Y., and was the food and beverage director at the Trapp Family Lodge in Stowe.
In his distinctive white chef's coat and black pants, Sievers still looks and acts the part. On a tour of the Residence's kitchens and dining rooms, he pauses occasionally to adjust menus standing on the tables and stoops to pick up a small scrap of paper on the carpet.
The constant striving for perfection at a high-end restaurant can be extremely stressful. After a stint at Mountain View Grand Resort and Spa in New Hampshire, Sievers wanted a job that offered a better work/life balance, so he could spend more time with his two young children. He found it at the Residence.
That's not to say his job is easy. When diners come to your restaurant, he says, "if they're not happy with the food, they will not come back. They don't give you a second chance." That's not the case at the Residence. His clientele returns day after day, and they expect the chef to make changes based on their feedback.
It's a challenge Sievers embraces. He regularly hosts "Chef's Hour" meetings during which he explains upcoming menu items or changes, and solicits suggestions. "I'm always available," he says. "If you have a recipe from your grandmother and you want me to cook it and put it on the menu for a day, talk to me. Let me know."
Residents are not shy about responding, he says. Flo, over breakfast, offers an unprompted rave: "The chocolate chip cookies are out of this world."
Courtesy of Heather Prohaska
The dining room at the Residence at Shelburne Bay
Sievers doesn't make all of the dining decisions himself — the Residence's parent company provides guidelines on the types of food to be served, and state regulations govern what he feeds those in assisted living and memory care. The Residence also offers a regular menu of always-available items, such as a burger, grilled cheese and pasta. But Sievers can be creative in his preparation and presentation, particularly with his daily specials.
One night, he might acquiesce to a resident's request for spaghetti and meatballs. "Next day, you give them a nice flounder filet with lime sauce, cauliflower, broccoli or green beans," he says with a sly smile.
Sievers buys local when he can. He orders from Black River Produce, which contracts with Vermont producers, and purchases Monument Farms milk and syrup from Red Hawk Maple.
It's sometimes possible to serve food grown right on the property; the Residence's apple trees provide a bountiful crop. "We can use some of the apples for apple crisps and apple sauce," he says.
Everything is prepared in the Residence's main kitchen, which on a weekday morning is bustling with sous chefs and servers. Staff will bring some ingredients to the Residence's four other kitchens and assemble the final meals there, taking care to tailor each dish to residents' particular dietary needs.
In the assisted-living kitchen is a binder filled with dietary restrictions for each resident, signed by a registered nurse. The same information is summarized on a white board, with the residents' names and photos, so that servers will recognize them and know whether they have a seafood allergy, follow a low-salt diet or must receive their food cut up because they have trouble swallowing.
Above the board is a maxim written in ink on masking tape: "Learn it. Live it. Love it."
The Residence's menus are published weekly and displayed throughout the complex. They're also available on the facility's mobile app, which lets families keep up with what their loved ones are eating.
Sievers creates the menus in his office, across from the main kitchen. A framed artichoke illustration hangs on one wall; a pepper mill and a bottle of Mexican Coca-Cola (the kind made with cane sugar instead of high-fructose corn syrup) sit on a ledge below an interior window. An empty growler from Fiddlehead Brewing occupies a table behind his desk.
Sievers' office also includes a chair for visitors, who stop in often. He's developed close relationships with some of them He points out a hardcover book about the New York Giants on his desk. It's on loan from one of the residents. "He knows I'm a fan," Sievers explains.
Empowering Activities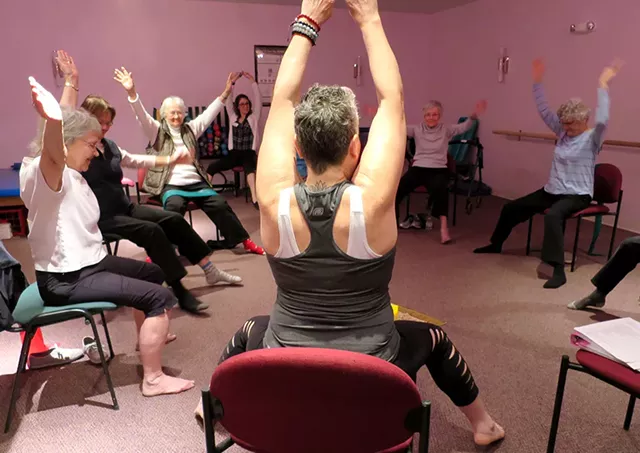 Matthew Thorsen
Yoga class at the Residence at Shelburne Bay
When asked what he gets out of his job, Sievers observes that the residents let him know when they appreciate what he's doing. "You can see it in their faces when you do something good for them," he says.
Ashley Tarkington, director of rehabilitation at the Residence, echoes that sentiment. "I feel like, working with this population, you get constant appreciation for your work from people you're serving every day."
Tarkington oversees a
licensed outpatient rehab practice
located at the Residence. It consists of five clinicians — physical therapists, an occupational therapist and a speech therapist — as well as an office coordinator. She's been managing PT practices since she earned her doctorate in physical therapy in 2011.
In addition to working one-on-one with patients, the rehab team also runs exercise classes, including tai chi, yoga, aquatic strength and balance sessions, giving people who might not otherwise make it to the gym a chance to exercise.
The classes emphasize movement over power, and allow participants to go at their own pace. That's particularly true in the water, Tarkington says. Seniors who want more of a workout can push themselves. She's excited just to get folks moving. That activity will keep them healthier, and empowers them to stay in independent living longer, Tarkington says.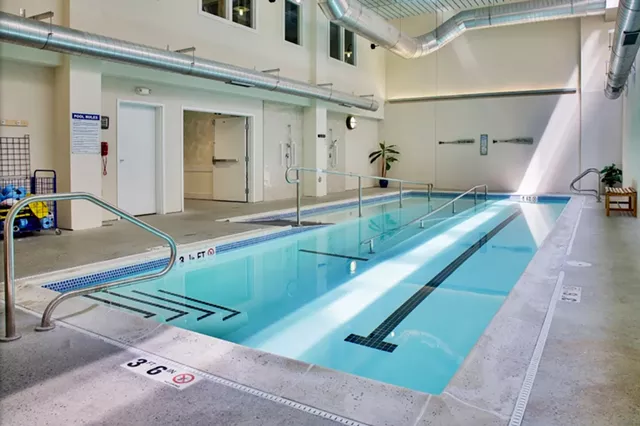 Courtesy of Heather Prohaska
The pool at the Residence at Shelburne Bay
When she hops into the 90-degree pool for her morning aquatic balance class, she takes it nice and easy, starting off by chatting with the four women participants about regular attendees who are away on vacation. "Everyone's off on adventures!" she says.
Then Tarkington invites her class to hold plastic and foam "barbells" and alternate pushing them on the surface of the water. "Back and forth," she says, slowly punching her arms in front of her. "Let's get our shoulders moving."
There are exercises available for the mind, too. These include daily sessions on word puzzles and games like Jenga.
And residents who don't drive can take a shuttle to Burlington for dinner, concerts, shopping or movies.
Cultural excursions to performances at the Flynn Center for the Performing Arts and concerts at the UVM Recital Hall are particularly important to Flo Klausner, who was the executive producer at Opera North in Hanover and Lebanon, N.H., before she retired. "
Money
magazine said we were one of the top five regional opera companies in America," she notes.
Meaningful Connections
Like the dining vibe, the mix of engagement opportunities at the Residence is intentional, says Kelly McCarthy, LCB's corporate director of memory care and engagement. The selection always includes options that promote cognitive, social, emotional and physical health and well-being. There's actually a formula for how many of each are on offer.
McCarthy, who's based in Norwood, Mass., supports educational efforts at all of LCB's properties. The company prioritizes engagement, encouraging associates to pay close attention to how residents are interacting with them and each other. "Everybody actively engages with those in our communities," she says.
She often starts training sessions by asking associates to comment on a picture of a woman playing the piano. Where is she engaged? McCarthy might ask. Is she looking at the music? Or is she looking at her hands, suggesting that she knows the music by heart? What does this say about what this activity might mean to her?
Considering those questions can help LCB associates develop an awareness of how they might connect with the residents they serve. She encourages associates to view every encounter as an opportunity for engagement. That means not just saying "Good morning," but following it up with "How was your night?"
Instead of saying, "Do you want to go for a walk?" associates might instead say: "It's beautiful outside. I'd love to go for a walk. Would you join me?" Active engagement creates a sense of purpose.
Increasing those meaningful interactions pays off in many ways. "It's all about the number of connections," McCarthy says, "that feeling of being cherished." Those interactions release endorphins and make people feel like part of a community.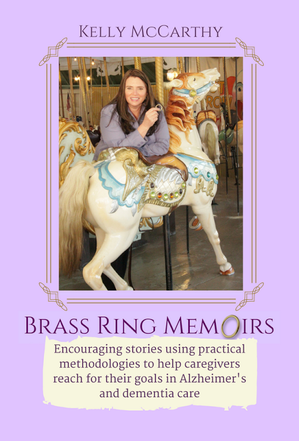 She's similarly passionate about the other side of her job, overseeing the Reflections Memory Care program, which supports individuals with Alzheimer's disease and related dementia. The program is led by nationally certified Brass Ring dementia professionals, a designation based on McCarthy's book,
Brass Ring Memoirs: Encouraging stories using practical methodologies to help caregivers reach for the goals in Alzheimer's and dementia care.
LCB also collaborates with Harvard Medical School and Brigham & Women's Hospital.
McCarthy urges the Reflections associates to learn as much as they can about a resident's "brass rings" — the things residents have achieved in their lives or, in some cases, tried and failed to accomplish. Understanding this helps associates develop an awareness of topics that might prompt memories, whether joyful or painful.
Reflections associates also aim to promote what McCarthy calls "peacock moments," in which residents feel proud, beautiful and confident. She offers an example:
"If a resident says, "It's a beautiful Tuesday morning,' but it's Friday, instead of correcting them, you can say 'It
is
a beautiful morning, and I'm glad I get to spend it with you.'"
Residents in Memory Care have a dining area that's designed especially for them, using colors to enhance their dining experience. Along with a specialized engagement program, Reflections neighborhoods include pet therapy, which, McCarthy says, "speak to a deep human need to love and be loved."
Adapting to Change
When residents move from independent to assisted living, Flo and others call that "going over." It's something they see frequently, and they admit it's an unavoidable part of life.
How much does it cost to live at the Residence at Shelburne Bay?

Sometimes both members of a couple make the move, even if just one member needs a higher level of care. That can be a difficult adjustment, says Flo. If there's a silver lining, it's that at the Residence, those in assisted living can take the tunnel back to the main dining room to share meals with friends in the independent living building. That makes the move somewhat less isolating.
Over breakfast that morning in March, Flo recalls how she'd been nervous when she first arrived at the Residence. She didn't know where to sit at mealtimes. It was like the first day at a new school.
That nervousness didn't last long, she says. The other residents were very friendly and invited her to join them. Flo soon found a good group of friends. She was even elected to serve, along with Chet, on the Resident Council, a group of seven that facilitates communication between staff and residents and helps resolve disputes.
These days, Flo enjoys getting together with her pals and lingering over a good meal. "Sometimes," she says, "you're laughing so hard you have tears coming down."