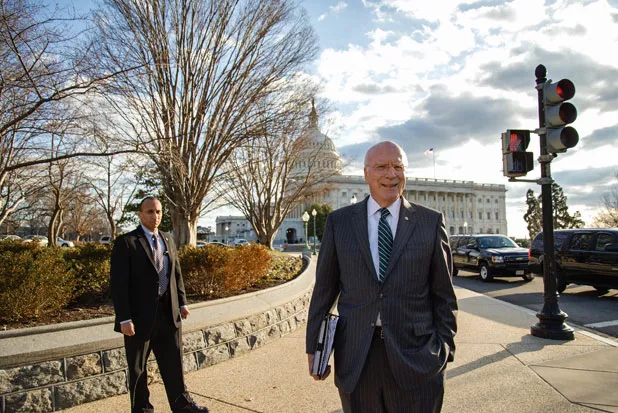 Leahy crosses the Capitol grounds with security in tow
On a recent Wednesday in Washington, forecasts of a foot of snow had ground official business to a halt. Across the street from the U.S. Capitol in the lobby of the Dirksen Senate Office Building, a digital sign proclaimed, "There are no hearings today." But two floors up in an ornate, wood-paneled hearing room, Sen. Patrick Leahy was holding court. Across from the Vermont Democrat sat Attorney General Eric Holder, alone and ready to submit to his biennial grilling by the Senate Judiciary Committee, which Leahy chairs.
"Mr. Attorney General," Leahy began, outlining legislation he'd introduced to crack down on the flow of guns to criminals. "Do you agree that there is a need for specific statutes criminalizing gun trafficking and straw purchasing?"
Yes, Holder said, the Obama administration fully supported the chairman's bill.
Noticing suddenly that he'd forgotten to let the attorney general read his prepared testimony to the committee, Leahy interrupted his own line of questioning.
"Mr. Attorney General, I realize — and I can't claim it's because I'm new to the committee — I forgot to give you a chance to give your opening statement," Leahy said with a mischievous smile. "Please give your opening statement."
Laughter erupted in the room filled with senators, staffers, reporters and Code Pink protesters.
"I'm trying to juggle too many things here!" Leahy exclaimed.
Thirty-eight years into a Senate career that has lasted more than half his life, Vermont's longest-serving senator in history is indeed juggling more than ever before.
With jurisdiction over gun control, immigration reform and Supreme Court nominations, Leahy's committee has emerged as the battleground of the 113th Congress. "Right now, Chairman Leahy is in the middle of many of the most important items on President Obama's agenda for the second term," says Ed Pagano, the White House's liaison to the Senate and a former Leahy chief of staff.
By all appearances, Vermont's senior senator is loving it.
"I told the president, 'You got anything else you wanna send to my committee?'" Leahy likes to say. "He said, 'I don't want you to be bored!'"
In his nearly four decades in Washington, the son of a Montpelier printer and grandson of immigrants has grown to appreciate the trappings of power: the classified briefings, the security detail, the face time with U2 frontman Bono.
The death of Hawaii senator Daniel Inouye late last year elevated Leahy to the ceremonial peak of the U.S. Senate. As the most senior member of the party in power, he was anointed president pro tempore, third in line to the presidency.
"He is where no Vermonter has ever been," says National Life vice president Chris Graff, who covered most of Leahy's career as a reporter and Montpelier bureau chief for the Associated Press. "He has waited his whole life for this moment."
Though he looks and sounds older than his 72 years, Leahy does not act like he's ready to ride off into the sunset.
"We're kind of used to president pro tems who are in their final stages, their doddering years — and Leahy is certainly not in that category," says Norm Ornstein, resident scholar at the American Enterprise Institute. "In some ways he seems at least as much or more energetic and enthusiastic about what he's doing as 10 or 15 years ago."
"I think I'm about the youngest they've had," Leahy observes. "I'm not in a wheelchair!"
In fact, it's hard to keep up with the septuagenarian senator, as Seven Days found over a couple of days this month in Washington, D.C.
Subway diplomacy
Not long after the hearing started, Leahy left Holder to fend for himself and hustled off to the Senate floor, where an Obama appointee to the D.C. Circuit Court of Appeals was facing yet another filibuster.
As he led an entourage of Capitol Police guards, staffers and a reporter down an elevator to the Dirksen basement, he quickly segued from his exchange with the attorney general to two of his favorite subjects: his grandchildren and his Middlesex farmhouse.
Though the senator and his wife of 51 years, Marcelle Pomerleau Leahy, live much of the year in suburban McLean, Va. — barely a mile from the CIA's Langley headquarters — you'd never know it by talking to him. Most of his yarns spin around his idyllic Vermont property at the end of a dirt road — like his oft-repeated tale of target practicing there with former FBI director Louis Freeh.
Leahy picked up his pace to catch a departing Senate subway train, which would carry him to the Capitol Building. The entire trip from hearing room to Senate floor took less than five minutes.
In the miniature subway car — the system more closely resembles a monorail — Leahy turned to the subject of the day in Washington: drones.
A staunch defender of civil liberties, Leahy has been pressing Holder since November 2011 to provide the Judiciary Committee with a top-secret Department of Justice legal memo justifying the use of drones to kill suspected American terrorists living abroad.
Attention to the matter grew last month when members of the Senate Intelligence Committee refused to consider Obama's nominee to lead the CIA, John Brennan, until they were granted access. The administration eventually caved to the Intelligence Committee's demand for the memos, but not to Leahy's.
That morning, the Vermont senator had pushed his demand for the memos further, threatening Holder that the issue "may be brought to a head with a subpoena from this office — from this committee."
As the Senate subway bumped along, Leahy struck a more conciliatory tone, noting that if Holder wasn't "limited" by others in the administration, "I think he'd be happy to turn over the classified one."
The senator's real fear, he said, was not so much lethal drone strikes in Yemen but the growing presence of surveillance drones within the States.
"That's not my idea of America," Leahy said, as he neared the Senate chamber. "The idea of having drones flying around your neighborhood — this worries the heck out of me."
Comity, courtesy and C-SPAN
When Leahy arrived on the Senate floor, his Republican counterpart on the Judiciary Committee, Sen. Chuck Grassley (R-IA) was busy telling the C-SPAN cameras that Obama's appeals-court nominee, Caitlin Halligan, was too liberal for the job.
Like many of Obama's federal-court nominees, the former New York solicitor general has been repeatedly blocked and filibustered by a Republican minority since she was first nominated to the court in September 2010.
It's a subject that infuriates Leahy. The judicial backlog has grown dramatically since Obama took office, leaving 90 federal judicial seats vacant — more than twice as many as at this point in the Bush administration.
The slowdown is symptomatic of a broader rise in hyper-partisanship that has infected the Senate in the years since Leahy first took office — back when Barack Obama was entering high school.
John Podesta, who worked for Leahy in the 1980s before serving as president Clinton's chief of staff and founding the Center for American Progress, says Leahy "reflects the sensibility of the Senate he found when he first got elected to the Senate. I think that sense of comity and courtesy remains with him, and yet I think the place has toughened up and it's a more hardened atmosphere."
Nowhere is that more true than in the irregular, blockbuster events that are Supreme Court confirmation hearings. In his time on the Judiciary Committee, Leahy has played a role in the confirmation or rejection of 13 nominees to the court — including the entirety of its current membership.
Asked how many vacancies he expects to open up during the remainder of Obama's second term, he says, "I don't know. I'm meeting quietly with some justices to see what they're thinking."
Leahy will likely be among the first to find out. The last two justices to step down from the bench, David Souter and John Paul Stevens, both asked him to deliver notice to the president of their intention to resign.
"I almost feel like the grim reaper coming in here," Leahy says he told Stevens when the two met to discuss the justice's retirement in 2010. "If somebody has something similar they want to share with me, I ask if I can share with the president so he can at least prepare."
When Grassley finished his remarks, he yielded the floor to Leahy. The Vermonter rose and delivered an impassioned speech in defense of Halligan.
"No one can seriously question her legal ability, her judgment, her character, her integrity, her ethics or her temperament," he told the nearly empty chamber — and C-SPAN.
Later that day, Democrats fell nine votes short of the 60 necessary to end the Republican filibuster and force a vote on Halligan's nomination.
"This double standard is ridiculous," Leahy complained as he left the chamber. "The most qualified woman in the world. She can't even get through!"
On the way back to Dirksen, Leahy shared a subway car with his Judiciary Committee colleague, Sen. Al Franken (D-MN), who ribbed him about the Holder testimony.
"The beginning of the hearing today — not letting the attorney general even read his own testimony — that was inexcusable," Franken joked. "It was due to a lack of experience, clearly."
Above: Leahy in his newly acquired president pro tem's office. Photo by Charles Steck.
Conversational filibuster
Over lunch later that day in the Senate's basement cafeteria, Leahy was back to it: telling stories set in the Middlesex farmhouse. It was there, he said, that he'd emailed back and forth with Holder when the future attorney general was helping candidate Obama select a running mate.
"He knew he could talk to me and not have it be in the paper," Leahy recalled between bites of a chicken wrap.
Asked how he thought Holder performed that morning, Leahy appeared at first to ignore the question, preferring instead to show three staffers and a reporter photos of his grandchildren on his Blackberry. But then he launched into an extended answer, digressing into his access to classified briefings, the wars in Iraq and Afghanistan, the nation's crumbling infrastructure, and cuts to research funding.
"Didn't mean to get off the subject," he said, catching himself.
Leahy can be quite difficult to understand. His staff says he suffers from chronic laryngitis, aggravated by allergies and asthma. Particularly when he's been speaking at length — a hazard of the job — his raspy voice can deteriorate to somewhere between a wheeze and a croak.
In combination with his proclivity to wander around a question without ever really answering it, Leahy's vocal struggles can create the impression that he's no longer with it. A better explanation may be that in his four decades in the Senate, he has simply perfected the art of the conversational filibuster. Or that he's a 72-year-old guy rightfully worn out by a rigorous schedule.
That hasn't kept Vermont reporters and Montpelier gossips from quietly speculating about his health. Many still feel burned by the manner in which protective staff members kept the media in the dark about former senator Jim Jeffords' declining health.
Understandably, Leahy's handlers have earned a reputation for fiercely combating such speculation, which they say is utterly unfounded.
"They're very sensitive about it," says one veteran Vermont journalist, who has pressed Leahy's staff on the matter, but asked to remain anonymous. "It was clear the message was being delivered to me to shut the fuck up. This guy's going to be down there forever."
Back in the cafeteria, Leahy pondered the question of whether there's a way to break the impasse between his committee and Holder on the drone memos.
"We'll see," he said, pausing for several seconds. "I may cast a vote that would be a shot across the bow, but we'll see."
Precisely what Leahy meant was unclear until his chief of staff, J.P. Dowd, who sat next to him at the lunch table, jumped in to clarify.
"He's referring to—" Dowd began, looking at Leahy to make sure he wasn't stepping on his boss' toes. "They're lining up the vote on Brennan for today and, uh, you know, this may be, you know, a vote against."
Dowd explained that Leahy, who has backed every one of Obama's major nominees, might break with the president on his choice for CIA director to show that he's serious about getting his hands on the drone memo.
Asked if he'd told the White House his plan, Leahy said, "We'll probably let them figure it out."
Made-for-TV moments
The next day, in a marble-walled hearing room in the Hart Senate Office Building, Chairman Leahy was in his element.
It had been three months since a gunman tore through a Connecticut elementary school, killing 20 children and six teachers. Five weeks had passed since the Judiciary Committee convened its first hearing on gun violence with emotional testimony from former Arizona congresswoman Gabrielle Giffords — herself a victim of a mass shooting nearly two years earlier.
Now the committee was poised to vote on four bills meant to address gun violence, ranging from enhancing school security to banning assault weapons. For his part, Leahy had fastened on to legislation that would crack down on gun trafficking and create stiff penalties for those who buy firearms from criminals.
In his opening remarks, Leahy hailed Grassley for agreeing to cosponsor his bill — a big coup, given the nearly unified Republican opposition to any new gun laws.
Then Leahy went for the made-for-TV moment. He picked up a recent copy of USA Today and held it up for 10 seconds, being careful to keep his fingers from blocking the front page. Photographers snapped away.
"This week USA Today ran a front-page story about a study that estimates gun violence costs Americans $12 billion — $12 billion — a year," Leahy said sternly. "I don't care whether it's $12 billion or $10 billion or $2 billion. We oughta do what we can in this committee to mitigate those unnecessary costs."
Ever the showman, Leahy lives for moments like these. You won't find him stalking the MSNBC green room, as many of his colleagues do, but Vermont's senior senator likes nothing more than a committee room packed with reporters and his photo the next day in the New York Times.
That helps explain why Leahy took a pass on the traditionally all-powerful chairmanship of the Senate Appropriations Committee when Inouye died in December, preferring to stick with the more visible Judiciary chairmanship.
The decision shocked many political observers in Vermont, who believed Leahy had been holding out for the post so he could bring home even more federal money.
"Vermont is heavily dependent on federal aid. It was something I thought and I still feel Vermont would benefit from," says longtime Montpelier lobbyist Bob Sherman. "I just felt it was too bad for Vermont that we lost that opportunity, and so did a lot of other people."
Leahy himself has cultivated an image as Vermont's chief benefactor. His occasional public appearances in the state nearly always revolve around dispensing multimillion-dollar contracts and grants to local companies and nonprofits. In television commercials produced for his last reelection campaign, the unmistakable theme was his ability to bring home the bacon.
While his precise impact on the state's bottom line is incalculable, Leahy's staff estimates he secured more than $1 billion for Vermont between 2005 and 2010. And when a tropical storm or a federal budget cut hits the state, his office is the one to call.
Leahy argues that because he remains the most senior member of the Appropriations Committee and earned the gratitude of its new chairwoman, Sen. Barbara Mikulski (D-MD), Vermont won't lose out on a dime.
D.C. insiders also note that the chairmanship isn't what it used to be, now that earmarks are banned and Washington has embraced austerity.
"If that had come up 10 years ago, I would've been shocked," says Ornstein, of the American Enterprise Institute. "But the appropriations process just doesn't have the same kind of clout that it had before and, in particular, it doesn't have as much substantive responsibility."
"Basically, your job as Appropriations chair is to rule over a shrinking pie," says Luke Albee, a former Leahy chief of staff who now works for Sen. Mark Warner (D-VA).
Above: Grassley, Leahy and Feinstein debate new gun control measures in committee. Photo by Charles Steck.
In the crosshairs
Leahy's perch at the top of the Judiciary Committee comes with plenty of political risk — particularly when it comes to gun control. The issue is equally divisive in Washington and Vermont.
Threading the needle is a tough task — even for an old pro like Leahy.
Within his own caucus, the Vermonter has had to reconcile the views of rural, pro-gun Democrats such as Majority Leader Harry Reid (D-NV), and urban gun-control advocates such as Sens. Diane Feinstein (D-CA) and Chuck Schumer (D-NY).
Back in Vermont, a recent Castleton State College poll showed that most Vermonters favor some new regulation, but gun-rights supporters remain vocal and powerful in the state.
"It'd be a lot easier on Appropriations," Leahy says. "I wouldn't even begin to have all these contentious issues."
Leahy handles his assignment with efficiency, humor and frequent references to his own gun ownership. When conservative freshman Sen. Ted Cruz (R-TX) hinted during the hearing that he could eventually get behind Leahy's gun-trafficking bill, the chairman tried to find common cause.
"I don't know if I'm the only person on this committee, but I'm probably one of the few, to have a pistol range in my backyard, which I use except when we have two feet of snow," Leahy told Cruz. "So I'd be happy to sit down with anyone."
Former Leahy staffer Podesta thinks the Vermonter is well suited to the task of finding consensus on the matter because "he has the ear and the understanding of hunters, as well as the sensibility of what's going on in the Senate across a broader spectrum."
"He'll have the right touch to get done what is doable — as opposed to making a political statement about it," Podesta says.
Grassley, meanwhile, calls Leahy "fair and tough" and says they share the same philosophy: "The Senate ought to work. It ought to produce product."
Precisely what Leahy hopes to achieve with his political capital is another matter.
He has always been a bit of a cipher on gun rights — he opposed a 1993 law instituting background checks for gun purchasers but favored a 1994 ban on assault weapons. Like the rest of Vermont's congressional delegation, he has mostly opposed new federal gun laws in recent years, arguing that they should be decided by the states.
After the massacre at Newtown, Leahy embraced universal background checks and limits on high-capacity ammunition, but he declined in January to endorse Obama's proposed renewal of the assault-weapons ban.
At the time, administration officials and gun-control groups worried Leahy was insufficiently committed to new gun laws and might try to slow-walk the committee process, the Associated Press and Washington Post reported.
But in an interview with Seven Days that month, the senator took umbrage with that notion, saying, "How else do you do it? Are they suggesting we pass legislation and then find out what's in it?
"Come on! Give me some credit! Name one person who's trying to pass more legislation!" he shouted over the phone. "I have never once held a hearing just for symbolism. I don't have time. I put in a 75-hour week as it is."
In the weeks following, Leahy honed in on the gun-trafficking bill and managed to secure several Republican cosponsors, which bodes well for eventual Senate passage. But his bill doesn't exactly address mass shootings involving legally acquired weapons, such as the one at Newtown.
Tougher measures, such as universal background checks and an assault-weapons ban, still face fierce resistance. While both bills passed Leahy's committee on party-line votes a week later — each with his support — Reid announced just this week that the assault weapons ban would not become part of a comprehensive bill headed for the Senate floor.
Leahy himself says he still doesn't know how he'd vote on the ban if it emerges on the floor as an amendment.
"I have problems with some parts of it," he said. "It is very broad. That bothers me."
Security details
No profile of Leahy would be complete without mention of his favorite pastime: photographing official Washington from his perpetual front-row seat. Like his love of Batman and the Grateful Dead, it's part of the carefully crafted Leahy lore.
Sure enough, later that day the senator was both participating in and documenting President Obama's signing of a bill reauthorizing the Violence Against Women Act onstage in a Department of the Interior auditorium a few blocks from the White House. Leahy was the bill's chief sponsor and ushered it through committee to the Senate floor in February.
The 78-22 vote helped overcome entrenched opposition from House Republican leaders, who took issue with new protections for domestic-violence survivors in same-sex relationships and on Indian reservations.
A crowd of more 500 advocates and politicians on hand for the bill signing clearly appreciated Leahy's role, cheering enthusiastically as he crossed the stage to snap a photo of the desk where Obama would sign the bill.
The president, too, was appreciative.
After taking the stage, Obama called out the two senators who helped drag the bill across the finish line.
"I want to say a special thanks to Pat Leahy and [Idaho Republican Sen.] Mike Crapo," the president said. "Thank you guys for your leadership."
As Leahy beamed, Obama took the praise one step further, hailing the Judiciary Committee's action earlier in the day to advance his gun-trafficking legislation.
"I also want to take a minute, before I begin, to thank the senators who, just a few hours ago, took another big step towards sensible gun-safety reforms by advancing a federal gun-trafficking bill," Obama said. "That's real progress."
When the ceremony ended, Patrick and Marcelle Leahy exited the auditorium to a motorcade waiting on C Street.
Ever since Inouye's death and his elevation to the presidential line of succession, the senior senator has received 'round-the-clock protection from Capitol Police guards overseen by the Secret Service. Two armored SUVs were required for a 10-minute drive back to the Capitol with three staffers, Marcelle and a reporter.
Leahy and his staff claim he'd rather not have the security, but it's clear they enjoy the status it confers. In Washington, after all, power is measured in square feet of office space, the size of one's staff and the presence of armed guards.
Leahy has plenty of each. His empire recently expanded when he was assigned a second ceremonial office in the Capitol Building — in addition to his home base in the Russell Senate Office Building and two offices in Vermont.
At his command are 21 staffers in his D.C. office, 12 in Burlington and Montpelier, 25 on the Judiciary Committee, and another three on his Appropriations subcommittee. His personal office budget is $2.8 million, and his share of the committee's budget is $1.5 million.
An even better indication Leahy has arrived?
In the event the president, vice president and House speaker are killed, Leahy says, "I carry a special card, which I break open. Numbers come on it. Somebody calls and coordinates the numbers, and I'm given the nuclear codes."
Leahy directed his motorcade to the Capitol, where he was due for a vote on Brennan's nomination.
Asked whether he was still planning to fire that shot across the bow, Leahy said, "I will eventually get the paperwork I've asked for. I talked to the president a little bit about this this afternoon. I suspect I'll be voting against [Brennan]. He's not a bad guy. He'd probably be tough as CIA director. I've known him for years, but they're going to have to—" His voice trailed off.
"I have an interesting story about the CIA if one day I do a book," he said. "Marcelle knows the story, too. She was there for part of it."
Marcelle, sitting beside him as she often does in both Vermont and Washington, pled ignorance.
"I have a lousy memory," she claimed. "He trained me well when he was state's attorney."
Years to go?
Leahy's motorcade deposited him at the carriage entrance of the Capitol Building, which faces east toward the Supreme Court. The senator hopped out to cast a no vote against Brennan.
Joining him in opposition were Sens. Jeff Merkley (D-OR), Bernie Sanders (I-VT) and 31 Republicans. For the first time since Obama took office — on the same day the president praised him publicly — Leahy turned down one of the commander-in-chief's nominees.
"Because I am a friend of the president's and I've been very supportive, I think they took [my vote] for granted. And this is one way of getting their attention. So I'm hoping — I'm hoping they'll pay attention."
He added, "I'm sure I'll be getting a call from Brennan."
After leaving the Senate floor, Leahy returned to his recently acquired president pro tem's ceremonial office in the northwest corner of the Capitol Building. Sitting in his shirtsleeves at a desktop computer, he uploaded photographs from the bill signing to send to reporters back in Vermont. Within in an hour, one would appear on the Burlington Free Press website.
Leahy pointed out several framed photographs displayed underneath Sir Amèdée Forestier's 1914 painting, "The Signing of the Treaty of Ghent, Christmas Eve, 1814," which is on loan from the Smithsonian. Nestled between photos of Marcelle and his grandchildren is a treasured picture of the senator and his wife with Bill Clinton and Bono.
"The kids all call him 'Uncle Bono,'" Leahy continued, living up to his reputation as a chronic name-dropper. "He sits on the floor and sings to them. They have no idea who he is or anything. He's just a friend of the family."
Leahy's spokesman, David Carle, interjected from across the room, "Bono calls Sen. Leahy 'my hero' for all the work they've done together over the years" fighting HIV/AIDS and hunger.
Seated in an armchair in front of the office fireplace, the senator addressed the question many in Montpelier are asking: Will he seek an unprecedented eighth six-year term in 2016?
The speculation is driven in part by up-and-coming politicians whose ambitions are thwarted by a bottleneck at the top of the state's political hierarchy. But its significance is far greater than political gamesmanship: If Leahy retires, he'll leave the tiny state he represents with little power in a seniority-obsessed system.
"Eventually we're going to end up with a freshman senator again," laments Graff, the former AP reporter. "And I don't know if we're ever going to see someone like Patrick, who was only 34 when he was elected."
So will he run?
"If I do run for reelection, at the end of that term, I'll still be a couple years younger than my predecessor was when he finished," Leahy says, referring to George Aiken, who was 83 years old when he retired from a 34-year career in the Senate. Between the two of them, Leahy and Aiken have held the Senate seat since 1941.
Is that a yes or a no?
"To answer your question, I can honestly say I don't know the answer," he says. "I raise money. I will be prepared to run. And I guarantee you, if I run, I'll win."