File: Matthew Thorsen
Sen. Bill Doyle
Last week, Waterbury convened its 224th town meeting. Soon thereafter, Rep. Tom Stevens (D-Waterbury) took the mike. He told the crowd he'd just asked Sen. Bill Doyle how many of these things he'd attended over the years.
"He said he hadn't missed any," Stevens informed the townspeople, some of whom laughed at the joke. Doyle, 88, chuckled, too.
It's not true that Doyle has been to all 224 Waterbury town meetings, but it does seem that way sometimes.
The Republican state senator and Johnson State College political science professor has been to a lot of meetings, won a lot of elections and spurred a lot of people's interest in Vermont politics since he set foot in the state in 1958.
Hunched over as the result of a back ailment, the Vermont political icon roams the halls of the Statehouse with the help of a walker, relies on rides to countless chicken-pie suppers and indulges in the occasional mid-meeting nap to get through the legislative day.
Doyle has slowed, but the senator continues to outpace many of his younger colleagues. And he can still summon more facts — historic and modern — than most of them ever knew.
Working from a small scrap of paper in Waterbury last week, Doyle noted, as he has in previous years, that the town had produced three Vermont governors. The first, in 1826, was Ezra Butler, who nixed the state lottery. The debate over whether to raise revenue through games of chance continues today, Doyle later noted.
Doyle has seen every issue under the Vermont sun come, go and come back again — but he never tires of the debate, the next election or the next community gathering.
"A lot of people would have given up by now," said 63-year-old Sen. Anthony Pollina (P/D-Washington), a former Doyle student who now serves alongside him. "It's clearly where his heart is at. He has to do this because it's truly who he is."
Some colleagues, who watch the sometimes-disheveled dean of the Senate shuffle behind his walker, quietly ponder the delicate question of whether he should consider retiring.
Doyle has asked himself the same question. He answers it: "I can picture it if I can't make a contribution. That would be a disqualification right there." He has not reached that point, he said. "I understand the issues and I participate."
In fact, participation is Doyle's mission. In his 57 years as a political science professor, he has lured generations of students into Vermont politics, 30 of whom he estimates have gone on to serve alongside him in the legislature. After 46 years in the Senate, he remains the leading vote getter in his three-seat Washington County district. And for all of those years, he's authored an annual town meeting day survey that plays a role in shaping the Vermont policy debate.
The Pollster
Doyle grew up in New Jersey and completed his master's degree at Columbia University, where he would later earn his PhD. He had never been to Vermont when he landed his first job teaching political science at Johnson State in 1958.
As a newly married man, Doyle said, "I wondered whether I could deal with it. You read about 30-below temperatures, but the job is more important than the temperature."
He and his wife, Olene, lived a year in Johnson before moving to Montpelier, where she got a job as a teacher and they went on to raise three children. They now have five grandchildren.
A decade later, he won election to the Vermont Senate. During his first term, with governor Deane Davis proposing to raise the sales tax, Doyle surveyed his Washington County constituents to see how they felt about it. Sixty percent said they preferred a sales tax to raising the income tax. "That sealed the deal," Doyle said.
He found the survey so useful that he took it statewide the next year. Every year since, Doyle has written the questions and paid to have thousands of copies printed and distributed to every town in the state. He then pays Montpelier friend Ed Larson to tally the results by computer. This year, Doyle estimated, the survey cost him roughly $5,000.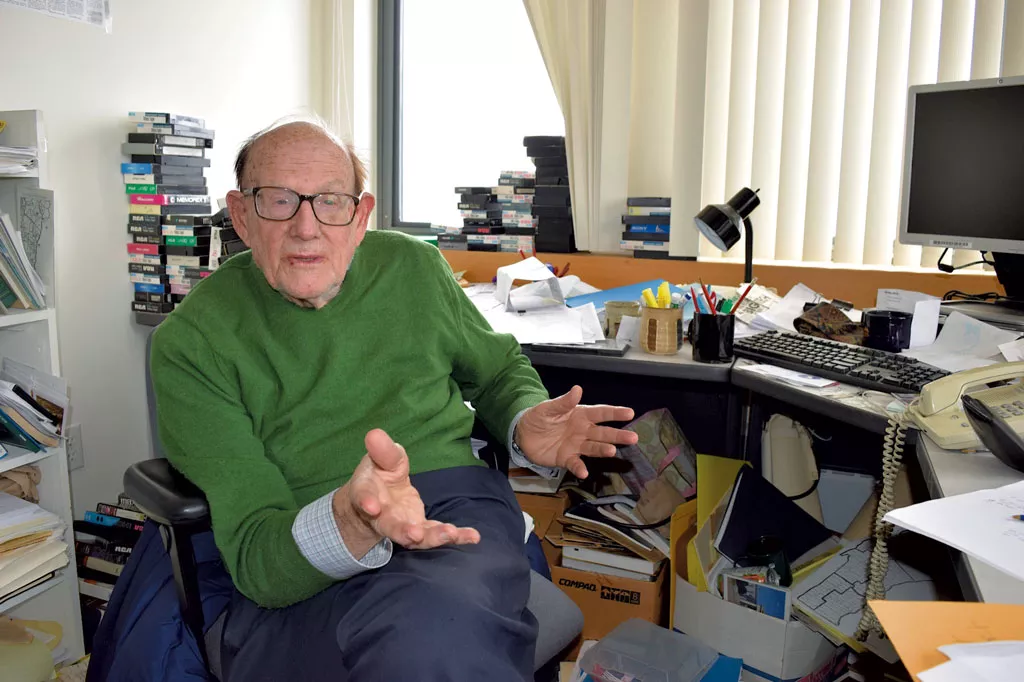 File: Matthew Thorsen
Sen. Bill Doyle in his Johnson State College office
Doyle typically gets back about 12,000 completed surveys. When he announces the results, as he will do in the coming weeks, some politicos will likely tout them as proof of how Vermonters feel. In 2013, when Doyle asked if Vermonters wanted to expand the bottle bill, the Vermont Public Interest Research Group was quick to point out that 80 percent of his respondents said yes.
Every year, there is also grumbling about the unscientific nature of the survey. It does not query a representative sample of Vermonters, guard against fraud or word questions the way a professional pollster would. For example, Doyle asks in this year's poll whether Lake Champlain "is as clear as you would like it to be."
Doyle makes no apologies for his approach.
"I accept the fact that it's not scientific, but I would say it's not far off," he said. "A lot of people tell me it's a nice conversation."
Rich Clark, director of the Castleton Polling Institute, which uses professional polling techniques, is unwilling to dismiss Doyle's survey, though he notes it is something other than a poll. Clark said he wanted to fill one out this year, but none was available at his Clarendon polling place.
"It's a measure of something. I don't know what," Clark said. "I'd hate to see it go away."
The Senator
It's hard to detect any kind of political agenda in the wording of Doyle's poll questions.
The same is true of the senator himself. He has won election to the Senate 24 times without becoming the patron saint of any particular cause. During a stint as Senate minority leader a few years ago, to his colleagues' frustration, he never quite managed to play the role of opposition critic. This year, he is the lead sponsor of no Senate bills, though he has signed on as a cosponsor to those of others, including a bill to restrict the lending practices of rent-to-own stores and another to require lobbyists to disclose conflicts of interest.
Doyle thrives not on proselytizing policy but on process and personal connections.
Sandy Gaffney of Berlin, who ran for state Senate last year as a Progressive/Democrat, said she found campaigning against Doyle frustrating. While she worked to stake out her stance on issues at campaign forums, voters seemed to give Doyle a bye, she said. "He just had to show up," she said. "There weren't any big revelations on where he stood."
Asked what legislation had been most meaningful to him over the years, Doyle pointed to a 1976 bill that established Vermont's March presidential primary in lieu of a party caucus, in which fewer people tended to participate.
This year, Doyle is backing another primary election bill, sponsored by Pollina, which would move Vermont's primary to match New Hampshire's earlier date.
"How could I not want more Vermonters to engage in the process and be in a position like New Hampshire to affect who's the next president?" Doyle said.
Even as his county has turned more liberal, the Republican continues to outpoll all comers. He does it by going everywhere voters gather, all year long. Sunday evenings are reserved for family gatherings, which son Lee, who lives in Montpelier, and daughter Kelly, who lives in St. Johnsbury, often attend. On every other night of the week, Doyle is likely to be out meeting people.
"He doesn't miss a chicken pie supper or a spaghetti dinner," said Sen. Rich Westman (R-Lamoille), another former student of Doyle's. "Yes, he enjoys the food. Some of us poke fun at Bill over that, but it's a place where he sees everybody."
"Somehow Bill Doyle has been able to cultivate a personal relationship with most of Washington County," Pollina said. "He's like a member of the family. They see him as someone they've come to know and trust."
Getting anywhere takes Doyle longer these days. Unsuccessful back surgery several years ago has left him dependent on a walker and forced him to give up driving. Still, it does not occur to him to send his regrets.
For example, Doyle made every effort to attend a legislative luncheon the Vermont Retail & Grocers Association hosted two weeks ago. Running late because a committee meeting went long, Doyle shuffled to the handicapped-accessible back door of the Statehouse. Mike Doyle, a longtime Montpelier friend who is no relation, pulled his Subaru hatchback up to the door, helped the senator into the front passenger seat and loaded his walker into the back.
Across the street at the Capitol Plaza Hotel, he dropped Doyle off. The senator took a place at a table near the back, where he joined colleagues in eating a mystery-meat meal, as he has countless times before. When it came time for the legislative trivia contest, Doyle sent lobbyist Allison DeMag to ask if he was needed for the Senate. He was disappointed to learn they were all set.
Afterward, he called Mike Doyle, who delivered him back to the Statehouse for the afternoon.
Traveling with Doyle during the 2010 campaign was exhausting, said Larson, who joined Doyle on the campaign trail while Larson was making his own unsuccessful Senate run. After six campaign stops in one night, Doyle wanted to keep going and hit the Three Penny Taproom for an 11 p.m. nightcap, Larson recalled. "He was campaigning with the jet-setters."
The Teacher
Like his politics, Doyle's political science classes are about engaging people in the process.
His course, especially during election years, regularly features local political figures Doyle manages to persuade to make the trip to Johnson. The students don't forget the connections.
"I remember meeting people like Bernie Sanders, Pat Leahy, Jim Jeffords at the time," said Pollina, who attended Johnson State in the 1970s. "It made you see these were real people you could have a real conversation with."
"He could get better speakers than anybody," said Westman, a 1982 Johnson State graduate who was elected to the Vermont House later that year. "It made me much more interested in politics. I basically left Bill Doyle's class and ran for the legislature."
Doyle also took Westman's class to Ottawa to see the Canadian government in action. Westman, who grew up on a farm in Cambridge, recalled that the bus broke down on the way home near Swanton in the middle of the night. Doyle exercised his powers of persuasion.
"I called my mother, and Bill talked my mother into getting my parents to come up with two cars and get everybody," Westman said. "You can't say no to Bill Doyle."
Lt. Gov. Phil Scott tried — once. In 2013, after Doyle's cellphone rang one too many times during a Senate session — he typically forgot to turn it off when going into the cellphone-free chamber — Scott decided to teach him a lesson. He asked a doorkeeper to fetch Doyle's phone and deliver it to Scott on the podium. The lieutenant governor brought down his gavel and smashed what turned out to be a substitute cellphone to pieces.
Every senator was reportedly stunned — except Doyle, who had no reaction.
That doesn't mean he's out of it, cautioned Scott, who served in the Senate with Doyle for 10 years. "He'll come to and be ready with a question. He hears what's going on."