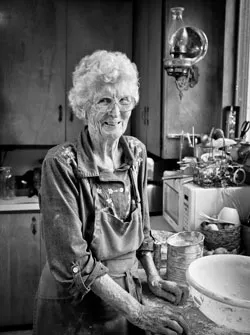 "I love shooting old people. Old people are great." So says Matt Payeur, explaining why he's embarking on a project to find and photograph "famous" elders in small towns around the state. "Especially old Vermonters; I just really respect them," he continues. "It's kind of a different way of life — kind of a dying breed, literally."
For Payeur, who has a photo studio called Empire Imaging in Danville and also works in a St. Johnsbury optical shop, depicting seniors is nothing new. One of them, Dr. David Toll of St. J, was the subject of a Seven Days story just last week. (Payeur, at age 36, still sees the beloved pediatrician.) And, of course, Payeur is not the first Green Mountain photographer to be attracted to subjects whose wrinkled faces suggest a long lifetime of stories. Waterbury photographer Peter Miller first published his iconic images in a book titled Vermont People when Payeur was in middle school.
But there is always another generation of elders and younger folks who look up to them. "For me, it's about their experiences, how they grew up and how they see life," Payeur says. "My grandmother once told me she feels blessed to have grown up poor; she doesn't take anything for granted. It's kind of cool to see things through her eyes."
Payeur says rural and small-town residents are "generally my people. Especially hanging out with older ladies; they give me cookies and stuff." But there are "still plenty of old dudes out here, too," he adds.
In his neck of the woods, Payeur says, he won't have any trouble finding subjects. And he has a plan for reaching out beyond the Northeast Kingdom: writing to town clerks, telling them about his project, and asking them to nominate someone from their community. He's open to anyone else's suggestions, as well.
Payeur says he may be interested in compiling a book of these portraits eventually, but the first thing, he points out, is to get the images — and the stories. "It would be great to get these people some recognition," he says. "People do a lot of great things that no one ever knows about."