James Buck
The Residence at Shelburne Bay
Julie Pierson, 78, expertly knitted an afghan while she listened to a panel of experts talk about medical marijuana. About 20 of her neighbors, many aided by canes and walkers, were also assembled in the common room at the Residence at Shelburne Bay. The presentation was part of a twice-monthly lecture series at the senior living facility, but it was the first of its kind on this topic.
"We exist to try to help people use cannabis in a medicinal way," Paul Jerard, a physician's assistant and owner-director of the Vermont Cannabinoid Clinic in Burlington, told the group of elders on April 26.
Jerard sat on the panel with three others: Lindsey Wells, the medical marijuana program administrator at the Vermont Department of Public Safety; medical cannabis patient Ed York; and Ada Puches, outreach coordinator at the Champlain Valley Dispensary.
Their overarching message: Cannabis products may relieve some health problems that are common among seniors. Puches and Jerard took turns pointing out that cannabis has the potential to work as a pharmaceutical alternative.
York, a retired stockbroker, shifted the presentation from professional pitch to personal storytelling. He told the audience that by eating two cannabis cookies each night, he has weaned himself off a nightmarish regimen of pain meds.
"It's been a lifesaver," said York, who lives in Westmore. "I don't think I would be here today without the cannabis."
York's health challenges began around 2001, when doctors diagnosed him with multiple sclerosis. Then a horse kicked him and broke his hip. He used crutches for two years and was in constant pain. Doctors prescribed OxyContin, fentanyl, Ambien and, finally, methadone to get him off the opioids. Discovering he might be on methadone forever, he said, felt like a sentence to live as a zombie.
"My brain was, like, fried. I couldn't think," York recalled. "I weighed 265 pounds, and I couldn't walk from here out to the parking lot, and I thought, Things have got to change."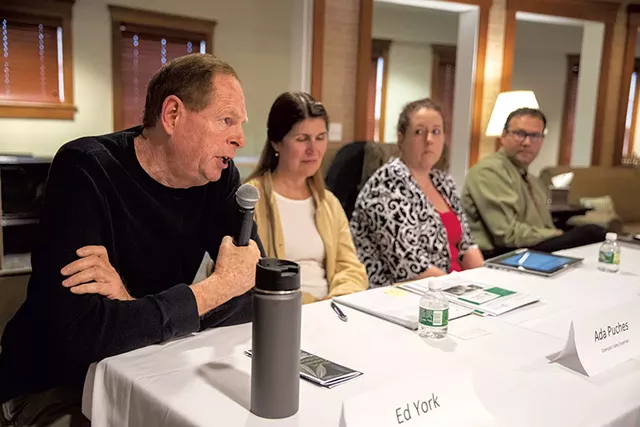 James Buck
From left: Panelists Ed York, Ada Puches, Lindsey Wells and Paul Jerard
His doctor suggested that he try medical cannabis. York said his wife was "totally opposed to it" — a line that elicited chuckles from the audience — but he won that argument and obtained a medical marijuana card.
He began experimenting with cannabis. Over two years, York weaned himself off all of his prescription meds except for an antidepressant, he said. The marijuana cookies ease a constant numbness in his legs without the side effects of the prescription drugs, he said.
A ruddy complexion and fit-looking physique helped make York's case. It didn't hurt, either, that he approached the topic with the punch lines and timing of a comedian.
A white-haired woman asked about dosages. York said it might take some experimenting. He made some mistakes in the beginning. The first time he ate an infused cookie, nothing seemed to happen, he said. So he ate another. And another.
"So I end up eating three cookies and, man, I'm off the planet," York said, prompting laughter. Try small amounts and pay attention to how your body responds, he continued. "You learn how to do it. It's your body, and you know your own body." He tried eight different strains of cannabis and also learned from a marijuana review app called Leafly.
How much do York's cookies cost?, asked another audience member. About $200 a month, York replied. Does insurance cover it? No, he said. Many in the Medicare-eligible crowd frowned at that news.
Nobody asked about recreational pot use to take them "off the planet."
In fact, medicinal users don't even have to get high, panelist Puches told the residents. Dispensary staff help customers determine their "optimal dosage," she said, and follow the general rule that individuals new to medical marijuana should "go low and go slow."
Speakers focused on marijuana's potential to alleviate chronic pain, nausea, seizures and other symptoms related to cancer, epilepsy, glaucoma, PTSD and multiple sclerosis. The U.S. Food & Drug Administration has not approved marijuana plants for treatment of health problems, but it has, since 2016, green-lighted three drugs that contain cannabinoids.
With a growing list of cannabis-laced products available for medical use, including tinctures, lozenges and even suppositories, it's important to know what's right for each individual, panelists said.
Jerard said his clinic could act as a "guide."
Dispensary staffers rarely recommend smoking pot, for example, according to Jerard. Smoking can aggravate certain respiratory conditions. Moreover, some patients prefer a slower-acting method, such as ingesting infused foods or beverages.
James Buck
Julie Pierson knitting in the front row
Older adults shouldn't feel they would be out of place at dispensaries. Many Champlain Valley Dispensary patients are 50 to 70 years old, "so it's an older-Americans program in many ways," explained Puches.
The seniors sat in rows of chairs set up in the open living area, which has the vibe of a comfortable hotel lobby. Staff drifted by, as did residents who were on their way to the lap pool or the on-site beauty salon. Not all the chairs were filled, and some audience members seemed to find the information overwhelming. "I have all these choices, and I don't know what to do and I don't know how much to take," one woman lamented.
Others wanted to know about traveling with medical cannabis. Marijuana laws vary from state to state, and possession remains illegal in the federal codes, panelists explained. So don't fly with it, Wells said.
Roadside stops and testing for pot also came up. The bottom line: Don't drive under the influence, the panelists said. No one in the group looked so inclined.
After an hour and a quarter of talk, residents scooped up handouts and buttonholed panelists for follow-up questions. "I thought it was very helpful," Pierson said, as she put away her knitting. "I didn't know anything about it, and I didn't think it had any relevance to me, but now I think it might."
She wondered aloud if cannabis might help her sinusitis, an inflammation of the nasal cavity, which she said has only worsened despite conventional treatment.
"If it doesn't help, say goodbye to it," she said. "If it does, hip hip hooray."

Update, May 19, 2019: The Residence at Quarry Hill will host a panel discussion on medical marijuana on Thursday, May 30, from 2:30 to 4 p.m. at 465 Quarry Hill Road in South Burlington. The event is free and open to the public. RSVP: cstroutsos@residencequarryhill.com.