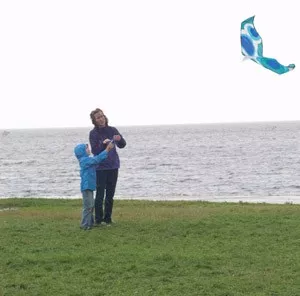 Nico and Meredith Hochanadel
"If you could fly a message up to the world, what would you share?"
That's the question that inspired "Thought Bombers," an exhibit of handmade kites crafted by professional designers and Vermont students on view this summer at the BCA Center in Burlington. The notion, says designer Michael Jager, was that "instead of dropping bombs, we could drop thoughtful ideas from the sky."
Jager is a principal in Jager Di Paola Kemp Design, a Burlington firm whose clients include Burton and Sony. Jager first became interested in the concept for this exhibit five years ago. "I imagined these gigantic kites of great people looking down and saying, 'You can make positive change,'" he says.
When BCA asked Jager and his firm to collaborate on an exhibit this summer, he proposed the kite show, and posed the "message" question to current and former JDK designers.
The resulting creations — inventive, colorful and full of hope — are part of "Thought Bombers." Extending far beyond the Church Street gallery, the project included five weeks of kite creation with kids at Burlington elementary schools, as well as a June festival on the waterfront, where young kite makers flew their creations before giving them to BCA to be displayed on the center's fourth floor. The gallery will host two more kite-making workshops before the exhibit wraps up in August.
Part of the kite show's thrill is the way it asks viewers to imagine implausible objects soaring through the sky. Brad Cameron's "Pop Top," for example, is shaped like a traditional kite but constructed of 797 bottle caps. Craig Winslow II's "Leech" is a two-tentacled creature made from plastic shopping bags that have been quilted together and stuffed with more bags.
Jager adorned his own massive box kites at the gallery, called "Ask the Angels," with the faces of the writer William S. Burroughs and the late Clash frontman, Joe Strummer. But one of his biggest heroes, the one who Jager says inspired the kite project, is Sister Mary Corita Kent, the artist whose serigraphs and silk screens called for peace and love in the 1960s and '70s. She was also an educator who regularly gathered communities together to create art — always with a message — that they'd later carry through the streets in a parade.
Jager says he wanted to engage the community the way she did. "We understand the importance and power of sharing ideas," says Jager of his firm. And if he and his fellow designers could also inspire people to get outside and create something of their own, all the better.
Thought Bombers, by Jager Di Paola Kemp Design artists at the BCA Center in Burlington through August 20. Community Kites on the fourth floor through August 13. Community kite-making workshops, July 1 and August 5, 5 to 8 p.m., at the BCA Center. Info, 865-7166. burlingtoncityarts.org