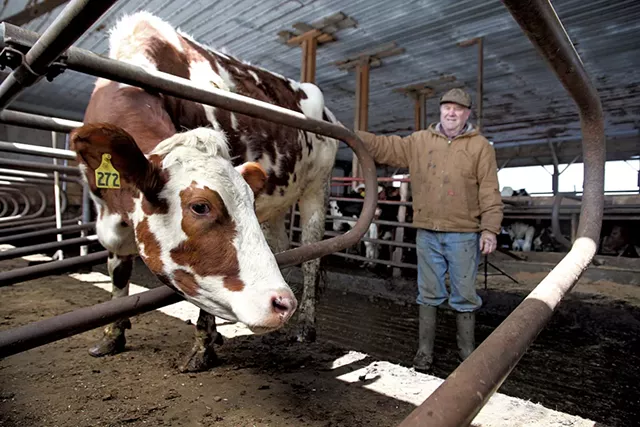 Matthew Thorsen
Mark Lussier with his calves on his Sheldon farm
For 71 years, Mark Lussier has weathered good times and bad on the northern Vermont dairy farm his French-Canadian father bought in 1938. But when the cattle trucks pulled up in February to haul off his herd, the stoic farmer allowed himself a few moments of grief.
"I would break down and cry, and then when I stopped crying, I was good. It happened four or five times," he said. "I kept telling myself, I can't do it anymore. I can't do it anymore."
In the past year, 61 Vermont cow dairies have ceased operation, leaving the state with just 749, according to the Agency of Agriculture, Food & Markets. That's down nearly one-third, from 1,091 a decade ago — and from more than 11,200 in the 1940s.
Industry leaders fear the closures could accelerate this spring as farmers face an unprecedented fourth year of depressed milk prices. Agri-Mark senior vice president Bob Wellington, a dairy economist who has worked for the cooperative for nearly three decades, said the current slump is the worst he's witnessed — not because it's the deepest, but because it's the longest.
Producers aren't the only ones struggling. The dairy downturn has rippled across Vermont's farm country, hitting grain dealers, tractor salesmen and even local restaurants in Franklin, Orleans and Addison counties. "The economy as a whole suffers when farms suffer," said Tony Kitsos, a St. Albans-based outreach specialist for the University of Vermont Extension's Farm Viability program.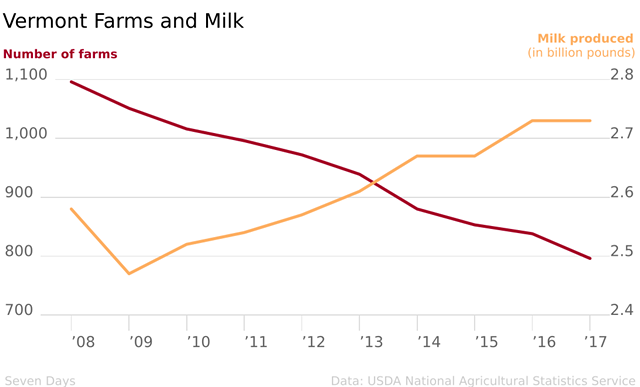 The vast majority of dairies going out of business are those with fewer than 200 cows, according to the Agency of Agriculture. At the same time, the number of farms with 700 or more has doubled in the past five years, continuing a decades-long consolidation of the industry.
That transformation has had a palpable effect on Vermont's environment and landscape, as more cows are clustered on fewer farms and more cropland falls prey to development. It's also meant that the small-scale farmers who have defined Vermont agriculture are becoming an endangered species.
"Sometimes we overuse the word 'crisis,' but I think in this particular case, in the dairy industry, it's accurate," said Secretary of Agriculture Anson Tebbetts. "Right now is a critical time where people have to make decisions because of the summer crop season: What do I do? Do I continue on, or do I get out now?"
Lussier chose the latter option. He had hoped to keep milking for another couple of years, but his younger brother and business partner, Guy, was diagnosed with esophageal cancer, leaving the Sheldon farm shorthanded. They were still in the black, but after paying essential bills there was nothing left to maintain their equipment and barns.
Sitting at a kitchen table in the farmhouse in which he was born, Lussier thumbed through the milk checks he'd saved since buying out his father in 1977. One statement, on yellow card stock, showed that the St. Albans Cooperative Creamery paid the brothers $13.45 for every hundred pounds of milk they produced in October 1979.
Nearly 40 years later, the Lussiers were earning about the same amount, even as the costs of production — feed, seed, fertilizer and gasoline — had tripled or quadrupled. Their final statement from the co-op, printed on flimsy white paper, pegged the price per hundredweight in February at just $15.87.
Paul Heintz
Mark Lussier's milk checks from February 2018 (top) and October 1979. Base price per hundred pounds of milk highlighted.
"You see why farmers are struggling?" exclaimed Lussier, a tall, jowly man whose friendly eyes peered intently through tortoiseshell reading glasses. "You work all day long and, come the end of the month, my wife would sometimes say, 'What are you working for?'"
The prolonged price crisis has led many dairy farmers to feel "overwhelmed and stressed," according to Myra Handy, a cofounder of Vermont's Farm First help line. In the first quarter of 2018, her organization fielded as many calls from distressed farmers as in half of 2017.
"I worry about the emotional state of a lot of my clients," said veterinarian Jennifer Hull, who works with dairy producers throughout northern Vermont.
Agri-Mark's leaders were so concerned about the welfare of their members that the Massachusetts-based co-op, which owns Cabot Creamery, sent a letter with the February milk check listing suicide prevention hotlines. Printed on the back was a forecast projecting further price drops.
"Farmers are the eternal optimists in a lot of ways," said Wellington, who wrote the Agri-Mark letter. "But the stress on the farm level is terrible — really, really terrible."
Lussier is feeling less of that stress now that he's sold off his 110 milkers. A bum knee exacerbated by multiple barnyard falls this winter has started to heal. After a lifetime of daily 12-hour shifts, he's easing into a new schedule: two-hour days spent raising the 60 heifers he kept.
"I'm, like, receding, you might say, slowly," he said as he ambled around a half-filled calf barn in jeans, a red plaid shirt and a tan barn coat. "You know, I still come in here. I like cattle."
Lussier got his start on the farm at age 7, when he helped his father — with whom he spoke only French — feed calves. Back then, he recalled, there were 17 dairy farms on East Sheldon Road, which runs parallel to the Missisquoi River just south of the Canadian border. Only three remain.
When Lussier was growing up, it was a forgone conclusion that the boys would follow their father into the business. Mark and Guy took over the family's 460 acres, while a third brother, Daniel, milked next door on a 220-acre farm. None of their children, however, want to carry on the tradition.
"It's too bad, but that's the way it is," Lussier said.
Few people, even in rural Franklin County, are interested in laboring on the farm. "They like their weekends off, or they only like to work eight-hour days," Lussier said. "I guess I can't blame 'em, but our lifestyle is not one of a city."
Three years ago, Daniel sold his herd and leased his fields to Berkshire-based Pleasant Valley Farms, one of the largest dairies in the state. He draws additional income from two cell towers affixed to a silo. When Mark called it quits this winter, Pleasant Valley agreed to pick up half his milkers and lease his land, as well.
"The big ones are buying out the little ones, basically," he said. "It's just like McDonald's. The more hamburgers you sell, your bottom line increases — and milking cows is the same way."
Lussier has no beef with his neighbors, but he wonders whether Vermont's growing breed of mega-dairies can "go on forever."
"Maybe when these big farms go out, it's all going to go back to these 30- and 40-cow farms. It might make a full circle," Lussier posited. "Or we'll buy milk from China."
Milk Road
In the 25 years he's owned Middlebury-based Champlain Valley Equipment, Brian Carpenter has befriended many of the farmers he supplies with balers, harvesters and tractors. These days, he said, many of his customers are "hanging by a thread."
"It's incredibly painful," he said. "It's not easy to watch."
The price crisis has hit Carpenter's own business, one of the last agricultural equipment dealerships left in Addison County. Business is down 10 percent since 2014, he said — a drop that would have been deeper if he hadn't diversified into construction and landscaping equipment. Since 2016, Carpenter has reduced his workforce by a corresponding 10 percent, from a high of 120 full-time and part-time employees.
"The spider effect is huge," he said. "I think you'd be surprised at the impact this has had on a lot of rural communities throughout Vermont."
Dairy farmers are no strangers to price volatility. In July 2009, during the depths of the Great Recession, milk produced in Vermont went for just $12.30 per hundredweight, according to the U.S. Department of Agriculture. Five and a half years later, in September 2014, it fetched $27.20.
Years of boom in the industry are typically followed by years of bust, because producers quickly expand their herds to take advantage of high prices, causing a glut in the market. "We kind of victimize ourselves," said Chris Wagner, an Enosburg Falls farmer who sold off his cows in February.
In 2014, according to the Agency of Agriculture, the 2.67 billion pounds of milk produced in Vermont was worth $626 million. Three years later, the 2.73 billion pounds milked brought in just $454 million.
Historically, according to Agency of Ag dairy specialist Diane Bothfeld, the market has recovered from downturns within three years. But in the past decade, as domestic demand for dairy has remained flat, international exports have come to account for 15 percent of the American market. That means that a production increase in Europe, a drought in New Zealand or a trade war with China can push Vermont dairy prices in unexpected directions.
"The dynamics have changed so much," Bothfeld said. "It's a big, global marketplace, ebbing and flowing with dairy products. So it's very hard to predict anymore what our cycle will be."
While February's milk price of $15.90 was higher than the 2009 nadir, so are farmers' expenses, according to Kitsos, meaning that margins are tighter than ever. After four years of this, he said, "Some farms, more than usual, are reaching the end of their credit limits."
Yankee Farm Credit, a government-backed lender based in Williston, has responded to the crisis by offering three hours of free consultation to its borrowers to help determine whether their farms have a future.
"When you're in a difficult financial position, it's really hard to talk about it," said president and CEO Brenda Frank. "What we're trying to do is open the door and say, 'We want to talk to you, and we don't want to talk to you about why we didn't get your payment.'"
That said, Frank added, "If we see that people are truly losing value in their operations, their net worth is decreasing and it doesn't look like there's a plan for turning them around, we have to talk to them about the viability of their businesses."
While state officials express sympathy to dairy producers, they claim that there's not a lot they can do. "The bottom line is, what farmers need is more income, and the state can't control that," said Tebbetts, the agriculture secretary.
Federal attempts to stabilize milk prices by imposing Canadian-style production quotas have faced steep resistance over the years from dairy processors and manufacturers. A federal dairy insurance initiative, called the Margin Protection Program, has failed to attract many participants since it was established as part of the 2014 Farm Bill. It allows farmers to insure themselves against unfavorable margins at various levels, but only nine Vermont farms have signed up for anything short of catastrophic coverage, according to the USDA.
That may soon change, thanks to a budget deal Sen. Patrick Leahy (D-Vt.) cut in February to lower MPP premiums and allow farmers to sign up retroactively to the start of this year. "It's very likely that farms will see an immediate net benefit," said Tom Berry, an agricultural adviser to Leahy.
Though more dairy reforms could come in the next Farm Bill, due later this year, Congress appears unlikely to act before this fall's midterm elections.
To Berry and other dairy experts, the elephant in the room is the United States' dairy export market. President Donald Trump has threatened to cancel the North American Free Trade Agreement, which includes the country's two biggest dairy customers: Mexico and Canada. In recent weeks, the president has provoked a trade war with China, the U.S.'s third-biggest dairy customer, by slapping tariffs on steel and aluminum. China responded by announcing tariffs on more than 100 American exports, including soybeans, beef and whiskey, but dairy has so far remained untouched.
"Anything that would disrupt our export markets for milk would have just a tremendous impact on price," Berry said.
'The Last Straw'

Matthew Thorsen
Kane's Scenic River Farms
Outside Lussier's calf barn, there's a clear view to the east of Jay Peak and to the northeast of Quebéc's Pinnacle Mountain. Due north, just across the Missisquoi, is a far larger dairy than his own: Kane's Scenic River Farms.
When Tom and Nancy Kane bought the property from Tom's parents in 1991, it supported just 150 cows. But as their three children grew up and two of them decided to join the family business, the farm swelled to 960 milkers and 100 dry cows. They now own close to 1,300 acres and rent another 700.
"This little place was not gonna give everybody a job," Nancy said in her kitchen as she and Tom took a midday break.
Theirs is a typical story. "In order to survive, a lot of families look for economies of scale," said Wellington, the Agri-Mark dairy economist.
But surviving isn't the same as thriving. "It's an endless job with no payback," Nancy said. "I mean, we work really hard, day in and day out, and we borrow money every month."
Asked if he was glad that their children, Aaron and Ashley, had followed them into farming, Tom said, "Not really, no. I am, but I'm not."
"I like them here," Nancy said of the kids. "But they're not going forward at all."
"It's tough times," Tom said.
"And it's a lot of work," his wife added. "We rely on them to do a lot."
In addition to low milk prices and high costs, the Kanes point to another source of frustration: government regulation. To reduce phosphorous pollution in the state's rivers and lakes — and comply with mandates from the federal Environmental Protection Agency — Vermont lawmakers have in recent years imposed new wastewater rules on farmers. So-called "required agricultural practices" govern how they store manure, keep livestock away from waterways and prevent erosion.
"The state is so asinine about all their regulations," Nancy said. "We do a lot, and they're still on your case every single second. The regulations are crazy."
Matthew Thorsen
Nancy and Tom Kane (center) with family on their Sheldon farm
It's a complaint that Tebbetts, the agriculture secretary, hears often. "I will tell you that over my year in this position, the No. 1 concern of dairy farmers has been complying with the new regulations and how to pay for them," he said. "Farmers are spending a considerable amount of their dollars on water-quality improvements, out of their own pockets."
According to Kitsos, the UVM Extension outreach specialist, new manure pits and runoff controls are sometimes "the last straw" for dairies.
That doesn't bother Michael Colby, an agricultural activist from Walden who cofounded the advocacy group Regeneration Vermont.
"The dairy model is dead. We need to come to grips with that," he said. "This model's not working for the farmers. It's not working for the cows. And it's not working for rural communities, which are being hollowed out. The only ones benefiting are big ag and big dairy."
Colby takes particular issue with large-scale farms that rely on genetically modified feed and antibiotics to enhance milk production in sedentary cows. The resulting waste, he argues, is a "disposal nightmare."
Indeed, a new study released last week by UVM found that annual milk production increased from 5,000 to 20,000 pounds per cow between 1925 and 2012. In that same period, livestock density jumped by 250 percent as farms increased in size, consolidated their operations and kept their cows confined in barns.
Colby believes the solution is grass-fed, organic milking operations. But while a quarter of Vermont dairies have gone organic, even that market has tanked in the past year, as supply has outstripped demand. Wagner, the Enosburg Falls farmer who sold his herd in February, was two years into the three-year certification process, but he lost confidence that organic would be his salvation.
"There was just too much uncertainty for us," he said.
The way Colby sees it, Large Farm Operations — defined by the state as those with 700 or more cows — have no place in Vermont.
"I don't think there is a humane or environmentally sustainable way to operate a dairy LFO," he said. "It's constant confinement — and that can't be done humanely."
The Kanes resent the suggestion that they mistreat their animals or harm the environment, but they have become accustomed to the criticism. Last summer, after a blue-green algae bloom covered nearby Lake Carmi, farmers and camp owners sparred over the source of the phosphorous pollution.
"Sometimes just walking down the street, people don't even want to talk to a farmer," Nancy said. "They really think we're bad people."
"I used to be proud to say I'm a farmer," Tom said. "I just wish there was more appreciation."
From Butterfat to ... Beer?
Caleb Kenna
Clark Hinsdale III on his Charlotte farm
Clark Hinsdale III has spent decades advocating for farmers. But after auctioning off his own cows last month, he has come to the conclusion that Vermont's traditional dairies are history.
Twenty years ago, Hinsdale and his father, a Burlington landlord, bought back a 600-acre farm their family had owned for generations. Perched on a high plain on the Charlotte-Shelburne line, Nordic Farms' iconic, red-roofed barn boasts views of the Adirondacks and the Green Mountains, as well as prime Route 7 frontage.
"Even though my father made most of his money doing other things, [farming] was kind of what his first love was," said Hinsdale, who once owned the Charlotte Berry Farm and served as president of the Vermont Farm Bureau.
Father and son built a vast new barn and installed New England's first robotic milking machines. The state-of-the-art dairy was a sensation for a time. More than a thousand farmers toured the 37,000-square-foot facility, which featured a pedestrian bridge over the cow stalls to keep manure off visitors' boots. "Got Robot?" read one headline, from a 2004 Los Angeles Times dispatch. "Dairy Farmer Sees 'Milking Parlor' as Tourist Stop."
After his father's death in 2008 and a series of financial setbacks, Hinsdale sold the business, but not the land or buildings, to longtime farm manager Michael LeClair in 2014. Beset by low milk prices, LeClair declared bankruptcy three years later, and the cows and equipment returned to Hinsdale.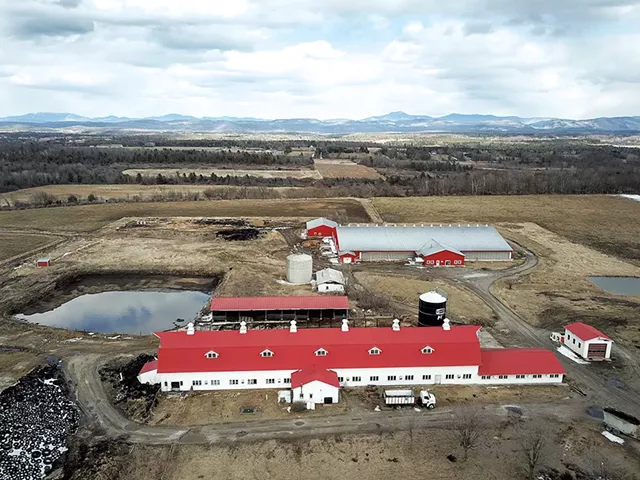 Caleb Kenna
Nordic Farms
Then came Sidney and Michelle Claflin. The two, both of whom came from multi-generation farm families, had sold off their own 65-cow herd in North Ferrisburgh a few years earlier. But, Michelle explained, "We just felt it was something we couldn't get out of our system yet. Once you're a farmer, you're always a farmer."
The Claflins approached Hinsdale about buying his 200-cow operation and spent months trying to make it work. They eventually came to the conclusion that a dairy of its size could not handle the debt load necessary to resuscitate its aging infrastructure and replenish its herd.
"Everybody's advisers said the same thing: The numbers just don't work," Hinsdale said. "So I probably spent, in retrospect, way too long trying to keep this as a dairy."
He finally gave up. At an auction last month that drew hundreds of bidders and spectators, a handful of larger farms bought up three-quarters of his cows. Hinsdale sold his four robotic milking machines to a Greenwich, N.Y., dairy that already owned 10. "You can just see the acceleration in the consolidation," he remarked.
Three days after the last of his cows were trucked away, Hinsdale entered the barren barn and conducted a tour, as he'd done hundreds of times before. Near the entryway, a pile of cardboard boxes held the electric cow collars that had activated the robots.
"It's an out-of-body experience," he said as he crossed the barn bridge and took in the empty stalls below him. "Not real."
Vermont Dairy Farm Size
Year
Small farm


(Fewer than 200 milkers)

Medium farm


(Fewer than 700 milkers)

Large farm


(700 or more milkers)

2013
780
142
17
2017
674
117
32
Source: Vermont Agency of Agriculture
A Middlebury College graduate who studied archeology and anthropology, Hinsdale approaches his predicament with a certain philosophical detachment. "Most people in my situation are filled with a sense of failure," the 62-year-old said as he showed off his 7,000-gallon milk tank.
But Hinsdale sees the failure in an industry he thinks has devalued small farms and made them obsolete. "I believe that what we would formerly call the family-sized dairy farm is over," he said. Only multiple-family farms with hundreds and hundreds of cows can make a go of it, he argued.
Michelle Claflin agrees. "There's a lot of farms that aren't going to make it, and those farms have been around for five, six, seven generations," she said. "The farms that haven't been able to grow in the last five or 10 years are going to be out by the end of the year."
Now that Hinsdale has given up on dairy, he's hoping to take advantage of his property's greatest asset: the 12,000 vehicles that drive by each day on Route 7. "This is a farm that is poised to take advantage of marketing to the general public," he said. "And that gives the farm real legs for another form of agriculture."
Hinsdale said he's close to lining up a new deal, but he'll reveal only that the prospective buyer hails from an entirely different industry: craft beer.
"People are consuming less milk and paying less for it," he noted. "People are consuming more beer and paying more for it."
The Claflins, meanwhile, say they're done.
"We won't ever go back into dairy again," Michelle said. "I just feel like, unless you're a 1,000-cow farm in this state, there's no way you can have a reasonable amount of money to live on. It's just not possible."
So what will they do next? "My husband has gone back to work driving big trucks, and I'm entertaining offers to run herds for big farms," she said.
Half Full
Caleb Kenna
Chase Goodrich on his Salisbury farm
Not everyone in the business is ready to call it quits.
After attending boarding school in New Hampshire and then college in Rhode Island, Chase Goodrich didn't expect to return to the Salisbury dairy his grandfather founded in the 1950s.
"As time went along, distance made the heart grow fonder," he said. "I got really excited at the opportunity to come home and continue on the tradition of farming."
Nine years ago, he and his younger sister, Danielle, returned to the Addison County farm — and brought with them the youth and enthusiasm many Vermont dairies lack.
Driving his white Toyota Tacoma on the roads around the farm, Goodrich gestured east toward the Breadloaf range of the Green Mountains to explain his decision. "This is why I came home," the 33-year-old farmer said.
The family farm has grown dramatically since Goodrich's grandfather milked 10 cows in a modest tie-stall barn. Over the past three decades, the clan has bought up five neighboring dairies, plus a sixth in Brandon. They now milk 900 cows.
A youthful man with hipster glasses who would blend in at a tech startup, Goodrich pointed out each of the farms his family has acquired as he drove north on Shard Villa Road and then looped back around on Middle Road.
Efficiencies of scale have helped the family survive the current price crisis, Goodrich said. But, he added, "I think we all face the same challenges, no matter what size you are."
To weather the volatility, many dairy farmers have sought to diversify their businesses by moving into maple sugaring or producing their own cheese. Between 2010 and 2017, according to the Agency of Agriculture, the number of on-farm dairy processors increased from 40 to 68.
For the past eight years, Goodrich has been working to construct an anaerobic digester on the Salisbury farm that would convert manure and food waste into natural gas and then send it by pipeline to Middlebury College. The family would make money off lease payments and cut its energy costs. It would also demonstrate a commitment to improving the environment, Goodrich noted.
"We need to be able to show the public that we're out here, doing good practice," he said.
The reality? The digester project is moving more slowly than Goodrich had hoped, and milk prices are showing few signs of improvement.
"I have days where I say, 'Why am I getting up to do this for 14 hours to lose money?'" Goodrich said. "But I wouldn't change it for the world. I love the fact that I've been able to come home and join my family and continue the tradition."
What does he think the industry will look like in 10 or 15 years? "Jeez, if things continue the way they are, it's not going to be good," he admitted. "The farms that will stay here are ones that have that younger generation — that are motivated."
"Farmers," he continued: "If there's one thing they are, it's tough. And they'll grind on."
Correction, April 13, 2018: An earlier version of this story used the wrong unit of measurement to describe the volume of milk produced in Vermont. It was 2.67 billion pounds in 2014 and 2.73 billion pounds in 2017.