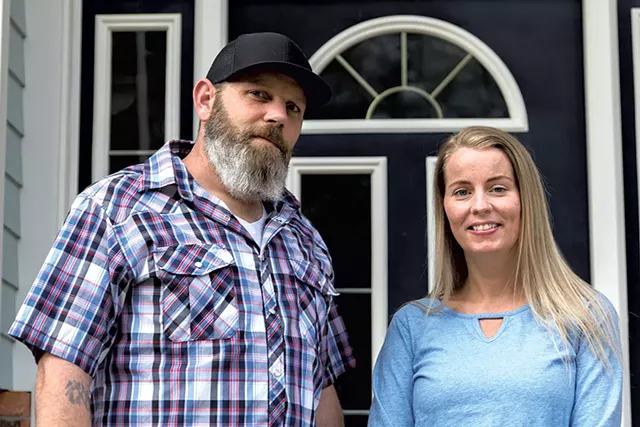 Colin Flanders
Salvatore and Jamey Barnao
Salvatore and Jamey Barnao are not used to needing help. The two self-employed business owners — Salvatore, a custom tile installer; Jamey, a hair stylist — have long relied on themselves for their livelihood, building faithful clienteles that have kept them busy through the years.
The Georgia couple's financial self-reliance crumbled late last month after Gov. Phil Scott ordered Vermonters to stay home to slow the spread of the coronavirus. The suspension of most commerce placed the Barnaos among thousands of other self-employed workers whose cash flow dried up overnight.

Expecting the shutdown to last at least a few more weeks, the Barnaos are hoping government financial aid will help them stay afloat. But while a recently passed federal relief package gives self-employed people a rare chance to receive unemployment benefits, Vermont officials have stressed that the state may not be able to process their claims until late April. Some workers, including the Barnaos, fear their financial reserves will be gone before then.
"You can't tell somebody they have to close up shop or can't work without a plan in place," Salvatore said last week. "This is gonna bankrupt a lot of people."
Self-employed workers — including those in the so-called gig economy — do not qualify for traditional jobless benefits because they do not pay taxes into the state unemployment fund. State officials estimate that between 40,000 and 60,000 Vermonters, as much as 17 percent of the state's workforce, fall into this category.
These workers will be eligible for unemployment benefits under the federal government's $2.2 trillion coronavirus relief package. But first, the Trump administration has indicated that states will need to individually set up separate unemployment systems to process all the new claims, according to Vermont Department of Labor Interim Commissioner Michael Harrington.
Vermont officials had been awaiting further guidance since President Donald Trump signed the federal bill into law on March 27. Those details finally arrived late Sunday night. The state has since directed MTX, a company already under state contract, to start building the new claims system, Harrington said. But he warned that the feds are asking for a "monstrous lift."
"This is a highly technical, highly involved process," he said, explaining that the new system will need to process applications, run them through a series of eligibility criteria and then calculate monetary benefits — while also deducting taxes, child support and other outstanding payments. That's in addition to "dozens" of other technical and programmatic requirements from the feds, he said.
"It's not easy to calculate. It's not easy to make determinations. And it's not easy to process, especially when you're talking about tens of thousands of applications at one time," Harrington said.
The interim commissioner said the department is aiming for a phased-in approach that would allow it to start accepting applications within five to seven days while the vendor continues developing the system. Anyone who became unemployed before April 4 would receive retroactive payments dating back to late March, Harrington said. But he was unsure when the state might cut the first check for self-employed workers, suggesting that it could take at least two more weeks. "It really depends on how quickly we can bring this process together," he said.
That wasn't good enough for Salvatore, who said that further delay could leave his family to face another cycle of bills before they receive their first check. "By then, things are past due and you're headed for disaster," he said.
The best immediate option for self-employed people, according to Harrington, is to join an email list on the Vermont Department of Labor's website so the state can tell them what to do once the new unemployment system is in place.
Setting up a system for people who never used to be eligible is challenging enough. But the department is doing that while also taking on tens of thousands of claims from laid-off employees of companies covered by the state's unemployment fund. Seven Days reported in mid-March that the surge in claims had already produced a bottleneck at the unemployment call center. One woman told the paper it took her nearly 50 attempts to get someone on the phone.
To keep pace, the department tripled the center's staff and rolled out a new portal for people to file initial claims online. But the reinforcements have struggled to meet a record-breaking demand; the center took in more initial claims over a two-week span — roughly 42,000 — than it does in a typical year, according to state data.
The demand has overtaxed the department's technology. At a press conference on Monday, Harrington acknowledged that some people have not received their benefits on time because of glitches in the department's 30-year-old "legacy" mainframe computer system.
"There are times where a batch [of claims] has failed overnight that we have to correct the next day," Harrington said. He said the department is working to get the checks out as soon as possible and asked for "everybody to remain patient."
For some lawmakers, however, patience has worn thin, particularly among those who have been in office long enough to recall one of Vermont's most notable technological gaffes.
"We got a problem," said Sen. Dick Sears (D-Bennington) during a video conference with the Senate last week, warning his colleagues that they are going to hear from many angry constituents unless the state can figure out how to speed up the process. "People are hurting for money. They've got bills to pay, and they're not going to be able to collect their UI because we've got a system that reminds me of when we were trying to do the health care system."
Indeed, thousands of Vermonters were frustrated by the disastrous 2013 launch of Vermont Health Connect, the state's online health insurance marketplace for individuals who aren't insured by their employer. Some of the health portal's main functions took more than a year to establish. Other long-promised features were scrapped altogether amid reports of backlogs exceeding 10,000 cases. The state ended up spending roughly $200 million on the website, mostly in federal funds.
Senate President Pro Tempore Tim Ashe (D/P-Chittenden) recalled hearing from people who were "putting in 80-hour weeks" to address the health marketplace woes and said lawmakers need to keep tabs on the situation.
"When things were out of control, [it] wasn't always easy for the people in the weeds trying to fix every problem as they came up to understand how big the problem was," Ashe said during last week's conference call. "We just need to make sure that we're taking the 10,000-foot view looking down and say, 'OK, we're hearing that they're trying to plug each gap, but does it pass the straight-face test of whether people are getting timely benefits?'"
Salvatore said the state's track record gives him little confidence that it would meet its projected timeline.
"They're telling us a month?" he said. "I take that as, it's gonna be two months at the earliest."
Once the new system is up and running, the Department of Labor's call center will likely experience another surge. Harrington, the interim commissioner, said he's expecting "tens of thousands" of claims from self-employed and independent contractors.
One of those expecting to file is Erin Badman, who runs her own cleaning business in Addison County. All of Badman's clients have canceled in the last few weeks, and though most have still paid her for her regular shift, Badman said she's not sure how long their generosity will last. The single mother of four has tried to stay optimistic despite the "massive anxiety" that comes from not knowing how long her savings will last.
While she has some money squirrelled away to help her get by in the short term, she had hoped to use that money to finally buy a house.
"Now it's going to dwindle away, and I have to start all over," she said. "But I guess it's better than not having it."
Unemployment ABCs
Vermont benefits: Employees who lose their job can get up to $513 a week for 26 weeks. Benefits are calculated by taking the total wages paid in the two highest recent quarters and dividing that amount by 45.
Eligible workers are traditionally those laid off at no fault from jobs that require a W-2 form. The Scott administration has expanded the criteria to cover people who leave their jobs for reasons related to the virus, such as becoming ill or caring for a loved one.
The federal bailout package: It extends state unemployment benefits an additional 13 weeks, including for those who have already exhausted previous claims. It also allows people who are self-employed, such as independent contractors and small business owners, to claim benefits.
It adds $600 a week through July for anyone on unemployment, meaning someone who earns the maximum state payout would receive $1,113 each week.
Disclosure: Tim Ashe is the domestic partner of Seven Days publisher and coeditor Paula Routly. Find our conflict-of-interest policy at sevendaysvt.com/disclosure.