Selene Colburn's "The History of the Future Suite" is a work in progress which was performed at the Flynn Space Sunday night to a full house.
Speaking of the future, many babies and toddlers were in attendance including Selene's (pronounced Selena) own children.
Selene was the recipient of the Flynn Center's spring 2007 New Art Space Assistance (N.A.S.A.)Grant. "This grant provides Vermont artists, working locally,with the development time and space in which to engage in process andthus to create new and meaningful work." They are accepting applications right now so apply before the August deadline!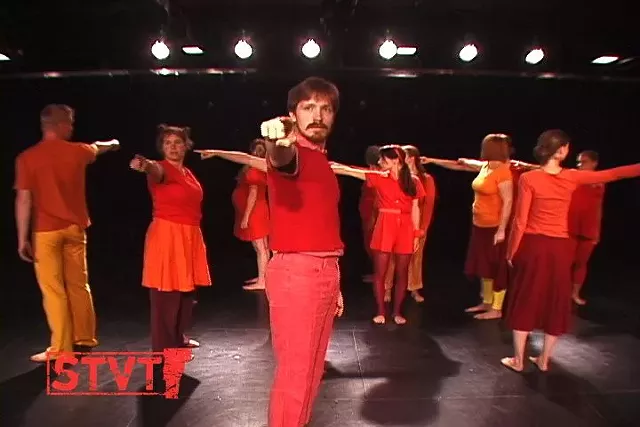 You can read more about Selene's process at the Flynn Blog. She had an open door policy for the past two months, letting any community member participate in the dances and their creation.
In the past month, the final group of performers solidified and they began to plan the show. The dancers' experiences, backgrounds and ages vary wildy. It is a diverse slice of the Vermont community in which we live.
Selene's show explored themes of twins, science, the future and her own life. After suffering a debilitating back injury, Selene had to re-learn how to move, starting with her fingers. Selene's solo dance incorporates finger dancing as well as spoken words about her experiences. This is her first performance since her injury years ago.
What does the future hold? As Selene says at the end of her solo piece, "In the future, I am a dancer..." After Sunday, nothing could be clearer.
The show was followed by cupcakes!
The music is by melodic Carrigan, off their album Young Men Never Die, and aptly titled "Moving Bones."