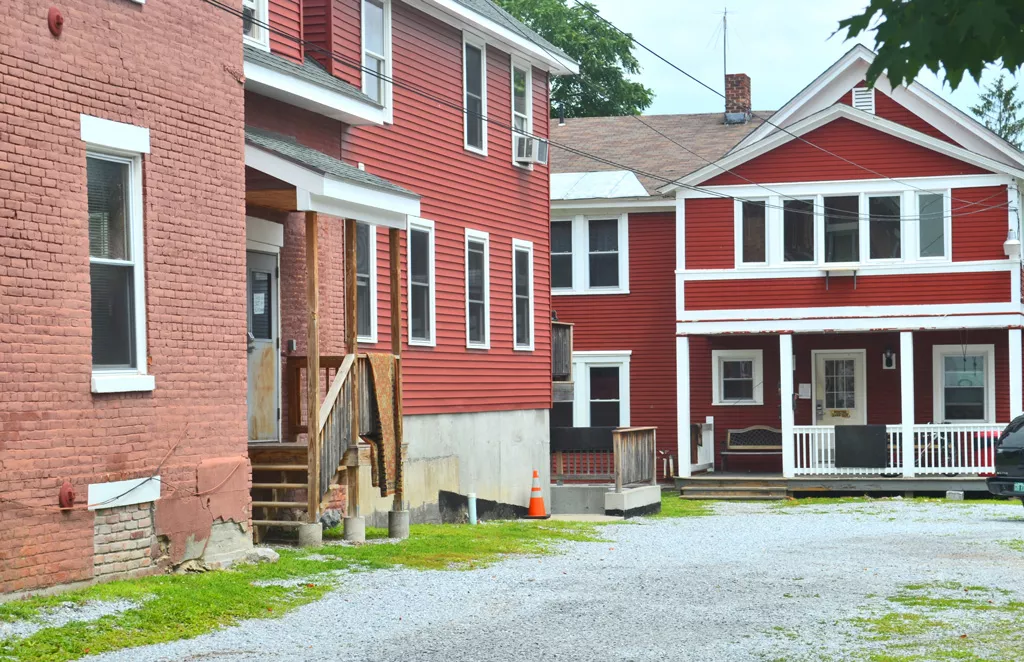 Mark Davis
24 Cottage Street
Brittany Piper stood on the front porch of her apartment on Park Avenue in Rutland, watching her two young sons play in the front yard. She pointed to a garden, where she recently found a syringe, and then to a house next door and two more across the street. Every once in a while, she said, her kids ask why police are always visiting those three homes. She doesn't know what to tell them.
"I don't know what to do," Piper said. "They need to get rid of the property managers."
Federal prosecutors are trying to do just that.
In Rutland, where local officials have won acclaim for using innovative strategies to fight an opiate epidemic, law enforcement recently unveiled their latest tactic: They are trying to take possession of four homes where drug users and dealers have allegedly set up operations with no objection from their apathetic, absentee landlords.
The U.S. Attorney's Office has filed civil forfeiture lawsuits against four houses in the city's troubled Northwest neighborhood. Each residence has been converted to apartment buildings: the three that Piper pointed to on Park Avenue belong to a single landlord; and one notorious home on nearby Cottage Street has become a symbol of Rutland's drug problem.
Officials said it is the first time in Rutland, and perhaps in Vermont, that federal prosecutors have tried to seize property not from convicted drug dealers or users — as is standard in forfeiture cases — but from distant landlords who have not even been charged with a crime. Lawyers for the landlords are fighting the claims, but no trials have yet been scheduled.
"The impetus for this was the drug epidemic in the state, the center of which seems to be Rutland," said Assistant U.S. Attorney James Gelber, who filed the forfeiture lawsuits. "And there seem to be houses in Rutland where most of the drug trade was happening. It's trying to make it more difficult for dealers to operate. One way to do that is to try to affect the place where they do business."
In court documents supporting the forfeiture claims, federal agents have portrayed the homes as de facto drug headquarters where dealers set up shop with impunity and some tenants pay their deposits and rent in heroin and crack cocaine. When neighbors and police repeatedly complained to landlords, they did nothing to help, prosecutors say.
At 24 Cottage Street, prosecutors said property owners Rudy and Francesca Petruccelli of Valhalla, N.Y., allowed their son and property manager, Michael Petruccelli, to turn the property into a drug den.
Prosecutors said drug dealing has occurred at the property — divided into two homes with about five apartments each — since April 2013. Confidential informants conducted at least seven drug buys on behalf of the police in recent years at the property, according to court documents. Several of the informants bought cocaine or heroin directly from Michael Petruccelli, who is also accused of allowing dealers to stay at the property and of selling to his tenants on their behalf.
Mark Davis
116 Park Avenue
Several former tenants who served as informants told police that they had paid Michael Petruccelli crack cocaine in lieu of rent. He is currently in jail awaiting a trial on drug charges.
"Law enforcement agents repeatedly told the owners, Rudolph and Francesca Petruccelli, of the illegal activities taking place in the property, specifically informing them that illegal drug sales were being carried out by their son," prosecutors wrote in court filings. "The Petruccellis have not attempted to put a stop to the trafficking or to take control of the property."
The Petruccellis have challenged the forfeiture. In a court filing, their attorney, Paul Kulig of Rutland, said the Petruccellis repeatedly called police to report problems with tenants and turned over surveillance footage to law enforcement.
"They feel quite upset about the situation," Kulig said in an interview. "They feel that they had cooperated with the authorities ... and this is what payback they get."
In an interview at the property, Michael Petruccelli's wife and current property manager Stacia Petruccelli railed against federal prosecutors. Michael, she said, was a drug addict who sometimes needed money to support his habit. But his parents had done nothing wrong, she said.
"This is BS. It's wrong," she said. "They're punishing the wrong people."
Reporters from around the state and beyond descended on Rutland last year after Gov. Peter Shumlin devoted his entire state-of-the state address to discussing Vermont's opiate problems. Several of the subsequent stories, including one in the New York Times, specifically mentioned the Cottage Street house.
The stigma has made life difficult for people who live there, Stacia Petruccelli said. Taxicabs refuse to pick people up from the house, and police are a constant presence.
Federal agents paint a similar picture of drug-related mayhem at homes owned by Long Island residents Bernard and Ruth Jeifa at 114, 116 and 117 Park Avenue, where prosecutors say the drug dealing has occurred since 2011. Neighbors began complaining to Bernard Jeifa of the drug dealing in 2012, prosecutors allege. But he did nothing.
Police in recent years conducted two raids and at least eight undercover drug buys at the properties, finding hundreds of bags of heroin, roughly $50,000 in cash and a gun, according to police affidavits. Four former tenants are in federal custody awaiting trial, and two others, including the current property manager, are anticipating state drug charges.
There is at least one direct link between the two sets of properties: Eric "Big E" Dixon, who prosecutors said sold heroin and crack, often stayed overnight at both 24 Cottage Street, with Michael Petruccelli's permission, and at 114 Park Avenue to sell drugs to tenants and locals, according to court documents.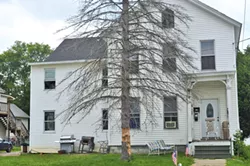 Mark Davis
114 Park Avenue
Dixon told police that Bernard Jeifa approached him months after he moved into an apartment at 114 Park Avenue in November 2012, asking why he hadn't paid a security deposit. Dixon, who is currently serving a seven-year prison sentence on drug charges, told Jeifa that he had given 100 bags of heroin to Jeifa's previous property manager as a deposit.
"Jeifa did not insist that Dixon pay a security deposit nor did Jeifa take any steps to end Dixon's tenancy based on the fact that he was an admitted drug dealer," FBI agent Christopher Destito wrote in an affidavit.
In June 2013, federal agents broke down the door to Dixon's apartment to conduct a raid. Jeifa stopped by soon after, replaced the door and said nothing to Dixon, prosecutors allege.
In court filings, the Jeifas' attorney, Matthew Shagam of Burlington, has indicated he will soon file a response from his clients, who intend to fight the forfeiture claim. Shagam did not respond to a message seeking comment.
Federal forfeiture law gives prosecutors and police wide latitude: The government is allowed to seek forfeiture of any property used to commit or facilitate felony drug crimes.
But it is most commonly used to take property — usually money or cars — from people who have been directly involved in the drug trade. Border crossings, in particular, see many such seizures.
In Rutland, not so much. Gelber, who handles most of the forfeiture work in the U.S. Attorney's Office, said he has never filed a forfeiture lawsuit there — and certainly not against an out-of-state landlord. He could not recall a similar case in recent Vermont history.
It is a controversial practice. Congress, citing abuses in which law-enforcement agencies have seized huge amounts of money and other goods from people who have never been convicted or even charged with a crime, is considering whether rules governing civil forfeiture need to be tightened.
"There's a feeling that it's an unfair attack on people who own apartment buildings or motels where people have done bad things," Kulig said. "This is not a case where the owners are saying, 'Oh, come on in and use my property for illegal activities and you pay me for it.'" He said his clients feel "stigmatized, singled out, picked on. There are many properties that are having problems with tenants who do various things, in Rutland and in the state of Vermont."
But officials say that Rutland's persistent problems necessitated a more aggressive approach.
"This is the first time for that. It is absolutely part of our overall strategy," Rutland Mayor Chris Louras said of the forfeiture proceedings and the city's overall "death by a thousand cuts" approach to eradicating drug dealers. "It is accountability for property owners who were put on notice by local law enforcement and state and federal partners that they know illegal activity is taking place and it's creating chaos in our neighborhoods."
Property owners facing a forfeiture action essentially have two options. They can claim they didn't know about the problems, or they can admit they knew and tried unsuccessfully to fix them.
If prosecutors win, Gelber said, the homes could be turned over to the city or nonprofit housing groups in hopes of securing responsible, local owners. In that case, Louras said the city may urge federal prosecutors to try to take more property.
If the landlord defendants win, it's back to Whac-A-Mole for the Rutland police.
"A lot of the problems are because the environment is being supported by irresponsible landlords," Louras said. "It's sending a message to property owners."