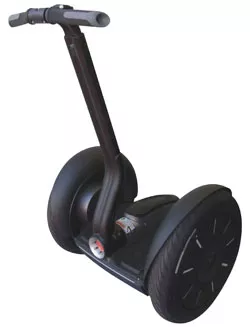 Disc golf. Waterfront Manager Adam Cate. For the Burlington Parks & Recreation Commission, the controversies keep on coming. The latest: an entrepreneur's proposal to bring guided tours, via Segways, to the Burlington Bike Path and some city sidewalks. Interested parties expect a lively public hearing on the issue next Tuesday.
"I'm not sure the people behind this idea understand that there are bound to be many voices speaking up," says Chapin Spencer, director of the biker and pedestrian advocacy group Local Motion.
Jeff Snyder, one of the founders of 802 Segways Inc., says he's ready to respond to any concerns in pursuit of "an amicable relationship with the community." He envisions groups of up to eight Segway riders paying $25 to $69 each for sightseeing tours of varying lengths.
Vermont law grants these two-wheeled, battery-powered transporters the "rights and duties of pedestrians" — which means they're currently able to operate on sidewalks and bike paths. But the legislature also allowed Vermont municipalities to regulate Segways as they see fit, even if the regs contradict the state's law. Burlington Parks & Rec can thus permit or prohibit Segway use on the bike path, while the city's Department of Public Works has the same power in regard to sidewalks.
Snyder, an Underhill resident who also owns a hot-air-balloon tour business, is pitching his Segway startup as "a fresh, trendy and green" initiative that will put Burlington on "the leading edge of technology and tourism." Some 200 North American cities, including Boston and Montréal, already allow Segway tours, he notes. And the opportunity to see the Queen City in easy, outdoorsy style will benefit local merchants, he argues, citing surveys that show most Segway riders are middle-aged and moneyed. Municipal revenues would be boosted by permit fees that 802 Segways expects to negotiate with city officials, Snyder adds.
The company's key selling point, politically, centers on the service it offers "people with ambulatory impairments." Segways would make Burlington's pedestrian and biking routes accessible to those with heart conditions, arthritis, hip and leg injuries, and other impediments to walking, Snyder suggests. It's not fair or accurate, he says, to deride Segway users as overweight slugs of the sort depicted in Wall-E, last year's animated sci-fi hit set in a world piled high with its own waste.
Three years ago, the Burlington Police Department considered adding Segways to its fleet of vehicles, but the cost was prohibitive — a basic model sells for $4000 — and "there's the whole issue of winter in Vermont," notes Burlington Police Chief Mike Schirling.
In the case of 802 Segways Inc., city officials and activists are more worried about summer, and the idea of adding Segways to the swarms of strollers, runners, bladers, boarders and bikers who maneuver along the lakefront on weekends.
Parks & Rec Commission chairman Steve Allen says that while he hasn't formed a firm opinion on the issue, he's concerned about "Segways competing with existing users of the bike path." Similarly, Public Works chief Steve Goodkind cautions, "There could be a problem, especially with groups of riders, on downtown sidewalks." And Spencer notes that "the bike and pedestrian world has a lot of reservations" about Segways. "We believe motorized vehicles should be on roadways."
Snyder points out that helmeted Segway tour participants would undergo training before setting off with a guide in the lead. He argues that a set of Segways, even when traveling at their maximum speed of 12.5 mph, would be moving more slowly than many bikers. "Without a doubt" his vehicles would be compatible with other forms of bikeway transport, Snyder insists.
Local Motion's leader, whose office adjoins an often-congested stretch of the bike path, acknowledges that he doesn't expect disaster to ensue. "As scary as this may seem to some folks," Spencer says, "it won't be a big deal if the proposal is approved." The challenge for those not absolutely opposed to Segways is to figure out "how this new technology fits into our New England landscape of narrow streets and sidewalks," he suggests.
The sidewalk dimension could involve complex considerations in Burlington. Stenciled warnings at corners throughout downtown now suggest bikers should dismount and walk. So why should Segway riders be permitted to glide on by?
Goodkind is not sure they should. Motorized wheelchairs can lawfully travel those sidewalks, he observes, but Segway users may have options for navigating those same sidewalks, Goodkind adds, and perhaps should be subject to the same restrictions as bicyclists.
802 Segways won't necessarily seek access to downtown walkways, Snyder says. "We're talking about less traveled portions of sidewalk, and we'll go with routes that work for the community," he assures. The company also isn't aiming to send Segways threading through phalanxes of strollers along the Church Street Marketplace, Snyder adds. "Maybe at some point we'd like to do early-morning tours of Church Street before it gets busy, but not at the start. We need to show we're responsible first."