Brooke wilcox
Avocado Burger at Berda's Roadside Eatery
This is not an article about fried food — although there's no shortage of it at the 94th Champlain Valley Fair in Essex Junction. Fried stuff is good, I know, in the way of reality television or forbidden fruit: so right in the moment, so wrong in retrospect. When munched beside a hulking Ferris wheel and a tower of flying chairs, neon-colored candy apples and slabs of fried dough seem like perfectly fitting carny treats.
But last Saturday, during my first-ever visit to Vermont's biggest fair, I had two simple goals. First: to find the local-based food businesses helmed by Vermonters with a flair for good cooking. Though I'm a relative newbie to the state, I've long known that Vermont, with its density of farmers, makers and artisans, produces some of the best food in the country. So, even before setting foot in the fairgrounds, I figured good, local fare had to exist somewhere in the sea of fried Oreos and curly fries.
My second goal: to find the alcohol, because I had just ridden a spinning orb called the Starship 2000.
Turns out, once you get past the "dough nuggets" topped with Reese's Pieces — a dish that proves two rights don't always make a right — local food isn't hard to find.
My first stop was the Muffin Man, a purple food stand fringed by potted violets. Stationed at the fair since 1992, the Colchester-based stall, run by Dan and Laurie Keough of North Country Specialty Foods in Jeffersonville, is known for éclairs and cream puffs.
Cashier Maura Sautelle says the goods are baked each night in ovens half hidden in the back. I ordered a cream puff, its center gaping with a softball-size globe of whipped cream. The cream was so sturdy with confectioners' sugar that it had the texture of whipped butter, and so saccharine my teeth ached. It was too much of everything: sweet, big, pricey and ridiculous. But the ceremony of the thing — massive, stuffed to bursting and showered with powdered sugar — put it squarely in the fantastical fare category, worth every penny when in need of something excessive.
Near the Muffin Man, a wood-paneled hut advertised homemade apple pie from Allenholm Farm, a seven-generation apple farm in South Hero. In a landscape of food dye and fryer oil, Allenholm keeps it simple. I was tempted by the pie but was still recovering from the cream puff, so I snacked on an apple purchased for 50 cents. Perhaps it's the newbie in me, but come on: Where else besides Vermont can a fairgoer buy a single, unadorned apple picked just 30 minutes away?
"Try the cider slush," said stall owner Samantha Chagnon as she poured the drink in a Dixie cup. Unlike its red and blue counterparts churning in slushie machines nearby, Chagnon's slush has one ingredient: unpasteurized, half-frozen cider. The last time I had a slushie was the sixth grade, when I'd bike to the 7-Eleven with my cousins for a Coca-Cola Icee. The cider slush was infinitely better and more refreshing than the overpriced bottles of soda from nearby concession stands. As I drank it to the dregs, pausing briefly for a brain freeze, the pressure of the 90-degree day started to lift.
Restored, I made my way to the Ware Building, where Ken Baur, a chef at Shelburne Farms, was hosting a cooking demo on dilly green beans. Baur passed me a snappy pickled string bean to sample while he explained the beauty of vinegar in quick fermentation. I missed most of the demo, but Baur was eager to show me and a few other latecomers around the test kitchen, opening jars of star anise to sniff and offering a shallow spoonful of the smoky, slow-burning Sriracha made by Shelburne Farms executive chef Jim McCarthy.
Shortly after leaving the Ware Building, I stumbled upon Berda's Roadside Eatery, Cory Charles' food truck normally set up in downtown Essex Junction.
"This is 'Local Street' right here," Charles said through the truck's side window.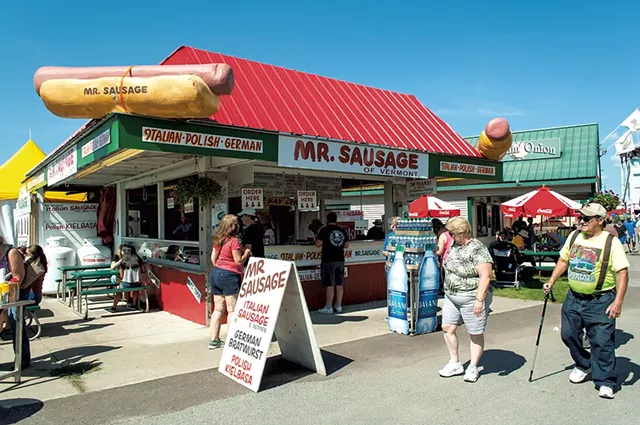 Brooke wilcox
Mr. Sausage
He gestured to the strip of food stands to his left, where familiar Vermont names such as the Skinny Pancake, Mr. Sausage, Ahli Baba's Kabob Shop and Al's French Frys appear among the crowded stalls. Charles ups the local ante by sourcing the bulk of his ingredients from Vermont farmers, such as burger toppings and grass-fed beef from Templeton Farm in East Montpelier.
"I grew up on a farm," he added. "I'll do anything I can to support the farmers around me."
Berda's fits the bill of quality local fare, and Charles gladly hops on the fried-food wagon with offerings including deep-fried mac-and-cheese balls and fried pickles spiked with yellow mustard.
"The duck-fat fries are amazing," remarked a fellow patron behind me. I was eyeballing the Breakfast Dog, a grilled Vienna hot dog loaded with cheddar, cob-smoked bacon and a fried egg. But then I saw the Avocado Burger.
"If you're into crying tears of joy, you better bring a box of tissues," Charles advised as I placed my order. A fat avocado half and a soft, seeded bun are seared in Vermont maple syrup, then stacked on a quarter-pound patty with melted Havarti cheese. I'm not much of a crier, but the grilled-to-pink burger was glorious with the caramelized crunch of maple syrup still clinging to the bun.
Next it was time to leave "Local Street" for a quick walk to digest and see the sights. Alligators hissed in tanks before an afternoon Kachunga show. Three enormous Highland cattle watched me from behind their blond bangs. I found a barnlike building called the Maple Sugar House that was selling everything from sugar on snow to maple crème doughnuts.
Then, like a mirage, a hole-in-the-wall place called Jaques Deli advertised Dog Team sticky buns — the doorstop-size pastries that in Middlebury are reminders of the late Dog Team Tavern, which burned down almost exactly 10 years ago. The buns were made from the original Dog Team recipe, but they looked slightly sad in their aluminum tins.
When I returned to "Local Street," Chris O'Neil was hanging with his little sister, Alexis, behind his family's Essex Junction-based food stand, Rajun Cajun.
"My parents and I are big on local food," O'Neil explained, adding that his family gets much of Rajun Cajun's vegetables from the Five Corners Farmers Market in town. Dishes like po'boy sandwiches, fragrant jambalaya with white rice, Cajun chicken and sausage showcase the O'Neils' bayou-influenced fare.
Buffalo chicken pizza from Northern Fire & Slice
Farther up the "street," Bilon Bailey's food truck Jamaican Supreme, usually parked on Pine Street in Burlington, promised homemade cuisine. I wanted to order Bailey's jerk chicken with rice and fried plantains, but I had to move on to the final stand on my tour: Northern Fire & Slice from Eden, the newest addition to the fair's stock of vendors. From the depths of their mobile wood-fired oven, husband-and-wife team Erica Allen and Gary Beaudet turned three bubbling pies, each topped with cheeses from Jasper Hill Farm and seasonal veggies from Sam Mazza's Farm Market. From-scratch sauces such as marinara and pesto complement homemade pizza dough made with beer from Rock Art Brewery.
"I used to do glass work, like melting wine bottles into cheese trays," said Allen as she handed over a slice of Buffalo chicken pizza — complete with local leeks, Jasper Hill's Bayley Hazen Blue and chicken doused in Frank's RedHot Wings Sauce. "But it wasn't working for me." Allen recalled how she was looking for a summer project. "Gary's dad used to have a food wagon at country fairs," she continued. "He'd sell burgers and dogs, but we wanted to do something a bit different."
Stuffed to bursting like a Muffin Man cream puff, I left Vermont's small-business vendors and ducked into Halvorson's Budweiser Roadhouse, where two Vermonters nursed sunburned shoulders and chatted about the pig races over drafts of Bud Light and Long Trail Brewing's Summer Ale.
Other drinking spots at the fair include an outdoor beer and wine garden that offers the usual commercial names. A Bud Light draft will run you $6, but it's worth the price for a shady place to people watch. There's also a cocktail bar called Twist that has cans of Citizen Cider and 14th Star Brewing's Valor Ale, along with lots of Smirnoff and a larger commercial wine selection.
At Halvorson's, Zero Gravity Craft Brewery's Green State Lager on draft proved the perfect way to end my treasure hunt for Vermont-based food vendors.
"Time for a beer, isn't it?" said the bartender, rightly noting that I looked as exhausted as a kid post-Disney World. But tired, sweaty and sunburned as I was, I understood why the Champlain Valley Fair is 94 years old and counting — curly fries and all.