Sticky bun and Negroni Popper at Monarch & the Milkweed
Wednesday, November 9, 6:30 a.m.: I woke up bleary-eyed after a long night spent watching election results. Though I'd missed Donald Trump's victory speech, I'd read that Hillary Clinton had conceded the race, though she'd won the popular vote. Like millions of Americans, I struggled to process this improbable outcome.
My husband went to the kitchen to make coffee. I stayed in bed and reached for my phone: Would we see a recount, like in 2000 when George W. Bush eclipsed Al Gore in similar fashion?
No, we wouldn't, the major newspapers said. It was over.
Do I still need to work for a living? I wondered. Maybe our president-elect would work such immediate wonders on the economy that I could collect terrific sums of money by lying in bed and looking pretty.
I was sure I could lie in bed for a very long time. Looking pretty? Maybe a stretch.
Alas, I had to be in Colchester — an hour and a half away — in two hours. I'd agreed to speak to an English class at Saint Michael's College, where students were writing restaurant reviews to hone their skills in verbal persuasion. Their professor had asked me to discuss how I'd become a food writer. They'd question me about working as a real, live grown-up journalist.
I couldn't tell them that my highest aspiration at the moment was to become a bed ornament.
I sat up, placed my feet on the floor and stood up. I pulled a bathrobe off the bedpost, swung it over my shoulders and walked with determination to the liquor cabinet in the next room. I opened the cupboard and stared inside.
Do something, my brain said. My hand reached for the nearest bottle — Chartreuse. Using a secret recipe, monks have made this emerald-green tonic in a remote valley in France for nearly 300 years.
I turned the bottle in my hand, imagining such a life.
Drink it, my brain ordered. My fingers unscrewed the cap and tipped the vessel to my lips. A deep gulp flooded my senses with licorice and herbs. The liqueur warmed me, relaxing my body from the inside out. My mind calmed enough to get dressed.
I armored myself in a long wool cape with an oversize hood. I got in my car and drove north. In class, many of the students looked as bewildered as I felt. But our conversation — about eating critically, and writing through a subjective experience without getting too personal — seemed like a welcome distraction to all.
After class, still hiding under the hooded cape, I drove toward my office in Burlington's South End. In Winooski, I paused for pedestrians at the bottom of the traffic circle.
In profile, the young woman looked to be African, or at least of African descent. Her face was wide and round and framed by a close-fitting head scarf that flowed to a loose cowl over her winter jacket. Her skin was as dark as raw umber.
Behind her, an older man — also black — crossed slowly, aided by a cane.
I let myself wonder what the election's outcome might mean to them. Were they thinking about it right now, as I was?
Booze. More booze. The self-preserving side of my brain chimed in: And probably something to eat.
I climbed the hill into Burlington and detoured to City Market/Onion River Co-op. For once, the co-op parking fairies smiled on me. A genius grocery list began to take form in my head: tea, Vermont corn tortillas...
I grabbed the tea and wandered past the dairy and meat. I paused at the beer cooler. Cans of Goodwater Brewery's Hoppy Side of Pale. Been meaning to try that, I thought, and grabbed a sixer.
Then, What's this barrel-aged amber mead from Groennfell Meadery? Sounds neat — I'll take it.
I lingered over choosing four bottles of wine. That Côtes du Rhône looked nice — especially for the low price — and the on-sale Rioja with the screaming, wild-haired woman on the label was totally speaking my language.
I was thankful that the cashier seemed unfazed by selling a basketfull of booze to a woman in a red, hooded cloak at 10:30 a.m. on a Wednesday.
I left feeling fortified against whatever would come but also defeated that I'd have to wait to drink my purchases.
Where to get a cocktail at this hour?
A few weeks ago, Monarch & the Milkweed began serving sticky buns starting at 7:30 a.m. daily. And, thanks to the café's counter-service format, ordering, paying and receiving could occur in a single transaction. I'd barely have to talk to anyone.
Inside the restaurant, a glass case held miniature cakes and sweets glazed with icing, doughnuts spangled with colored sprinkles and, thank God, sticky buns.
"May I have a sticky bun?" I asked the long-haired twentysomething at the register.
"Of course," he said. "Anything else?"
"Where are your cocktails?" I turned over the postcard menu.
"There," he said, pointing toward the bottom of the page.
I couldn't stomach a Bloody Mary. And I would have preferred to throw a glass of Champagne at the wall than to drink either of the menu's twinkle-toes cava cocktails.
"I'll take a Negroni Popper," I said. The listed ingredients were standard Negroni — strong booze, vinous booze, bittersweet booze. I was willing to gamble $5 on whatever the "popper" part was.
Counterman slid a prim sticky bun onto a plate. Behind him, a woman placed a little glass on the counter, then pulled what looked like an old-fashioned medicine bottle from the cooler.
I guessed that the red liquid in the bottle was my drink. I picked it up and wandered to one of the marble tables against the restaurant's south wall. With some effort, I sidled onto the banquette.
I brought the bottle to my lips. When it hesitated to pour, I upended the drink into the glass. The miniature beverage was cold and bitter and perfect.
My fingers uncoiled the outer layer of the sticky bun and pulled away beads of crystalline cream-cheese glaze and placed them on my tongue to melt. Then the pastry: butter-crisp crunch, cinnamony sweetness, not heavy. The petite, maple-kissed currants were better than the expected raisins.
I nibbled the pastry between cocktail sips, slowly becoming less numb and discovering I was actually quite hungry. I devoured the bun's warm and gooey insides in a few greedy bites.
I scrolled through Instagram, craving contact with the outside world. But I still couldn't face the real people around me, for reasons I didn't understand.
The app's algorithm now filters images based on something other than chronology. So election-day posts — now 15 to 20 hours old — dominated my feed. I scrolled through photos of women I love dearly, who'd donned pantsuits and red lipstick to cast their votes. They beamed jubilant smiles into the camera, letting the world know they'd spoken.
I'd posted a similar photo. Intellectually, I wasn't enamored with either candidate. So I was surprised at how elated I felt after voting. Buoyed by the hope and pride I'd placed in my ballot, I'd snapped a picture to celebrate the moment.
As I sat there drinking that tiny, bitter cocktail 24 hours later, those pictures seemed a world away. The black hole I'd felt in my rib cage earlier that morning returned. No time like the present to go to work.
I gathered my things, steeled my upper lip and downed the remainder of my drink.
Instead of the usual office chatter, the mood was subdued and somber, as if someone had died. I canceled my dinner plans in favor of heading home early. Tomorrow would be better — right?
On my way out of town that afternoon, I drove by the turn that would take me home. I reached the Winooski traffic circle, I parked on Main Street and walked into Misery Loves Co. I asked bartender Mike Dunn for a cocktail made with whiskey and Concord grape.
"I just poured the last one," he said, explaining that he'd run out of juice. "Can I make you a different whiskey cocktail?" Dunn's smile told me he had one in mind.
"That'd be great," I said, happy to let him do the thinking.
He strained my drink into a pressed glass coupe and placed it on the bar without a word.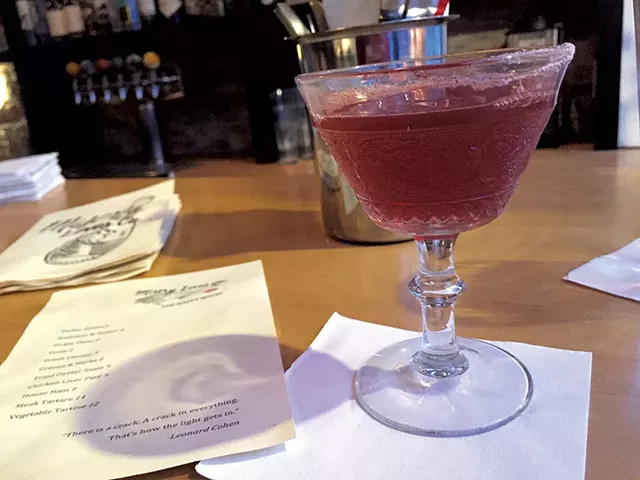 Sassamanash cocktail at Misery Loves Co.
The glass was edged with cranberry dust, a tart and salty intro to a semisweet, rosy blend of bourbon, cranberry and herbal old-world aperitifs. Called Sassamanash, the drink's name means "cranberry" in the Algonquin native tongue.
Within minutes, the seats around me had filled, as friends washed away the day with cold beverages and oysters on ice.
At the end of the bar I drank, feeling stealthy beneath my hooded cloak. The cocktail went down quickly. I was tempted to order another but abstained, facing a long drive home. Of course, I knew that soaking my sorrows in liquor wouldn't resolve the pain I was feeling. Nor was it a viable long-term coping strategy. But on Wednesday, November 9, the whiskey helped. And, quiet in the company of strangers, I didn't need to engage in conversation to feel less alone.