Vermont's Step Ahead Recognition System (STARS) helps parents evaluate programs that care for their kids. Sponsored by the Child Development Division of the Vermont Department for Children and Families, STARS assigns star rankings to participating childcare, preschool and after-school programs.
Programs must apply to receive a ranking.
The STARS coordinators consider applicants' qualifications and operating policies, then assign them one to five stars. A single star means a program is new or examining its practices and working to improve them; a five-star ranking signifies that an applicant is established and outstanding in all areas.
Parents who meet the state's income-eligibility guidelines may pay less for childcare if they enroll their children in programs with three, four or five stars.
Each month, Kids VT publishes an excerpt of the list of STARS participants. This month's issue features the listings for 10 towns in Addison County. Middlebury and several other Addison County towns appeared in the September and October issues. Find them online at kidsvt.com. And find more information about STARS, a complete list of rankings and other childcare resources at dcf.vermont.gov/cdd/stars.
Discovery Hill Family Child Care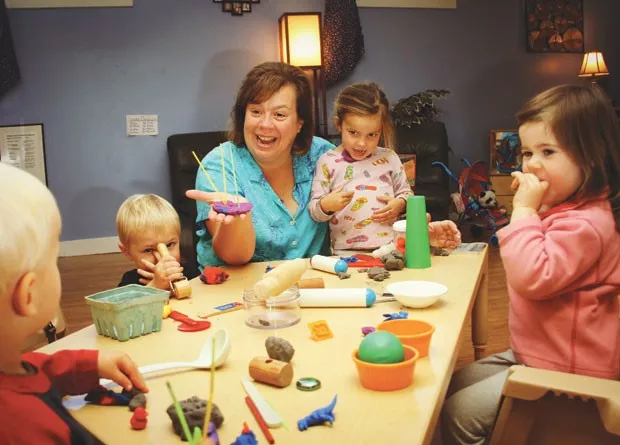 Marcie Bolton
Gerri Barrows
Each month, Kids VT spotlights one four- or five-star program from the featured geographical area.
160 Legend Lane, New Haven, 453-3707
5 stars
Type of program: In-home childcare center
Year opened: 1990
Age range of children: 3 months to 5 years
Last field trip: Owner and director Gerri Barrows took a small group to Addison County Fair & Field Days to see a former Discovery Hill child show his calf.
Favorite outdoor activity: Playing games with footballs, baseballs, soccer balls and other sports equipment.
Favorite rainy-day activity: Splashing and marching in puddles or, if it's just too wet, baking bread or muffins.
Favorite book: Little Red Hen (Makes a Pizza), by Philemon Sturges. "The kids like it because after reading, they make their own pizzas, using pint-size rollers on the dough and choosing their own ingredients," says Barrows.
Most recent staff development activity: The annual conference of the National Association for Family Child Care, held in Atlanta in July.
Bridport
Bridport Central School Preschool
3442 Route 22A, 758-2331
5 stars
Lil' Peepers Child Care
3784 Crown Point Road, 758-2195
3 stars
Ferrisburgh
Tots on the Go Family Child Care
2462 Sand Road, 877-6341
2 stars
Bethany Hallock's Family Home Child Care
1303 Satterly Road, 877-3558
2 stars
Leicester
Heather LaPorte
841 Lake Dunmore Road, 247-8187
1 star
Leicester Central School
68 Schoolhouse Road, 247-8825
5 stars
Lincoln
Lincoln Cooperative Preschool
876 East River Road, 453-3113
4 stars
New Haven
Discovery Hill Family Child Care
160 Legend Lane, 453-3707
5 stars
Sapphire Center
87 Rivers Bend Road, 388-3887
2 stars
Orwell
Muffy Kashkin Grollier Family Child Care
310 Route 22A, 948-2561
3 stars
Rubright Family Child Care
342 Fisher Road, 948-2119
3 stars
Panton
Kirsten's Child Care Program
860 Panton Road, 349-7152
2 stars
Ripton
Ripton Elementary School
753 Lincoln Road, 388-2208
3 stars
Salisbury
Salisbury Community School Integrated PreK/K
286 Kelly Cross Road, 352-4291
4 stars
Rheaume Family Daycare
274 Smead Road, 349-5082
1 star
Starksboro
Happy Hands and Feet Child Care
2550 Vt. Route 116, 453-4600
2 stars
Starksboro Cooperative Preschool, Inc.
2794 Route 116, 453-4427
4 stars