Vermont's Step Ahead Recognition System (STARS) helps parents evaluate programs that care for their kids. Sponsored by the Child Development Division of the Vermont Department for Children and Families, STARS assigns star rankings to participating childcare, preschool and after-school programs.
Programs must apply to receive a ranking.
The STARS coordinators consider applicants' qualifications and operating policies, then assign them one to five stars. A single star means a program is new or examining its practices and working to improve them; a five-star ranking signifies that an applicant is established and outstanding in all areas.
Parents who meet the state's income-eligibility guidelines may pay less for childcare if they enroll their children in programs with three, four or five stars.
Each month, Kids VT publishes an excerpt of the list of STARS participants. This month's issue features the listings from four Addison County towns; the Middlebury listings appeared in the September issue. Find them online at kidsvt.com. And find more information about STARS, a complete list of rankings and other childcare resources at dcf.vermont.gov/cdd/stars.
Shining Star: Evergreen Preschool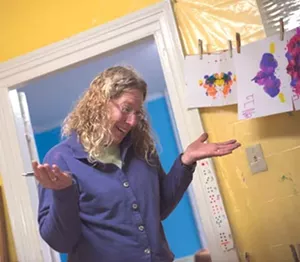 30 South Water Street, Vergennes, 877-6702
4 stars
Type of program: Private, nonprofit preschool that follows the Addison Northwest Supervisory Union school-year calendar.
Year opened: 1982
Age range of children: Ages 3 to 5.
Next field trip: Art workshop at Studio V and Treasure Island at the Vergennes Opera House.
Favorite outdoor activity: This time of year, digging for treasures in the sand; in the winter, sledding.
Favorite rainy-day activity: Building rivers, ponds and dams with water that collects in the sand outside.
Favorite book: According to program director Lisa Presson: "We have a large collection of Eric Carle books that we read and on which we base portions of our curriculum."
Most recent staff development activity: The Teaching Strategies Gold Assessment Training sponsored by the Vermont Department of Education.
Each month, Kids VT spotlights one four- or five-star program from the featured geographical area.
Bristol
Addison County Northeast Early Education Program
57 Mountain Street, 453-3227 5 stars
Briggs Day Care
233 South 116 Road, 453-5070 3 stars
Bristol Family Center
16 Orchard Terrace, 453-5659 4 stars
Mountain View Home Child Care
186 Purinton Road, 453-5322 3 stars
Sue Owen-Jankowski
1000 South 116 Road, 453-4071 3 stars
Waltham
The Ark Preschool/ Kindergarten
862 Route 7, Waltham, 877-3393 4 stars
Whiting
Whiting Community Preschool
87 South Main Street, 623-7991 5 stars
Weeping Willow Child Care and Preschool
12 North Main Street, 623-6476 4 stars
Kristina Anderson
163 Stickney Road, 623-6895 1 star
Vergennes
Evergreen Preschool
30 South Water Street, 877-6702 5 stars
Addison Northwest Supervisory Union Early Education Program
43 East Street, 877-2867 5 stars