Vermont's Step Ahead Recognition System (STARS) is designed to help parents evaluate programs that care for their kids. Sponsored by the Child Development Division of the Vermont Department for Children and Families, STARS assigns star rankings to participating childcare, preschool and after school programs.
The process is much more thorough than a simple site visit. To receive a ranking, programs must complete an application that assesses progress in five areas: compliance with state regulations; staff qualifications and training; communication and support of children, families and communities, providers' self-assessments and plans for improvements; and the strength of a program's operating policies and business practices. Simply by completing the application, programs demonstrate a desire to go above and beyond the minimum state standards.
The STARS coordinators assign applicants one to five stars. A single star means a program is new or examining its practices and working to improve them; a five-star ranking signifies that a program is established and outstanding in all areas. A ranking is good for three years, though each applicant must complete an annual review to maintain it.
STARS helps parents assess a program's quality and professionalism, and it can also save them money. Parents who meet the state's income eligibility guidelines may pay less for childcare if they enroll their children in programs with three, four or five stars.
Each month, Kids VT publishes an excerpt of the list of STARS participants. This month's "Seeing STARS" features participating programs in Colchester, Essex, Jericho, Milton, Underhill and Winooski. Find more information about STARS, a complete list of rankings and other childcare resources at dcf.vermont.gov/cdd/stars.
Shining Star: Children's Preschool and Enrichment Center Inc.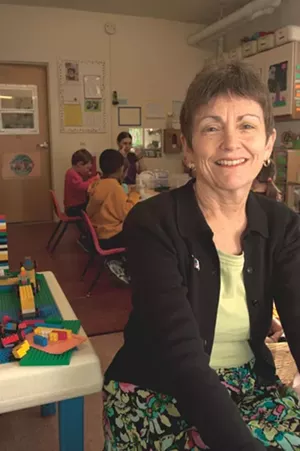 39 Main Street, Essex, 878-1060
Type of program: Full-year preschool program
Year opened: 1987
Age range of children: 3 to 5 years old; children who have been in kindergarten can attend in summer.
Last field trip: Green Mountain Audubon Center
Favorite rainy-day activity: "Scary Afternoon" with books and flashlights to help process fears in a safe atmosphere
Favorite song: "Jump Up and Down"
Most recent staff development activity: In-service day with "Medicine Administration" in the morning; "Strengthening Families" in the afternoon
Colchester
Carolyn's Red Balloon
40 Severance Green, Suite 101, 878-5001
5 stars
Little Feats Daycare
5857 Roosevelt Highway, 878-4220
4 stars
Essex & Essex Junction
Children's Preschool and Enrichment Center, Inc.
39 Main Street, 878-1060
5 stars
Ed-U-Care Children's Center
5 Ewing Place, 879-4427
3 stars
EJRP Preschool
75 Maple Street, 878-1375
3 stars
Essex Town Preschool
1 Bixby Hill Road, 878-2584
3 stars
Green Mountain Montessori School
8 Jericho Road, 879-9114
1 star
Hand In Hand Creative Learning Center
3 Oliver Wight Drive, 524-6028
4 stars
Hiawatha Early Education
34 Hiawatha Avenue, 878-1386
4 stars
Kangaroo Corner Child Care Facility
26 Susie Wilson Road, 872-2772
1 star
Lorrie's Daycare
14 Colbert Street, 878-4603
2 stars
Organic Kids
8 Murray Road, 879-7559
2 stars
Summit Street Elementary School
51 Park Street, 872-3266
4 stars
Y School Age Program at Essex
Essex Elementary School, 1 Bixby Hill Road, 350-2252
4 stars
Y School Age Program at Founders School in Essex
Founders School, 33 Founders Road, 350-2249
4 stars
Jericho
Good Shepherd Preschool
273 Route 15, 899-3989
5 stars
Saxon Hill School
7 Red Mill Drive, 899-3832
5 stars
Milton
Berry Patch Child Care
49 Strawberry Lane, 893-7822
5 stars
Charlotte Little
34 Villemaire Lane, 893-6625
2 stars
Diane's Day Care
48 Railroad Street, 893-4530
2 stars
Doodlebug Daycare
724 Route 7 South, 893-0530
2 stars
Imagination Island Child Care
52 Maplewood Avenue, 893-7501
5 stars
Little Feats Too
9 Checkerberry Square, 893-4569
3 stars
Milton After School Kids (MASK)
Milton Family Community Center, 23 Villemaire Lane, 893-1457
3 stars
Milton Family Community Center
23 Villemaire Lane, 893-1457
5 stars
Underhill
Child Works Preschool and Child Care
63 Timber Ridge Road, 899-4976
5 stars
Poker Hill School
209 Poker Hill Road, 899-3716
4 stars
Underhill/Jericho Preschool Program
6 Irish Settlement Road, 899-4676
5 stars
Winooski
Winooski Early Childhood Program
60 Normand Street, 655-0411
4 stars
Winooski Family Center
80 Normand Street, 655-1422
5 stars