Vermont's Step Ahead Recognition System (STARS) is designed to help parents evaluate programs that care for their kids. Sponsored by the Child Development Division of the Vermont Department for Children and Families, STARS assigns star rankings to participating childcare, preschool and after school programs.
The process is much more thorough than a simple site visit. To receive a ranking, programs must complete an application that assesses progress in five areas: compliance with state regulations, staff qualifications and training, communication and support of children, families and communities, providers' self-assessments and plans for improvements, and the strength of a program's operating policies and business practices. Simply by completing the process, programs demonstrate a desire to go above and beyond the minimum state standards.
The STARS coordinators assign applicants one to five stars. A single star means a program is new or examining its practices and working to improve them; a five-star ranking signifies that a program is established and outstanding in all areas. A ranking is good for three years, though each applicant must complete an annual review to maintain it.
STARS helps parents assess a program's quality and professionalism, and it can also save them money. Parents who meet the state's income eligibility guidelines may pay less for childcare if they enroll their children in programs with three, four or five stars.
Each month, Kids VT publishes an excerpt of the list of STARS participants. This month's "Seeing STARS" features participating programs in Bolton, Charlotte, Hinesburg, Huntington, Richmond and Shelburne. Find more information about STARS, a complete list of rankings, and other childrcare resources at dcf.vermont.gov/cdd/stars.
Shining Star: Charlotte Children's Center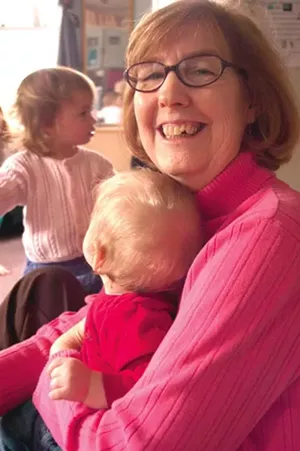 116 Ferry Road, 425-3328
Type of program: Childcare center
Year established: 1984
Age range of children: 6 weeks to 8 years old
Last field trip: Charlotte Volunteer Fire Station
Favorite rainy-day activity: Playing outside in the rain and in mud puddles. There's no bad weather; only bad clothing.
Favorite book, song or art project: Children incorporate lots of natural materials into their artwork.
Special programming: Offering our first-ever summer camp for 5- to 8-year-olds.
Bolton
Lisa's Playhouse
3215 Theodore Roosevelt Highway, 434-2570
3 stars
Smilie Preschool Program
Smilie Memorial School,
2712 Theodore Roosevelt Highway, 434-2757
5 stars
Y School Age Program at Bolton
Smilie Memorial School,
2712 Theodore Roosevelt Highway, 862-9622
4 stars
Charlotte
Charlotte Central School Early Education Program
408 Hinesburg Road,
425-6691
5 stars
Charlotte Children's Center
116 Ferry Road, 425-3328
5 stars
Charlotte Children's Center (Seekers)
116 Ferry Road, 425-3328
5 stars
Y School Age Program at Charlotte
Charlotte Central School,
408 Hinesburg Road, 862-9622
4 stars
Hinesburg
Annette's Preschool
96 Pond Road, 482-2525
4 stars
Hinesburg Community School Early Education Program
10888 Route 116, 482-2106
5 stars
Hinesburg Nursery School
Masonic Temple, 10856 Route 116, 482-3827
4 stars
Penny Blanchette
81 Hemlock Hill Road, 482-2516
3 stars
Huntington
Brewster Pierce Memorial School
120 School Street, 434-2074
5 stars
Y School Age Program at Huntington
Brewster Pierce, Memorial School, 120 School Street, 862-9622
4 stars
Richmond
Pam's Day Kids
3453 East Main Street, 434-2608
3 stars
Richmond Elementary Preschool
120 School Street, 434-2461
4 stars
Y School Age Program at Camels Hump
Camels Hump Middle School, 173 School Street, 862-9622
4 stars
Y School Age Program at Richmond
Richmond Elementary Preschool, 120 School Street, 862-2254
4 stars
Shelburne
Acorn Child Care
145 Pine Haven Shore, Suite 2013, 985-8118
3 stars
Adventures in Early Learning
17 Drew Lane, 985-9025
2 stars
Heart Works School— Shelburne
4066 Shelburne Road, 985-2153
4 stars
My First Friends Daycare
104 Marsett Road, 985-9160
4 stars
Puddle Jumpers Daycare
187 Oak Hill Road, 985-5426
4 stars
Shelburne Community School, EEE
345 Harbor Road, 985-3311
4 stars
Shelburne Nursery School
Shelburne Methodist Church, 30 Church Street, 985-3993
5 stars
Y School Age Program at Shelburne
Shelburne Community School, 345 Harbor Road, 862-9622
4 stars