Finding the right childcare provider or educational program for your kids can be a daunting task. Never mind securing a spot and paying tuition — how do you evaluate whether a program will follow through on its cheerful promises to nurture your child? How do you tell the difference between a provider that meets the minimum state standards and one that truly excels?
The state's Step Ahead Recognition System is designed to do just that.
Sponsored by the Child Development Division of the Vermont Department of Children and Families, STARS assigns star rankings to participating childcare, preschool and after school programs. The process is much more thorough than a simple site visit. To receive a ranking, programs must complete an application that assesses progress in five areas: compliance with state regulations, staff qualifications and training, communication and support of children, families and communities, providers' self-assessments and plans for improvements, and the strength of a program's operating policies and business practices. Simply by completing the process, programs demonstrate a desire to go above and beyond the minimum standards.
The STARS coordinators assign applicants one to five stars. A single star means a program is new, or is examining its practices and working to improve them; a five-star ranking signifies that a program is established and outstanding in all areas. A ranking is good for three years, though each applicant must complete an annual review to maintain it.
STARS helps parents assess a program's quality and professionalism, and it can also help them save money. Parents who meet the state's income eligibility guidelines may pay less for childcare if they enroll their children in programs with three, four or five stars.
Starting this month, Kids VT will publish an excerpt of the list of STARS participants in every issue. This month's "Seeing STARS" features participating programs in South Burlington and Williston. Find more information about STARS, and a complete list of rankings, at dcf.vermont.gov/cdd/stars.
Don't see your childcare provider on the list? Ask them why they haven't applied.
Each month, Kids VT spotlights one five-star program from the featured geographical area.
Sheila Quenneville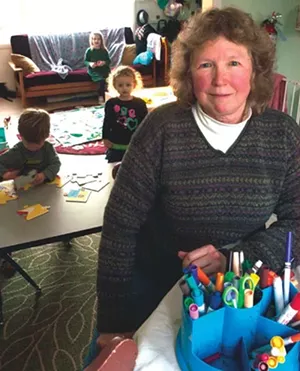 364 White Street, South Burlington, 863-6117
Type of program: In-home childcare
Year opened: 1986
Age range of children: 3 months through school-age
Last field trip: Jaycee Park, South Burlington
Favorite sensory activity: Making "oobleck" from cornstarch and water — it's like Play-Doh
Favorite art project: Painting watercolors on coffee filters
Most recent staff development activity: Three-credit course through the Stern Center for Language and Learning called Building Blocks For Literacy
Favorite children's book: Three Nasty Gnarlies by Keith Graves
South Burlington STARS Participants
Busy Bee's Preschool
3 Maryland Street, 863-2215
4 stars
Colleen's Day Care
5 Maplewood Drive, 489-0410
2 stars
Giggles Family Childcare and Preschool
70 Suburban Square, 264-5414
5 stars
Lund Family Center
7 Fayette Street, 861-2156
5 stars
Discovery Preschool
(Formerly known as Preschool of Faith United Methodist Church)
899 Dorset Street, 860-4370
5 stars
Sheila Quenneville
364 White Street, 863-6117
5 stars
The Children's School
173 Patchen Road, 862-2772
5 stars
Twin Oaks Kids & Fitness
80 Eastwood Drive, 658-0080
3 stars
YMCA Preschool at Orchard
Orchard School, 2 Baldwin Avenue
862-8993, Ext. 148 5 stars
Williston STARS Participants
Allen Brook School
497 Talcott Road, 879-5835
4 stars
The Bellwether School
1186 South Brownell Road, 863-4839
5 stars
Heartworks Williston
644 Blair Park Road, 985-2153
4 stars
Kinderstart Preschool
389 Wildflower Circle, 878-4947
5 stars
Little Rays of Sunshine
82 Stirrup Circle, 872-0030
1 star
Live Y'ers at Allen Brook
Allen Brook School, 497 Talcott Road, 862-9622
4 stars
Nadeau's Playschool
907 Marshall Avenue, 652-9800
4 stars
Williston Enrichment Center
82 Wintersport Lane, 846-9402
3 stars
Y School Age Program at Allen Brook School
Allen Brook School, 497 Talcott Road, 862-9622
5 stars