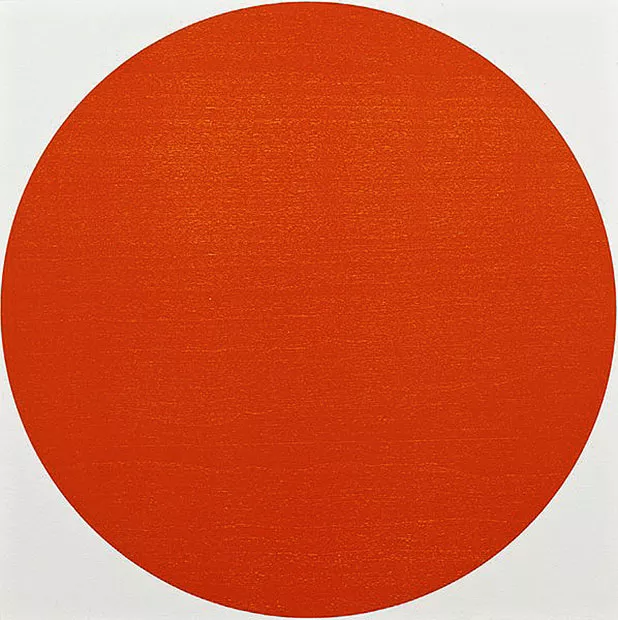 "Mepartricin" by Damien Hirst
mmDamien Hirst was the foremost figure in a group of cheeky artrepreneurs who instigated so much media clamor in the 1990s that they became known as the YBAs (for Young British Artists.) Now 47, Hirst is no longer young. So maybe he and a few of his peers should now be referred to as RBAs (Rich British Artists). According to the Times of London, Hirst ranks as the wealthiest living British artist, with a personal fortune estimated at more than $350 million.
Vermonters will have a chance to experience Hirst hype firsthand on Friday evening when the HAVOC Gallery in Burlington's South End presents two of his pieces. But don't expect to see "The Physical Impossibility of Death in the Mind of Someone Living," the 14-foot tiger shark suspended in a tank of formaldehyde that propelled Hirst to international notoriety. HAVOC also isn't hosting the dissected cow and calf, likewise preserved in formaldehyde, that so appalled animal-rights activists. (And a good thing, too: Vermonters enraged about Green Mountain College's recent attempt to slaughter and eat a pair of aged oxen would most likely go apoplectic at the sight of Hirst's "Mother and Child Divided.")
As it is, visitors to the airy venue on Sears Lane — also the BRM Design studio of metal artist Bruce R. MacDonald — might actually overlook Hirst's pair of colored woodcuts, if not for the crowd that's likely to gather around them at the reception. The small-scale, minimalist prints will prove typically controversial — not because of their visual oomph but because of their OMG price tags.
"Mepartricin" measures a mere 12 inches square; "Rhodotorulic Acid" is half that size. Each consists of a single colored dot on white paper — red in one case, dark orange in the other. In the larger work, the dot touches the edges of the plane, while blank whiteness takes up most of the 6-by-6-inch piece; its dot measures two inches in diameter.
Yup, dot's all, folks.
With Hirst's work, however, cost is as much the point as content.
MacDonald is offering "Mepartricin" for $6000 and "Rhodotorulic Acid" for $3400. He says he expects both pieces to find buyers in Burlington.
Then again, MacDonald might not be willing to part with them. "I'd like to hang on to one of them," he says while seated at a big wooden table in his gallery. MacDonald, who bought the prints from a dealer in London for prices he won't disclose, finds "there's something seductive about them." It's the pair's "purity" that accounts for their aesthetic appeal, he suggests.
It's the signature that garners their price, however. Without Hirst's illegible scrawl, the prints would be worth little more than the cost of materials and production.
Despite his defense of the woodcuts on artistic grounds, MacDonald concedes that to most viewers they won't look like much. "It's not very big," he says as he gestures to the larger of the prints. "It doesn't weigh much. It's just a piece of paper with some ink on it."
But "there's only 55 of them in the world," MacDonald continues. That's the number of prints in each of the two editions, which helps make the show at HAVOC a special event. The limited quantity will also serve to drive up the market value of both works, MacDonald predicts. "They're going to be worth a whole lot more money. The Chinese art market is just exploding," he points out.
The prints at HAVOC are part of Hirst's "pharmaceutical" series, which consists of what the artist terms "spots" that resemble enlarged pills. Spot paintings that he and (mostly) his assistants made over the course of 25 years were simultaneously displayed this past winter at 11 venues worldwide that make up the art empire of Larry Gagosian, the Donald Trump of gallerists — in scope, if not in egomania.
Following the path pioneered by Andy Warhol and picked up by Jeff Koons, Damien Hirst can most accurately be described not as an artist but as a showman adept at outraging traditionalists. He's crass and clever in equal measure, and also invulnerable to criticism. Hirst figured out early in his YBA career that there's no such thing as bad publicity. Reviewers who expend ink reviling his work only contribute, indirectly, to his already-bulging bank account.
So go to HAVOC and make your own judgments. But don't be surprised if you wind up spending far more time with MacDonald's own artwork than with the Hirsts on display. The dozen or so abraded stainless-steel "light sculptures" that overwhelm the two spot prints have a trippy, holographic effect that will mesmerize most viewers. MacDonald's creations also command attention simply on the basis of their visual allure. They actually reward the time a viewer invests in looking at them. The exhibit also includes minimalist sculptures by Joël Urruty and abstract wood panels by George Peterson.
Damien Hirst, Bruce R. MacDonald, Joël Urruty and George Peterson, HAVOC Gallery, Burlington. Reception Friday, November 16, 5 to 9 p.m.; also open Saturday, November 17, noon to 6 p.m. Regular hours Thursdays, 9 a.m. to 5 p.m.; First Fridays, 5 to 7 p.m.; and by appointment. Info, 800-639-1868. brmdesign.com/TheHavocGallery.asp