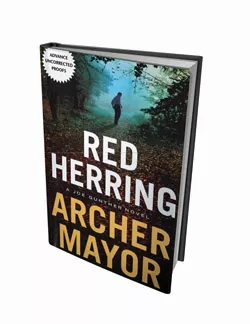 Archer Mayor seems like a good guy: He's a volunteer firefighter and EMT in Newfane, as well as a deputy for the Windham County sheriff's department and investigator for the state's medical examiner. So how is it that he keeps coming up with heinous ways to kill people?
In fiction, that is. Red Herring is Mayor's latest — and 21st — volume featuring former Brattleboro cop and current commander of the Vermont Bureau of Investigation Joe Gunther, not to mention the usual cast of characters on the force and in Joe's private life.
Also as usual, Mayor wastes no time knocking someone off. In fact, four someones: three middle-aged women and one young man with no apparent connection to each other except a chilling souvenir left by their murderer. Each of the victims' bodies is dotted with a single, rather ceremonial drop of blood — each one with a different DNA profile, none from the deceased. The arrangement suggests a uniquely diabolical serial killer and presents another layer of mystery for Gunther and his team to ferret out.
Like any good suspense-meister, Mayor starts his tale with a character performing mundane rituals: getting into her nightie, preparing a bedtime snack, turning on the tube … and responding to a knock from a late-night visitor who claims to have wrecked his car just up the road. So far, this could be anyone. But Doreen Ferenc becomes "vic" No. 1 for her simple act of compassion — unlike, thankfully, most Vermonters who open their doors to strangers.
Here we see Mayor's indisputable gift for conjuring malevolence and mayhem in a state where residents and observers alike believe such evil so rare as to be almost unthinkable. Even the occasional real murder in the news barely dislodges Vermonters from their sense of relative security, and the state's rep elsewhere in the country has more to do with maple syrup and progressive politics than crime.
But this is fiction, and Mayor's success in turning out a book every year for more than two decades — from a reputable publisher — testifies to his facility with the genre. Red Herring is no exception; the imaginative story is a page-turner. What is thoroughly grounded in reality, though, are Mayor's observations of place, climate, the Vermont psyche and even current statewide concerns, which enrich the narrative and prove beyond a doubt that the author lives here.
Vernon was a curious town. Lacking a traditional town center, and substituting a bland hodgepodge of buildings to house its police, library, and town offices, it had a power plant to give it identity. But this was no pestilence-belching, ancient coal burner — dark, sooty, and brooding. This was the same Vermont Yankee with its headquarters in Brattleboro — a huge, looming, concrete-hued nuclear facility with the obligatory cooling towers looking like outer space transplants. Yankee had made of its host town an odd contradiction of model community and hotbed of controversy.
Mayor's prose straddles the border between hard-boiled detective fiction and deliciously descriptive literature. One of his strong suits is creating indelible characters — the fleeting ones who populate each book and, in particular, the recurrent cast that defines a "Joe Gunther novel" as much as the chief himself. Throughout Mayor's series, these individuals have played larger and smaller roles depending on the story: His team of agents always includes the hardened, impossibly irascible Willy Kunkle, good-natured Lester Spinney and the devoted Sammie — as in Samantha — Martens. That Willy and Sammie are an oddly well-matched couple adds to the depth of their backstories.
Red Herring, however, is not "about" this crew; this time they just show up to do their jobs. What Mayor creates instead is a complex web of circumstances and relationships among the lives of the victims and, ultimately, a surprising link between the killer and his prey. Along the way, Gunther and his team employ the fascinating services of a state-of-the-art — and out-of-state — forensics laboratory to analyze the blood drops found at the crime scenes. Despite a high-tech "synchrotron light source" analysis, the blood initially fails to disclose useful information and seems to be the titular red herring. Yet its source eventually leads the detectives to the murderer.
This revelation, though, almost pales in comparison with a defining development in Gunther's love life near the end of the book — a drama involving his current girlfriend, Lyn Silva, and previous one, Gail Zigman, who happens to be running for Vermont governor. Suffice it to say it's a shocking tragedy, which will not be revealed here but is sure to shape ensuing books from Archer Mayor. If there are any. His fans will have to wait another year for that mystery to unravel.