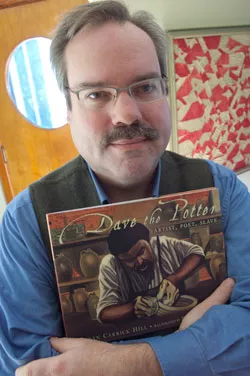 Matthew Thorsen
Laban Carrick Hill
When Burlington writer Laban Carrick Hill tells people his name, he is inevitably asked to explain it. The subject is already under discussion when we meet at August First.
"Laban — that's a fantastic name," enthuses the aproned young man who takes his order, guessing that it sounds "kind of Scottish."
Coincidentally, Hill's middle name, Carrick, is Gaelic for "rock crag," he says. But Laban is biblical, from the Book of Genesis.
"It goes back a couple generations," explains the mustachioed 50-year-old, after choosing a cramped, wall-side table next to the bussing trays. "I come from illiterate Christian Southerners, so I figure that somebody heard it in church and decided, 'Oh, what a great name.'"
You would think he'd leave it at that, a pat answer for a common question. But Hill's personal history — his identity as the descendant of uneducated white Southerners — has shaped him indelibly as a writer. Among the novels, picture books, essays, poems and commercial writing of his Joyce Carol Oates-sized oeuvre ("My publications CV is 12 pages long single-spaced, but a lot of it is crap," he says with a chuckle) are many works for young people that pointedly celebrate black culture in America.
His latest, Dave the Potter: Artist, Poet, Slave, is a picture book about a South Carolina slave who in the mid-1800s made pottery and adorned it with his own poems. Dave, which is itself written as a poem, has garnered a Caldecott Honor and high praise in the New York Times.
Due out in 2012 is Hill's next picture book, about DJ Kool Herc, the "godfather of hip-hop," as the author calls him. A third, recently completed but not yet scheduled for publication, is about Quincy Jones, the R & B legendary producer who is responsible for many of Michael Jackson's albums, among others.
Hill acknowledges that his respect for black cultural achievement deviates radically from — and perhaps tries to compensate for — the attitudes of his forebears. His father's father, he relates, lived in Covington, Tenn., near Memphis, where he ran a bootleg-liquor operation out of his car trunk, owned a gambling casino and moved around heavily armed.
"He was on the front lines of the fight against desegregation," Hill says ruefully. Though he declines to go into details, he's clearly pained by the thought. "He was a very violent man."
Hill's personal experience of the South is limited, but it was enough. Born in White Plains, N.Y., he lived in Memphis between the ages of 11 and 17 with his divorced mother.
"Legally, Memphis was no longer segregated," he recalls — it was the '70s — "but I went to an all-white school and lived in a part of town that was almost all black. We didn't have a lot of money, so I'd ride the city bus to school with only blacks. I would see this gulf. I knew something was terribly wrong."
Hill says he didn't really discover Southern black culture until he moved to New York City at age 17. In retrospect, he realized, "Before that, I was in this very protected, isolated community where racism just didn't exist, and black people were dangerous and scary."
During the 17 years he lived in the city, Hill earned a bachelor's degree in English at a City University of New York college and a master's in writing at Columbia — where he studied under Nobel winners Czeslaw Milosz, Joseph Brodsky and Derek Walcott, he notes proudly. He even took six months off to apprentice with Allen Ginsberg at the Jack Kerouac School of Disembodied Poetics in Boulder, Colo. Back in New York, Hill was visiting clubs and discovering the thriving scene of blues and hip-hop, sometimes through the jobs he took to finance his writing.
For one gig, as a market researcher for a Spanish-language television station circa 1980, Hill was required to walk through Spanish Harlem block by block, interviewing bodega owners about the kinds of laundry detergent they sold. "I would turn the corner and see 50 to 100 kids break dancing with a boom box spliced into the telephone pole," he recalls with excitement. "Then I started going to clubs in the Bronx and the East Village. I have no idea if I saw DJ Kool Herc or not," he adds, but he was thrilled to be on the scene of emerging new music.
Hill didn't just observe; he also researched, and still does — something he knows is required to establish credibility as a white man writing about black culture. In a 2009 essay for Smithsonian on the black opera singer Jessye Norman's rendition of Langston Hughes' Ask Your Mama: 12 Moods for Jazz, for example, Hill describes the poet's lines as "couched in the black urban expression known as the 'dozens.'" Hill extensively researched his young-adult book Harlem Stomp! A Cultural History of the Harlem Renaissance, which was a finalist for the National Book Award for Young People's Literature in 2004.
Hill's commitment to writing about black cultural achievement has resulted in some difficult moments. "Everybody thinks I'm black before I see them," he admits — including the National Book Award committee and most audiences who attend his standard Harlem Stomp! lecture. On one such occasion, at the African American Museum of Philadelphia, Hill recalls, "The director thought I was the caterer. Then, when he realized I was the author, he refused to introduce me; I had to introduce myself. But he bought a copy of the book in the end and asked me to sign it."
Hill perseveres in his fraught enterprise because of a deeply held belief: "To understand my identity, and to understand your identity as an American, one of the first places you have to go is African American culture," he says adamantly.
As a children's writer, Hill figures the story of racially motivated victimization has been told often enough. "Instead," he says, "I'm interested in how African American identity informs and shapes mainstream culture." He often quotes Ralph Ellison's observation that "whatever else the true American is, he is also somehow black."
Hill moved to Vermont in 1994 when his wife, photographer Elise Whittemore-Hill, got a job at EatingWell magazine. His residence here — in a state that's 96.2 percent white as of the 2010 census — strikes him as a "hilarious" irony, but it doesn't affect his commitment to advancing the local conversation about race. As a parent of two girls, now 15 and 19, Hill joined Diversity Now at its 2009 inception. The parent-advocacy group pushes for increased recruitment and hiring of teachers of color by the Burlington School District.
Hill's South End neighbor Stephanie Seguino joined Diversity Now at the same time; her 17-year-old son attended Champlain Elementary and Burlington High schools with Hill's children. She says his perspective was invaluable to the group. Hill "recognized the importance of white people advocating for diversity," says Seguino, an economics professor at the University of Vermont. "Laban's contribution was to form a coalition so that parents of color weren't seen as a special-interest group."
Hill could also articulate, she recalls, why it's just as important for white students to see diversity at the front of the classroom — countering the perception of white dominance — as it is for students of color to see role models there.
Hill feels a personal responsibility to speak out. As he sees it, "What white people learned from the civil rights movement is to keep their mouths shut. Being a white person talking about blacks, it is inevitable that I will say something wrong. But, if you keep your mouth shut, nothing will ever change." In particular, Hill says he wants to unsettle the "unconscious, unspoken racism" he sees around him "all the time."
"Laban tends to want to say the things that are important but don't get said," acknowledges East Montpelier children's author Laura Williams McCaffrey, who teaches creative writing with Hill at the low-residency Solstice MFA program in creative writing at Pine Manor College in Chestnut Hill, Mass. "I tend to write about individual, angsty girls," she adds with a chuckle, "and he writes about, well, Dave, who means something to society."
Seguino calls Hill "extraordinarily genuine." She serves on the board of the Writers Project of Ghana, a nonprofit Hill cofounded in 2008 to promote poetry writing and publication in the West African country. "He deeply desires to live a meaningful life," she avers.
That kind of dedication recently led the author to take on so many projects that he burned out. In the last year alone, Hill packed in a U.S. Department of State-sponsored lecture tour on creative writing in the Philippines and Indonesia, served on the judging panel of the National Book Awards, and facilitated an agreement with a Spanish company to help the Writers Project of Ghana provide students in six Ghanaian schools with Kindles preloaded with 100 books. These days he's restricting himself to teaching, writing and only one new project: tutoring young people at the HowardCenter.
Yet everything Hill does continues to be guided by a single pursuit. "I'm deeply interested in identity," he says — both American and his own. Where is he in exploring the latter? He throws up both hands.
Still climbing that rock crag.