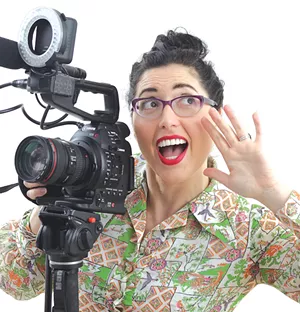 Matthew Thorsen
Eva Sollberger
Each week, Seven Days video journalist Eva Sollberger ventures out into the Green Mountain State to film an episode of her award-winning video series, "Stuck in Vermont." Whether taking a winter stroll with Vermont's poet laureate, touring the state's yummiest creemee stands or crashing the Demolition Derby at the Champlain Valley Fair, the endlessly curious host has a knack for capturing the essence of life here. No wonder her videos have been viewed more than 4 million times on YouTube alone.
In short, there's no better introduction to Burlington — and Vermont, generally — than a deep-dive into the "Stuck" archives. Don't take our word for it. Just ask Jennifer and Jesse Bliss, who moved their family from Florida to Vermont after binge-watching the series! (See "The Blisses Get Stuck in Vermont," episode 523.)
To get you started, Eva created the following beginner's playlist.
Champlain Valley Dinner Train
All aboard for a three-hour train trip! Eva rode the rails from Union Station in Burlington to Middlebury and back with other train enthusiasts, enjoying a three-course meal and cocktails in the Green Mountain Railroad's classic dining cars. Passengers caught a stellar sunset over Lake Champlain and harked back to the golden age of trains.
Above the Radar
During this three-day graffiti festival, more than 30 artists came together to paint a 260-foot wall at Burlington's King Street Ferry Dock. Anthill Collective organized the event to shine a light on aerosol art as an important global modern art form. The sunny weekend included live tunes, food trucks and waves of curious crowds.
Holi Festival of Colors
At the annual Holi Festival of Colors in downtown Burlington — organized by the Vermont Hindu Temple and Spectrum Youth & Family Services — participants threw colored powder on each other to celebrate spring, love and peace. The multi-hued crew marched down Church Street, inviting bystanders to participate and yelling "Happy Holi!"
Lakeview Cemetery Tour
Preservation Burlington's annual Lakeview Cemetery Tour brings history to life at the gravestones of notable residents. Says Eva, "If you want to learn about the rich history of Burlington, a visit to Lakeview Cemetery is a real treat."
Burlington Discover Jazz Festival
For 10 days in June, the Burlington Discover Jazz Festival delivers daily live music to dozens of downtown venues — not to mention 100 free shows. This episode captures a 2017 gig by Barika featuring Kat Wright at the top of a parking garage. A few hundred people attended to soak up the killer tunes and lake views.
Summer Preview
Eva hit up the Burlington waterfront on a sunny evening to ask people about their go-to Vermont summer activities. Their faves ranged from hiking Mount Mansfield to paddleboarding on the lake to catching a radical puppet show at Bread and Puppet Theater in Glover. Watch it for major summer inspo.
Penguin Plunge
Every February, more than 1,000 brave souls leap into the frigid waters of Lake Champlain and help raise hundreds of thousands of dollars for Special Olympics Vermont. In 2015, Eva took the plunge, too. And she's throwing down the gauntlet: "You're not a real Vermonter until you've jumped into a frozen Lake Champlain," she says.