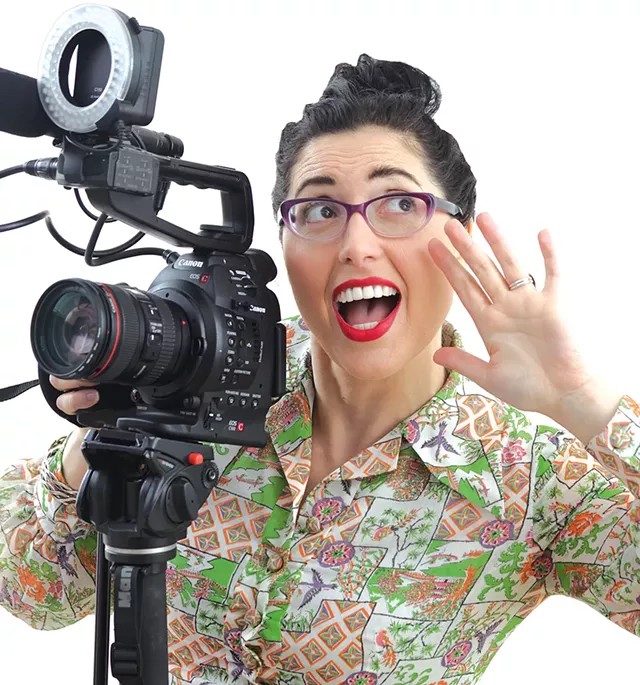 What does Vermont look like from the basket of a hot air balloon? From the passenger seat of a race car at Thunder Road? From the frozen surface of Lake Memphremagog? Eva Sollberger knows. Seven Days' senior multimedia producer has spent the past 12 years documenting every corner of the Green Mountain State for her weekly video series "Stuck in Vermont."
She knows what it's like to feel stuck here, too: When she was 7, her family moved from bustling Manhattan to sleepy Johnson, Vt., and she never felt quite at home.
"As a teenager, I was more of an awkward alternative-music listener," Eva explained in her series' 300th episode. "I didn't fit in, wore a lot of black. I was, like, the second person in my high school to ever do that."
After attending college in Massachusetts and living in California for a decade, she returned to the state and decided to embrace her surroundings — by filming them. Since 2007, she's been meeting Vermonters and finding out what it is that makes the state special.
Today, her show is nearing its 600th-episode mark. Watch it weekly at sevendaysvt.com. Start with the episodes below, which serve as a fun introduction to the various Vermonters who live here.
A_Dog Day
A_Dog Day is a celebration of skateboarding, art and music inspired by DJ Andy "A_Dog" Williams, a fixture in Burlington until he died of leukemia in 2013. His friends formed a nonprofit to provide arts education to underserved youth, campaign for bone marrow donors and throw an annual community party to keep A_Dog's legacy alive.
Diwali Night
Diwali Night is held every year on the University of Vermont campus to celebrate the Hindu festival of light. Organized by the university's Indian Student Association, it showcases the culture's emphasis on "victory over darkness and good over evil" through songs, recitations, Bollywood dancing and a delicious Indian feast.
March for Our Lives
At more than 800 protests around the world in March 2018, hundreds of thousands of people gathered to support survivors of gun violence and advocate for gun reform. That included about 2,500 people at the Vermont Statehouse in Montpelier. Eva spoke to the college students who organized the rally, interviewed people with creative signs and listened to young speakers who shared personal experiences with gun violence.
Spectrum's Detail Works
Spectrum Youth & Family Services runs Detail Works, a local car-detailing shop that employs teens and young adults as a way to help them learn the skills necessary to become successful members of the community. Eva spent an afternoon in 2018 getting cars squeaky-clean and learning how this job has affected one employee's life.
St. Albans Tractor Parade
Dozens of tractors and trucks decorated with holiday lights converged on a chilly December night in 2018 for this fifth annual parade. Eva hitched a ride with local dairy farmers on a hay trailer pulled by a John Deere tractor, and crowds of onlookers braved the cold to show their support for the farmers who make this state so great.
Deer Hunting Opening Weekend
Vermont's deer rifle season runs for a limited time in late November. For her first hunting trip, Eva joined the Vermont Fish & Wildlife Department's Tom Rogers in Stowe Hollow on the season's opening weekend in 2013. Then she hit up the Fly Rod Shop and the Jericho General Store to hear what hunters love about this Vermont tradition.
Burlington Mural Wall
In 2018, Vermont artist Jess Graham methodically covered a downtown Burlington wall with a colorful 206-by-16-foot outdoor mural. Outdoor Gear Exchange commissioned the Cherry Street project, which depicts open-air activities during all four seasons. After Graham blocked out the design, more than 40 volunteers showed up to help paint it.