Alice Levitt
Steve Ferraris
On the night of November 15 in Norwich, the sky was an endless expanse of black silk marred only by distant stars. And it was finger-numbingly, chill-you-to-the-bone freezing.
But at 1011 Route 5 North, 30 people chose to eat outside.
Some jockeyed for a spot by the bonfire behind Karin Rothwell's pottery studio. Others looked at an outdoor display of her wares: animal-shaped salt-and-pepper shakers; elegant, wavy-textured teapots; and green-stained, flower-shaped vessels. But those seeking warmth stood by Steve Ferraris and Kiflu Kidane as they lifted their pizza peels in and out of the fiery earth oven.
Some say hunger is the best sauce. But combine hunger with below-30-degree temperatures, and a steaming-hot mushroom-and-truffle-oil pizza fresh from a 900-degree oven might equal one of the best gustatory experiences money can buy.
Once four or five pies had disappeared (the herbaceous Margherita went especially fast), diners were invited inside the studio, adjacent to the home of married couple Ferraris and Rothwell. Tables were set with bottles of San Pellegrino and homemade crackers topped with rosemary and black pepper.
I shared a table with two retired couples, one of which never misses a dinner. "We always have them on the list. We just wait to hear from them if they can't come," Rothwell said. The couple knew to bring their own wine and were happy to share it with the rest of the table. Behind one large party, a chalkboard menu in Italian detailed the courses to come — all nine of them.
What started as a series of dinner parties among friends became a business four years ago this month. "I knew that I didn't want to open a restaurant," said Ferraris, an internationally touring percussionist whose credits include playing on Phish alum Mike Gordon's albums. "Owning a restaurant is all-consuming, and I have a lot of other commitments and interests. But I always enjoyed speculating what it would be like."
When a group of Ferraris' qualified friends expressed interest in helping him find out, Osteria Chiara al Forno was born — and named for his now-teenage daughter. Dinners are served one day a month to guests who reserve by email.
Illuminated by a few strands of strategically placed Christmas lights, geriatrician and professor Daniel Stadler served up a Dickensian-era flaming punch. He isn't the only staffer with a day job. Ferraris has taught African drumming at the University of Vermont for a decade. Kidane is the lead singer and dancer of their Afro-pop ensemble New Nile Orchestra. Pastry chef Linda Hazard spends her days as a physical therapist.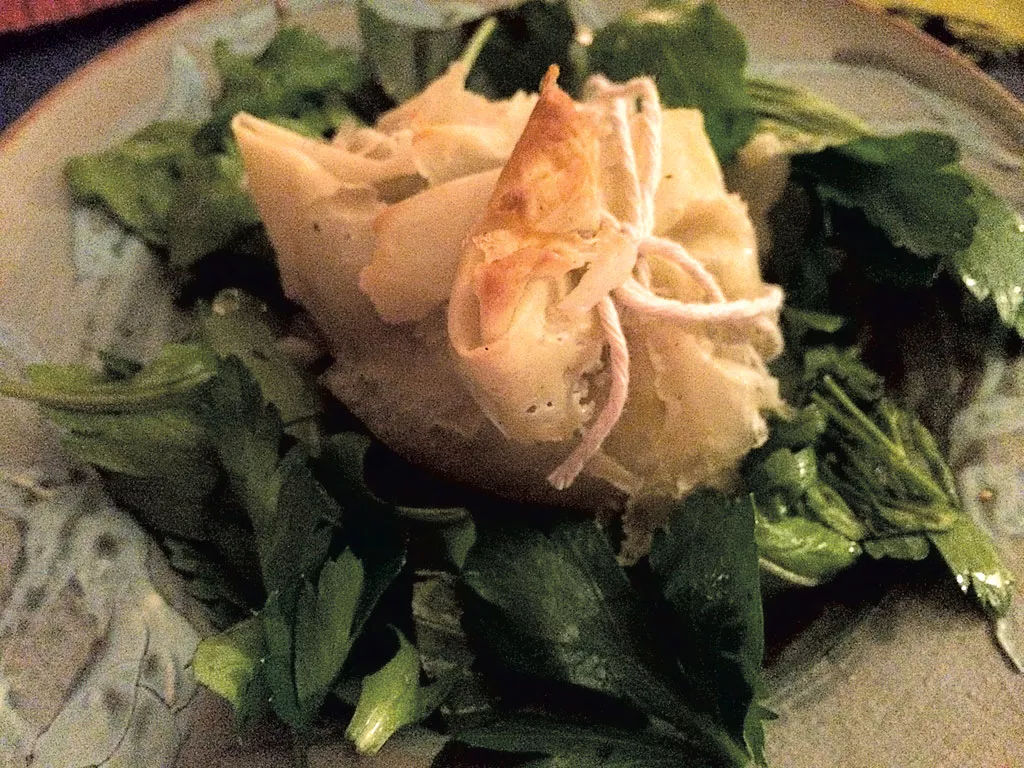 Alice Levitt
Monkfish basket
In fact, most of the dozen or so paid and unpaid staff work in the medical field. With its infrequent service, their underground restaurant is more about what one guest that night called "love on a plate" than pulling a profit. Ferraris said the dinners bring in roughly the same amount of income the couple earned by renting the space as an apartment.
Each month before Osteria's dinner, Rothwell's studio is transformed. "Where there was clay on the floor a week before, you're eating there," Rothwell said. "It's a big move." So big that she has to ply her trade in three-week cycles, regularly transporting her supplies to the basement, backyard and anywhere else she can stash them out of the way.
But it's worth it: At the meal, diners eat and drink from more than 200 of Rothwell's one-of-a-kind, earthy, textured vessels in seemingly innumerable hues of blue, green and brown. Made specifically for the events, the dishes are available for diners to purchase. At the November dinner, one guest bought all 10 of the plates that he and his tablemates used.
As service began, a few curtains separated the four tables of 30 diners from the tightly packed kitchen staff. Ferraris and Kidane had moved inside, where the latter madly washed dishes. Stacey Wilson and Hazard's son, Jack, joined the kitchen crew. The Stadlers' son, Henry, and the host couple's son, Cyrus Rothwell-Ferraris, were home from college to assist the three generations of friends who pitch in to make the dinners happen. Daughters Chiara Rothwell-Ferraris and Lily Stadler were servers, crisply dressed in black slacks and white button-downs.
The girls began their work by carefully explaining each of the cinque sapori on the antipasto plate. According to Ferraris, his five-item signature dish is meant to replicate the experience of eating family-style antipasti in Italy, but it's served on individual plates for diners who prefer not to share.
Three ricotta gnocchi, crisped in browned butter, crowned each plate, covered in fat squiggles of balsamic reduction. A rectangle of polenta came topped with roasted peppers, beside a tall chunk of cheesy eggplant Parmigiana.
At the last minute, Ferraris had come across a stock of smelt. He served them marinated and covered in fresh herbs. Fish also appeared in battered, deep-fried sage leaves stuffed with anchovies. The salty, greasy bite bloomed with the combined flavors of Italy and Vermont.
Alice Levitt
Cinque sapori
This fusion is a touchstone of Osteria Chiara: Italian cuisine with a Vermont terroir. For the zuppa course, Ferraris had made a ribollita using the last of the family's late-fall crops. Butternut squash filled homemade ravioli dusted with lemon zest and gingerbread crumbs. "The foundation of authentic Italian cooking is really to work with the freshest, highest-quality ingredients," Ferraris remarked. "In many ways, that's the secret. If you're working with fresh, local, high-quality ingredients, you're halfway there."
Ferraris had a specific tradition in mind when he named his restaurant an osteria. Most eateries in Italy are categorized as a ristorante, trattoria or osteria, in descending order of formality. Osterie are often located in homes or inns that serve homestyle food.
Ferraris came to love the osteria experience in 1994, when he toured Italy regularly with the band Michael Ray & the Cosmic Krewe. Since then, he's made it back to the motherland a couple of times a year, always eating ravenously — and studiously. Some of his most memorable meals occur when a native musician introduces him to a favorite eatery, he says. "It always ends up being a long drive on a country road to some estate or house in the country — getting out of the car and smelling the wood-burning grill or oven," Ferraris described.
His own menu isn't dogmatically Italian. Rather, it's full of unexpected delights, like unwrapping edible presents each month. At this meal, chunks of mint-dressed monkfish were wrapped in phyllo-like Moroccan warqa pastry that son Cyrus had made from scratch.
An email sent to attendees the day before the dinner promised a surprise entrée. The Italian word "coniglio" written on the chalkboard stumped most attendees — which is just what Rothwell intended. "When people hear 'rabbit,' they might be turned off," she said. With the reveal delayed until just before serving time, diners didn't have time to panic before they found themselves tearing into the tender white meat.
Ferraris had picked up his 10 pounds of coniglio from a small farm in East Randolph on the way home from his UVM class the previous Thursday. Sarah Natvig of Black Krim Tavern introduced him to that farmer, and to a guinea-fowl grower. Instead of using his usual homemade chicken stock for the restaurant's soup, Ferraris prepared guinea-fowl broth and braised the rabbit in it. The guinea's high fat content kept the rangy bunny moist atop its bed of coarsely ground, creamy polenta.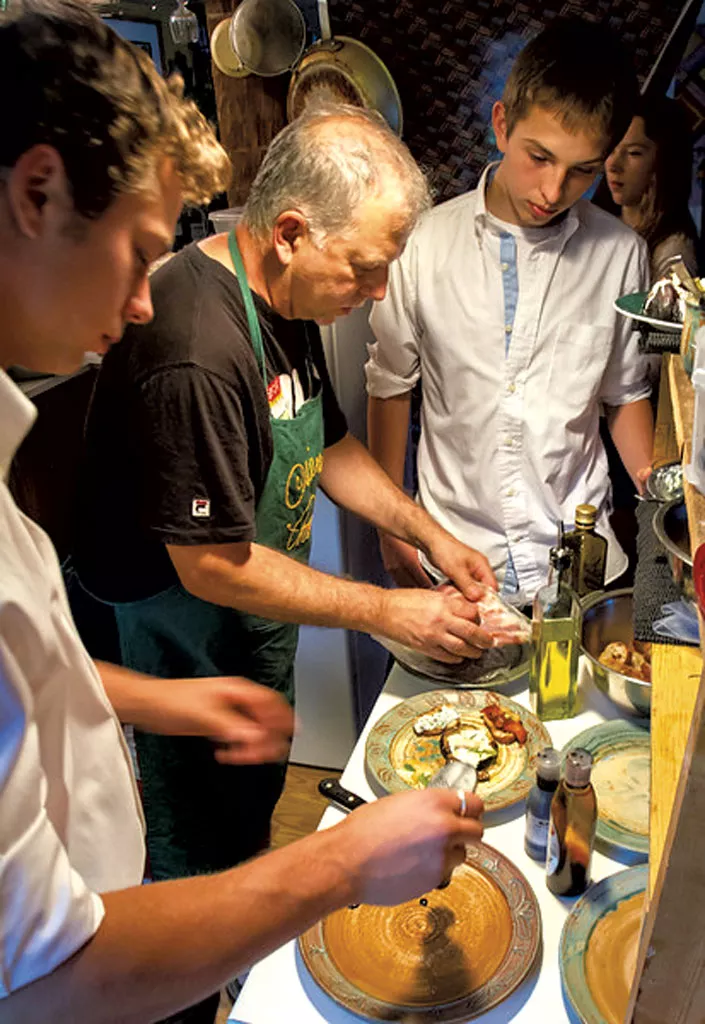 Ferraris built the domed earth oven he uses for his monthly meals. The large mound has 10-inch-thick walls; it takes nearly a day for the rustic appliance to cool down. Once it's heated, even in February, it only takes three minutes to bring a pizza from raw dough to bubbling cheese and crust, allowing Ferraris to serve his dinners year-round. Typically, pork roast, beans and potatoes might emerge from the oven throughout a meal; on this particular night, however, only the thin-crust pizzas and focaccia served with the cheese course were cooked outside.
Building earth ovens has become one of Ferraris' calling cards. The small oven in front of ArtsRiot in Burlington is the handiwork of one of his classes, though it can't be used until it has been placed on a trailer with a license plate to comply with the city's ordinance outlawing open fires.
While Ferraris may not be turning out pizzas at ArtsRiot any time soon, he is open to serving Osteria Chiara dinners at locations outside his wife's studio, and sans magical oven. He said that "quite a few times," he and his team have prepared multicourse meals for company dinners and special events.
Not that Osteria Chiara isn't a special event in its own right. Dinner wound down with coffee service — Italian espresso, certo — and ricotta-stuffed pears burnished with caramel sauce. The din surrounding the dinner died down as the multigenerational guests exchanged email addresses. Many would see one another again at the next meal on December 6. Ferraris said future dinners will take place on the first Saturday of the month.
"This whole concept really captures people's imaginations," he said with satisfaction. "People come because it's captured their imaginations before they come. Then, once they experience it, they want to tell other people about it."
If the Osteria Chiara crew keeps it up, their restaurant may not remain underground for long.
INFO
Osteria Chiara al Forno, 1011 Route 5 North, Norwich, 649-5136. The next dinner will be served on December 6. Email 4osteriachiara@gmail.com for reservations. osteriachiaraalforno.blogspot.com
The original print version of this article was headlined "Notes From Underground"