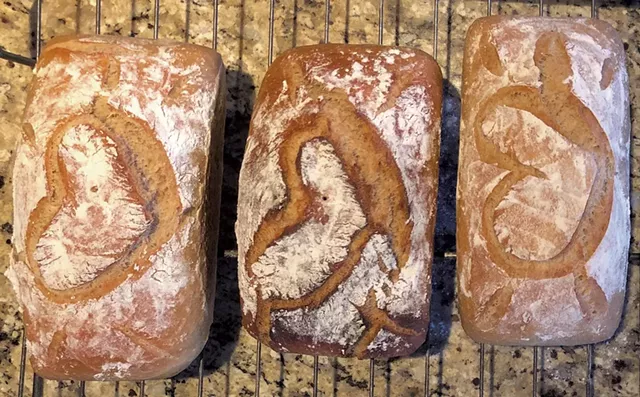 Courtesy Of Mary Jane Dieter
Bread Fairy loaves
The year 2020 has been a roller-coaster ride for restaurants and other food businesses. In mid-March, the State of Vermont ordered restaurants and bars to close to curb the spread of the coronavirus. The rules were relaxed in late May, and restaurants reopened with restrictions in place. Current regulations limit restaurant diners to one household per party.
As rules shifted, so did the food and beverage industry. Takeout took off, and restaurants offered groceries and other provisions along with meals. Bars mixed cocktails to-go. Heat-and-eat meals popped up at farms, general stores and at least one brewery.
On the consumer end, demand increased for locally grown and produced goods, from beef to beets. Farmstands expanded their offerings, CSAs added members, and farmers morphed into truck drivers and made food drops on front stoops. Baking bread became a trendy activity — and a neighborly one, with some making loaves for folks in need.
The Seven Days food team checked in with a "bread fairy" in Williston and other people and businesses we covered in 2020 to see how their stories have evolved over this eventful year.
— S.P.
A COVID-19 Fairy Tale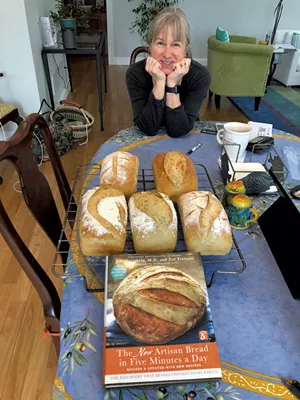 Courtesy Of Mary Jane Dieter
"Bread Fairy" Mary Jane Dieter
Mary Jane Dieter has baked 179 loaves of bread for 70 different households, but it only took one loaf for her to earn the title of the "Bread Fairy."
On March 23, Dieter posted on the Williston Front Porch Forum that she and her husband, Steve Kuhn, "would love to make homemade bread for those who are quarantined in their homes."
Dawna Pederzani took Dieter up on her offer. As a self-described pessimist, though, she admitted she was shocked when a warm loaf showed up outside her front door. Pederzani, the founder of Vermont English Bulldog Rescue, was busy in a kennel when Dieter snuck up and delivered the bread.
"One of the rescue volunteers said, 'Is there some reason that you have a loaf of bread sitting on your front step?'" Pederzani recalled. "I remember stopping and looking at her, and my brain was blank — What are you talking about, a loaf of bread? Then: Oh, my God! A loaf of bread! It's really here."
As they gathered to share the bread, Pederzani's daughter, Liana, exclaimed, "It's kind of like she's the bread fairy!"
The name stuck. On a subsequent delivery, Pederzani caught Dieter in the act and told her about the fanciful title she'd earned.
"It was heart-skip-a-beat delightful," Dieter said. "I felt seen. And it felt like what I did mattered."
Dieter's follow-through made such an impact on Pederzani that she decided to share the story of the Bread Fairy in a children's picture book. In 35 years as a foster parent, Pederzani said, she's read more children's books than she cares to remember. It wasn't a genre she planned on exploring as an author. But kids seemed like a good audience for the story's message: In a time with little to be hopeful about, good things are still happening.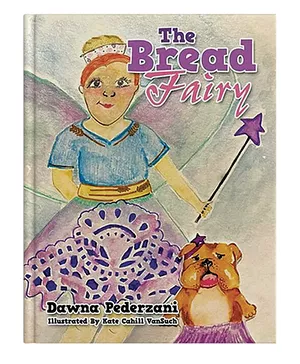 Courtesy Of Dawna Pederzani
The Bread Fairy by Dawna Pederzani
When she asked Dieter for permission to document her good deeds in a book, "she was astonished," Pederzani said. "I don't think she understood the impact she had on the folks that were touched by it."
"I feel like I've gotten way more out of it than Dawna," Dieter said with a laugh. "Though she did get a book."
Pederzani published The Bread Fairy, with illustrations by Kate Cahill Vansuch, via AuthorHouse in November. The Bread Fairy and her family have since moved to Waitsfield, where she is once again offering warm loaves of bread to her neighbors, baking happily ever after.
The Bread Fairy by Dawna Pederzani, illustrated by Kate Cahill Vansuch, Authorhouse, 34 pages. $20.99. Learn more at thebreadfairy.net. Find recipes and instructions on how to be a "bread fairy" in your community at thebreadfairy.org.
— J.B.
Struggles and Silver Linings
Courtesy Of Shiftmeals
Jackie Major (left) and Kortnee Bush at Butch + Babe's
In mid-March, we started covering how restaurants were coping with the emerging pandemic. Our March 25 issue highlighted the responses of four restaurants. One of them was China Max in CityPlace Burlington, whose co-owner, Yuki Wu, said she and her husband had reluctantly decided to close their doors. "It is a tough time for every restaurant," Wu said.
We've continued to cover how restaurants, one of the hardest-hit sectors of the local economy, are weathering this incredibly tough time. Here is an update from the March 25 quartet.
China Max will not reopen in CityPlace, Wu confirmed. The family is looking for a new space to serve up their American Chinese favorites and Mandarin-menu dishes, such as tripe dry pot.
Also in downtown Burlington, Bistro de Margot had a strong summer with expanded outdoor seating. Since then, though, on-site dining has slowed to a crawl: Chef-owner Hervé Mahé reported just 30 meals served over five recent days. He has turned away many patrons who do not meet quarantine requirements — "a tough call, because we all need the cash," he said.
Federal and state grants and loans have been "lifesavers," Mahé continued. "The state helped us out. The town closed the streets. The landlord helped us out. That's why we're still here."
A recently launched online ordering system minimizes distractions for the skeleton crew. A deli case supplements the regular menu with grab-and-go items, such as quiches and chocolate mousse.
With tight cost control, "I think we will be able to float," Mahé said. He must stay positive, he added, "or we would cry all the time."
For Kortnee Bush, owner of Butch + Babe's in Burlington's Old North End, the hardest part of 2020 wasn't business-related. Her grandmother, Babe, for whom the restaurant is named, died this summer two months after a brain cancer diagnosis.
While Bush spent time with her family, executive chef Jackie Major and a small crew launched takeout favorites, such as Major Tso's cauliflower and the Big Butch burger. Major and Bush chose to stick with takeout-only, with sales amounting to about one-third of normal revenue.
In October, Butch + Babe's started working with the statewide program Vermont Everyone Eats (see "Eat It Up," below). By the end of 2020, the restaurant will have cooked more than 6,000 meals for Vermonters in need, receiving $10 for each.
"Everyone Eats has really been keeping the lights on," Bush said. It's also buoyed spirits. One particularly "shitty week," she recounted, "we got a thank-you note from a single mom ... Our eyes just welled up."
That program is due to end with 2020, and Bush is nervous about the future. "Everyone knows restaurants only make money when the house is packed," she said. Will enough people want "to be elbow to elbow with a stranger"?
In March, Bobcat Café & Brewery in Bristol scrambled to launch a lower-priced, abbreviated takeout menu. It also chose to stay focused solely on takeout after indoor dining returned. "It was working, so we just kept doing it," chef and co-owner Erin Wheeler said.
Wheeler acknowledged in March that "Restaurants are pretty unsustainable, but I've never felt brave enough to change anything."
Since then, Bobcat has braved some changes, and that's where Wheeler finds a silver lining to her situation. One change that will stick is being open only five nights a week. Another is paying every employee $15 an hour and splitting tips evenly.
Thanks to generous tips, that means a line cook averages $25 an hour instead of the pre-pandemic $12. "It feels so good," Wheeler said.
— M.P.
Double Down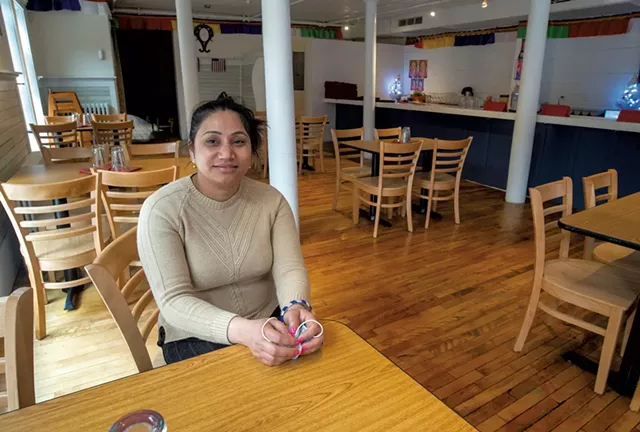 Jeb Wallace-brodeur
Krishna Paudel at Indian-Nepali Kitchen
In a year fraught with challenges for the restaurant industry, a number of new restaurants bucked the tide by opening their doors for the first time, including Deep City in Burlington, the Drake Bar and Kitchen in St. Albans, Rockers Pizzeria in Vergennes, and Umami in Stowe.
One local restaurateur, Krishna Paudel, opened not one eatery but two: Kathmandu Restaurant in St. Albans and Indian-Nepali Kitchen in Montpelier, both specializing in Indian and Nepalese cuisine. The South Burlington resident owns the restaurants with her husband, Randeep Paudel. She was the founding owner of Everest Indian-Nepali Restaurant on Williston Road, which she sold to relatives to embark on her new businesses.
"Spending the money to build a restaurant is very hard," Paudel, 35, said, noting that a pandemic is a particularly risky time to make that investment. But she wanted to bring the traditional foods of India and Nepal to Vermonters who live outside Chittenden County.
"My friends [in Montpelier], they gave me some strong hope," Paudel said. "They said, 'Hey, why don't you bring your restaurant to Montpelier?' And I spend my money here.
"I like Montpelier and St. Albans because they are small communities," she added. "The people are very nice."
Since the summer, Paudel's two restaurants have been open for in-house lunch and dinner with COVID-19 restrictions in place, but takeout is the strongest component of her business, she said. Customers opt for traditional favorites such as kormas, curries, saag paneer, dumplings and pakoras, she added.
Jeb Wallace-brodeur
Chicken tikka masala at Indian-Nepali Kitchen
In Montpelier, India-Nepali Kitchen occupies the space Down Home Kitchen vacated a year ago. The surroundings remind Paudel of Nepal. "We like it. It looks like my country," she said. "There's wood everywhere."
While some restaurants opened during the pandemic, others have struggled to avoid succumbing to it. Right now, Vermonters are being asked to help save a Burlington restaurant.
New ownership of a long-established business turned out to be risky for chef Neil Solis, who purchased the Daily Planet in January 2020 with his wife and two business partners. Close to a year later, Solis announced a crowdfunding campaign to raise $50,000 to keep the business afloat.
"We've been operating at a loss since we opened (never mind the 4+ months we spent closed), and with our business reserves dwindling we stand at risk of closing the doors on this almost 4-decades old Burlington landmark forever," the plea for funds reads. "Can you help save The Planet?"
— S.P.
Eat It Up
Courtesy Of Justin Barrett
Piecemeal Pies' chicken-and-leek pies for Vermont Everyone Eats
In a year of unpredictability, chef-owner Justin Barrett of Piecemeal Pies in White River Junction came to rely on one steady source of business: the 160 meals his restaurant prepared every week for seniors in the Upper Valley.
The Piecemeal Pies meals were part of the Vermont Everyone Eats program, a $5 million initiative funded by CARES Act relief money. Rising from grassroots efforts around the state to address a double problem — food insecurity and ailing restaurants — Everyone Eats was formalized over the summer with a state allocation of federal funds.
The program pays restaurants $10 a meal to prepare food for Vermonters in need. Restaurants often partner with social service agencies to distribute the food.
At Piecemeal Pies, 60 to 80 percent of the ingredients in the meals were locally sourced, Barrett said. On Thanksgiving, he served organic turkey — brined and roasted with herbed butter under its skin — with gravy, wild mushroom stuffing, parsnip-potato mash, delicata squash with garlic and chile, juniper-cranberry sauce, and chocolate-bourbon-pecan pie. Other menus have included macaroni and cheese with local chorizo and spinach, organic greens and herb salad; and chicken-and-leek pie with parsnip-potato mash and salad.
"When you're eating food that is nutritious and flavorful because it's organic and picked that morning, you feel more fed," Barrett said. "And you generally feel better inside."
Barrett estimated that the $1,600 weekly payment he received from Everyone Eats covered a third of his payroll. Organic vegetables that he purchased on Wednesdays from Root 5 Farm in Fairlee became part of meals that the Thompson Senior Center in Woodstock delivered the following day to seniors in the area.
"It has been such a financial lifeline," Barrett said. "The dollars come to us, and we send it to other farms in our neighborhood. And the food goes to people in the neighborhood. So it really is a closed-circuit community."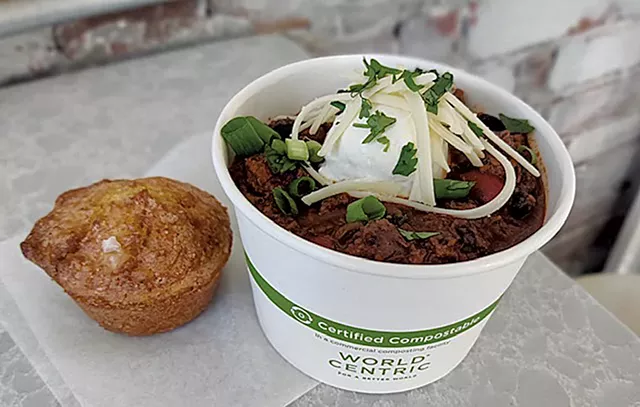 Courtesy Justin Barrett
Piecemeal Pies' chili and corn bread for Vermont Everyone Eats
Piecemeal Pies is one of roughly 120 restaurants that has participated in the program since August, according to Southeastern Vermont Community Action, the Westminster nonprofit that administers Everyone Eats.
Through mid-December, Everyone Eats served about 370,000 meals at no cost to the recipients, according to Carolyn Sweet, SEVCA's director of planning and development. The meals were prepared with food from 165 local farms. The program requires that restaurants use a minimum of 10 percent local ingredients, but the actual figure is about 28 percent. Roughly 120 restaurant jobs were maintained due to Everyone Eats, according to Sweet.
In Woodstock, an elderly recipient of the weekly meal from Piecemeal Pies expressed her gratitude in a video. Looking into the camera and holding her dinner, the woman said she and another "girl" in her affordable-housing complex were "absolutely loving these pies."
"We look forward to it very much," she said. "It's delicious."
An infusion of new funds supported Everyone Eats through the end of December. Without additional funding from a source like the federal government, the program will end with 2020, according to organizers.
— S.P.
Popping In
File : James Buck
Curly Girl Pops
This winter, like every winter, Curly Girl Pops is hibernating. The seasonal nature of the popsicle business is one of the few things that remained constant for Arealles Ortiz in 2020.
In the spring, Ortiz decided to skip farmers markets and deliver her plant-based pops directly to customers. She crafted and hand-wrapped each batch of Blue Magic, Sweet Mango and Radical Razz in her certified home kitchen in Montpelier before heading out with packed coolers.
By the end of popsicle season, Ortiz had fully transformed her business into a wholesale one, adding her fruit- and veggie-packed treats to the freezers at the Roots Farm Market in Middlesex, Little Gordo Creemee Stand in Burlington and the Plainfield Co-op. She partnered with Brattleboro-based distributor Food Connects to expand to other area co-ops and farmstands.
"Turning towards wholesale was a really great way to get my product out there faster and in larger quantities," Ortiz said in mid-December.
Despite that expansion, her 2020 sales were half those of 2019. "It wasn't a year for sales," she said. "It was a year for growing my brand and connecting to systems that will help me sell my product better."
Grants from the Vermont Agency of Commerce and Community Development's Expanded Economic Recovery Grant Program and the Hunger Mountain Cooperative Community Fund made up most of the difference. Ortiz will use those funds to turn a utility trailer into a commercial kitchen, which she hopes will be ready by fall 2021. She looks forward to the flexibility of a mobile space and to producing pops somewhere outside her home — even if it's parked in her driveway.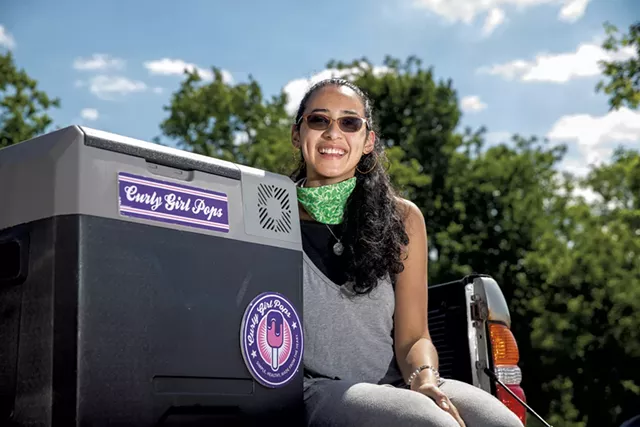 File : James Buck
Arealles Ortiz of Curly Girl Pops
Curly Girl and other BIPOC-owned businesses received an influx of social media followers this summer, but Ortiz said some of the attention didn't feel genuine — especially when people messaged suggesting "quick fixes" to help her business.
"That didn't resonate with me, because people were being really half-assed," she said.
But she'll take the positive connections she made with businesses and community members into next summer, along with her new business model.
"So many unexpected things happened this year," Ortiz said. "I just have to take what I can from the situation."
— J.B.
State of the Market
File: Jeb Wallace-brodeur
The Capital City Farmers Market on Taylor Street
After publication, Capital City Farmers Market in Montpelier announced its winter plans; this article has been updated to include them.
As they learned to comply with pandemic protocols, farmers market managers around the state added new skills to their résumés this year: crowd control, tape-measure wielding, sign making, route planning, website building.
"I really didn't expect to be adding tent setup to the list," Capital City Farmers Market manager Keri Ryan said with a chuckle. "We paid $5,000 for a 6,000-square-foot tent, and then had to figure out how to set it up."
Ryan got the tent up with the help of volunteers, and on November 21, the Montpelier market hosted 40 vendors for its annual Thanksgiving market inside. It was a historic event: the first market ever held on the Vermont Statehouse lawn.
It was also the latest in a string of new locations for the market, which moved from 2 Taylor Street to 133 State Street in September. The Statehouse move was only for that one celebratory day; market membership has voted to stay at the State Street lot for the 2021 summer season, Ryan confirmed.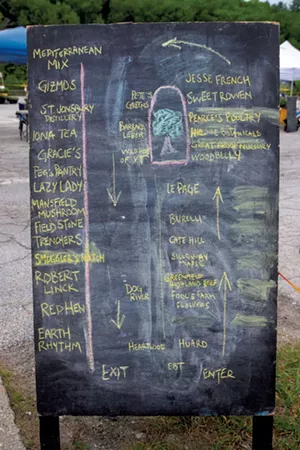 File: Jeb Wallace-brodeur
Capital City Farmers Market map
In an email, she called 133 State Street "a wonderful home for the market, with green space, trees, plentiful parking and safe access for anyone walking from downtown. We're hopeful that this could be a long-term home for the market."
In winter 2019, the Capital City Farmers Market held an indoor market in Caledonia Spirits' Montpelier distillery on Gin Lane. "Unfortunately, hosting an indoor market this winter just isn't an option," Ryan wrote. The market's board evaluated different possibilities, including online platforms that other Vermont markets use for direct ordering and pickup.
On December 30, the market announced that it will host outdoor winter markets on the second and fourth Saturday of each month at 133 State Street, beginning January 9, 2021 and running through April."
Despite 2020's challenges, Ryan said, customers made it clear that the market is an asset to their community. "Our main goal as a market was to continue to provide fresh, local food," she wrote. "I was amazed that some of our vendors had their strongest sales of many years."
— J.B.
What's in Store?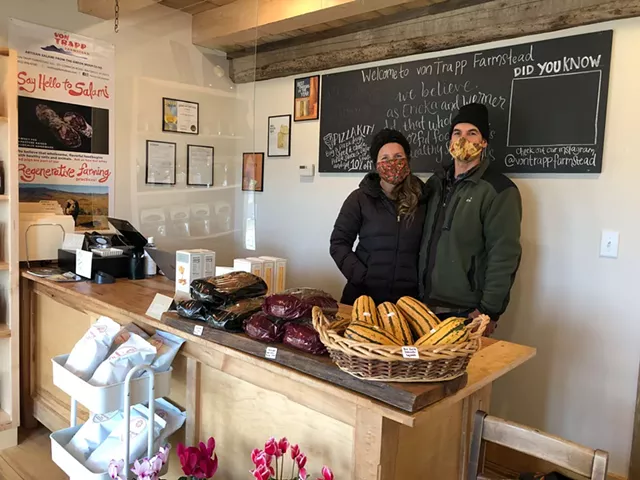 Jordan Barry ©️ Seven Days
Molly Semler and Sebastian von Trapp at the von Trapp Farmstead farm store
By early May, it was clear that 2020 would bring a bumper crop of business to Vermont's farmstands. The continued demand has some farms winterizing their stands to forgo their usual seasonal slumber. And new stands are still popping up: At the beginning of November, Waitsfield's von Trapp Farmstead opened its first-ever farm store.
"We always wanted a legit farmstand, and the pieces never came together," said Sebastian von Trapp, who started the cheese business on his parents' farm in 2009. The organic creamery has spent most of the past decade shipping its cheeses all over the country through distributors, which left the owners not always sure where their wheels of Mt. Alice or Savage would end up.
"When the pandemic happened, it became really clear that a lot of our cheese was going into high-end restaurants and cheese shops," said Molly Semler, cheesemaker and von Trapp's partner. "Overnight, we lost 50 percent of our sales. But, as you can imagine, the cows don't stop making milk. So we shifted really quickly."
At first, that shift involved adding curbside pickup and reducing prices to draw locals to the farm. By April, von Trapp was clearing out the northwest corner of the barn — where his grandmother had once raised sheep — to build a permanent farm store.
Von Trapp handled most of the renovation details, Semler said, because she was on maternity leave with the couple's twins, born two and a half months before the start of the pandemic.
Eight months later, the couple opened their bright, cozy 320-square-foot store. The coolers and shelves are stocked with the farmstead's cheeses and meats, as well as vegetables, eggs, butter, maple syrup, prepared foods, crafts, beer and wine. Many of those goods are sourced from the Mad River Valley.
"It's a limited space, and we really thought about where we draw the line," von Trapp said. "We carry everything we like."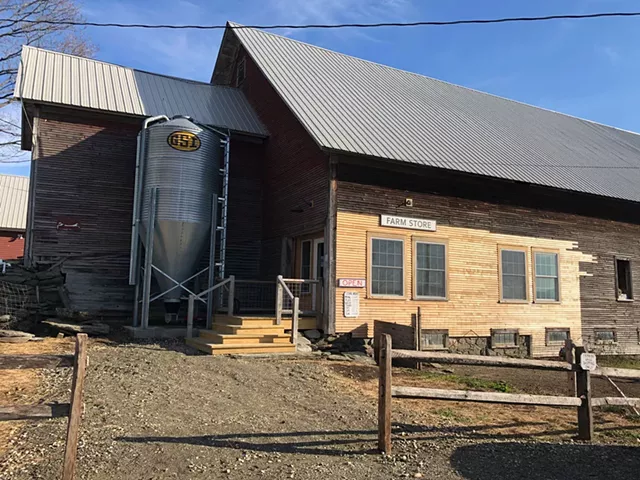 Jordan Barry ©️ Seven Days
The von Trapp Farmstead farm store
"We want it to be a place where you can buy our products, obviously, but also get your basic groceries and really high-quality products from right around here," Semler added. "We know how hard it is to make food, so being able to support other producers is really cool."
Attached to the store is a new processing space where employees will cut and wrap cheese and pack gift boxes to ship to customers around the country.
As von Trapp Farmstead increases its presence in the Valley, its selection of everyday staples is also expanding. One is Mad River Shred It, a less expensive fresh cheese ideal for topping tacos and pizza. As soon as the equipment arrives, the creamery will start producing yogurt.
"It's a direction that we're psyched to go in, reengaging with the local community," von Trapp said.
— J.B.