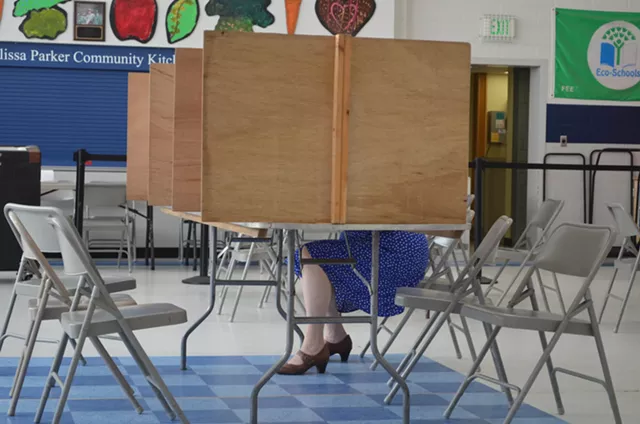 File: Alicia Freese
A voter in Burlington's Old North End.
Is Vermont ready for another crack at ranked-choice voting? A coalition of lawmakers is hoping so. They'll have to overcome bad memories among many Burlingtonians, who tried a similar system in the 2000s but abandoned it after five years. House bill 444 would implement ranked-choice voting in some Vermont elections. So far, most of its backers are Progressive and independent lawmakers, but two Democrats have signed on as cosponsors.
Ranked choice works like this: In elections with more than two candidates, each voter ranks the hopefuls from most favorite to least favorite. If no candidate wins a majority, the last-place finisher is eliminated. That candidate's votes are then assigned to their voters' second choices — and so on, until someone gets a majority.
The idea is to allow voters to choose freely among all candidates. In the current system, many feel the need to confine their choices to the major-party offerings.
"All my life I've experienced the feeling of having to vote for a candidate I don't really support, for fear of wasting my vote," said Rep. Robin Chesnut-Tangerman (P-Middletown Springs), leader of the House Progressive Caucus and one of H.444's lead sponsors. "Ranked-choice voting is a direct way of expressing the will of the voters."
"It guarantees the will of the majority and encourages more people to step into politics," said Rep. Laura Sibilia (I-Dover), another lead sponsor of the legislation. She decried the polarization of the two-party system and said she hopes that ranked-choice voting would provide more opportunity for unaffiliated candidates.
The third lead sponsor is newcomer Rep. Randall Szott (D-Barnard). "I'm a loyal party member, but that shouldn't outweigh getting a more accurate view of the electorate," he said.
Burlington voters adopted the concept in 2005 under the name "instant runoff voting." The following year, Progressive Bob Kiss secured a plurality of first-place votes — so he would have won even without the instant runoff — and an absolute majority in the second round.

When Kiss ran for reelection in 2009, Republican Kurt Wright initially finished first, with 33 percent of the vote. Kiss got 29 percent and Democrat Andy Montroll finished third with 23 percent. In the second round, independent Dan Smith and Green Party candidate James Simpson's votes were eliminated and their second preferences divided up: Wright then came in first with 37 percent of the vote; Kiss had 33; and Montroll, 28. After Montroll was eliminated and his voters' second choices were tabulated, Kiss won with 48 percent to Wright's 45. So even with the instant runoff, no candidates won a real majority.

Supporters say the Burlington system actually worked — the problem was that the winning candidate grew more unpopular the longer he was in office. "People became frustrated with Mayor Kiss and took it out on the system," said Sen. Chris Pearson (P/D-Chittenden), who is writing a ranked-choice bill for Senate consideration.
Well, yes and no. Many Democrats and Republicans felt disenfranchised by the result. "An incumbent mayor who was rebuked by 71 percent of the voters won a second term," said Wright, referring to the voters who didn't make Kiss their top choice.
Voters repealed the system in 2010.
The experience has left a stain on the ranked-choice concept. "When the only place in Vermont [where] it was used it was quickly reversed, it isn't clear to me how it would work in a statewide setting," said Rep. Sarah Copeland Hanzas (D-Bradford), whose House Government Operations Committee will get first crack at H.444.
Democratic Secretary of State Jim Condos sponsored a ranked-choice bill in 2004, when he served in the state Senate. He still supports the concept but is neutral on H.444. "As chief elections officer, I have to be thoughtful about how the system would be implemented," he said, adding that supporters "have to understand that very significant education will be needed for town clerks and voters."
Rep. Kelly Pajala (I-Londonderry), one of the bill's sponsors, is also a town clerk. "Part of the reason I wanted to be involved is to make sure the clerks have a voice in this," Pajala said. Of course, she also supports the idea. "Anything that makes the electorate's intent more clear is always positive," she added.
Since Burlington's repeal, ranked choice has slowly gained ground elsewhere. It's been implemented in cities such as Minneapolis, St. Paul and San Francisco. In 2016, voters in Maine approved ranked-choice voting after a controversial Republican, Paul LePage, won two terms as governor with only a plurality of votes. In both elections, the anti-LePage vote was split between a Democrat and a respected independent.
Maine's system got an acid test in 2018, when incumbent U.S. Rep. Bruce Poliquin (R-Maine) won a plurality in a four-candidate field — but lost to Democrat Jared Golden in the second round. Poliquin filed suit to challenge the system but lost.
That election undermined a common argument against ranked choice — that it's too complicated. "Surveys indicated that voters overwhelmingly found it easy to use," said Kyle Bailey, a Maine lobbyist/consultant who led the campaign for ranked-choice voting.
Several countries have adopted a ranked-choice system, including Australia, New Zealand, Scotland and Ireland. "I don't think Australians are fundamentally smarter than we are, and they figured it out," Chesnut-Tangerman said.
The Vermont ranked-choice bill would be limited in scope. It's a mirror image of Maine's law, which applies only to statewide offices such as governor and treasurer in the primary and only to congressional seats in general elections. "The easiest place to start was with a model that has worked," Sibilia said.
That's an advantage, but it makes the bill tough to follow. It wouldn't apply to legislative races, although Sibilia wants to expand the concept later on. It wouldn't apply to general elections for governor because the Vermont Constitution prescribes a legislative vote if no gubernatorial candidate receives a majority.
Supporters of H.444 aren't expecting quick action. Indeed, the bill wouldn't even take effect until the year 2024. "We are aware that this is a heavy lift," Sibilia said.
And they won't get much help from leadership. "I suspect we will spend a little bit of time looking at it," said Copeland Hanzas, the bill's gatekeeper. Not exactly a ringing endorsement.
It would be unusual for the majority party to embrace a substantial change in the system. But in truth, it's hard to tell which party might benefit from ranked choice. In 2016, it probably would have won the Democrats a House seat in the Lamoille-Washington district. Incumbent Dem Avram Patt lost to Republican Gary Nolan by 217 votes — while a Progressive candidate drew many more votes than would have been needed to give Patt a second-round ranked-choice victory, assuming that most Progressive voters would have ranked Patt ahead of Nolan.
Still, it's no surprise that most Dems are holding back while ranked choice is being championed by independents and Progressives who have a hard time competing against the baked-in advantages of the two dominant parties. A well-designed ranked-choice voting system would be more open to third-party and independent candidates. And it would free Vermonters from having to choose electability over principle when casting their votes.
Rookie Class
The Vermont House welcomed 40 first-time lawmakers this year, an unusually large number. Many are in their twenties and thirties, while most of their colleagues are old enough to be their parents — or grandparents. The rookie class faces a steep learning curve in a building that can be intimidating to newcomers. In fact, there's a tradition that new members, like children, are best seen and not heard.
"They phrase it politely," said 24-year-old Rep. Becca White (D-Hartford). "They say, 'Try to refrain from speaking.'" She takes it good-heartedly. In fact, she acknowledges that the advice can be beneficial. "I don't really know what I'm talking about on some deep issues. I just don't have the institutional knowledge."
Many members of the rookie class spoke of their initial experience as something of a shock. White used the phrase "fire hose" to describe the opening days of the session.
"It's very fast-paced," said 31-year-old Rep. Nader Hashim (D-Dummerston). "You have to acknowledge at the very beginning that you're not going to keep up with everything and you're not going to know everything."
"I'm getting into the swing of it now," said Rep. Patrick Seymour (R-Sutton). He turns 22 later this month and is Vermont's youngest lawmaker. "I come from farming, logging, carpentry, stocking shelves, physical work. This is the most mentally taxing thing I've done, and you go home tired."
Returning lawmakers have done their best to welcome the new class. "I've found people who have been here longer and have been very supportive," said Rep. Lucy Rogers (D-Waterville), who is 23 years old. "They've helped me figure out the routines and the subtleties of what goes on here."
Newcomers of all political stripes shared one observation: "the civility in the building," said 33-year-old Rep. Casey Toof (R-St. Albans). "Even when you disagree, you have good relationships with everyone. It makes you feel like you're working for something beyond party."
The Statehouse's unwritten dress code was a surprise to some. "I wasn't sure about the jacket-and-tie stuff," said Rep. Caleb Elder (D-Starksboro), who's 37. "It's become clear that I don't have to [wear it] all the time, but I feel more out of place when I don't."
Rep. Zachariah Ralph (P-Hartland), who's 31, discovered an extension of the dress code. "If the men want to take off their jackets in the House, we have to ask permission from the females in the House, and only they can grant us the OK to remove our jackets," he said.
Forty-one-year-old Rep. Emilie Kornheiser (D-Brattleboro) shared two surprises, one positive and one negative. "I came in expecting some degree of sexism, and I have not had as much as I expected, and that's lovely," she said. "But there's a lot more classism than I was primed for."
Often, she said, lawmakers make unfounded assumptions about people who are struggling — and many Vermonters feel disconnected from the political system.
"I noticed that certain community members felt like they had a right to have lunch with me, which I was happy to do," Kornheiser said. "But others were shocked and thrilled that I showed up at their door or invited them to a barbecue. So people's sense of [their] right to access is different."
All in all, the rookie class is an inspiring bunch. They are smart and energetic and bring a fresh eye to a tradition-laden building. They come from a wide variety of backgrounds: Rogers is a recent University of Vermont grad, Hashim is a state trooper, White and Elder work in renewable energy, Seymour is a member of the rural working class, Kornheiser helps troubled young people gain workplace skills. Their perspectives will be invaluable in tackling issues like Vermont's demographic crisis, public education, workforce development and housing.
Or, as Seymour put it: "We're young. We're not stupid."
Correction: An earlier version of this story contained an incomplete account of the 2009 Burlington mayoral contest results.